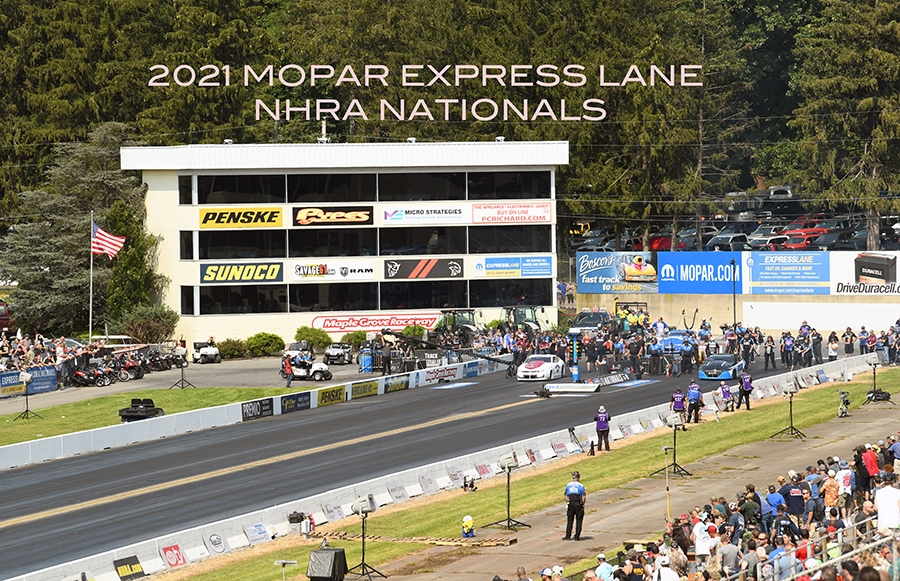 Story/Photos Phil Hutchison and Courtesy NHRA Communications
Fans and racers jammed into Maple Grove Raceway in Mohnton PA under beautiful September skies for the 36th annual Mopar Express Lane NHRA Nationals presented by Pennzoil at Maple Grove Raceway. The event at Maple Grove was the first race in the NHRA Camping World Countdown to the Championship playoffs to determine the 2021 champions.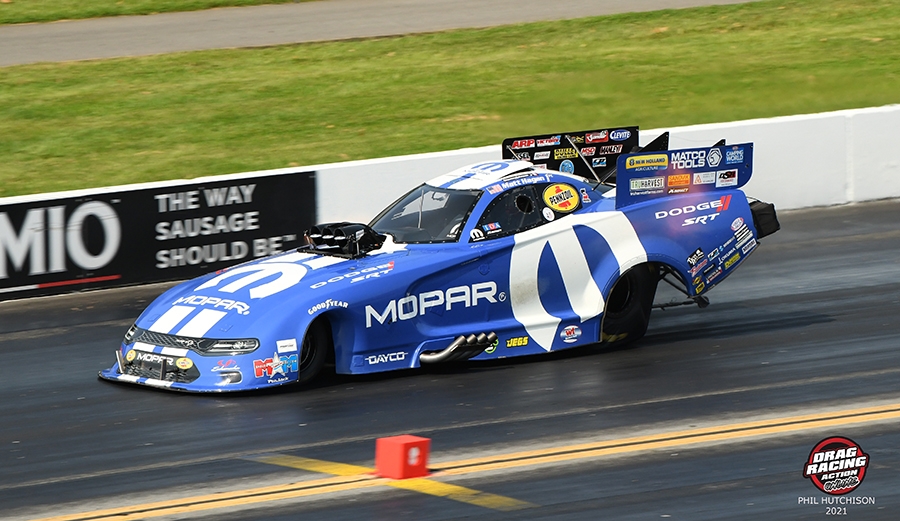 Filling in for defending world champ Matt Hagan, Funny Car veteran Tommy Johnson Jr. picked up a memorable win on Sunday, powering to the victory.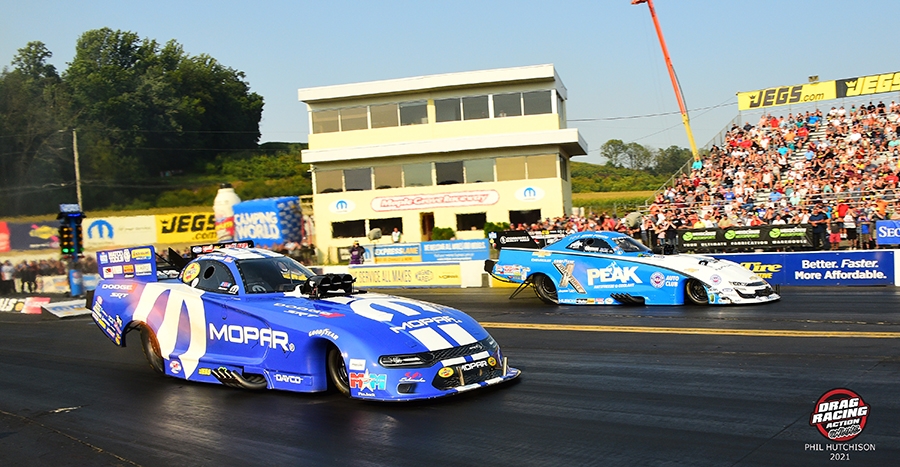 With Hagan recovering from COVID-19, Johnson stepped in for his Don Schumacher Racing teammate at last week's U.S. Nationals and this weekend's playoff stop at Maple Grove Raceway, and he took full advantage of the opportunity. He went 3.926-seconds at 330.23 mph in the 11,000-horsepower Mopar Dodge Charger SRT Hellcat, taking out John Force's 3.946 in a thrilling side-by-side duel in the final round. Force ran a 3.946 in the loss but remains in first place in the 2021 title chase.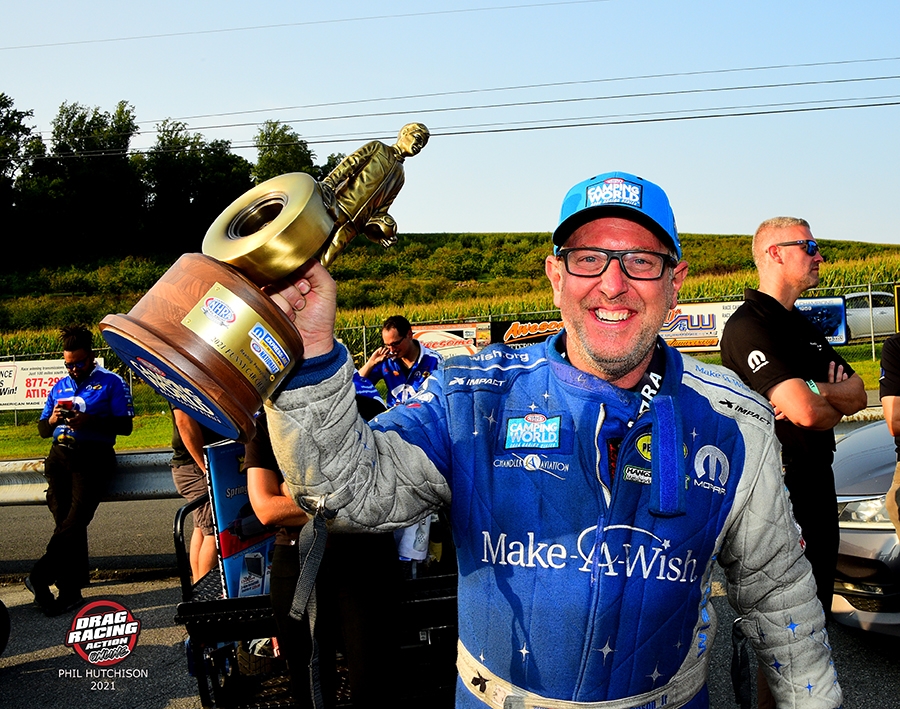 Racing at the site of his first career Funny Car win, which came in 1999, Johnson took down Jim Campbell, Ron Capps and J.R. Todd to reach the final round. All the points Johnson gained this weekend went to Hagan per the NHRA's replacement policy for medical reasons, but the veteran was thrilled to race.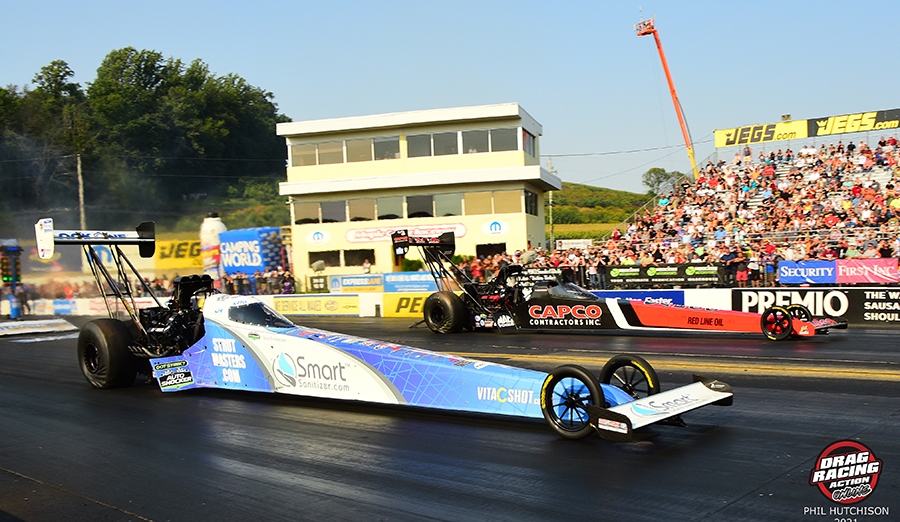 Billy Torrence from Kilgore TX won his 8th NHRA career title in Top Fuel driving the Capco dragster beating second-generation racer Justin Ashley. Torrence ran a 3.72 in the finals to Ashley's close 3.784. Billy's son, defending Top Fuel world champ Steve Torrence, lost to eventual runner up Ashley in the semifinals. Despite the loss, Steve Torrence leads the Camping World Drag Racing Series in Top Fuel.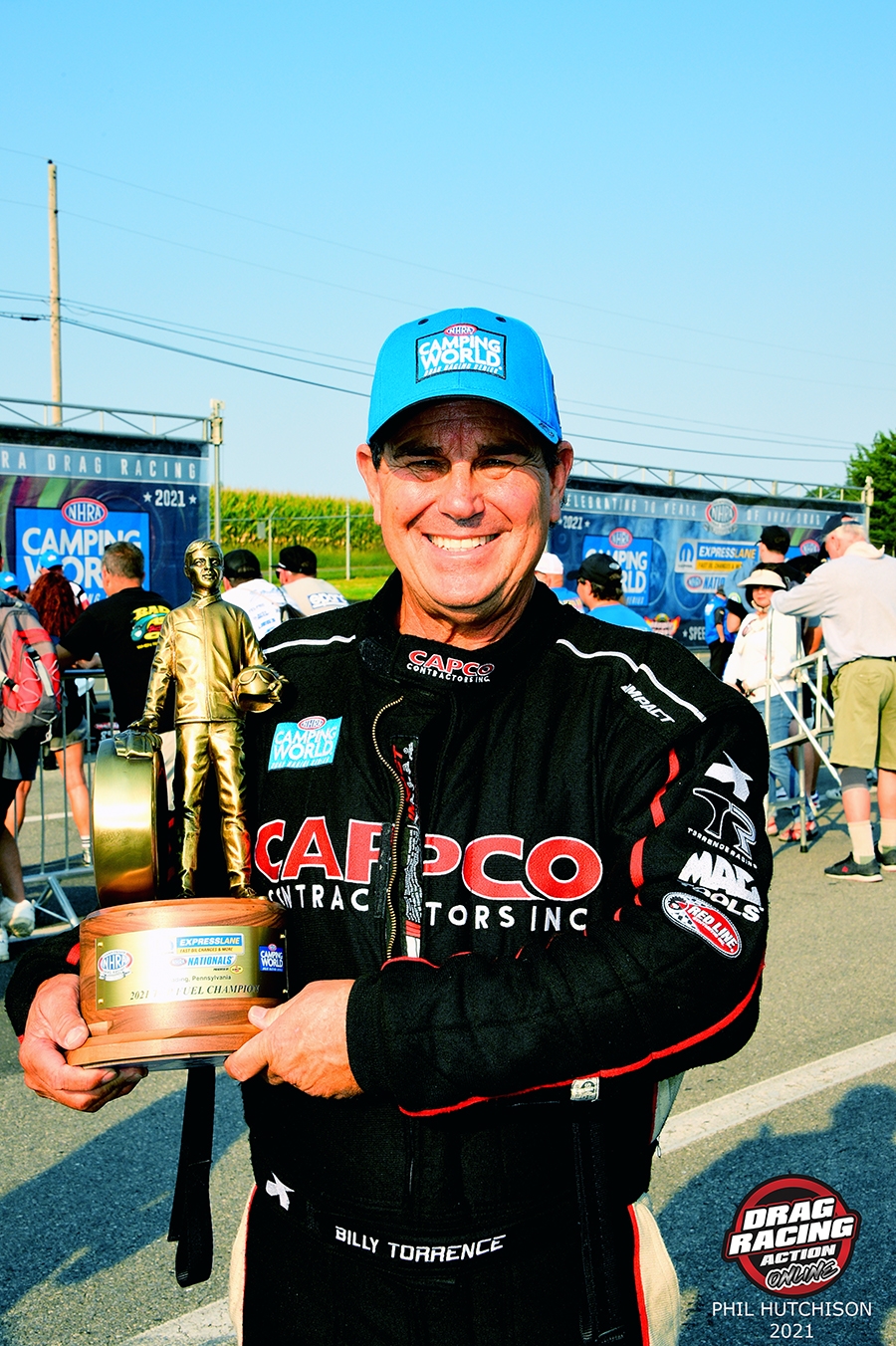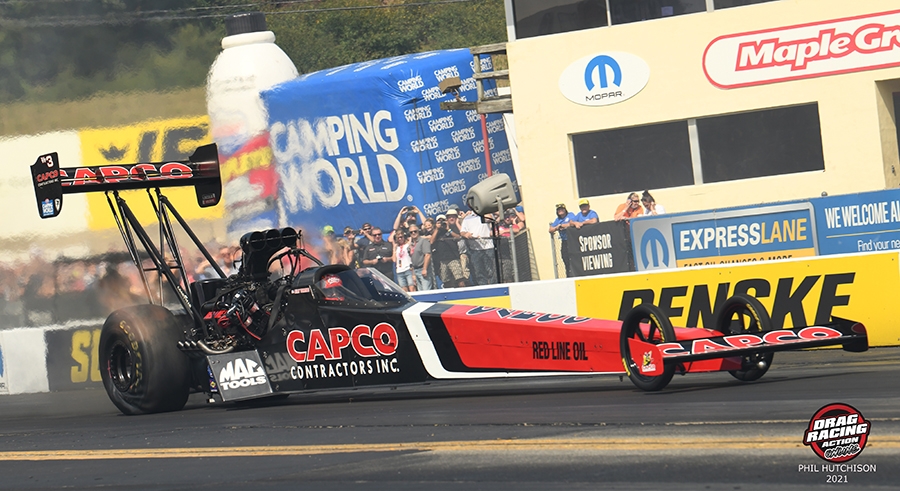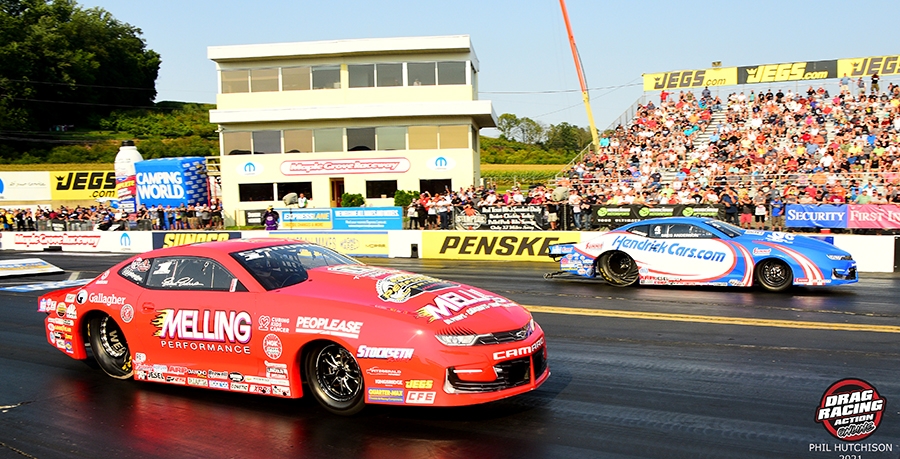 Greg Anderson tied Warren Johnson's Pro Stock win record with his 97th title beating reigning world champ Erica Enders in the final with a 6.578 to Enders' 6.604. Anderson is in the lead for the 2021 Pro Stock title with five races remaining in the season for the class.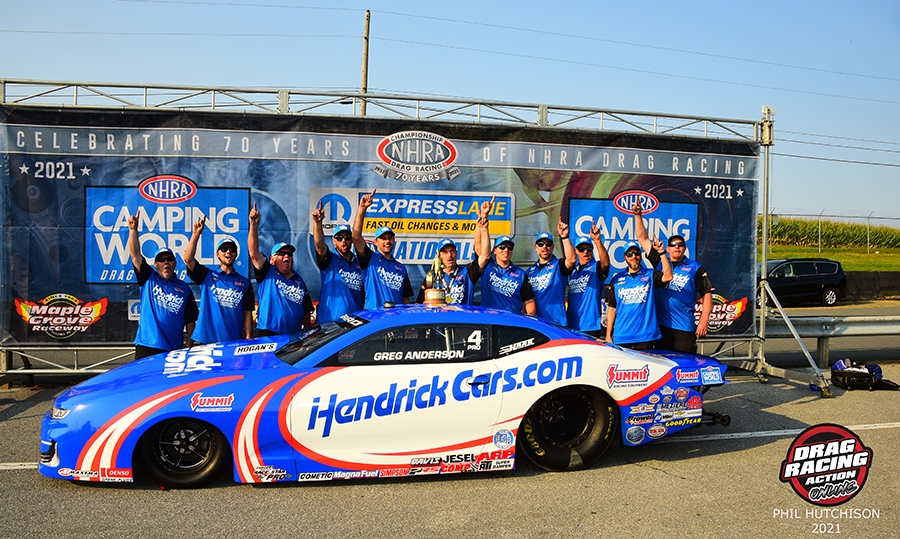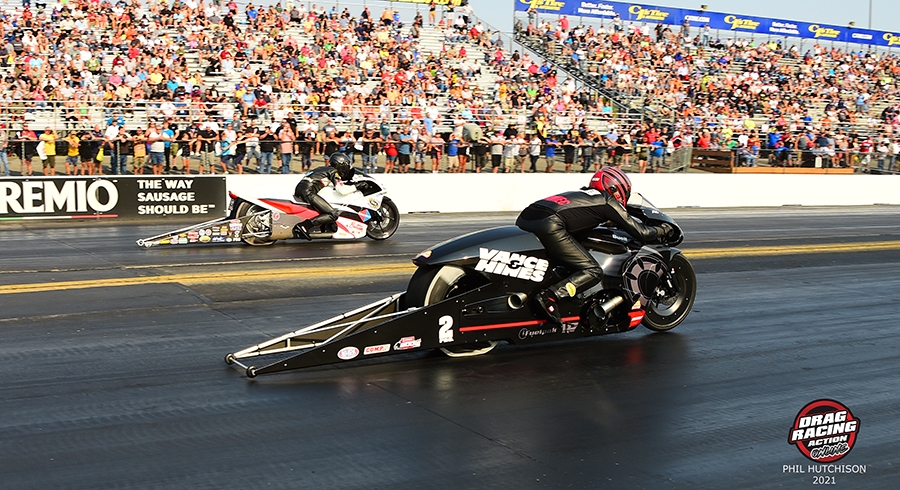 Long time Pro Stock Motorcycle racer Steve Johnson from Birmingham Alabama, won his eighth career Wally and his second of 2021 defeating former NHRA champ Eddie Krawiec in the finals with a 6.775 @ 196.87 MPH to Krawiec's 6.870. Johnson left Maple Grove with the points lead as Matt Smith, who lost in the third round to Krawiec, is in 2ndplace.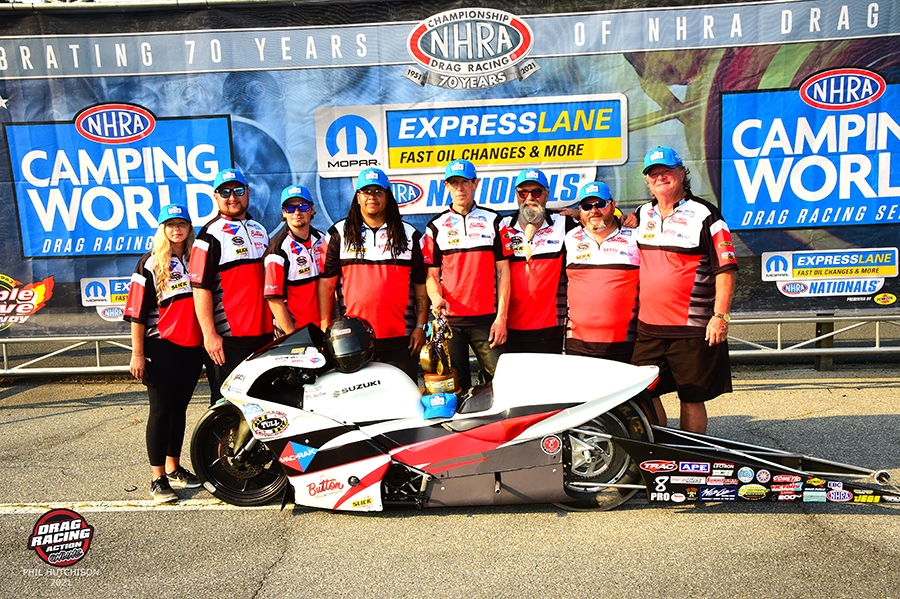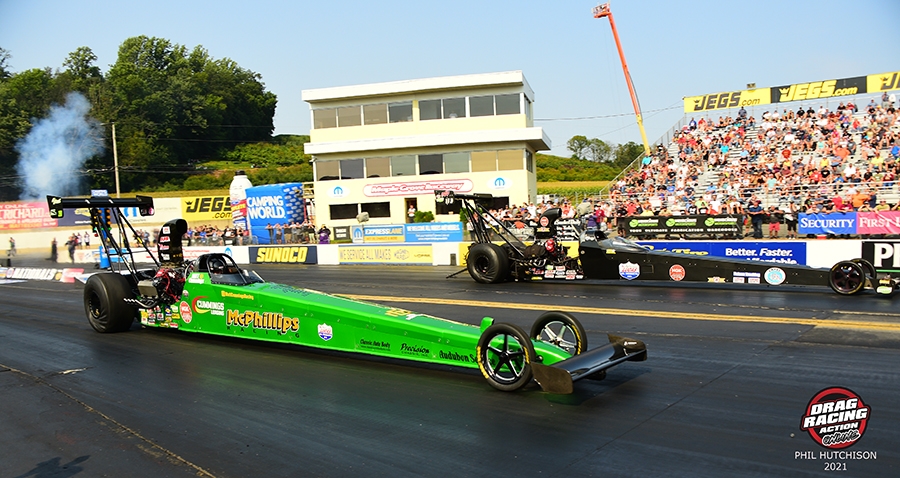 Matt Cummings (Near Lane)
Sportsman winners included: Matt Cummings from Pompano Beach FL driving the Rich McPhillips owned dragster to his second career NHRA national event Wally in Top Alcohol Dragster with a 5.211@ 276.69 MPH. Cummings defeated the surprising Robin Samsel in his Marion IN based A/FD after Samsel slowed from his earlier torrid pace of five-teens to a 5.267.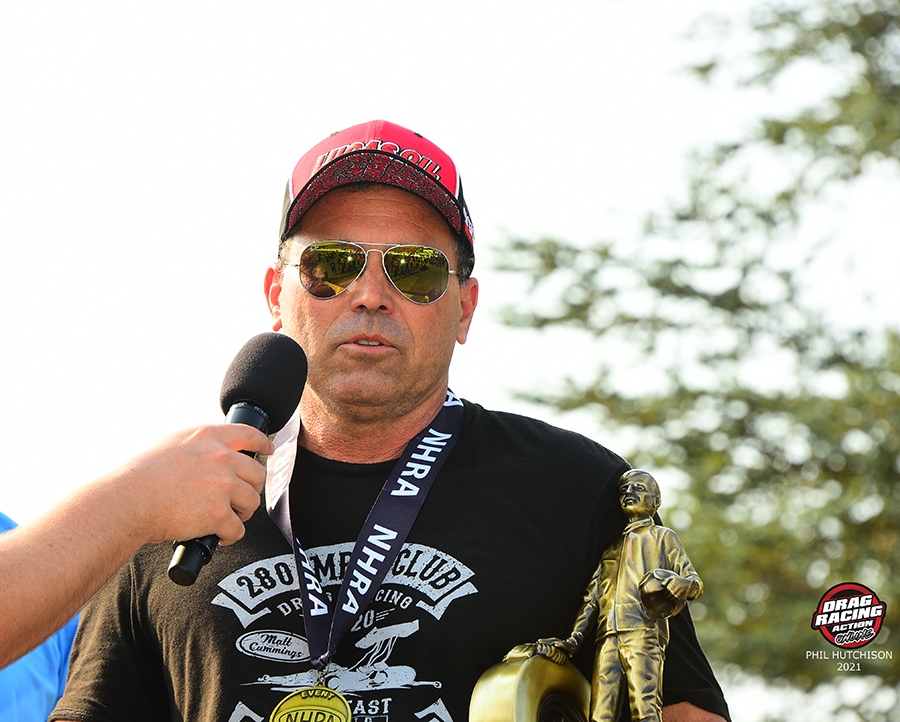 Recent US Nationals Top Alcohol Funny Car winner Doug Gordon from Paso Robles CA drove his Beta Motorcycles '20 Camaro to a convincing win over Sean Bellemeur's Steve Bogg's tuned Camaro running a 5.445 to Bellemeur's close 5.489.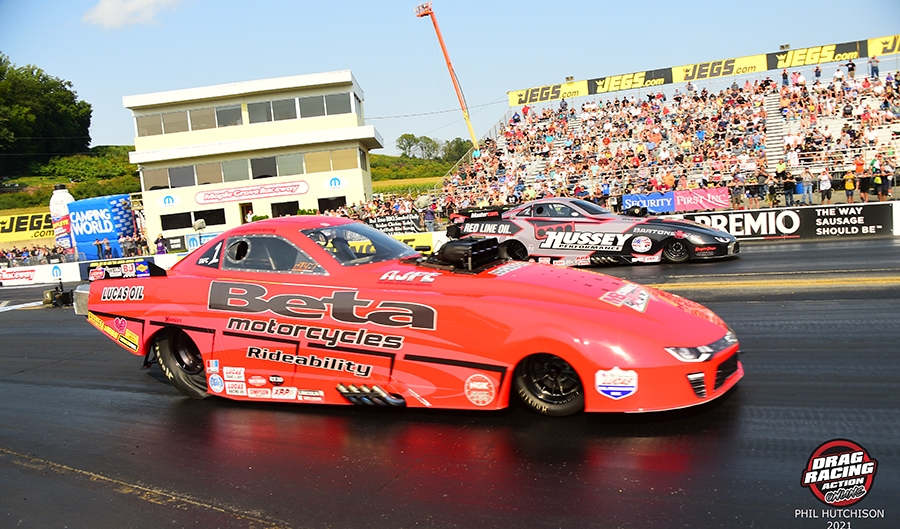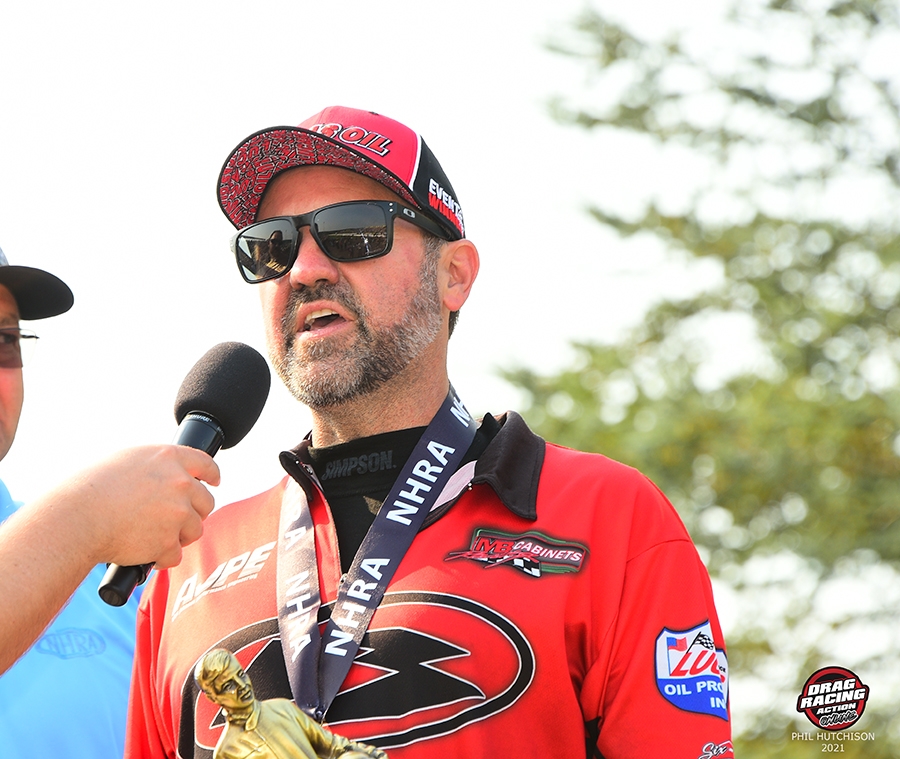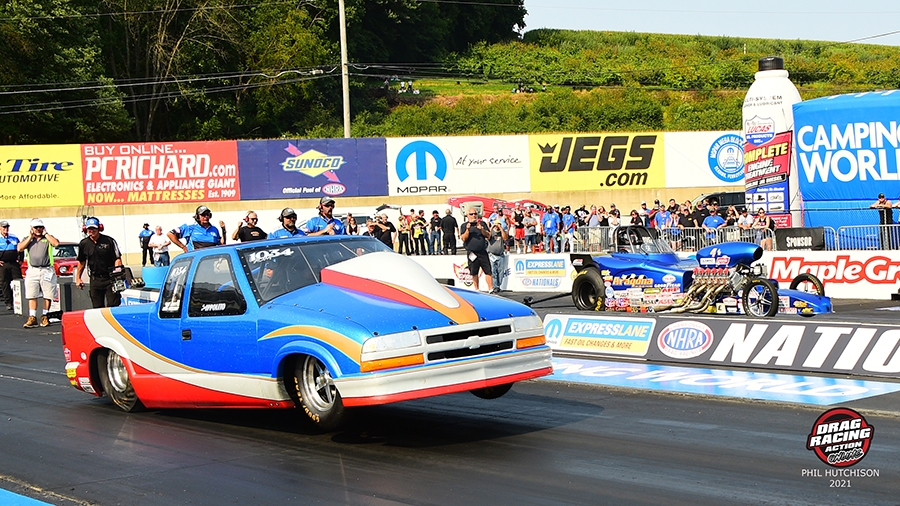 Frank Aragona Jr (Far Lane) defeated the S-10 of Chip Ippolito in the finals of Comp
Frank Aragona Jr avenged his final round loss a week earlier at the US Nationals beating the PSTA S-10 Chevy truck of Chip Ippolito in the finals of Competition Eliminator as Ippolito got antsy and left too soon fouling out and giving Aragona the easy win. The win at Maple Grove was Aragona's 15th career national event title.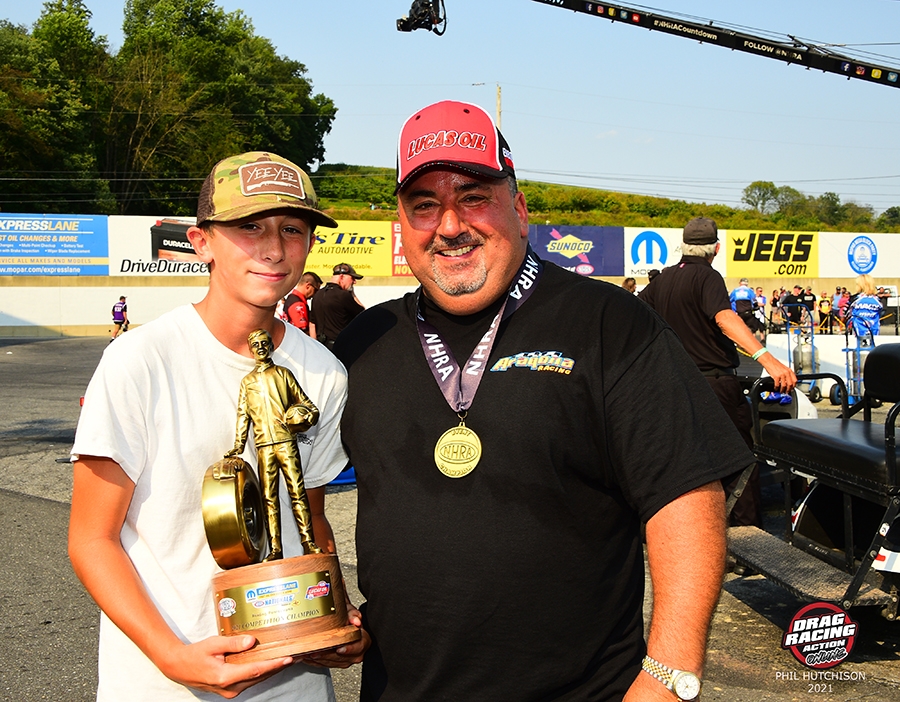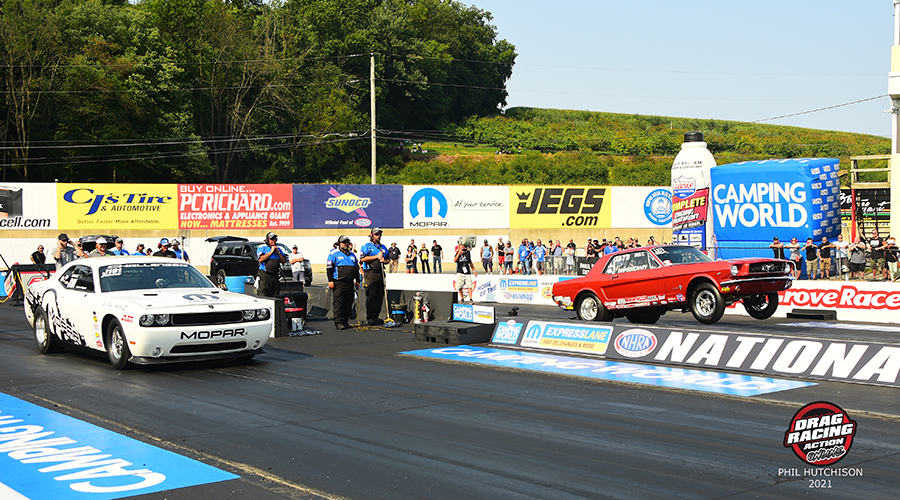 Long time NHRA Super Stock racer Bobby Fazio had a dream day in his SS/L Mustang beating some of the NED's best racers on his way to his first ever NHRA Super Stock win. Fazio beat Jonathan Allegrucci FSS/E Dodge Challenger in the finals after Allegrucci went red.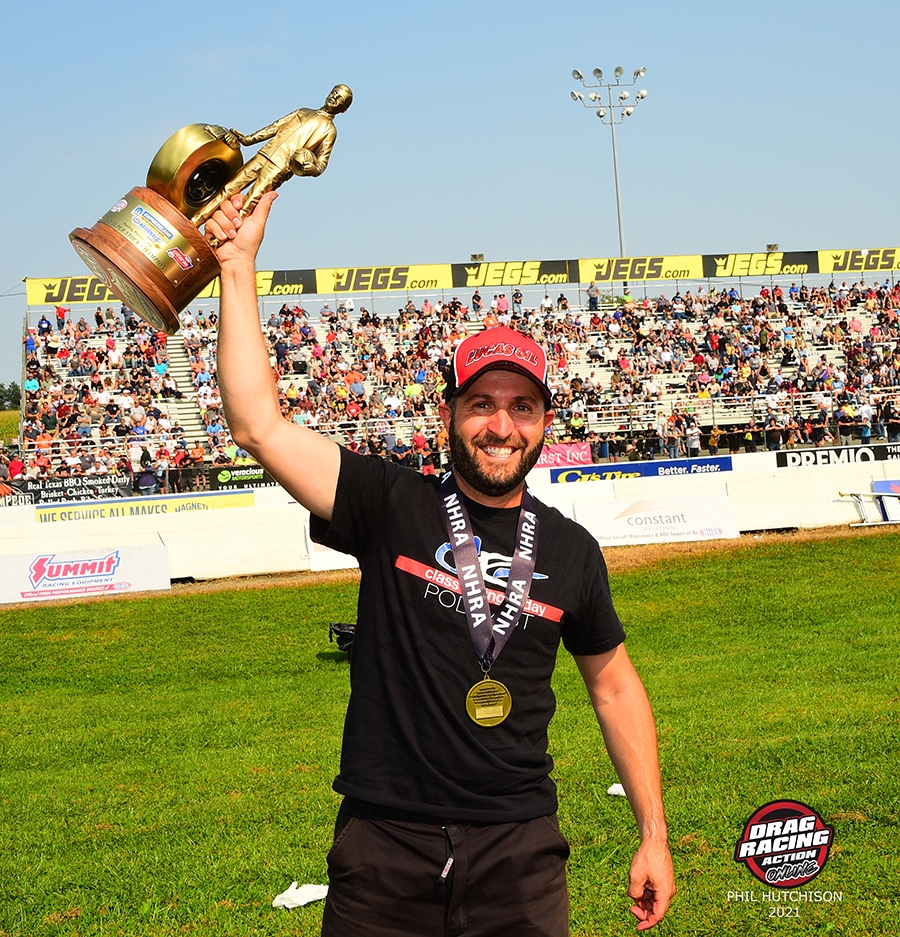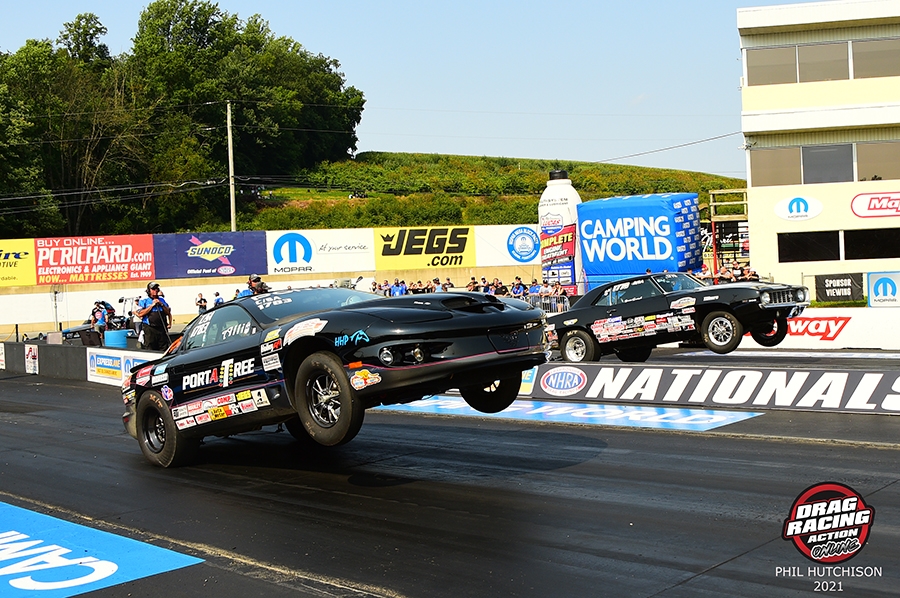 Stock Eliminator at the Mopar Express Lane NHRA Nationals went to multi time winner Joe Santangelo from Marlborough CT driving his B/SA '69 Camaro. Santangelo took out the C/SA Firebird of former NHRA World champ Allison Doll from Douglas MA running a near dead on 10.456 on a 10.45 dial to Doll's breaking out 10.58 on her 10.60 dial in.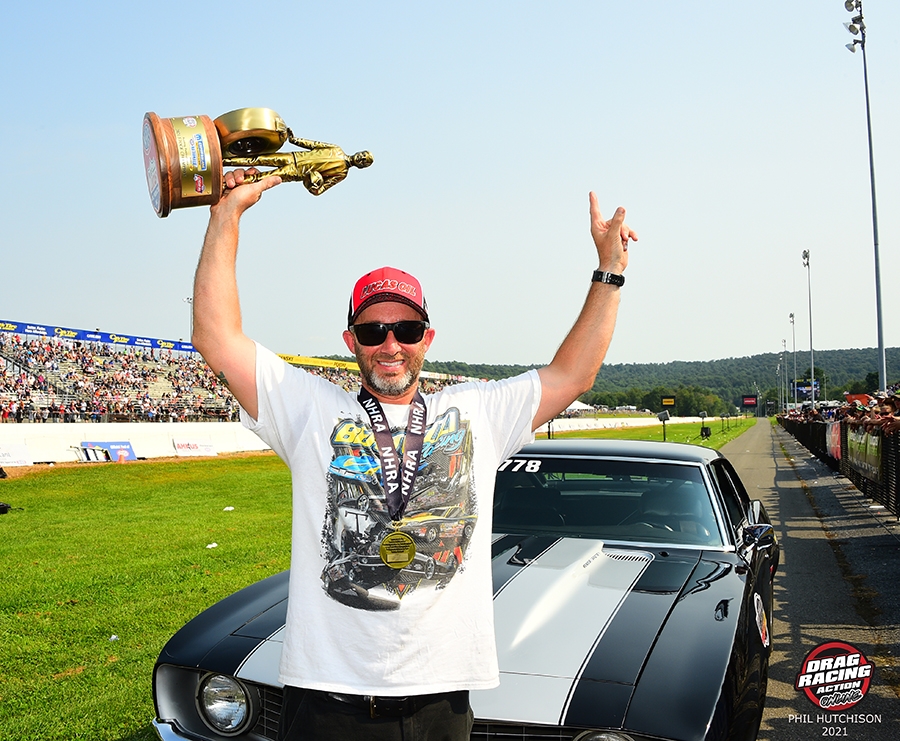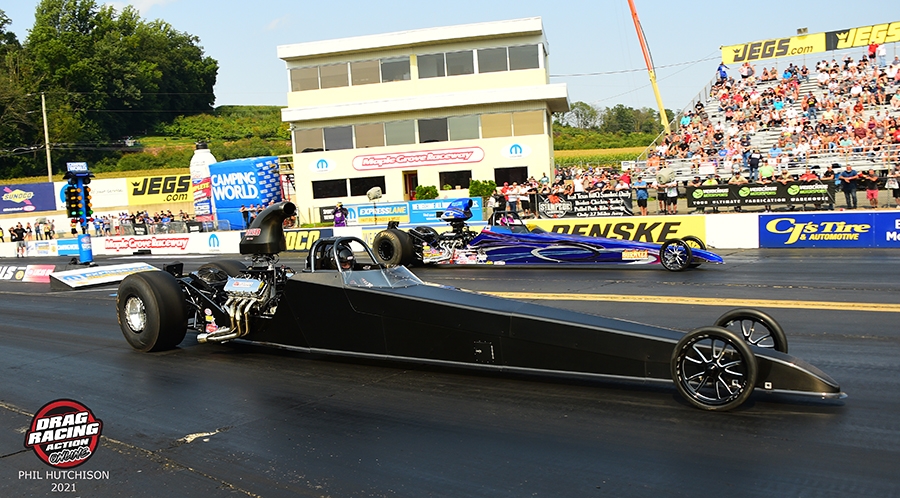 Taylor Iacono (Far Lane) defeated her uncle Lee in the finals of Super Comp
The Super Comp title at Maple Grove went to the dragster of Taylor Iacono from Shamong NJ. Taylor, who won Super Street in her S-10 pickup a few weeks ago at the Lucas divisional, defeated her uncle, Lee Ream from Narvon PA, in the finals. Taylor ran an 8.919 to Ream's 8.930 after both drivers had nearly identical reaction times.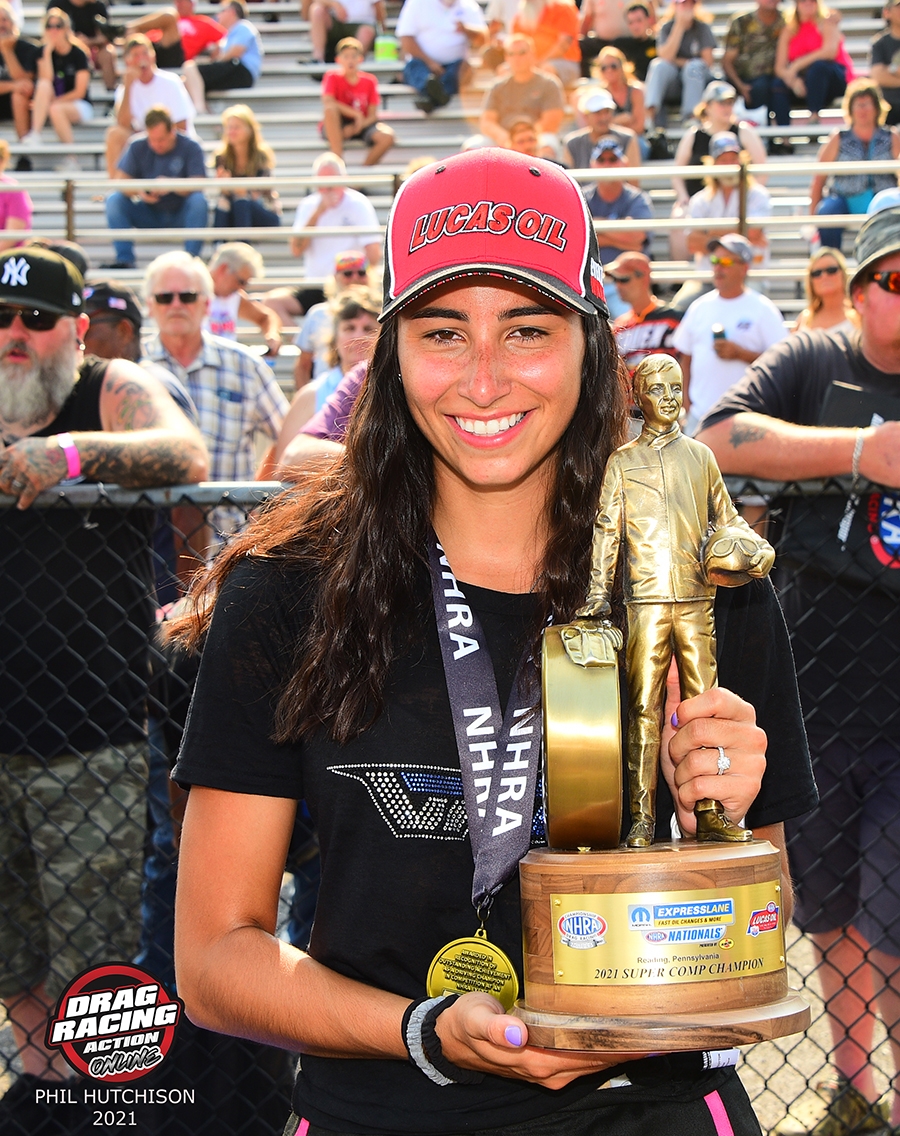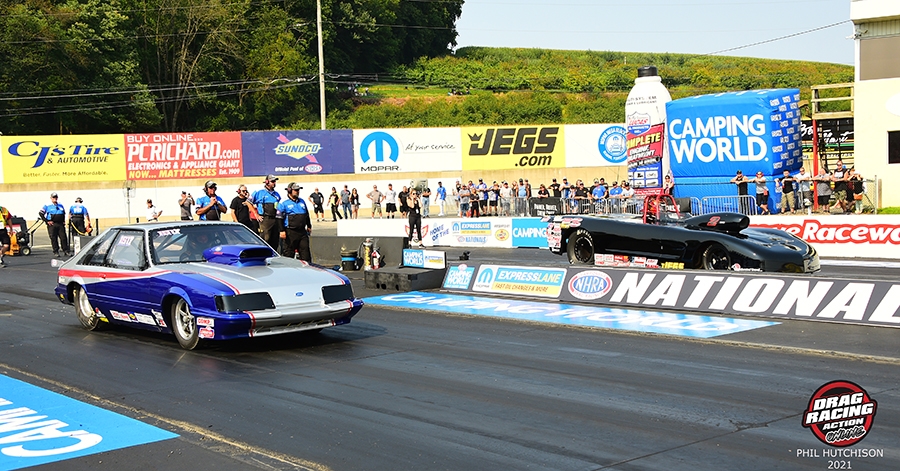 Winning his fifth NHRA national event Wally was Kutztown PA racer Jason Kenny driving the Kenny family '03 Corvette roadster. Jason beat Irwin PA racer Bill Nuzzo's Mustang in a double breakout final with Kenny's 9.889 less egregious than Nuzzo's 9.882.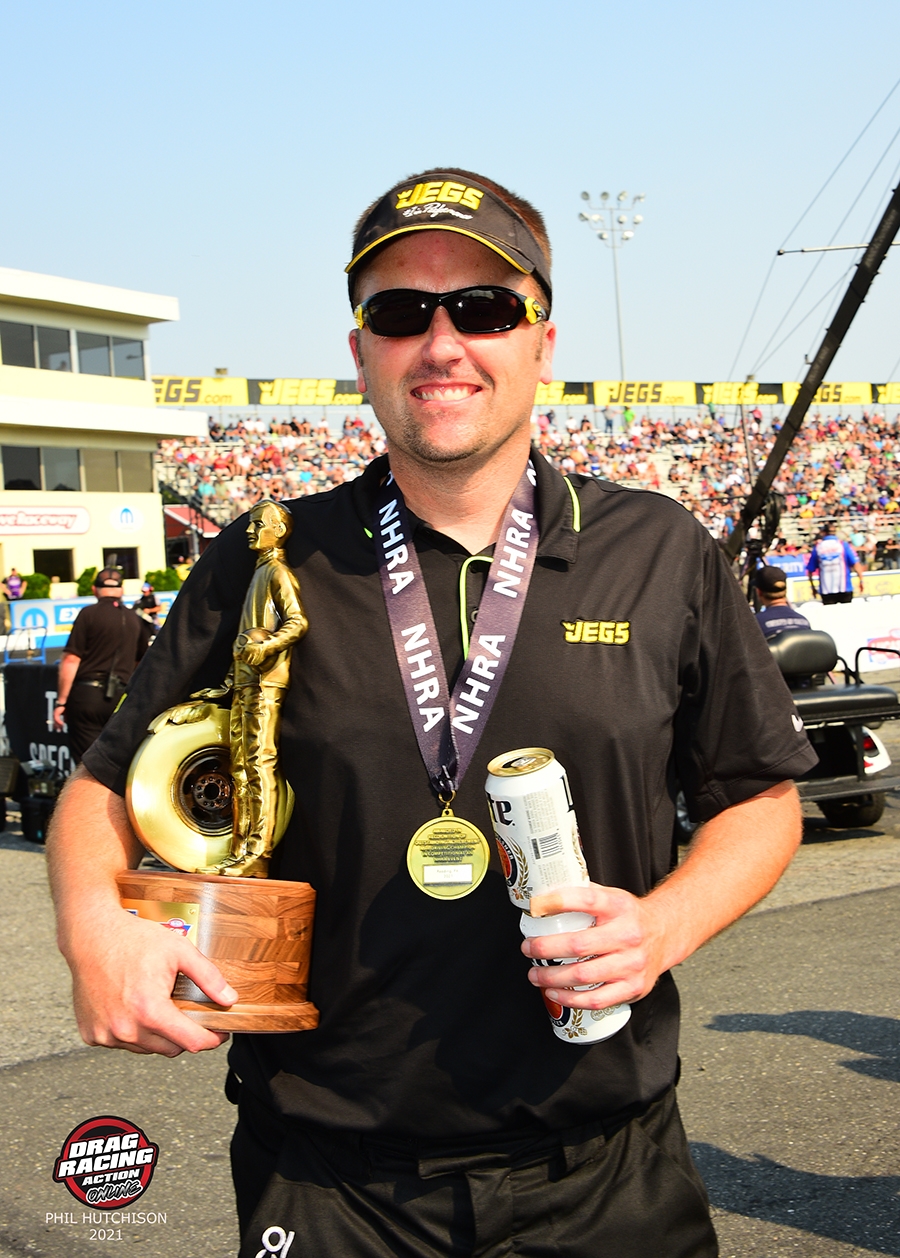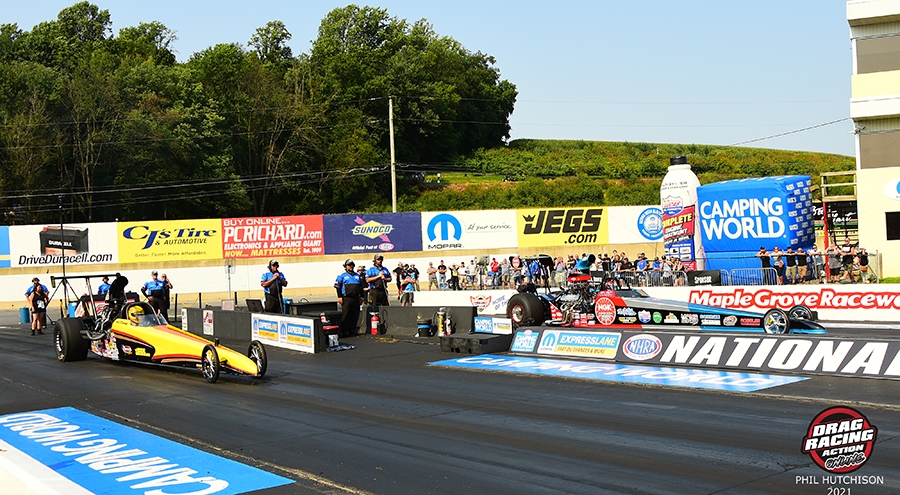 Tom Martino (Far Lane) finally bagged an NHRA win at Maple Grove
Top Dragster presented by Vortech Superchargers went to Youngstown OH racer Tom Martino in his first ever final after years of competing in the NHRA.  The Division Three driver defeated the blown dragster of recent Jeg's Allstar winner Alan Kenny (Jason's dad) with a 6.620 on his 6.59 dial as Kenny ran a slowing 6.236 on his 6.15 dial in the loss.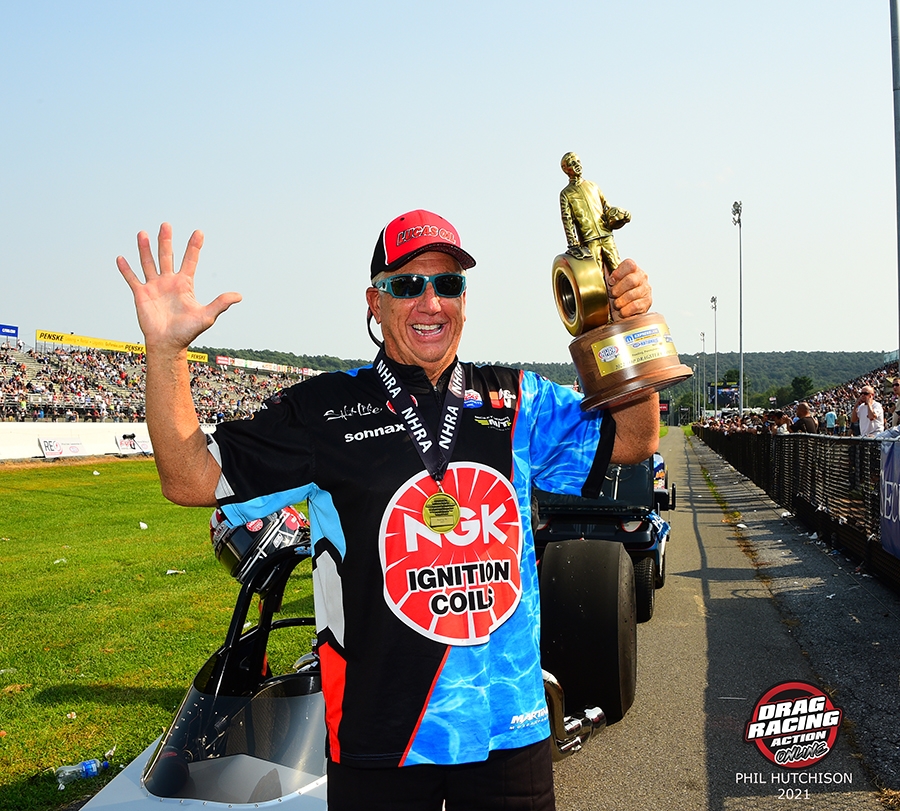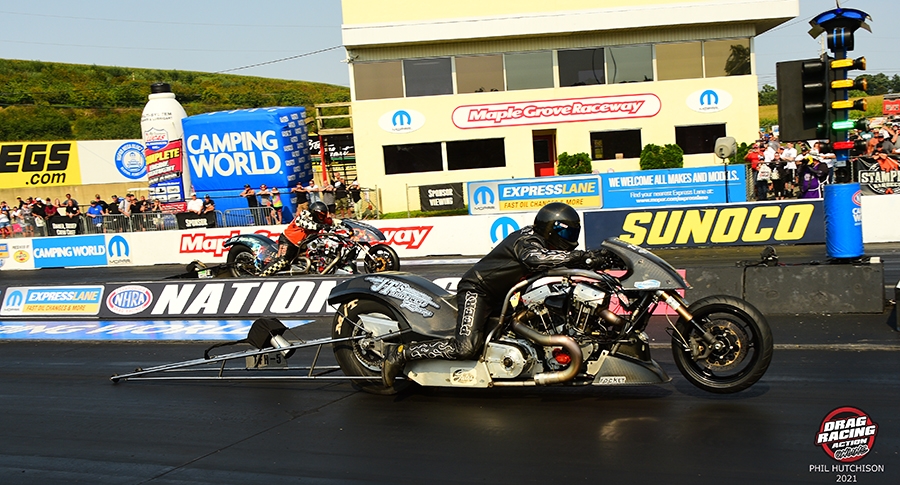 Recent US Nationals Top Fuel Harley champ Ryan Peery continued his winning ways taking the Wally back to Milford OH. Peery ran a 6.497 in the finals easily defeating the Harley of local racer Bill Jackson from Honeybrook PA as Jackson could only run a 7.014 in the loss.