John Force, Napp Brothers, and Bunny Burkett Lead Inductees into International Drag Racing Hall of Fame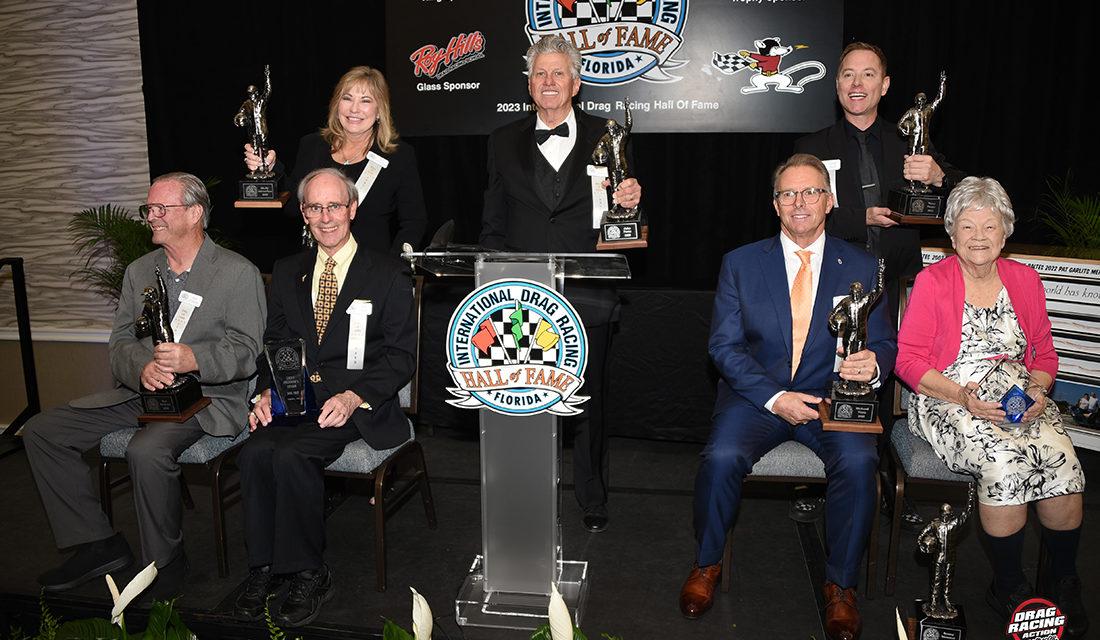 Drag Racing Action Online  Images Phil Hutchison
The International Drag Racing Hall of Fame, the brainchild of Top Fuel legend Don Garlits has been going strong for 33 years.
Each year the Hall of Fame Selection Committee choses racers, tuners, owners, and other individuals that were instrumental in their contributions to the success of drag racing.
For 2023 Top Fuel and Pro Mod ace Shelly Anderson-Payne, chassis wizard Ron Atterbury, Alcohol Funny Car star Carol ''Bunny'' Burkett, Australian icon Graeme Cowin, NHRA GOAT John Force, race car restorer Sonny Messner, IHRA's Linda Jones, track owners Vinny & Richard Napp and former NHRA announcer Bob Frey were welcomed into the Hall
For 2023 David Napp asked me to join his family and friends in his dad Vinny and uncle Richard Napp's inclusion to the hallowed Hall.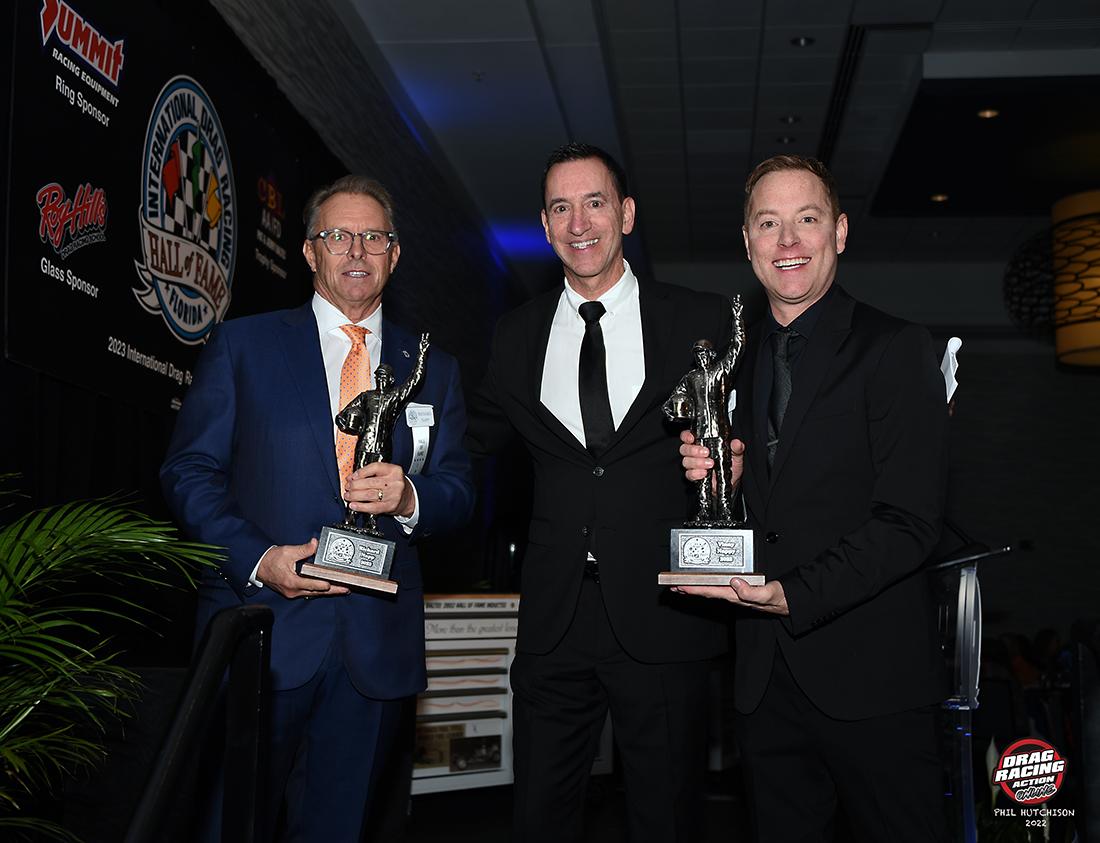 Richie Napp, Lewis Bloom, and David Napp
I've known David for years and after last years NHRA Carolina Nationals at zMAX Dragway in which the Napp family contributed $5000 to DRAW in John DiBartolomeo's memory, David reached out to me later to let me know his dad and uncle were going into the Hall in March of 2023 and would like me to be part of the party. He didn't have to ask me twice.
With some of the inductees having passed, family or friends were asked to accept the honors. In the case of the Napps, Richie and David Napp accepted the honors for their dads.
The Napps known primarily for putting Englishtown/Raceway Park/Madison Township racetrack on the drag racing map. The Napp family single handedily built the facility in the 60's and with time riveled the West Coast strips such as Orange County with quality shows and packed stands. The track was awarded the 1968 NHRA Springnationals and later was the home to the Summernationals. In addition to creating one of the best drag strips in the USA, the Napps practically invented what is now known as Junior Dragster.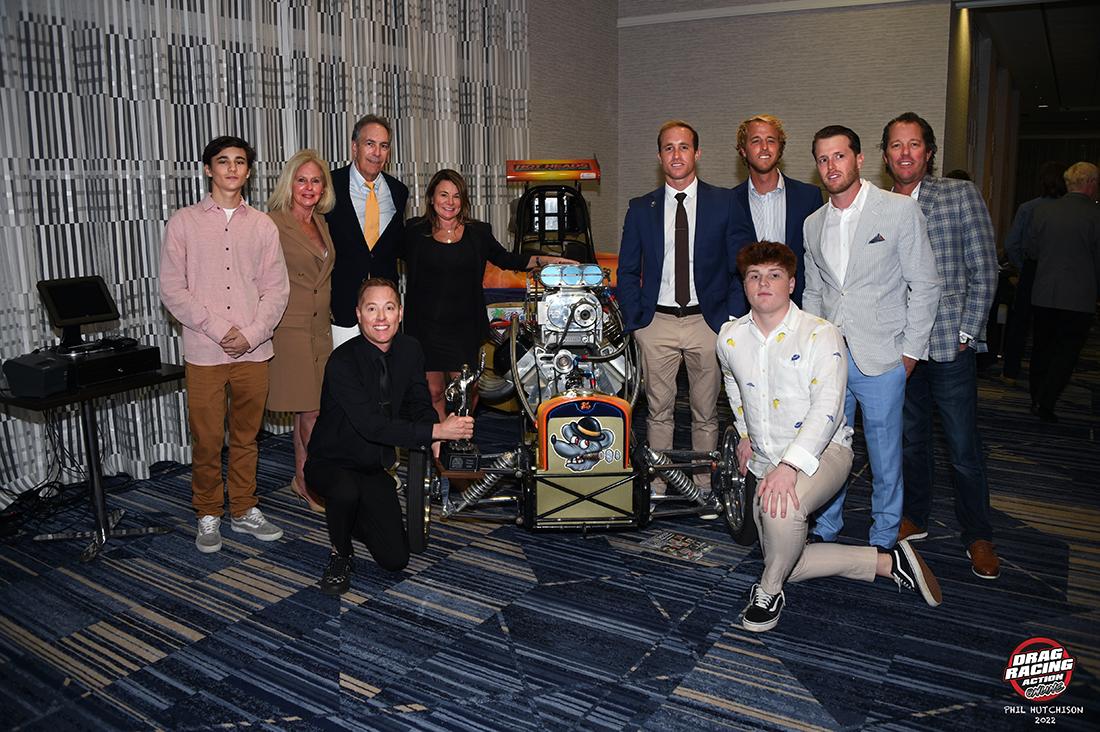 Napp's Drag Racing League was founded in 1993 by NHRA and the Napps as they developed the first small-scale replica dragster 1991 and the first pair of NHRA Jr. Dragsters launched down the Raceway Park dragstrip in 1992. Now thousands of kids get to race against each other across the country and maybe, someday, drive a Pro Stocker like five-time NHRA Pro Stock champ Erica Enders who got her start in Jr. Dragster.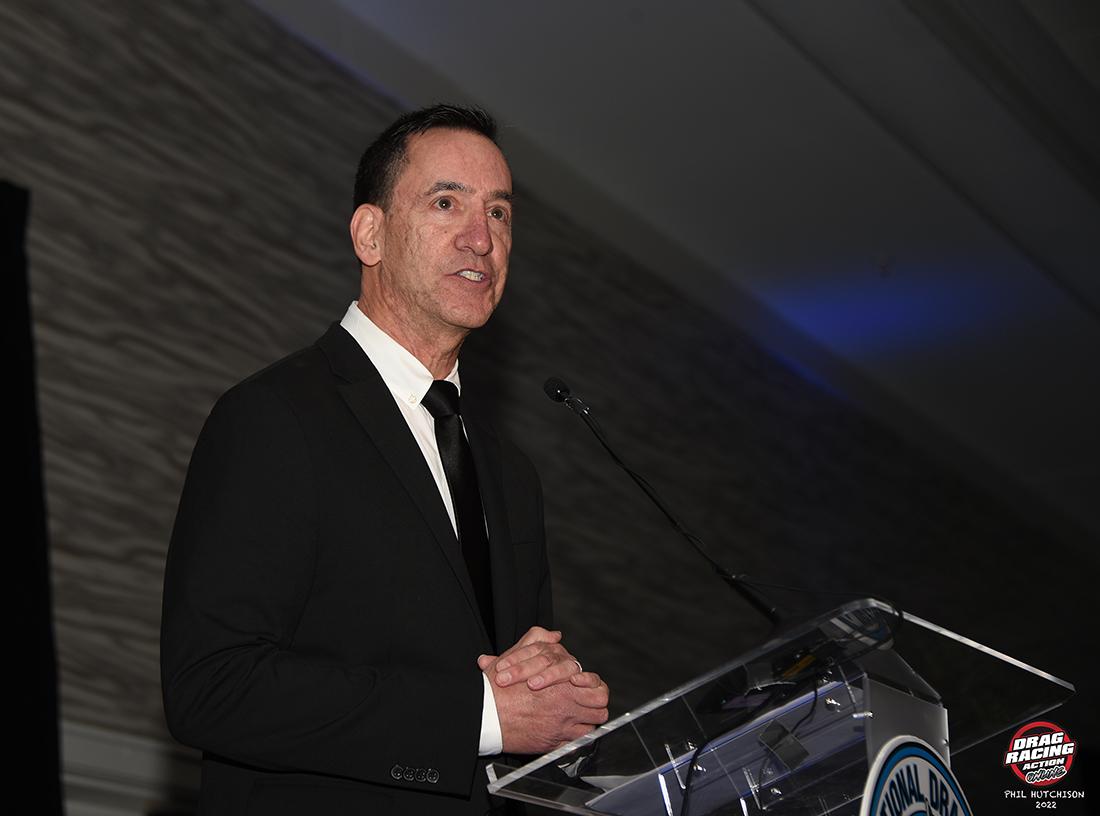 Presenting for the Napp brothers, was former NHRA and Englishtown  announcer, TV commentator, and drag racing historian , Lewis Bloom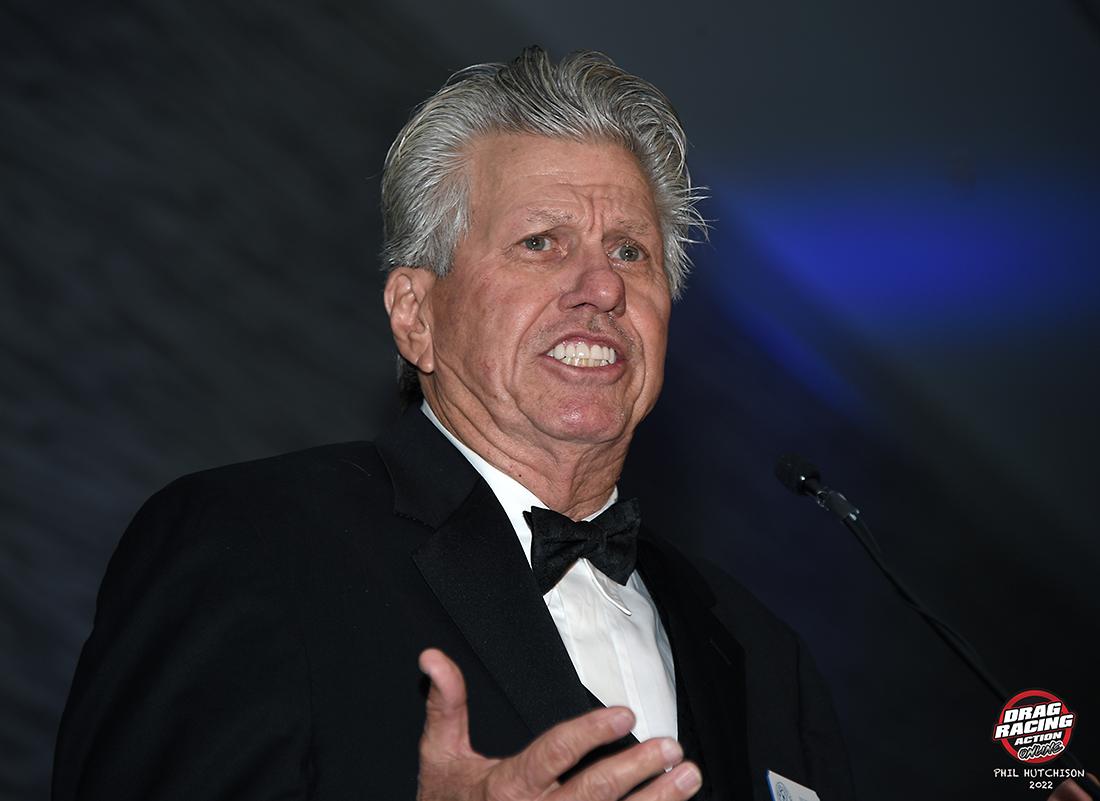 The night's festivities went full circle with John Force being the last on the stage to accept his entry into the Class of 2023. In the heyday of Englishtown, notable match racers like Jungle Jim Liberman were regulars at the New Jersey track. After Jungle's untimely death, the Napps needed someone like Liberman to pull the fans in. Jungle was known for his long burnouts, quick times, and outrageous personality. The Napps looked no further than West Coast racer John Force. Just like Jungle Jim, Force made Englishtown and Englishtown made Force. It was that simple.
During his acceptance speech in which he was introduced by PR guru Dave Densmore, Force mentioned how much the Napp family meant to him and how they got him to where he is today. And I have to say, Force was on his best behavior during the evening. After last year's antics which involved probably too much alcohol, Force kept it relatively clean and as usual, was a hoot.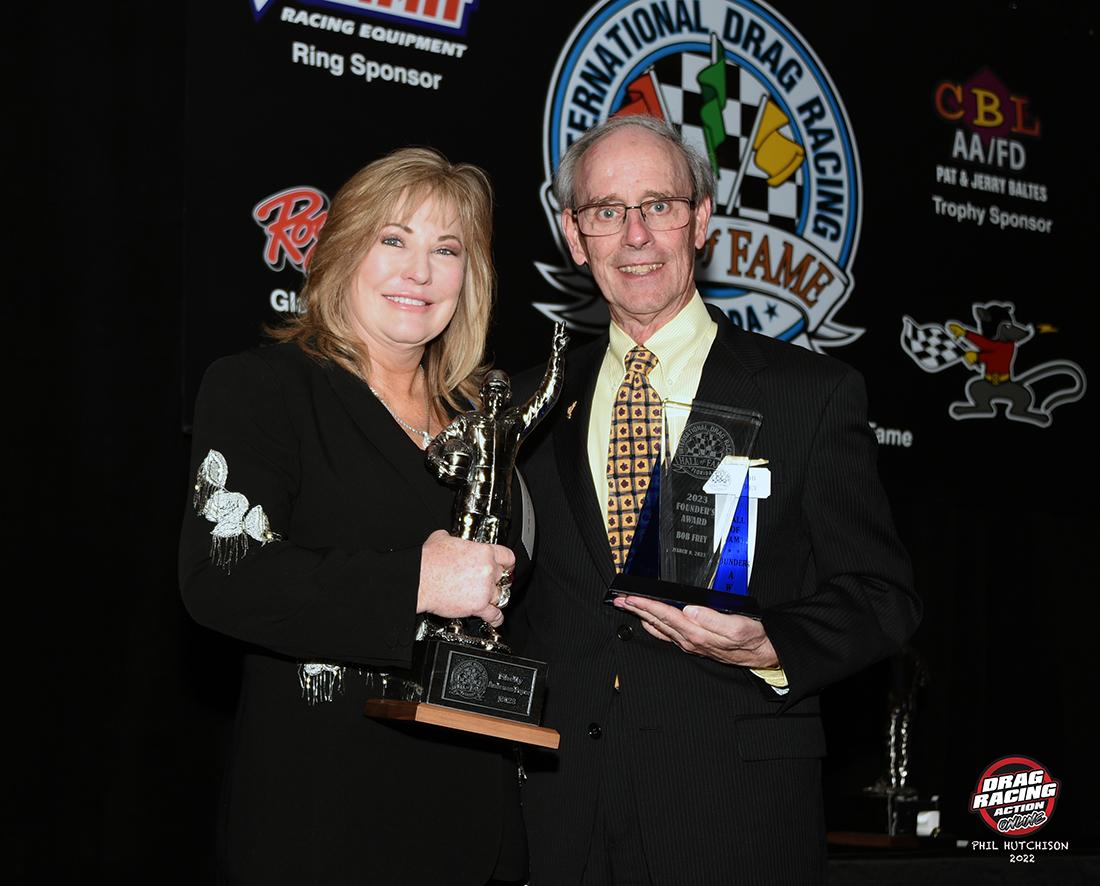 Shelly Anderson-Payne and Bob Frey
In addition to the Napp family and John Force, another good friend of mine, Bob Frey was recognized for his long career as announcer and drag racing historian. Frey was awarded the Founders Award that identifies individuals that may not be racers or part of the mechanical end of drag racing but made a lasting impact on the sport.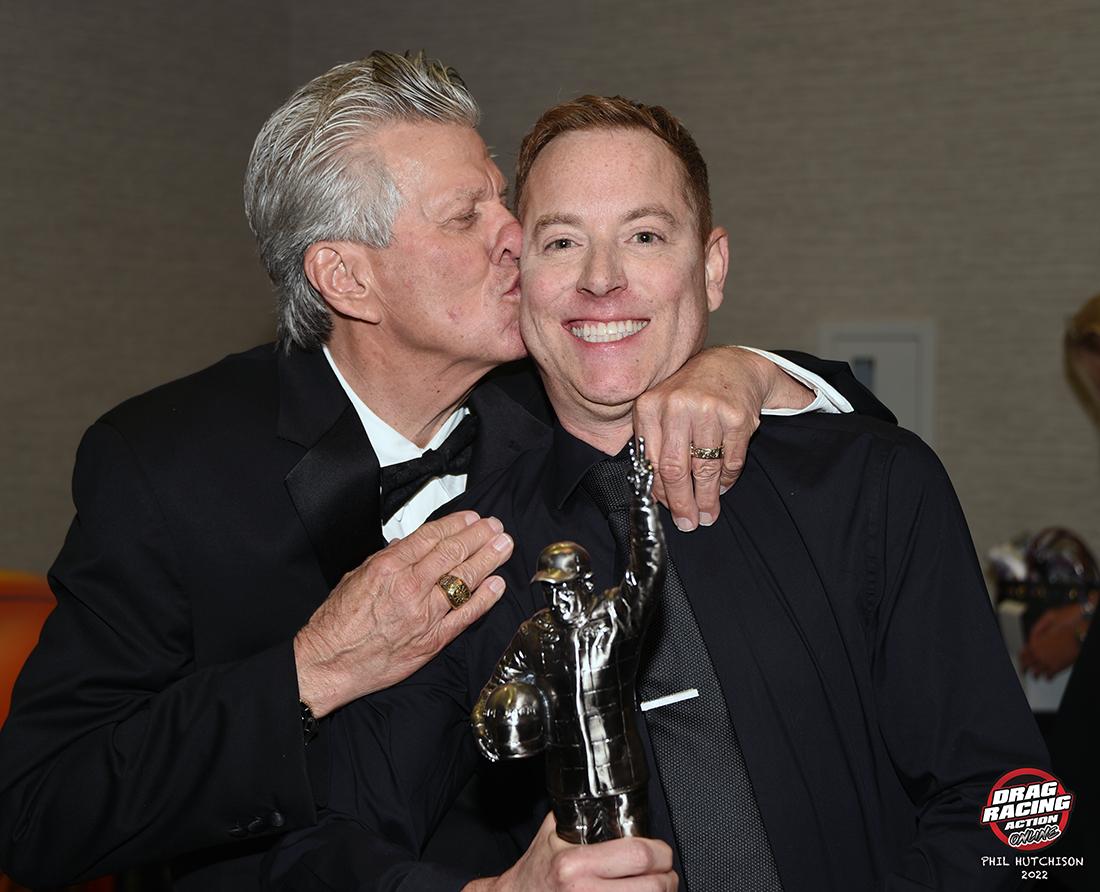 Force plants one on David Napp