Nitro Revival V Honoring the Golden Age of Drag Racing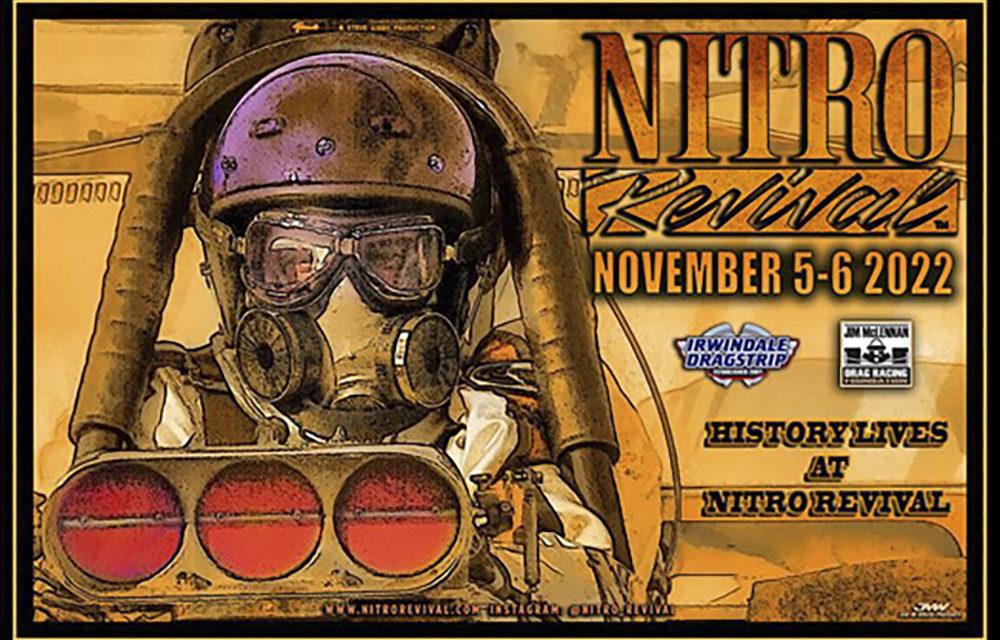 Drag Racing Action Online  Images: Dave Kommel, Mashie Mihalko and Cindy Gibbs
Coming off the heels of the California Hot Rod Reunion at Bakersfield two weeks prior, the 5th Annual Nitro Revival took what the Reunion used to have and knocked it up a notch or two, or maybe ten. As things worked out, it was the go-to event of the season.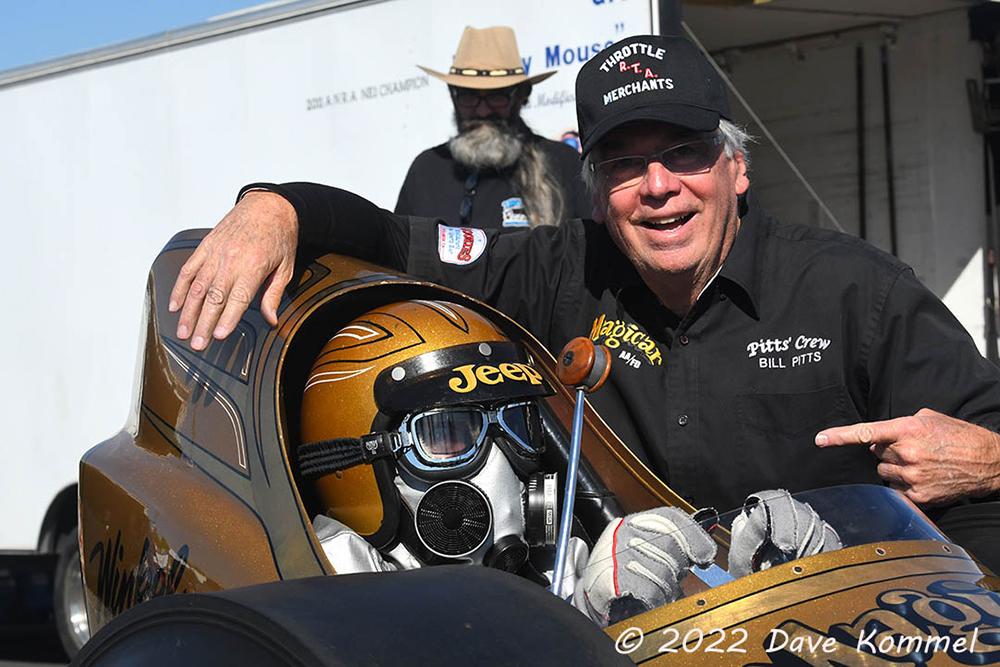 The first weekend of November had the faithful on hand in Irwindale, California at Irwindale Dragstrip. The event had a huge turnout of racers and fans getting their dose of "Nostalgia" from the over 65 classic cackle cars on hand. The event, that earlier in its history had stops at Barona and Laguna Seca, has apparently found a home at Irwindale.
As the Nitro Revival website states "With a combination of color, cackle and conversation, Nitro Revival has become a destination event not just for those who were part of drag racing's Golden Age but for those who always wished they had been. It provides a step back in time to an era in which the sport first was finding its footing while defying all the traditional concepts of speed and performance."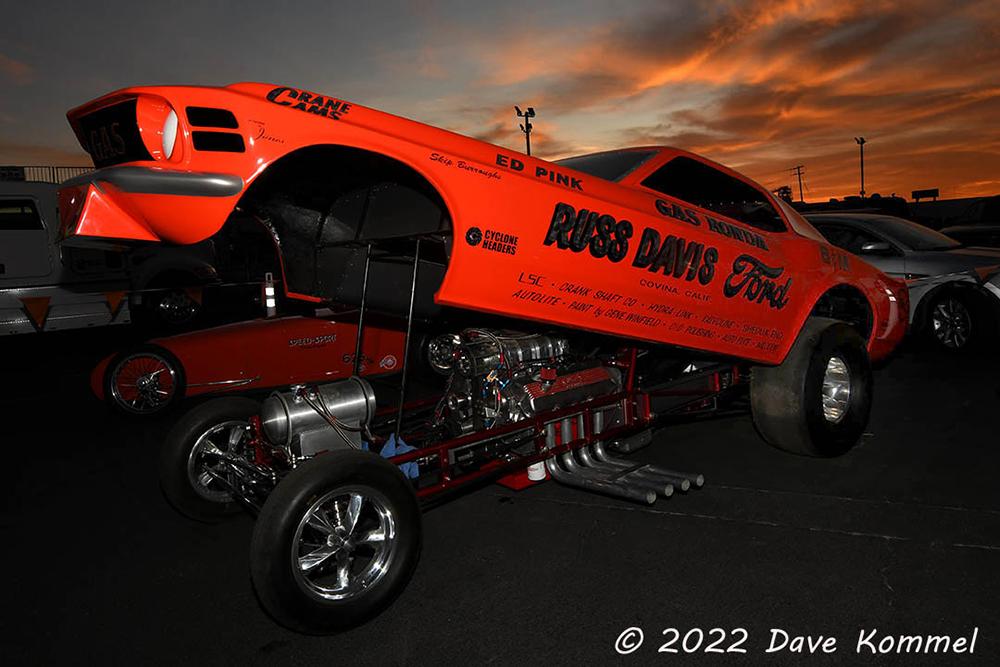 The 2022 Honorees were:  Funny Car pioneer Gas Ronda, So-Cal racer Doc Conroy, San Gabriel Drag Strip starter Jim London, Pomona Fairplex facilities superintendent Stan Adams, Funny Car racer and track owner Charlie Allen, Crew chief to the stars Bill Schultz and the trio known as "The Sour Sisters," Don Ratican, Don Gaide and Kenny Safford. These men will all share in the Greater San Gabriel Valley Racers Recognition Award.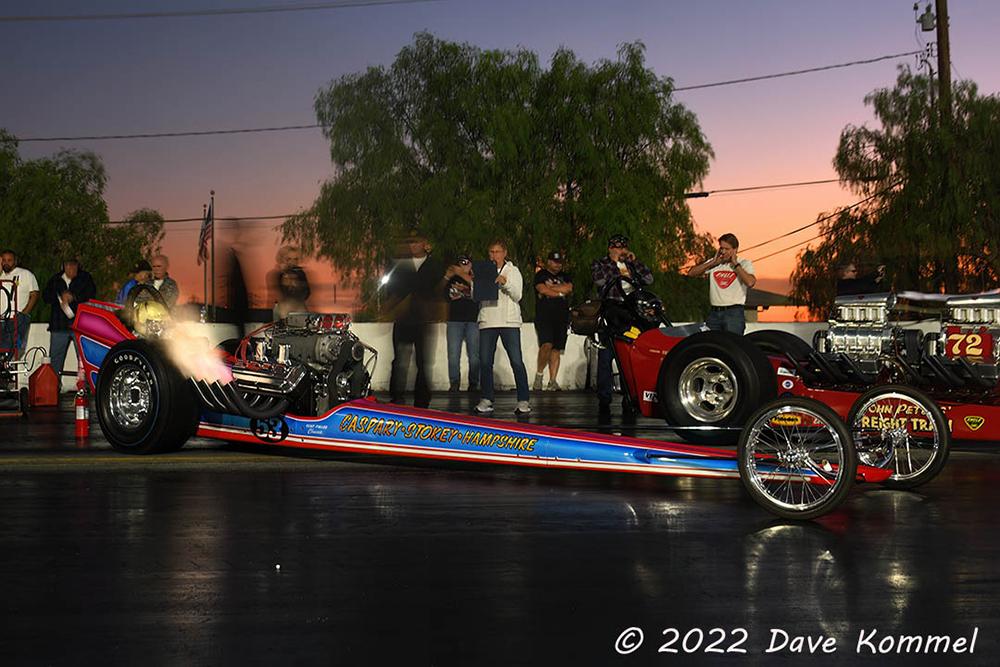 The event also featured a Saturday night "Line of Fire", featuring over 40 cars fired up at the same time under the California night sky along with fireworks show. It may have been the nitro fumes, but there wasn't a dry eye in the place after the final nitro car hit the kill switch.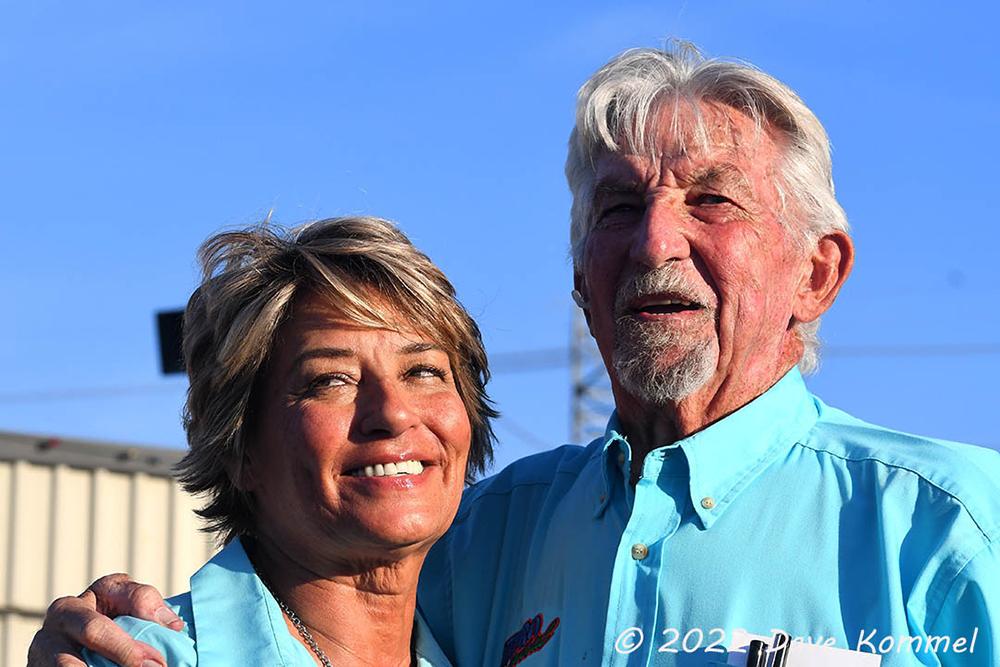 Former NHRA Competition Director Steve Gibbs, along with daughter Cindy, Ron Johnson and Media/Website director and former Top Fuel racer Don Ewald created the event after Gibbs left NHRA in 2017.
Nitro Revival's and Steve Gibbs' "Secret Weapon" Cindy Gibbs said, "After a 48 year career with NHRA, my dad made the decision to leave the organization after the debacle that took place during the 2016 CHRR.  In short, the Cackle Car owners were left "high and dry" and Steve wanted no part of it.  Such a lack of respect for him and all the loyal participants was just too much.  Attempts were made during the winter to smooth things out, but my father decided during the Gainesville race 2017 that it was time to go.
"A couple of weeks later, my dad had a meeting with Ron Johnson who was a big player in the cackle car scene. Ron owned the Ivo Barnstormer car, the Chizler, and the Shubert and Herbert cars and was heavily involved in car shows in his hometown of Escondido.  Nitro cars were the end of the night feature at the last show of the year. Ron suggested planning an event at Barona, a small track that was nearby and piggy backing on the Escondido success. Within weeks, they picked the name Nitro Revival, designed a logo, and picked a date for the inaugural event.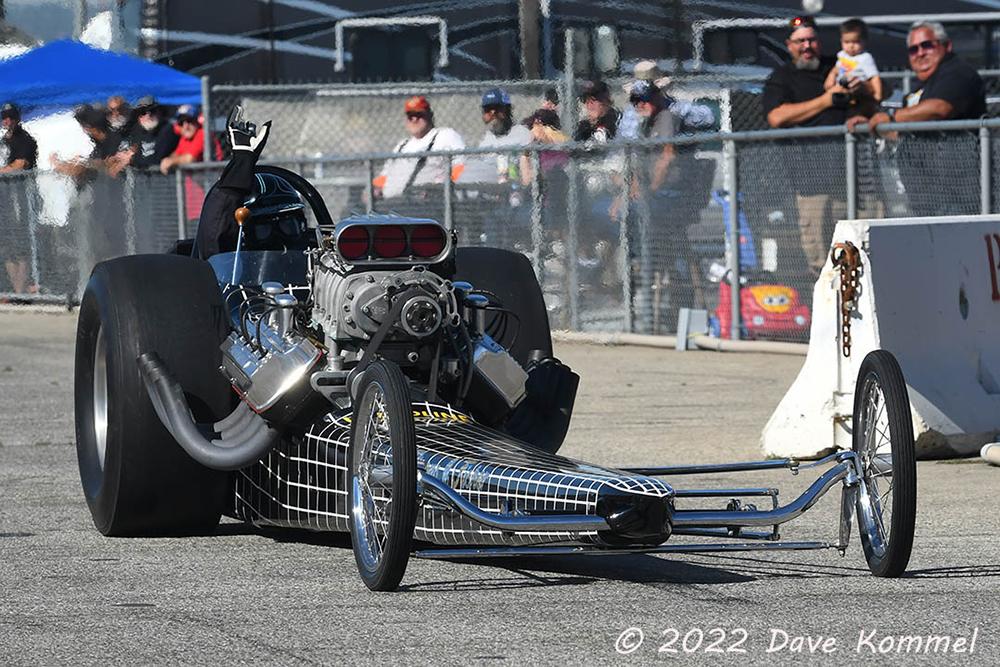 "We didn't know if this would just be a one-time thing, but we invited every International Drag Racing Hall of Fame member. The event would be everything that Reunion stopped being…and not so much about the racing.  It's important to point out that we love the CHRR, my father created that event. We put so much time and love into that event…but the event that it was is no longer."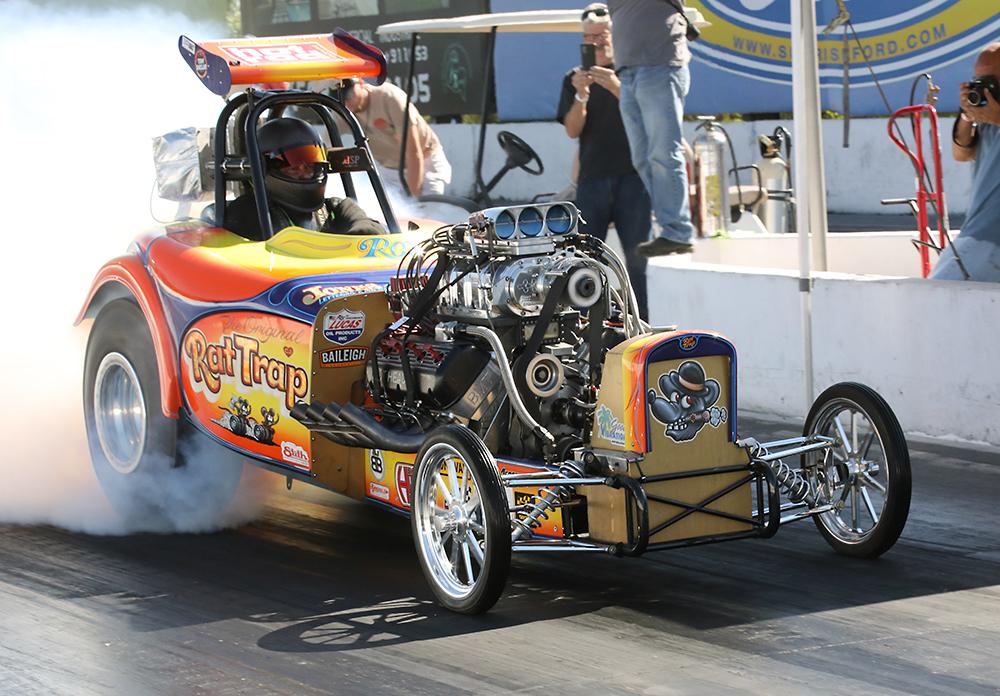 "The Revival is a place for racers and fans to come and be welcomed, appreciated, and honored like they deserve. Once again, the fan favorite Cackle Cars were front and center getting their moment; unfortunately, Ron Johnson passed away just nine days after the inaugural Barona event, which served as a reminder of how fragile life is and how the "gathering" aspect of the event remains most important.
"Irwindale Dragstrip got a new lease on life during the latter part of 2018, so after our stop at Laguna Seca that year, we found our new "home" moved the event to Irwindale in 2019. It's where we always wanted to be, given my father's history with the original Irwindale Raceway back in the '60's, plus it's so close to home.  My mom, who was suffering from terminal cancer made the Laguna Seca event, but sadly passed just 18 days before the first event at Irwindale.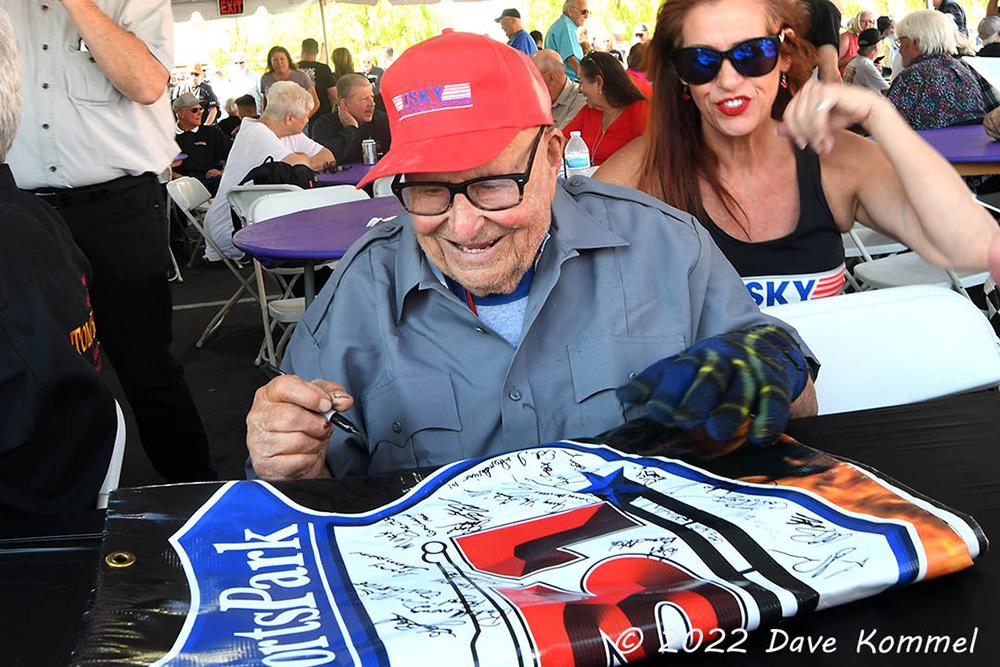 "COVID stopped everything in 2020 and when we were finally able to have our event in 2021, we questioned our sanity…it's such a huge undertaking.  At one point during the weekend dad said to me "I think this is it, it's just too much'. Later that night, after the "Line of Fire" and fireworks, he looked at me again and said with a grin, 'Well maybe we will do this again!'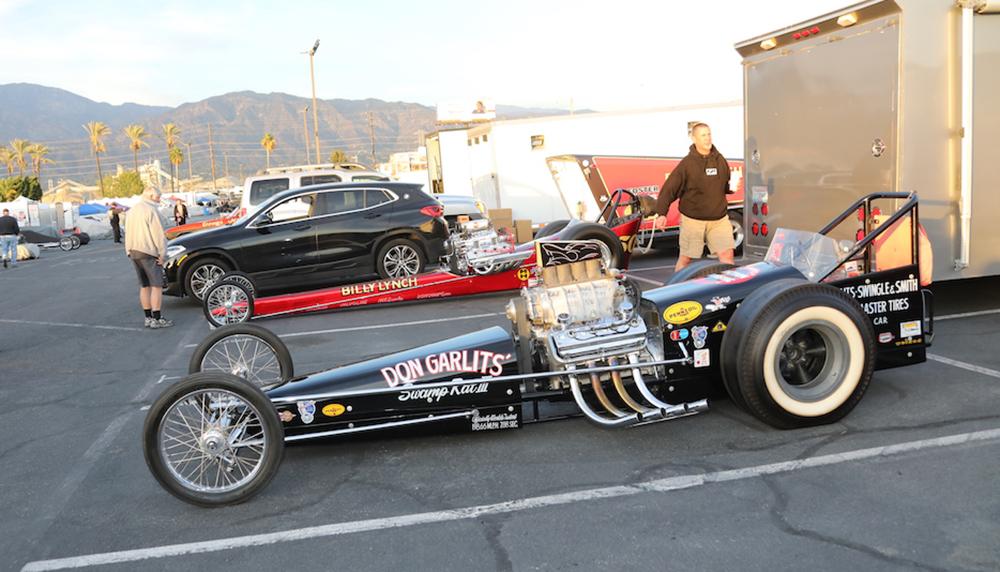 "We knew that THIS year we were going to hit a home run. Social media has really helped us; everyone wants in on the fun!  Good Vibrations contacted me with the desire to jump onboard and Bobby McLennan and the Jim McLennan Drag Racing Foundation have been with us since the first Revival. We could not do this event without Bobby…such a good friend to the Gibbs family.  Red Line Oil joined us as well in 2022, providing oil for all the cackle car owners…great company and great product! I expect more companies to come onboard for next year's Revival."
Cindy adds, "Sadly, Joe Passalaqua, the owner of the Smirnoff car passed away right before the Revival; he was in town with his crew getting ready for the weekend.  It serves as an interesting reminder as to why we do this…we never know how much time we have, do we?  More than once, I was overcome with emotion…we know that some of our loved ones that were with us last weekend won't be coming back.  It's just reality…a very sobering one".
The Revival is not limited to just honoring drag race veterans. Gibbs says, "Frank DeJesus and his two sons, Sebastian and Dorian had their Hot Wheels track and collection of cars on hand…the two boys never had met Don Prudhomme. I told Snake about the collection, and he went over to meet the family and that was just so cool."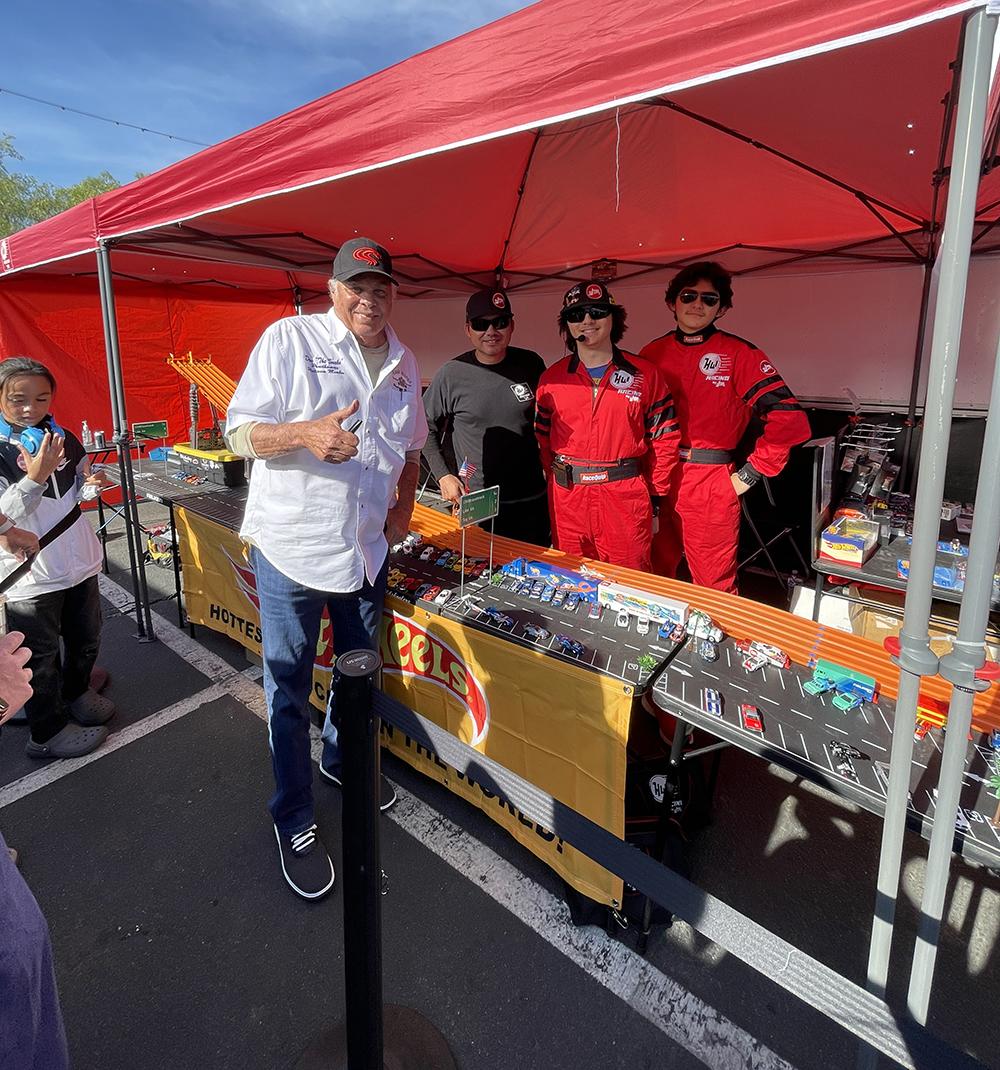 Making passes on the Irwindale track were limited to a short squirt but it was secondary to the elbow rubbing with some drag racing pioneers. Autograph sessions were held throughout the weekend with long lines of fans out to get their "Heroes" signature.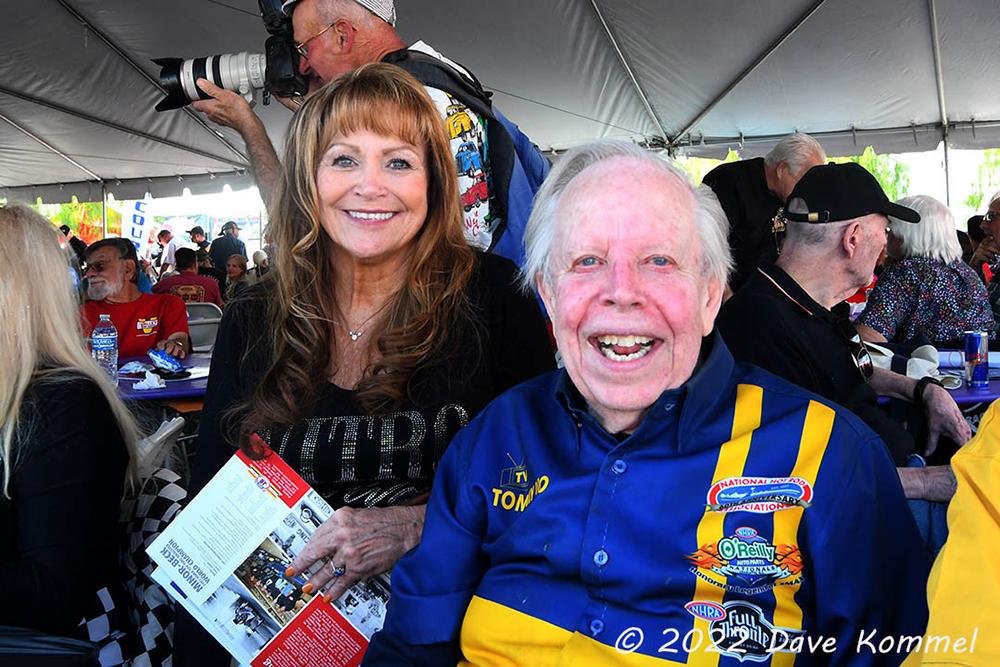 Southern California's Dave Kommel who has been photographing the Revival from the beginning said after the event. "It's hard to put into words how special Nitro Revival has become.  Having attended every California Hot Rod Reunion for the last 15 years and watched the steady decline over the last few years to what has become barely a reunion, I am very grateful for the efforts of Steve and Cindy Gibbs (and a legion of volunteers) who have created a magical event that has far superseded CHRR.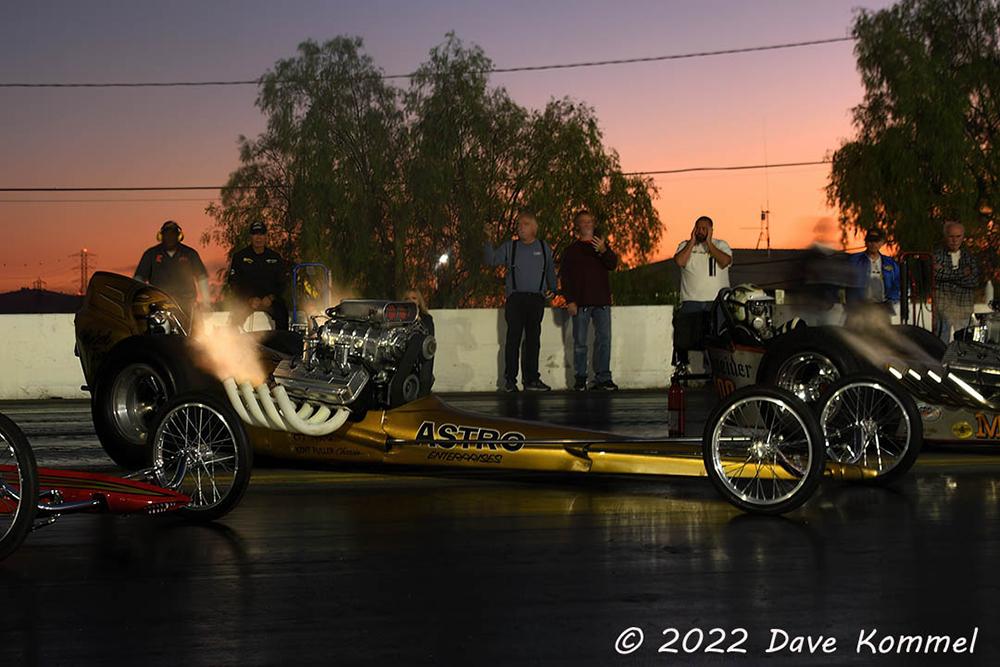 "For three days, I wandered Irwindale viewing countless restored or recreated dragsters and Altereds from the glory days of drag racing and continually running into old friends, many of whom I hadn't seen in years.  The Saturday evening Cacklefest with somewhere north of 40 cars fired on the track was breathtaking!"
East Coast photographer and long time contributor Mashie Mihalko had this to say after the Revival. "Cindy and Steve Gibbs with their dedicated support staff produced another memorable Nitro Revival for all those attending this nostalgic event.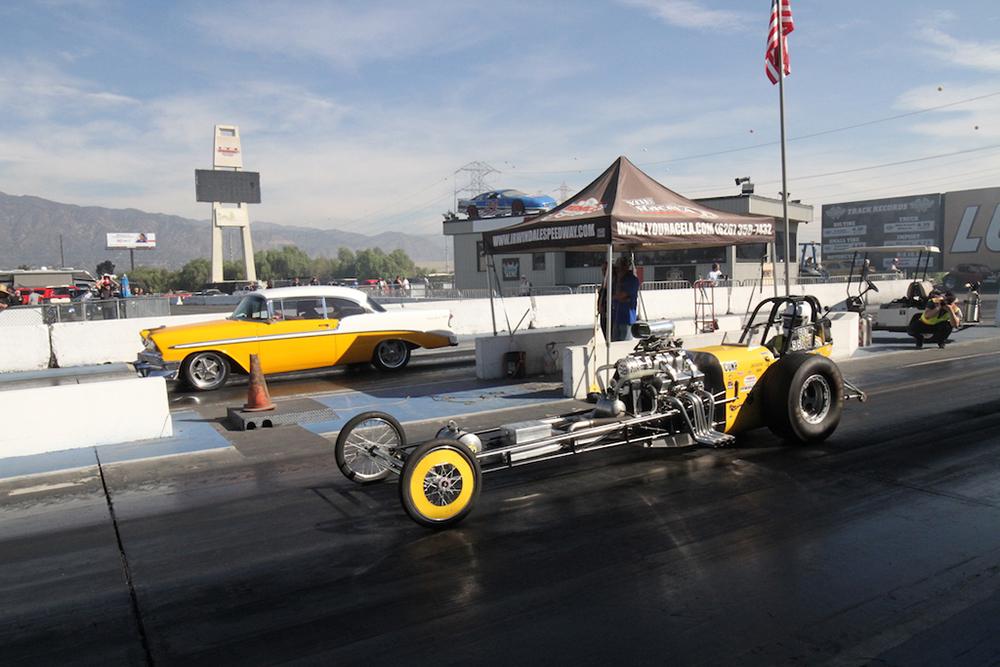 "The three day event began on Friday evening on a somber note with a memorial service for "Big Mac" Dave McClelland.  Saturday's schedule was a sensory overload with time trials, exhibition runs, and push starts of dragsters down the 1/8th mile of the Irwindale drag strip.
The pit area was filled with street rods in "Hot Rod Junction."  Sixty gassers were parked together with the majority associated with the So-Cal Gasser group. The autograph session was jammed with lifelong fans of the legends of drag racing in attendance.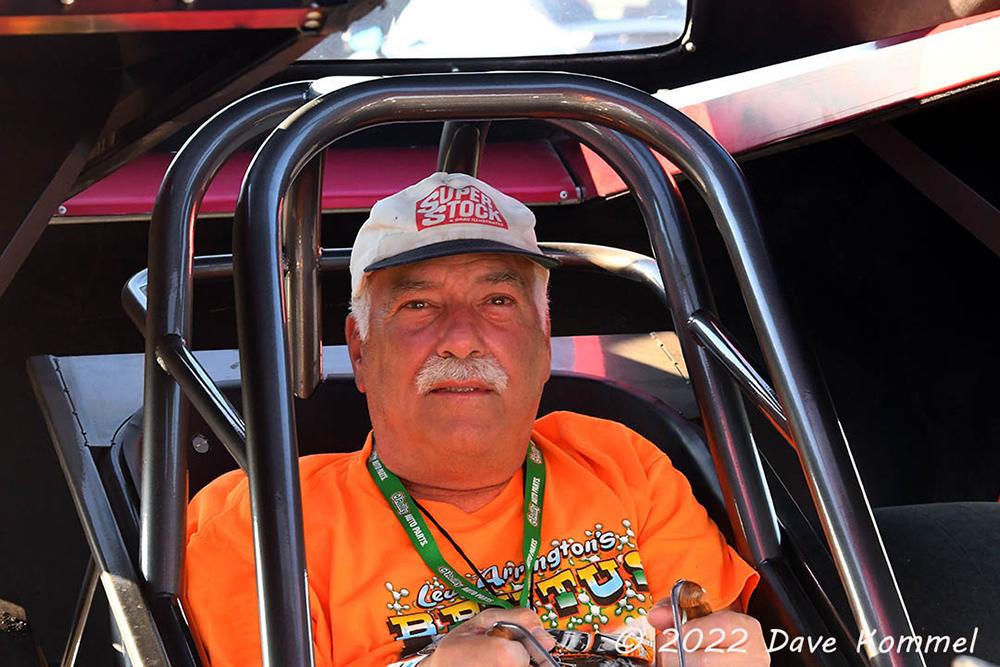 "The climax of the evening was "The Line of Fire."  A variety of nitro vehicles filled the surrounding area with a cacophony of sound when their engines were started. A substantial crowd returned Sunday to watch the eliminations and experience 'One O'Clock Thunder'. Every vehicle in the pits was invited to start up their engines. The attendees roared with their approval."
For those who missed Nitro Revival 5, start planning to be at #6….
To view more of Dave and Mashie's images from the Revival, go to: