Reese Wins his First at Maple Grove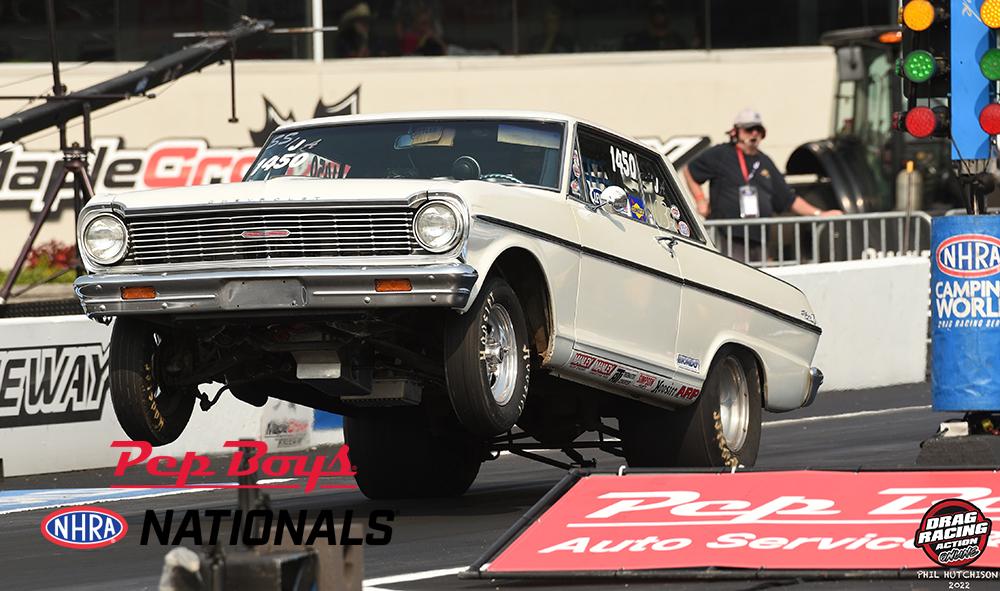 Story and Photos: Phil Hutchison Drag Racing Action Online
At the 37th annual Pep Boys NHRA Nationals at Maple Grove Dragway, Super Stock racer Roger Reese from Manchester Md. at the age of 64, won his first ever NHRA national event in his first ever final round. It wasn't an easy ride to the finals as Reese raced some of the best Super Stock drivers in the eliminator. In the finals driving his crowd pleasing '65 Nova SS/JA Reese was up against one of the toughest drivers in the country, the SS/IA Camaro of former Lucas world champ Byron Worner.

Both drivers had great reaction times with Worner's 0.006 light a tick better than Reese's 0.010 but Worner took a little too much stripe breaking out with a 9.845 on his 9.86 dial. Reese's winning time was a 10.433 on a 10.42 dial.
Reese said after his first ever win, "I have always been good on the lights. My problem is on the top end. Maybe it's depth perception or age, but I don't play games at the finish line. The Nova has a very small distance from my front wheel to the bumper which at times, throws my competition off. Worner's Camaro has twice the distance from his tire to the bumper and he told me after the race when he hit the brakes at the stripe, the front end dipped enough to trip the timers with his bumper and he went under his dial.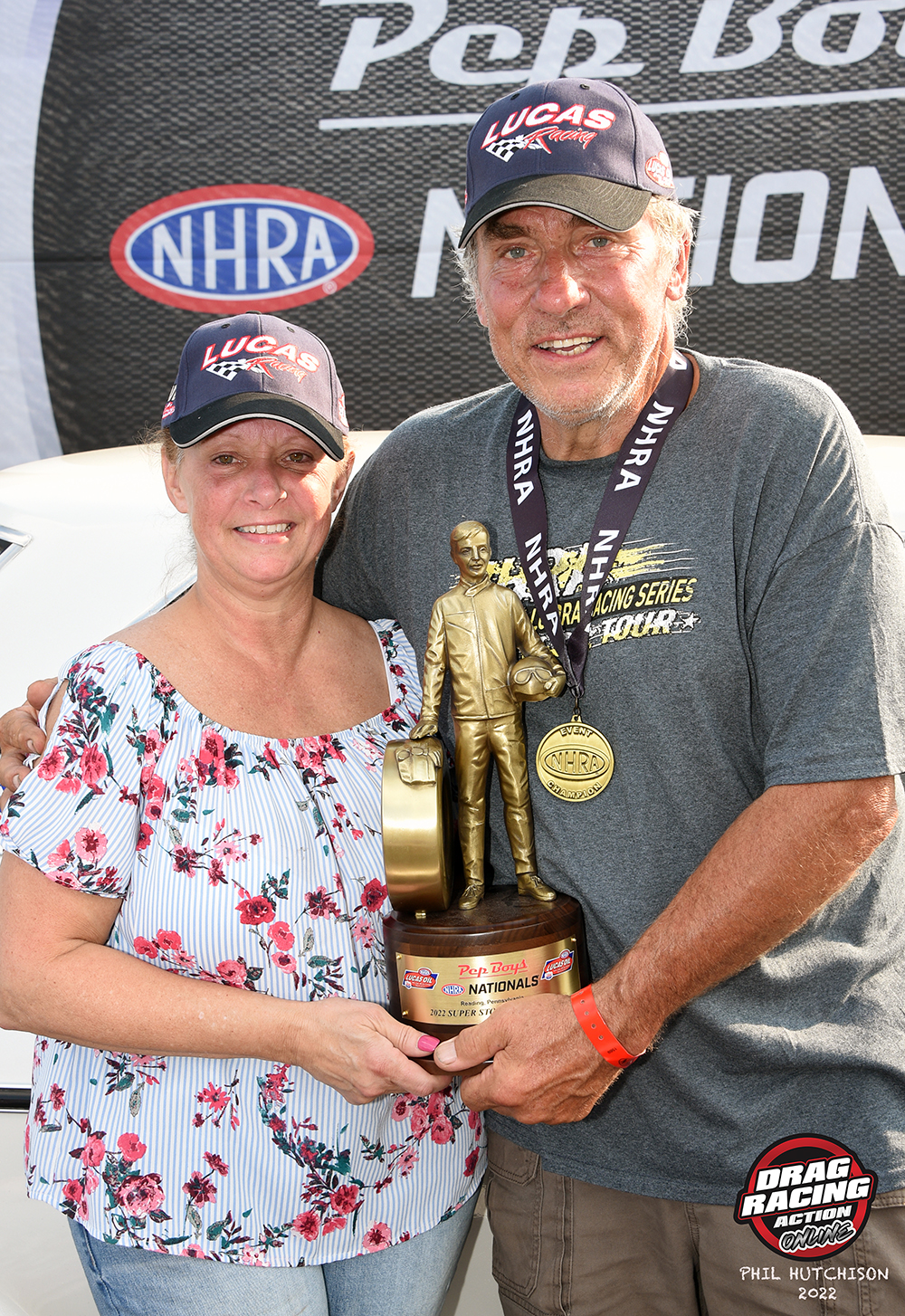 Brenda and Roger celebrate his Super Stock win at the Pep Boys Nationals 
"I have not been past first round in two years. The last time I won a round was at Cecil in 2021 and broke a lifter on that run. I just got the motor back from Carroll Morris who builds my motors, and we did not have a chance to run the car before Thursday's first qualifier. To come to Maple and run like we did is unbelievable.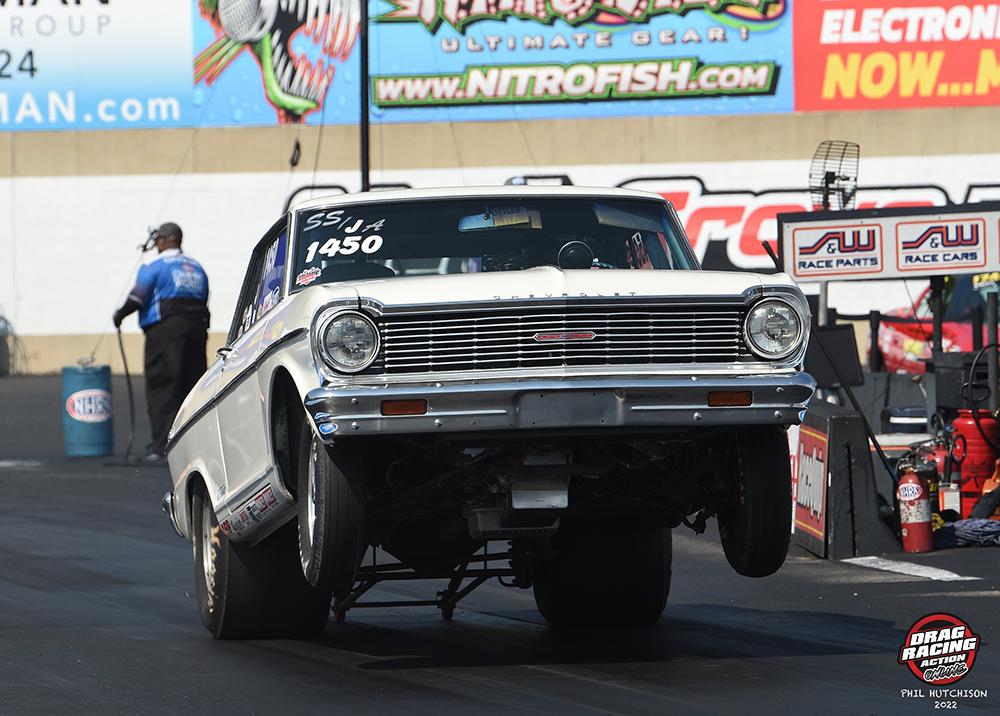 "I used to qualify in the top half of the field but now I usually quallify in the bottom half. Byron  Worner's brother Bryan runs in my class half the time and his car is a lot faster than mine but luckily, he lost early at Maple so I would not have a heads up run against him. I was sweating bullets if I had to race him heads up as I wouldn't have a chance against his faster car."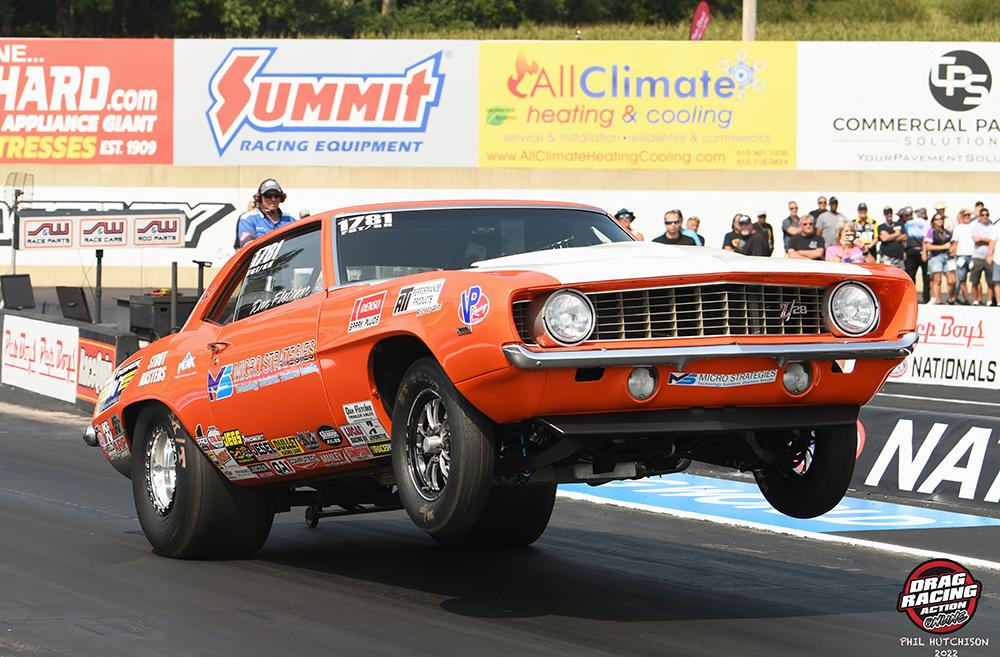 Dan Fletcher had a mechanical mishap in R3 against Reese
Reese had a few breaks go his way to his first final. As Reese said, "In round three Fletcher didn't have his air bottle on and when he went to shift, the car fell off. I looked around after I put it into high gear and didn't see him so I shut off not wanting to break out in a race that I already had won.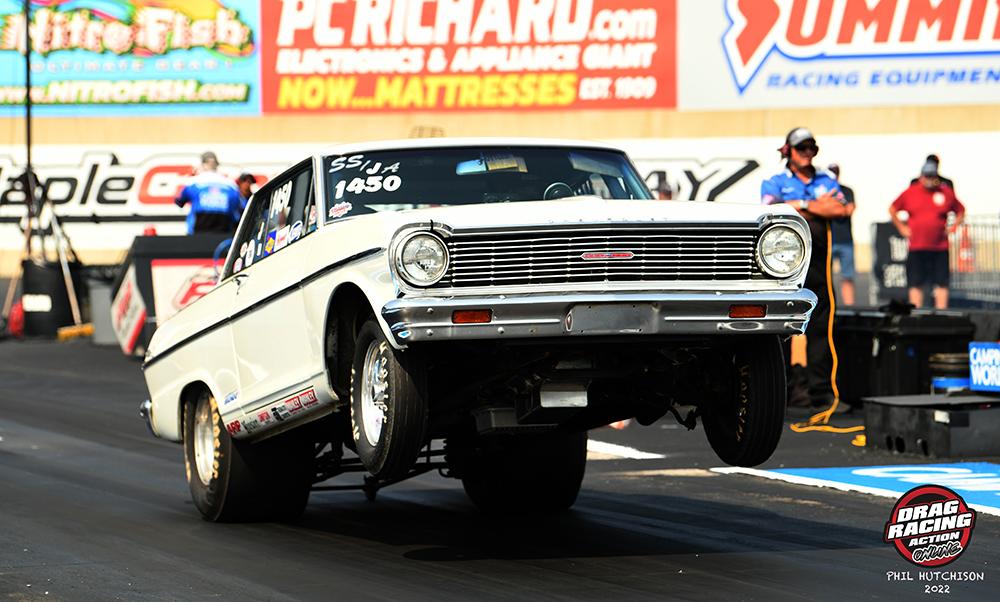 "In the next round I was racing Comella's Dart and he red lit. I had great lights in both races but it could have gone the other way. In round two I had my worse light against Lincoln Morehead and he had me beat but he gave it up on the top end. I was lucky. I saw my win light come on and I thought 'How could that have happened?' the car slowed due to the heat and I was off my dial. I have a very small carburator on the car and heat really takes a lot of power out of it. It runs a lot better in cooler temperatures."
"Like I said, I do not play the finish line game. I run the car all out. I dial what the car will do. The last time I tried playing the top end game I slowed down at the stripe and the guy passed me and I lost. Last time I did that."
After a long layoff from racing and some health issues, Reese decided to get back into Super Stock racing about 15 years ago. Reese said, "I found the Chevy in an ad in the back of National Dragster and bought it from a guy in Texas. I used to race when I was single but after marriage, a few kids and a heart attack, racing took a back seat. I had a '70 Chevelle Super Stocker but the combination wasn't right so that's why I bought the Nova."

"After Saturday's racing was done and we knew we were going into the semis on Sunday, I called my wife Brenda and son Lee at home and told them to get on up to Maple Grove. They came up with my grandson George and saw me win. I am still on cloud nine."