Crutchfield, Poole-Adams, and Langdon take Sportsman titles on Fathers Day at Bristol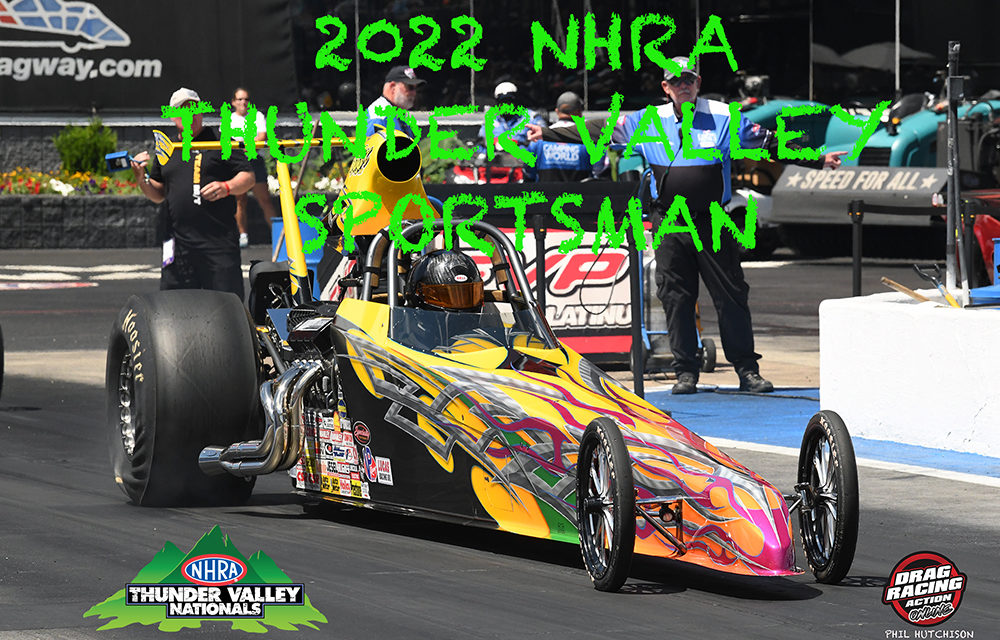 Drag Racing Action Online
BRISTOL (June 19, 2022)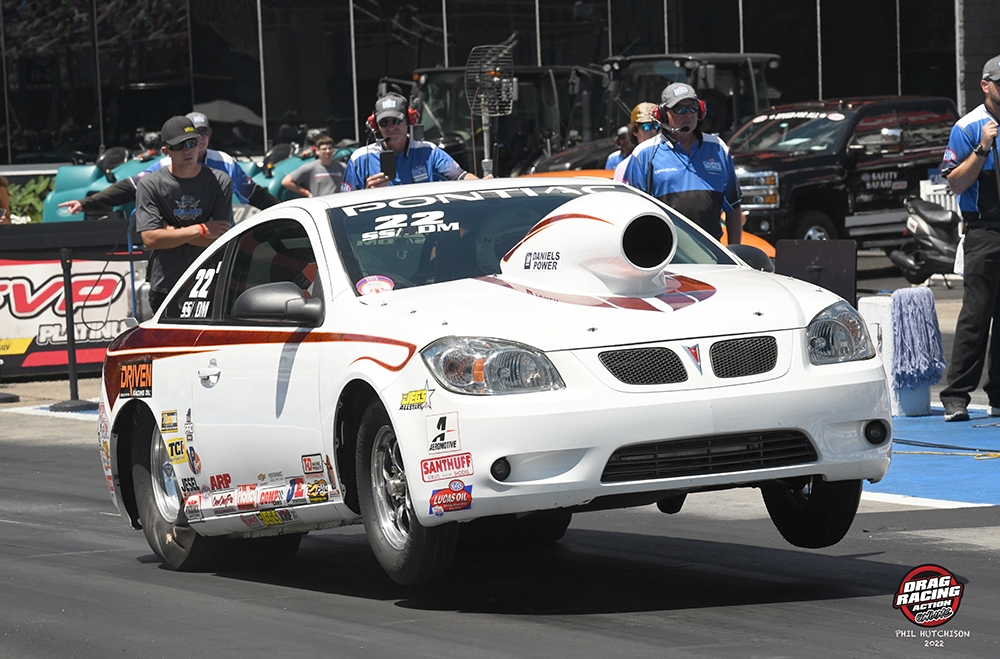 Mike Crutchfield from Montgomery Ala. took his '08 G5 SS/DM to the Super Stock title at the NHRA Thunder Valley Nationals at Bristol Dragway in the beautiful hills of Tennessee.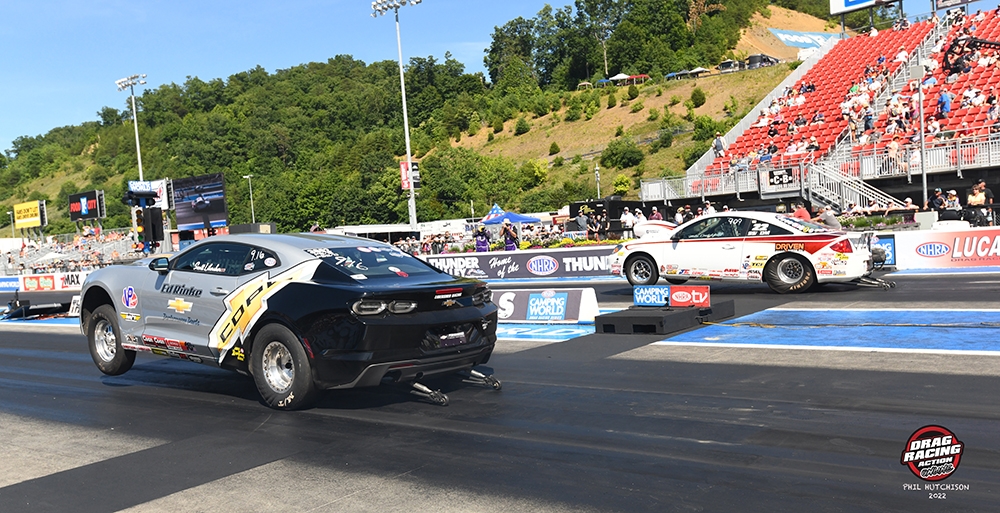 Crutchfield defeated the late model Camaro FSS/D of Scott Libersher from Wilmington Ill. in the finals. Libersher left too soon giving the Crutchfield his fifth career NHRA win.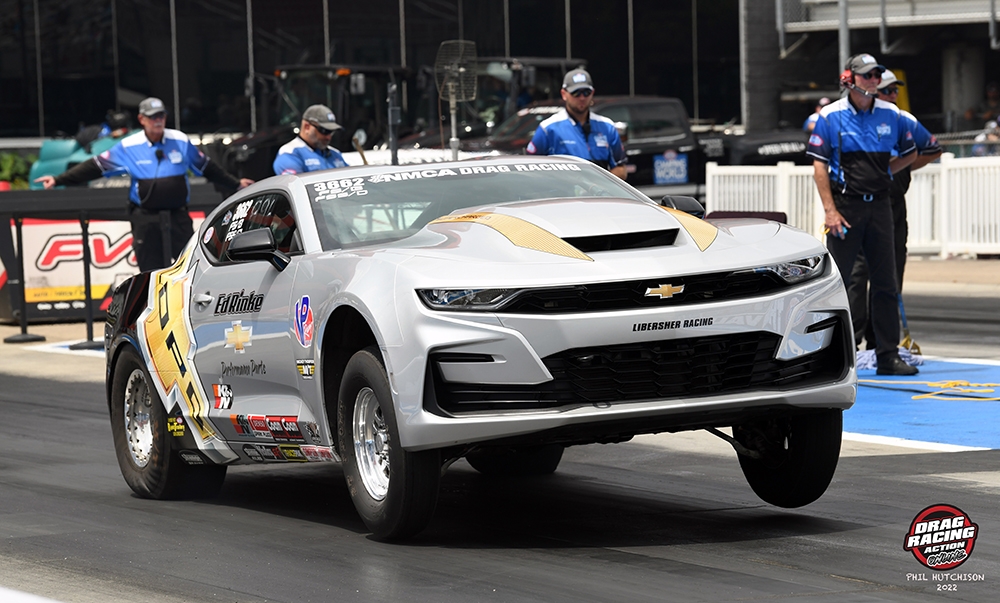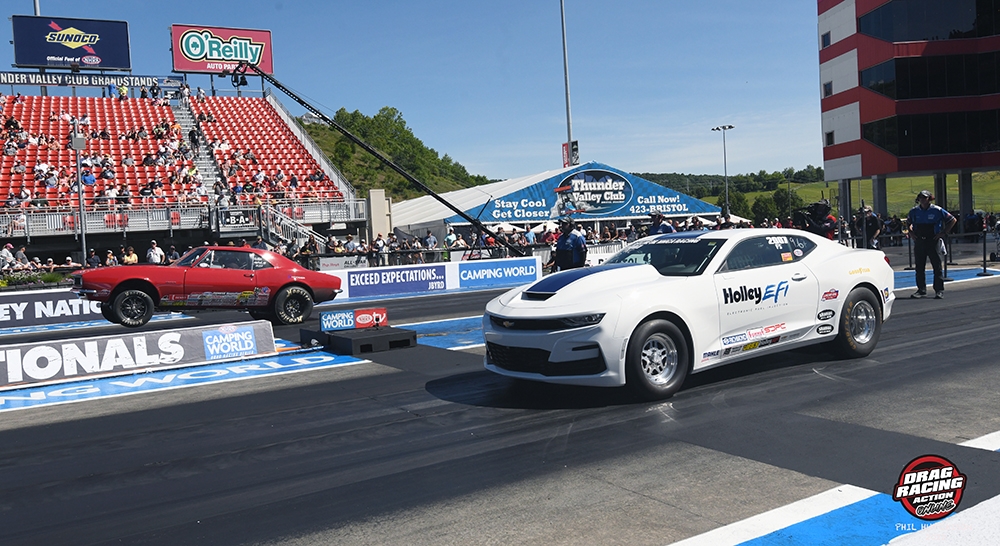 Stock Eliminator was also decided by a red light as Todd Ewing from Cullman Ala. in his D/SA '67 Camaro lit the red bulb putting the '20 Camaro FS/C of Daren Poole-Adams from Shelby N.C. in his second Stock winners circle in 2022.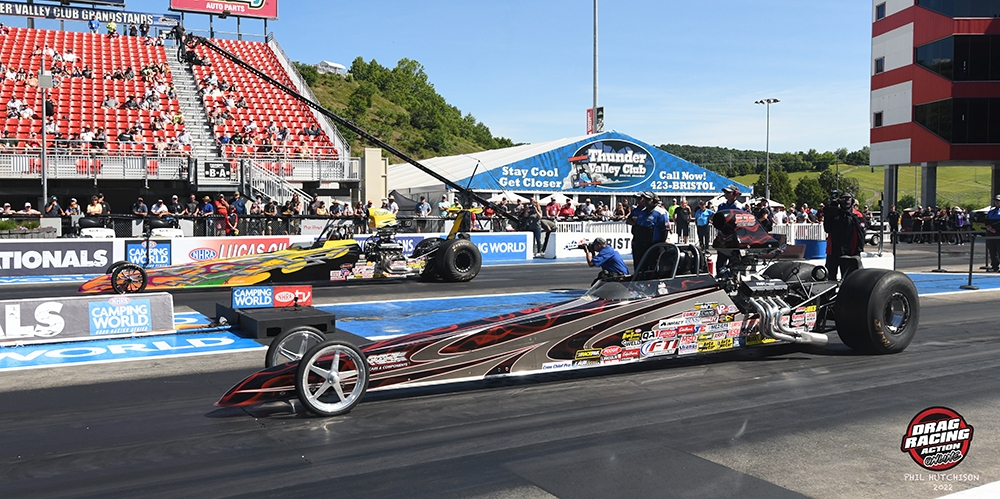 Langdon(Far Lane) took out veteran Labbous in the finals of Super Comp
In addition to being in the finals of Top Fuel, Danville Ind. Racer Shawn Langdon had his dragster in the final round of Super Comp. Unfortunately Langdon did not double up, losing in the finals of Top Fuel but Langdon did the deed in S/C. At the green Langdon chopped the tree down with a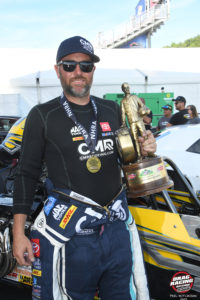 0.005 light against multi time champ John Labbous Jr's good 0.018 RT. It went down to a double breakout with Langdon running an 8.893 to Labbous' losing 8.862. The Bristol win was Langdon's fifth NHRA Wally and eighth overall.
Chris Lewis from Rincon Ga. drove his '68 "Dadbod" Camaro to his second career Wally in Super Gas defeating the Mercury Zephyr of Ausby Brewington from Springfield TN. Lewis ran a near right on 9.902 as Brewington's Merc went too quick, breaking out with a 9.897.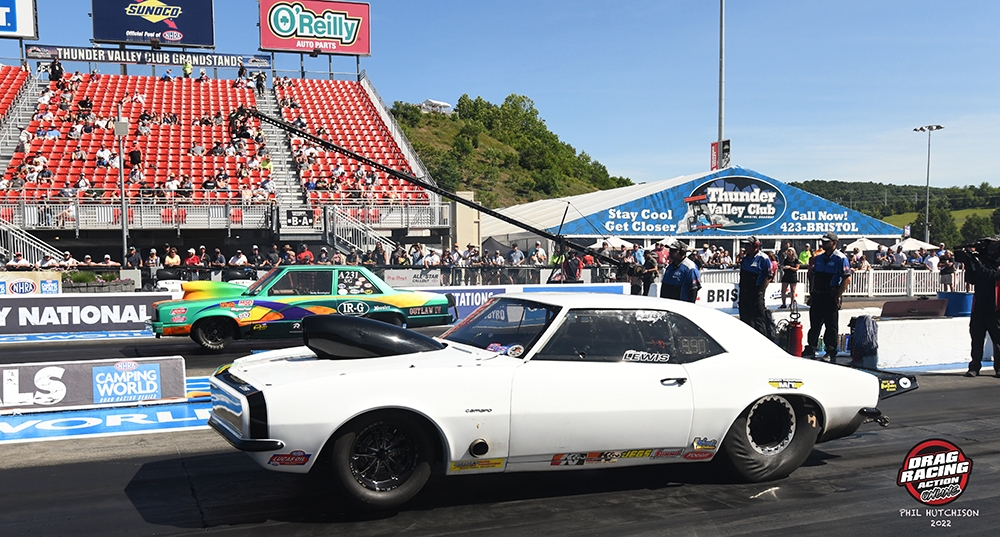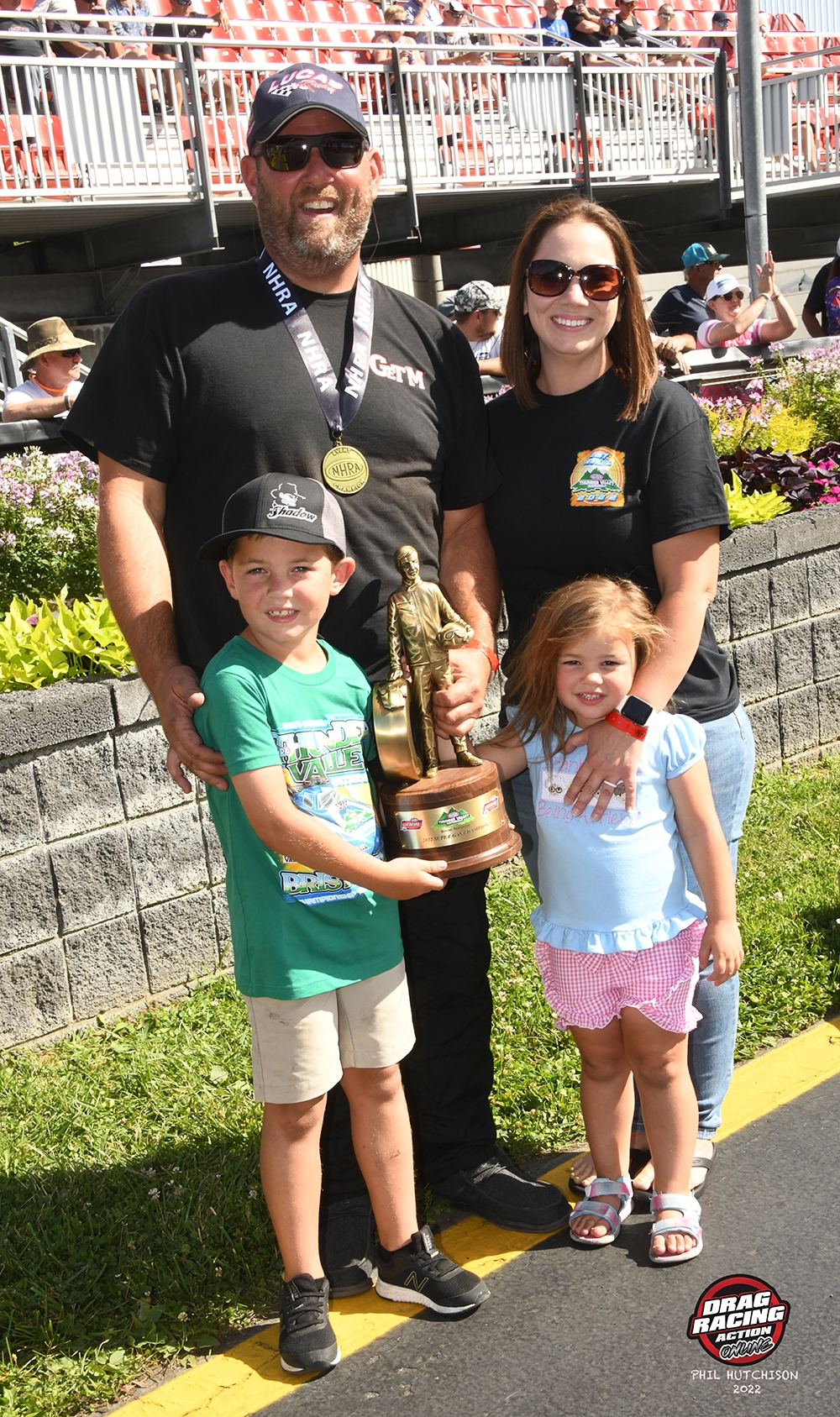 It was a Happy Fathers Day for Super Gas winner Chris Lewis and his family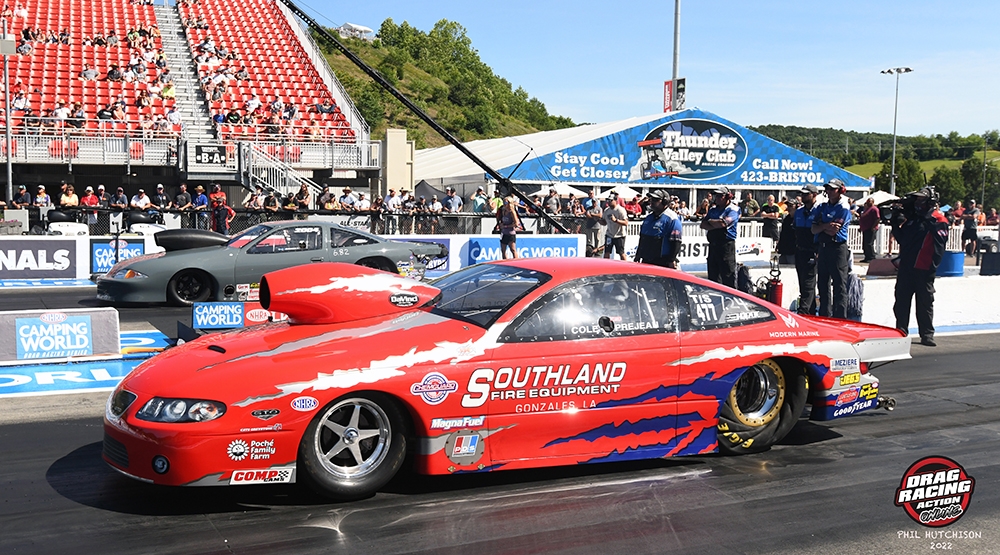 Tyler Caheely (Far Lane) defeated Prejean in the finals of Top Sportsman
The Top Sportsman presented by Vortech Superchargers trophy went to Tyler Caheely's racing out of Chickamauga Ga. Tyler driving his '02 Cavalier defeated the Pontiac GRO of Cole Prejean in the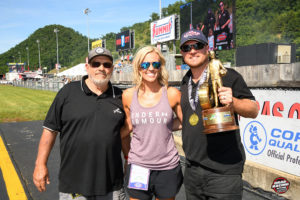 finals in a double breakout. Prejean from St. Amant LA, ran a 7.222 on a 7.24 dial as Tyler dialed in a 6.82 and ran a less of a breakout 8.811 in his second win at the Tennessee facility.
In a battle of Chevy Camaros David Barton from Sinking Springs Pa. out dueled Stephen Bell from Shreveport LA for the Factory Stock Showdown trophy. Barton ran a 7.889, @ 174.28 to Bell's 7.930, @ 173.92. MPH.The Bristol win was Barton's first of 2022 and his fourth career Factory Stock win. Barton also left Bristol with the 2022 Constant Aviation Factory Stock Showdown point lead.