Cox wins second Lucas event in a row and Cummings rolls to a win at Maple Grove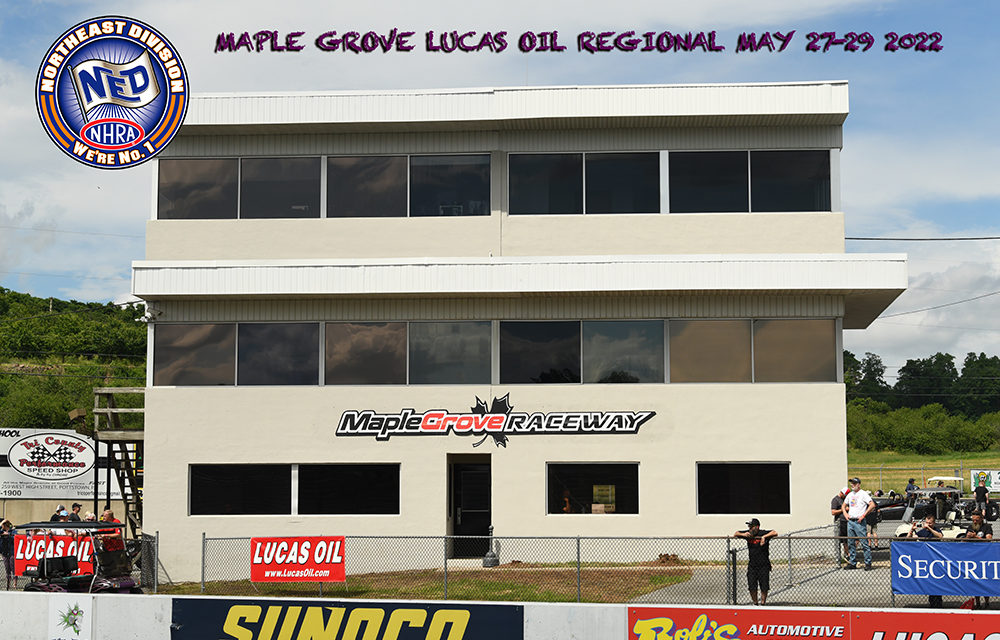 Story DragRacingActionOnline
Images Phil Hutchison/David Smith/Kubicke Photography
In just the short span of a week defending East Region champ D.J. Cox put his DXI Construction Camaro in the Top Alcohol Funny Car winner's circle once again at the Maple Grove Lucas Oil regional. Joining Cox was Matt Cummings from Pompano Beach Fla. in Top Alcohol Dragster.
The Lucas Oil Regional was the third event of the year and featured some of the best racers in the country vying for valuable Lucas Oil points.
The Alcohol classes were full of drama all weekend starting with qualifying and continuing throughout eliminations.
The rain on Friday kept the Alcohol Funny Cars and Dragsters to just one shot down the Pennsylvania track with a second qualifier on Saturday afternoon.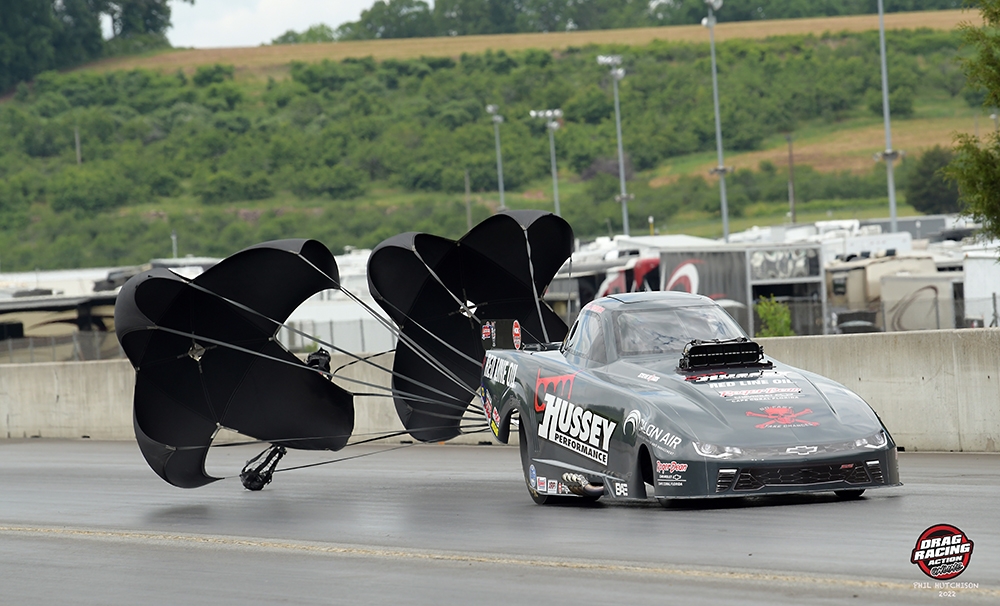 After the first session, Placentia Calif. racer and reigning Lucas world champ Sean Bellemeur had his Tony Bartone Hussey Performance Camaro #1 with a 5.536 and looked like the number was going to hold. That was until the last car in qualifying made a pass. Cox from Whiteford Md. picked Bellemeur's pocket with a 5.533 to take the #1 spot.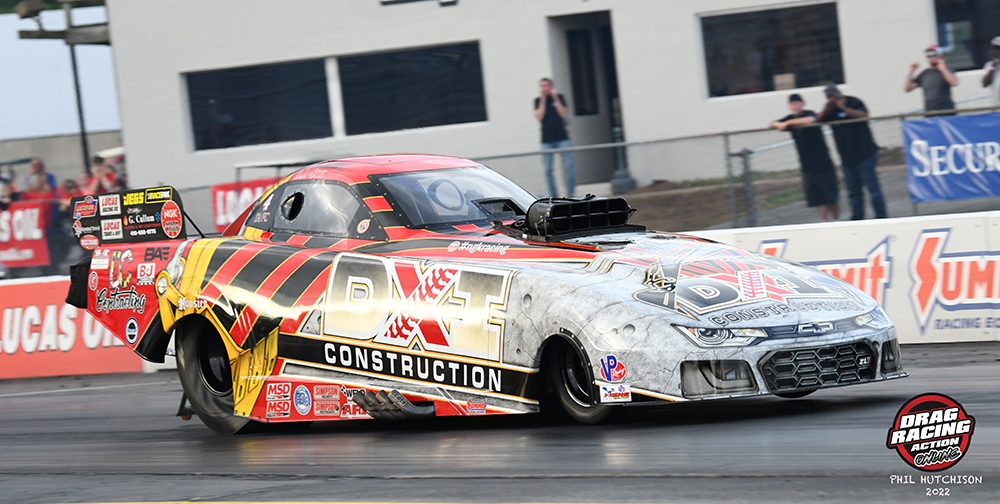 Rain Saturday night washed away any chances of running round one and eliminations were moved to Sunday. The day was perfect with warm temperatures and partly sunny skies.
Cox got the first round bye due to only seven cars in the field and took advantage of the free pass running Low ET of the meet with a 5.507.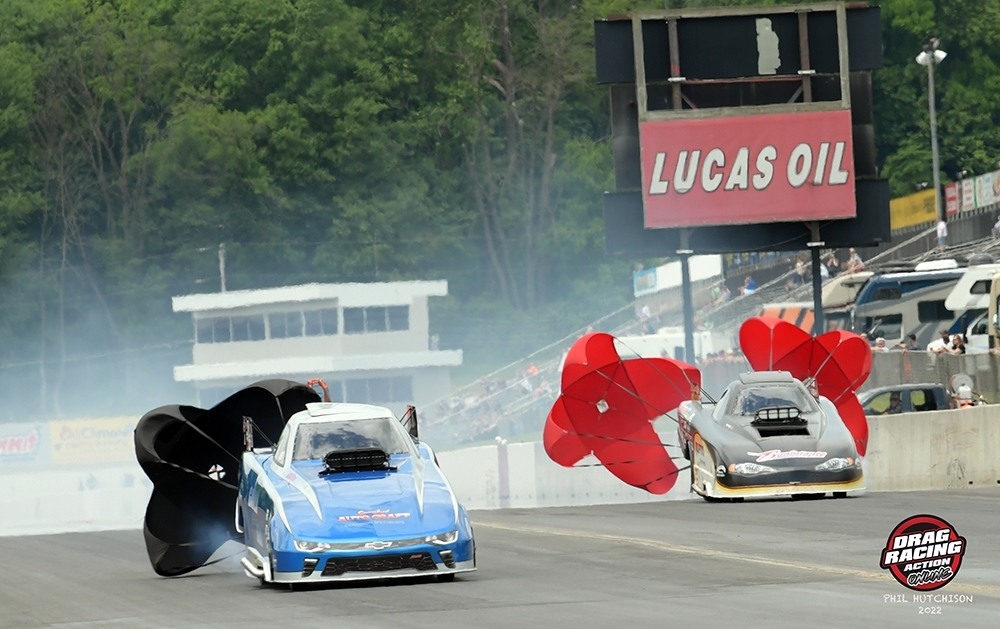 Cecil Country runner up Dan Pomponio (Far Lane)  outran Brian Gawlik's Camaro next with a great side-by-side race winning with a 5.613 to Gawlik's close 5.631. Unfortunately Pomponio banged the blower in his Monte Carlo on the top end ending the Berlin N.J. driver's day.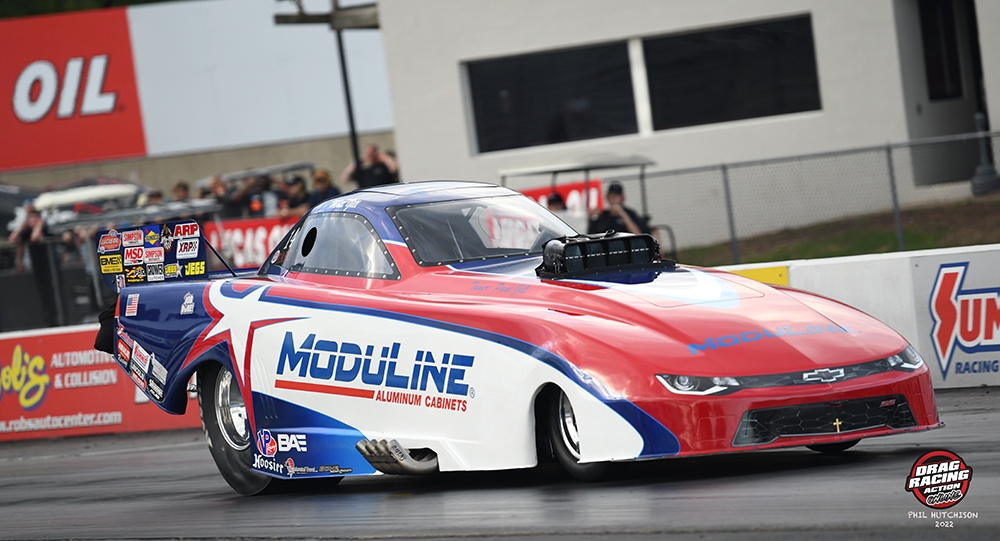 Matt Gill went out in R1 in the Moduline Camaro 
Next Bellemeur sent Wayne Morris in the John Hedley Firebird home early with a tire shaking 5.969 and Atco winner Phil Burkart beat Matt Gill in another close race, 5.561 to a losing 5.571.
Things got strange in round two as Cox had a competition bye run due to Pomponio not being able to repair his car. Cox had full intentions of putting down a solid pass for lane choice and as the car was revved up and both pre stage and stage lights were lit, nothing happened. No green. Nothing. A power surge earlier during eliminations came back to haunt the timing system and Cox wisely dropped the RPMs in his Camaro and idled down the track once the green finally came on.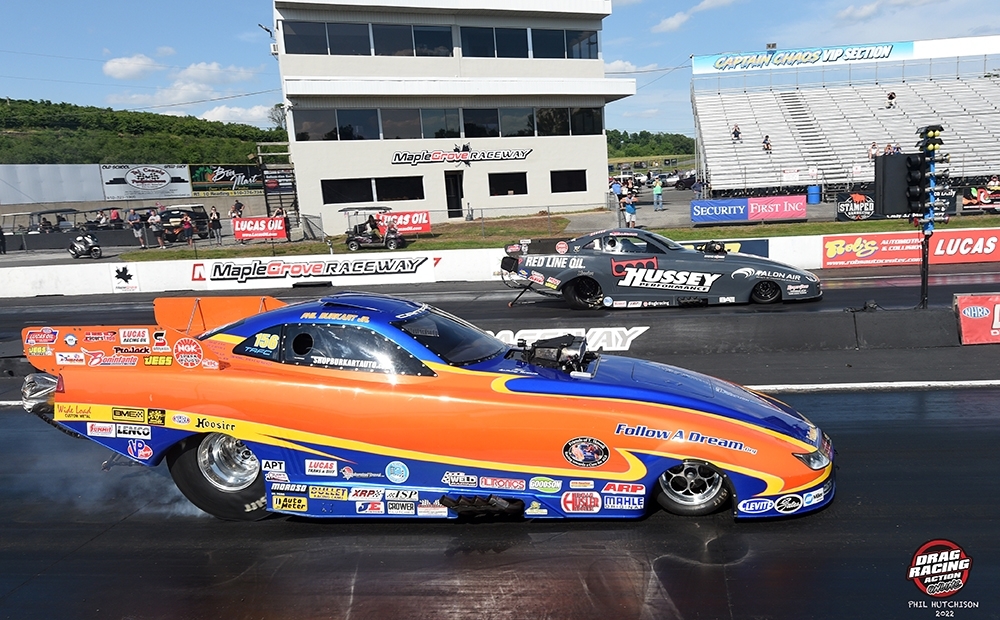 The other semifinal pair had Burkart (Near Lane) overpowering the track losing to Bellemeur's 5.723 to a shutting off mid nine second run.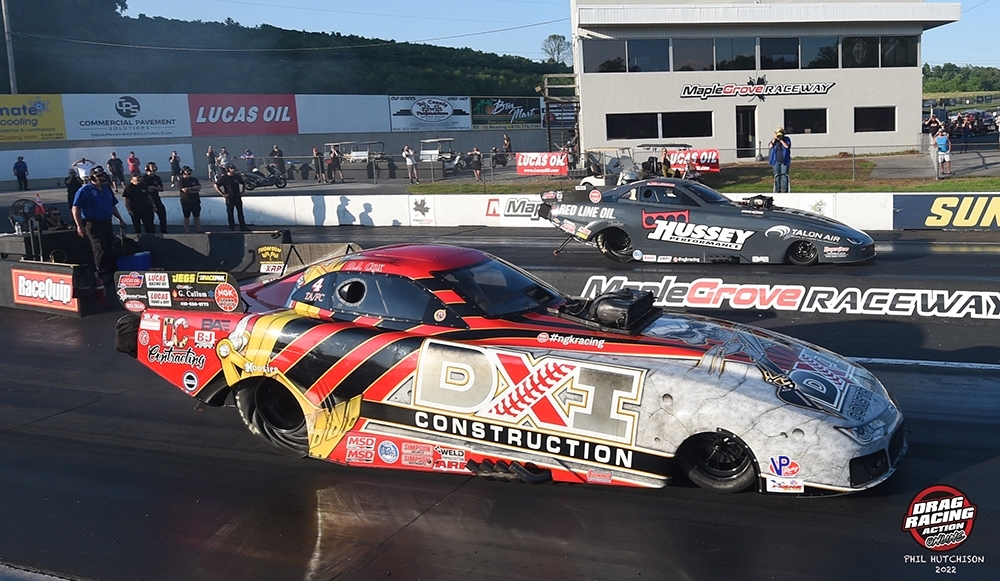 In the finals, Bellemeur who has had success at Maple Grove winning the NHRA national event in 2021 and the Lucas regional in 2019, was second off the line to Cox's James Bond .007 light with a 0.060 light and trailed the Maryland racer all the way down the track losing with a 5.72 to Cox's winning 5.525. The win was Cox's 10th career Lucas title.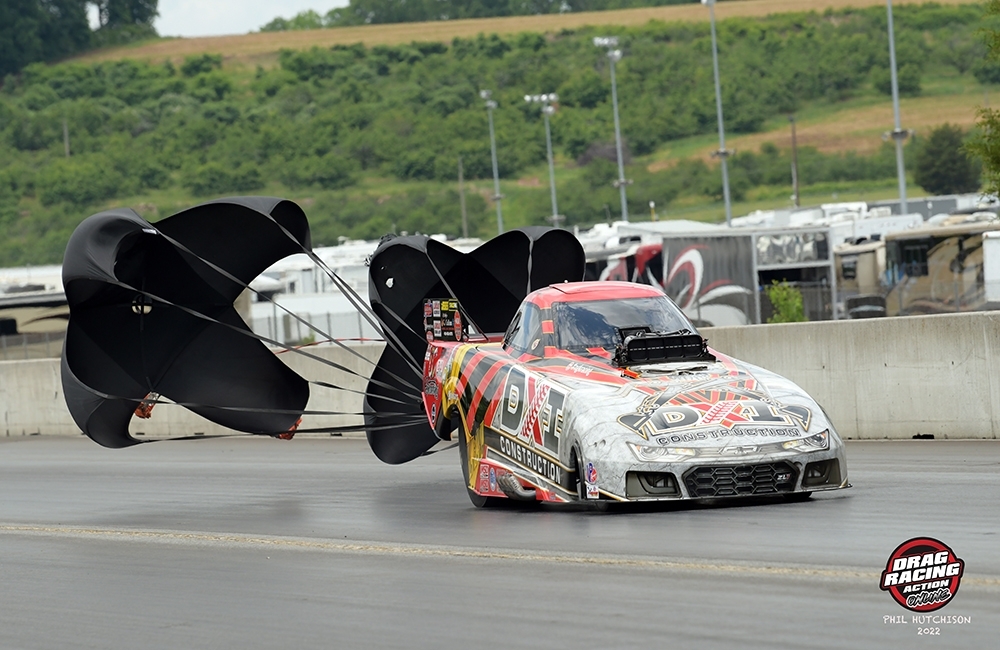 After the race Cox said, "This crew is amazing, they are racing with a lot of confidence right now. Doesn't matter who is in the other lane, there not intimidated, there not backing down. They just keep working harder every race."
The win at Maple Grove has Cox firmly in the East Region point chase with Burkart #2.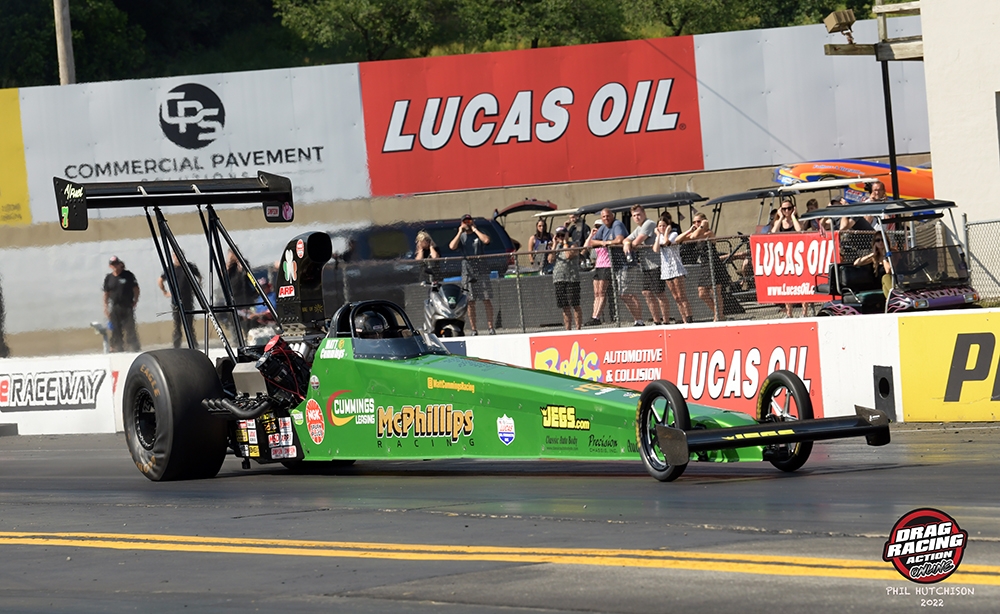 Matt Cummings, driving the green Rich McPhillips Racing A/FD is claiming the Central Region for his 2022 season but as the car is based out of nearby Phoenixville Pa. the team brought the car to Maple Grove fully expecting to shake up the East Region. And shake it up he did.
At the Atco regional in May, Jackie Fricke drove the John Finke Equipment A/FD to a win. At the next event at Cecil County, it was former D1 champ Karen Stalba taking home the gold over Fricke.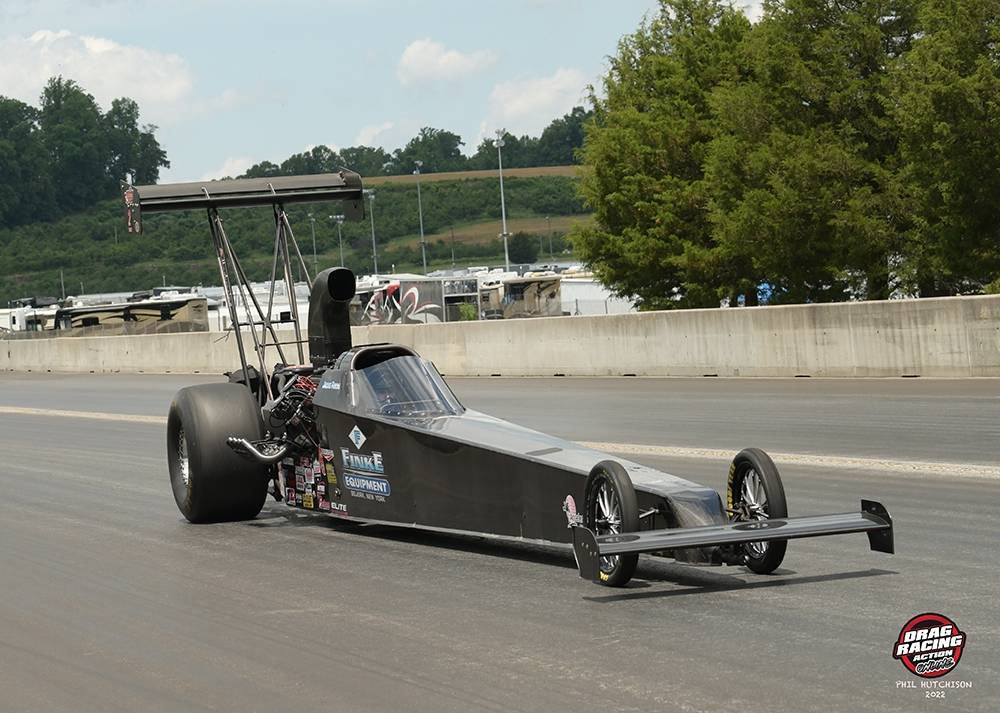 Jackie Fricke slows after losing her first round race against Dreher
After the first round at Maple Grove, neither driver was in competition. Both victims of traction woes ending their weekend.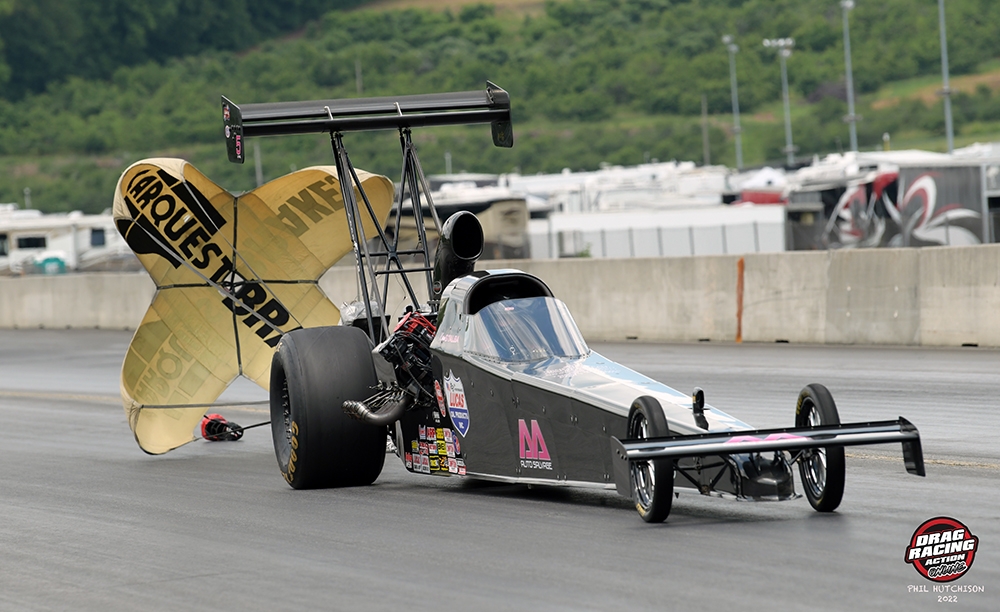 Cecil winner Karen Stalba was gone after R1
Earlier on Saturday before the rains came in, one pair of Alcohol Dragsters made it down the track. Nevada racer Duane Shields shook the tires losing to the blown dragster of Mike Hepp from Levitton Pa. The win for Hepp was costly as he wounded the motor in the car and was unable to make the round two call.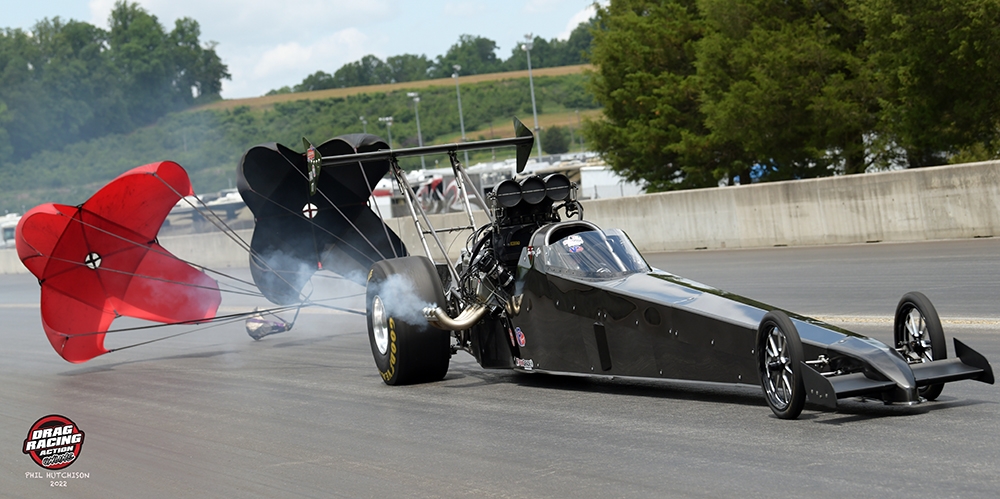 Cummings beat a red lighting Tom Fox with a 5.319@ 277.03 MPH to advance to R2.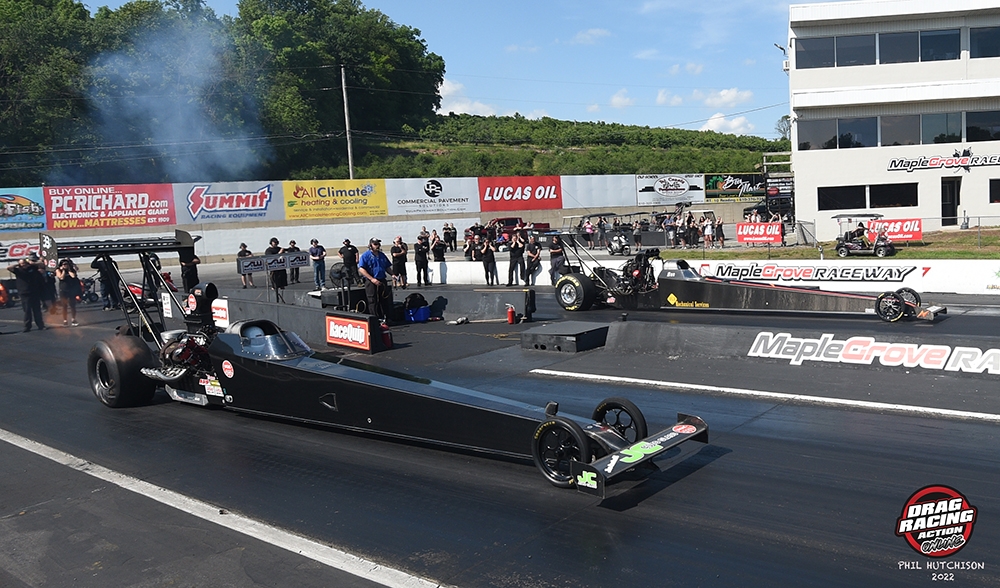 Dreher (Near Lane) took out Dietrich in R2
In round two the A/FD of Jared Dreher, who took out Jackie Fricke, was up against the blown car of Dan Dietrich who earlier ended Karen Stalba's day.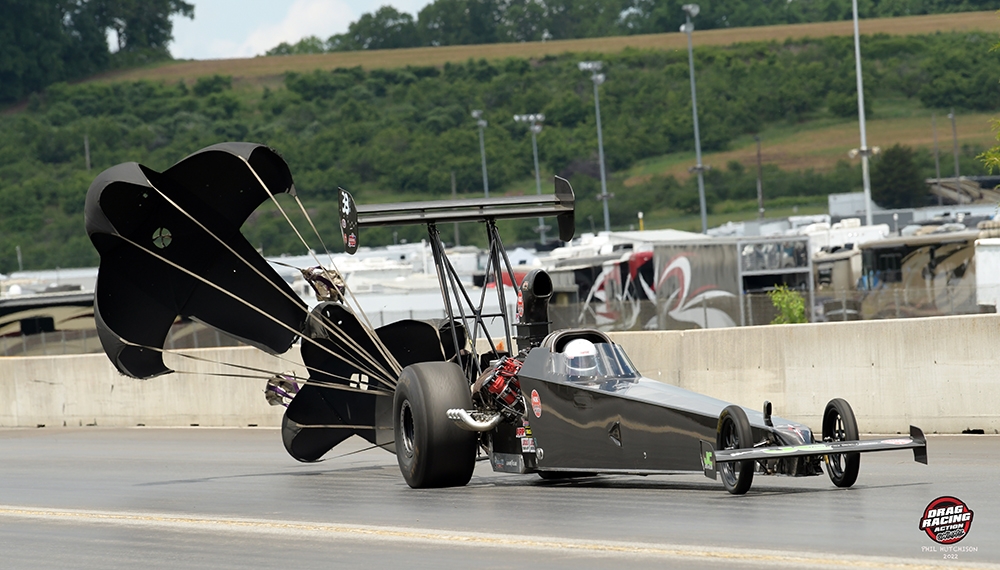 Dreher from Clinton Ind., who had Fricke's crew helping out during the race, made his quickest run of the weekend beating Dietrich with a 5.575to Dietrich's close 5.662 in a losing effort.
After her loss and Dreher's win over Dietrich, Jackie Fricke said, "John and I were assisting our crew guy John Ausherman in getting his license in Joe Cantrell's car Thursday and then we tuned Jared Dreher throughout the race. There were a few gremlins in the car and it took us till Round 2 to get it to make a full pull.
Cummings took a single 5.341 run after the broken car of Hepp could not make the call. The run was good enough to secure lane choice in the final against Dreher.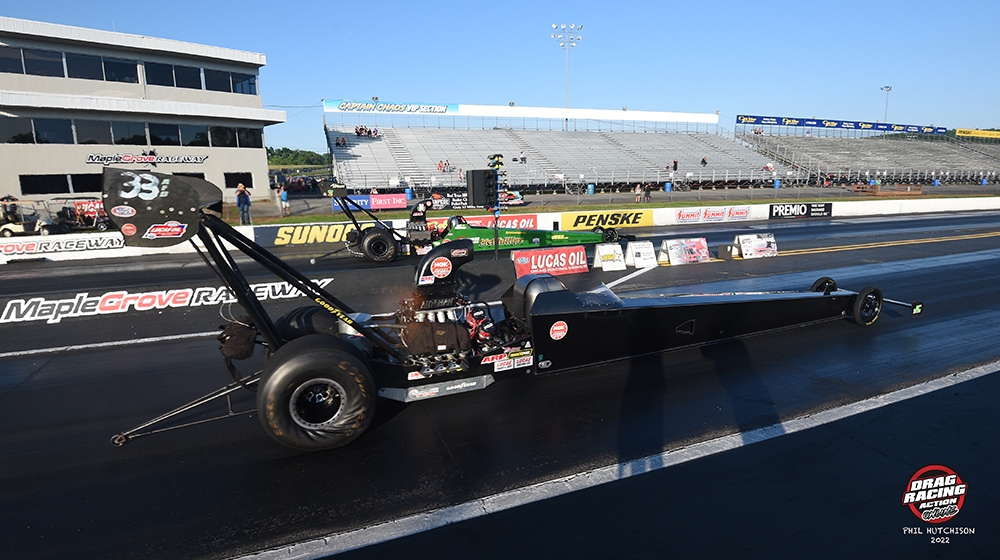 With the Finke tuneup in his dragster, Dreher (Near Lane) ran his best of the weekend 5.491 in a close final but it wasn't enough to beat the 5.401 of Cummings who also had the better reaction time.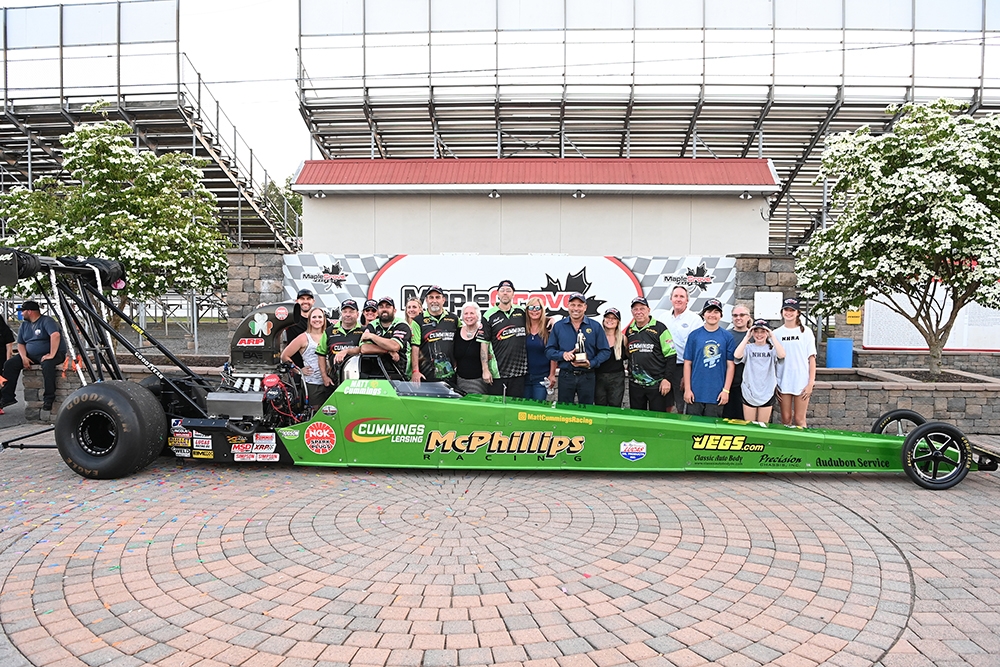 Cummings said after his win at Maple, "Going into eliminations after spinning and lighting up the tires on the starting line in Q2, Rich Sr says 'I always like making you go fast to win a race but here we have to slow things down to match the track to get you a win'.
"I have competed in all levels of racing and I've always done better under challenging conditions like we had in Maple Grove between the rain, delayed schedule and track conditions to stay focused and grind out a win.
Cummings added, "I really looked forward to racing at Maple Grove because of the history of the track and being close to my family in New Jersey and Pennsylvania. They get to see me race local."
Co crew chief Rich McPhillips Jr had this to say after the win, "Matt did a great job driving, stayed focused thru all the delays. Pop made the right calls on Sunday to navigate a tricky racetrack and it all came together. We are not done with the East Region either as Matt plans to run two or three more races in the region.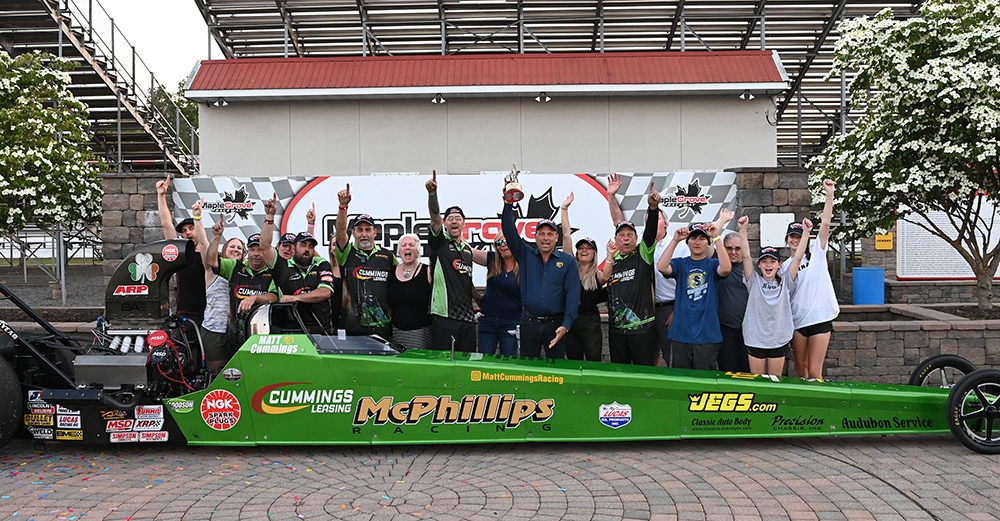 After the Maple Grove regional Fricke continues to lead the division with Stalba and Hepp in second and third place respectively. With Cummings, Stalba, Fricke, and Shields all Top 10 Lucas Oil racers in 2021, this year in the East Region could be one of the closest chase in recent years.
For more images from the Maple Grove Lucas Regional and Divisional, click on the logo below