Wayne Hofmann Honors Dad With Tribute Funny Car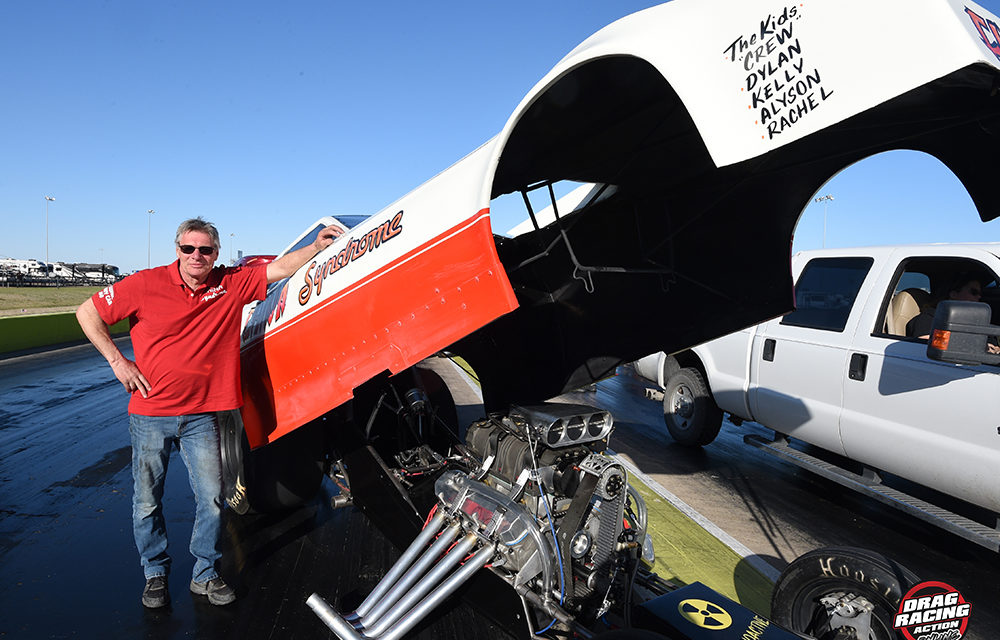 Story: Phil Hutchison  Images: Dave Milcarek, Norman Blake, Phil Hutchison and Susie West
There was a time in the recent past where a drag racer could not just dream about racing in the Funny Car ranks, but also actually compete with the "Big Boys" on a modest budget. East Coast racer Al Hofmann was one of those brave souls.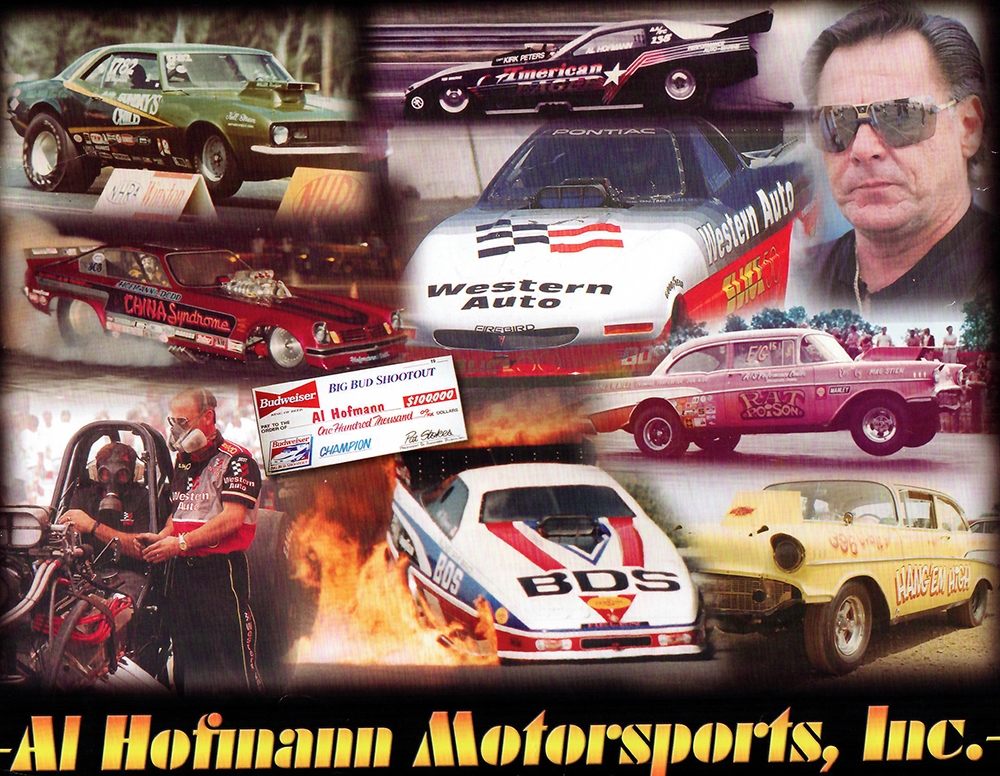 After years of racing in the Northeast, Hofmann purchased a Vega from St Louis racers Radici & Wise in 1978  and started his career in Funny Car. In his 24 years of racing, Hofmann won 15 NHRA events, three Big Bud Shootouts,  and a slew of local match races. Hofmann was wise enough to have great crew chiefs with Tom Anderson and "Jimbo" Ermalovich on hand for most of his wins. Hofmann was known as a tough SOB and rode out numerous fires in his car when the engine decided to give up the ghost. After a stint in the Jim Dunn Mooneyes car, Hofmann retired in 2002 and never drove again. Al passed away March 20, 2008 at the age of 60.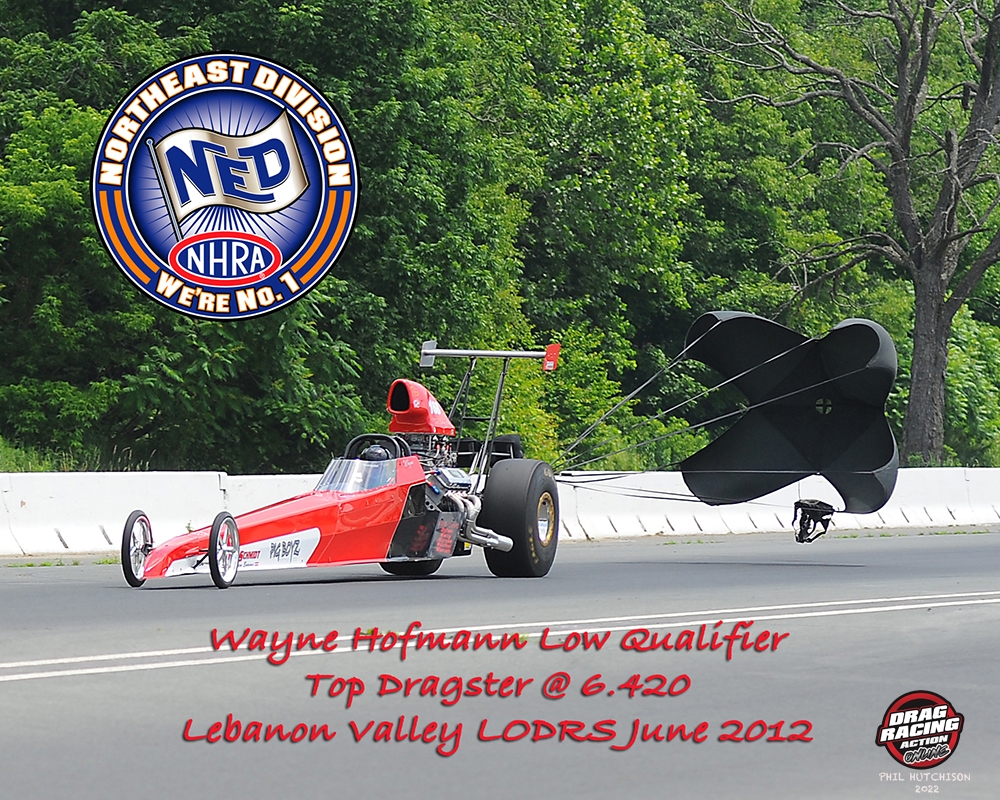 Al's son Wayne followed in his father's drag racing footsteps although not in a fuel Funny Car, but in the NHRA Top Dragster class. After a successful run in which he won more than his share of races, Wayne stepped away from the sport..
"At the time my middle daughter was getting into softball and she actually joined a 'Travel" team which takes a lot of your time," Wayne said. "Since my kids are only going to be young once, I decided to take a break from racing and dedicated my time to her sport. I even managed her team for a while.
"I made my last pass in the dragster in 2015 at Epping N.H. and sold it to Ken Moses shortly after that race. I took the money from the sale of the dragster and bought a Funny Car from Smax Smith who had bought the car from Canadian racer Paul Noakes. Smith was having nothing but problems with the car and wanted to sell it. I brought it back home and it sat in the garage for five years.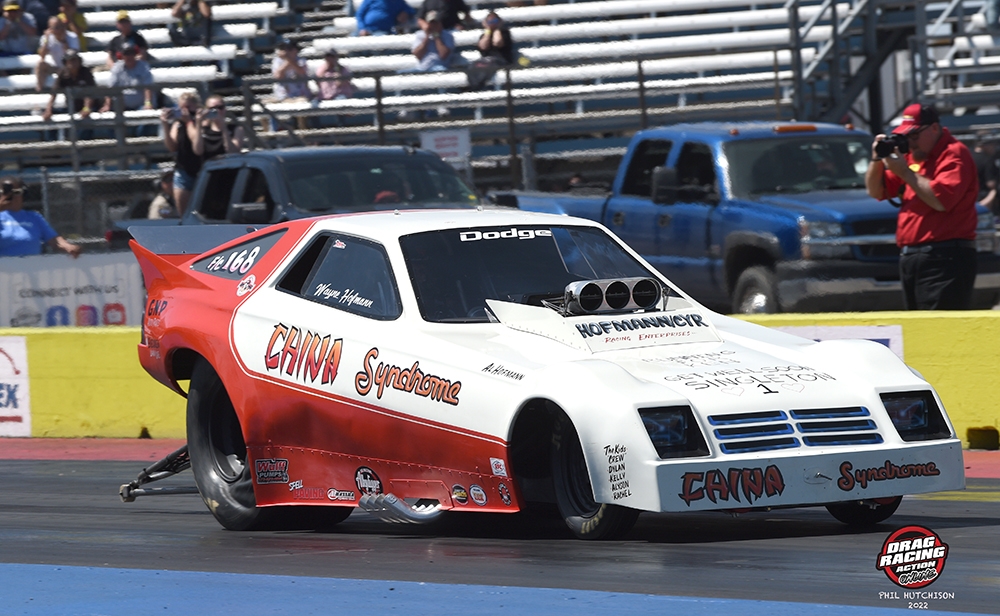 "After my daughter aged out of softball my other daughter started playing so I continued to support my kid's sports," Wayne added. "The rules in Connecticut are that you cannot play travel ball while in High School sports, which left me, time to devote to finishing and racing the car.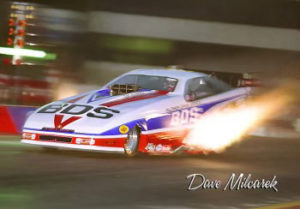 "When my dad was alive we discussed putting an alcohol car together but unfortunately, he passed away before we could get the project off the ground. I actually talked to dad on the phone about the car the day he had his heart attack.
"I kept the idea of a tribute car to dad on the back burner and decided to go forward with finishing the car. I opted to go with the Omni body dad ran. I helped him build the original car and when it was completed we rolled it out and Dad said 'This is the best looking car I have ever had.' Unfortunately the car burned to the ground at Englishtown shortly after it was completed.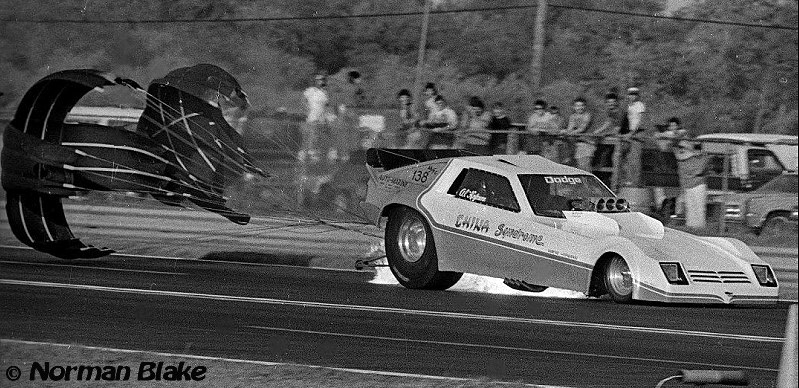 Al Hofmann in the lights at E Town with the rods hangin out
"This was the last one of his cars that had a name, the China Syndrome from the movie of the same name. After that, all the corporate backed cars were nameless.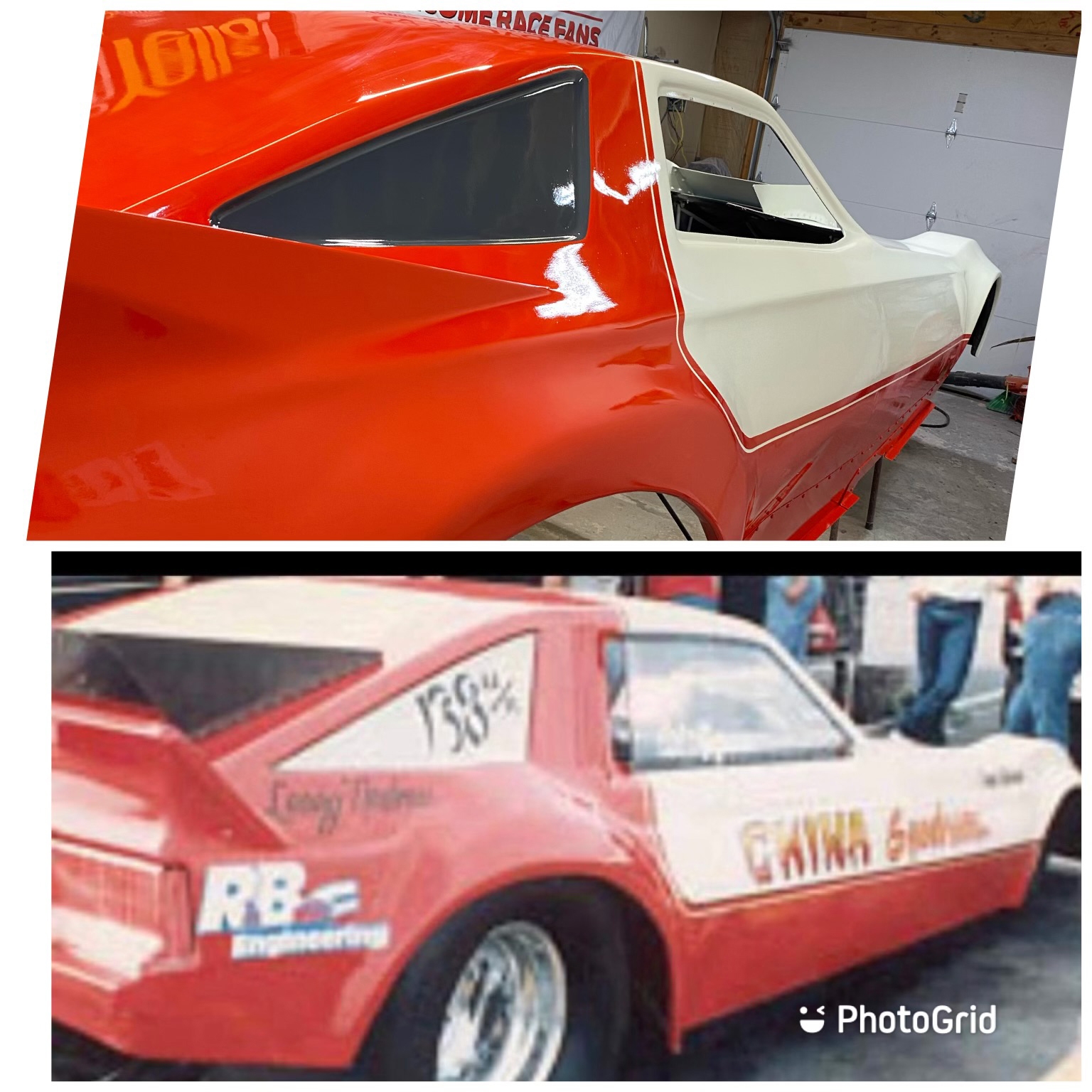 "Since I helped Dad build this car it was special to me and my car is modeled after the last China Syndrome.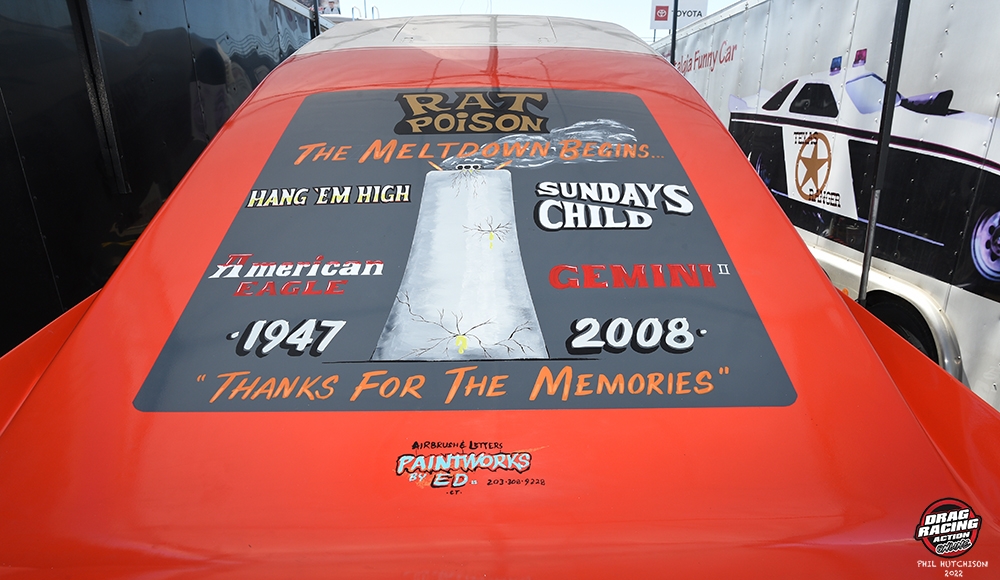 Wayne continued, "I found the Omni body from a guy in Maryland who was helping some other guy sell a bunch of parts. After I got the body back home, it needed everything; tinwork, windows, paint, everything. Any spare time I had, I spent in the garage getting the body into shape.
"I priced having the car painted and decided to do it myself," Wayne adds. "I went out and bought a paint gun and painted the car in the garage. Ed Painter lettered and brushed the car and it's real and not a wrap.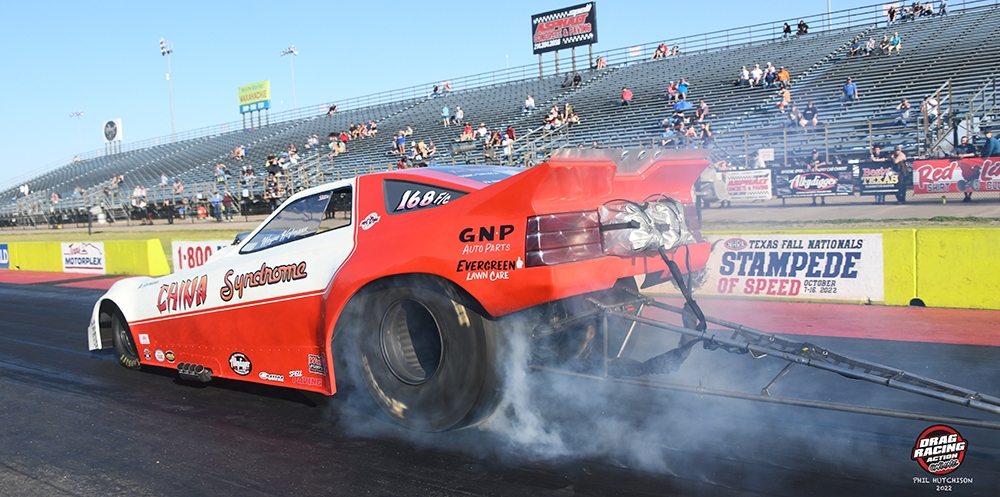 "I wanted to get involved with the Funny Car Chaos series and decided in the fall of 2021 to get the car together and make the March season opener in Dallas. We busted our tails to get the car ready for Ennis."
The Chevy motor in the Omni is smaller than the norm for Alcohol Funny Car at 496 cubic inches but it works for Hofmann. "I built the motor myself with the help Soltis Automotive Machine in Torrington Conn."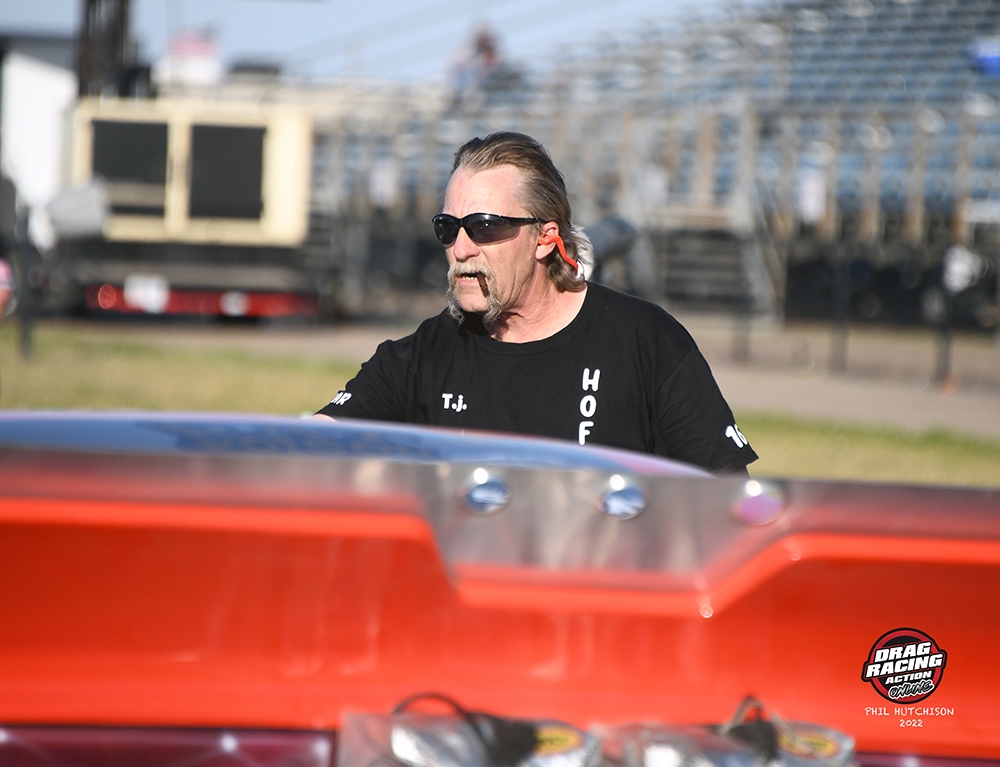 "To be honest, I had full intentions of getting a DNQ and to just go down to Ennis and have a blast," he says. "I took it easy on the first few runs putting down a 4.59 and a 4.57 and decided to tune it up a little bit but not too much because if you blow it up, you're done for the weekend. Blown cars are new to me after years of running carbs and nitrous and it ran a 4.42, which put me in the "D" field. We went two rounds losing to Steve Tomoszyk in the Detroit Tiger car."

Wayne had a great crew at Dallas with Susie West, sister of famed driver and tuner Johnny West as his BUG (Back Up Girl)  along with  T.J. Aldrich who was part of Al Hofmann's team. New addition Mackenzie Durkin and Wayne's wife Jodi and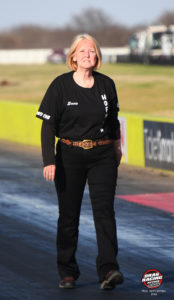 daughters Alyson and Rachel were also on hand to help with the car.
Hofmann would also like to thank B.J. Masiello for all the work he put into getting the car ready for Dallas along with former Al Hofmann crewmember Jim LeClaire who supplied the team with a cooler full of food from his ranch in Texas.
The team has plans to run the car sporadically during the 2022 season at a few match races and the Dover Dragstrip reunion at Lebanon Valley.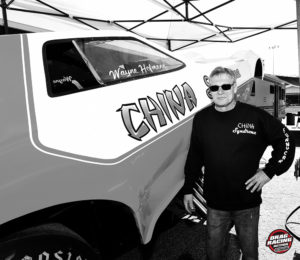 "We have a break in my daughter's softball schedule and we will plan to run the Iowa and Nebraska FCC events and possibly season ending race in Dallas. This time, I'm building a short block to take with me just in case."