Billingsley, Taylor, Barrett score wins at Baby Gatornationals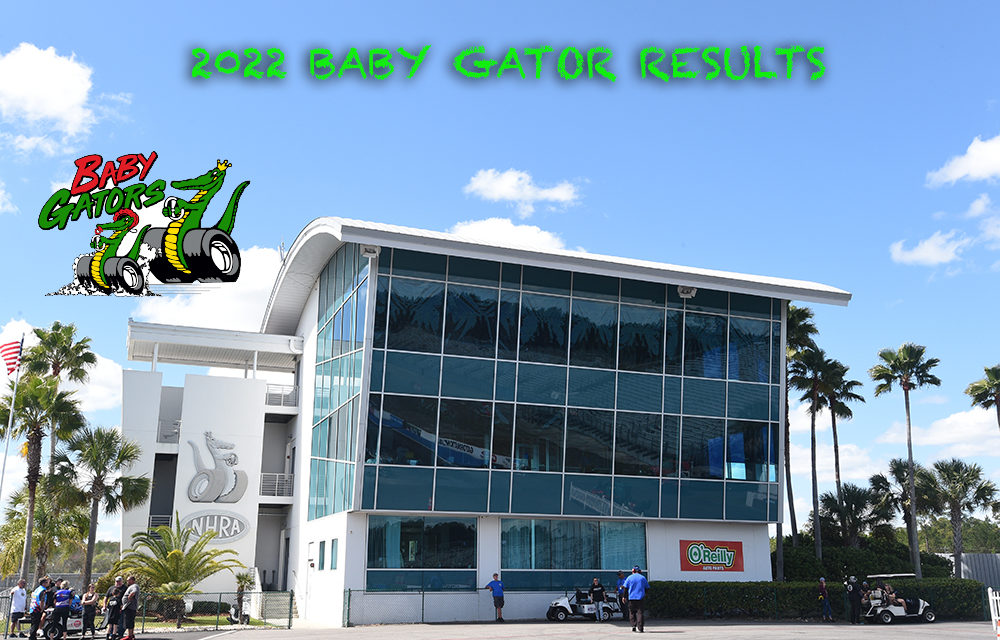 Story/Images: Phil Hutchison
After a Saturday that spotlighted the Top Alcohol classes, Sunday at the NHRA Lucas Oil Drag Racing Series at Gainesville Raceway had the action shift to the finals of the remaining Sportsman classes. The event, the second in the NHRA Southeast Division, has become one of the biggest events on the NHRA Lucas Oil divisional circuit with some of the best racers in the country getting their season started at the  Florida track, track that has been synonymous with great conditions and the 2022 event did not disappoint.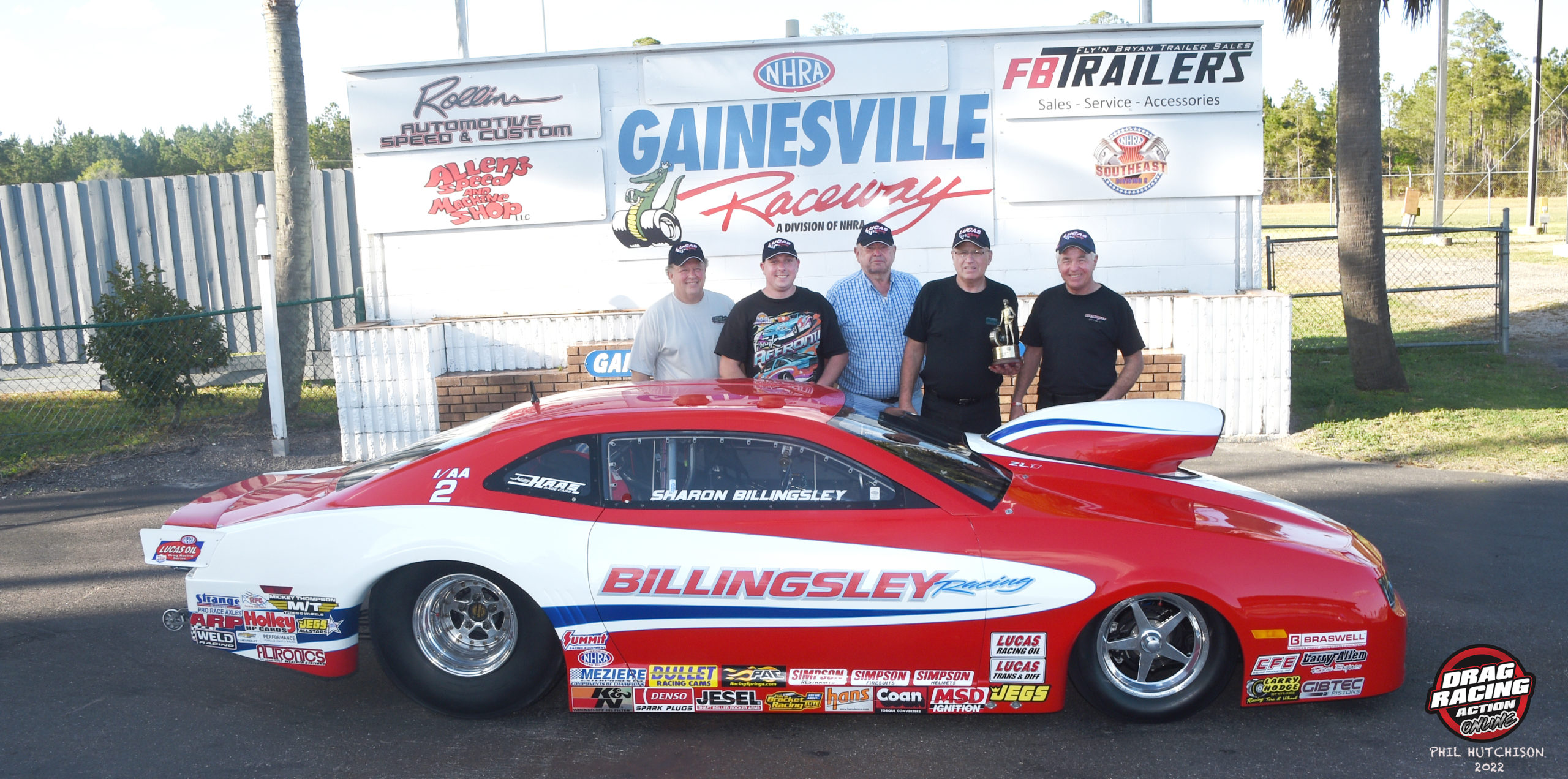 David Billingsley from Decatur, Ill took his I/AA '14 Camaro to a convincing win in Competition Eliminator.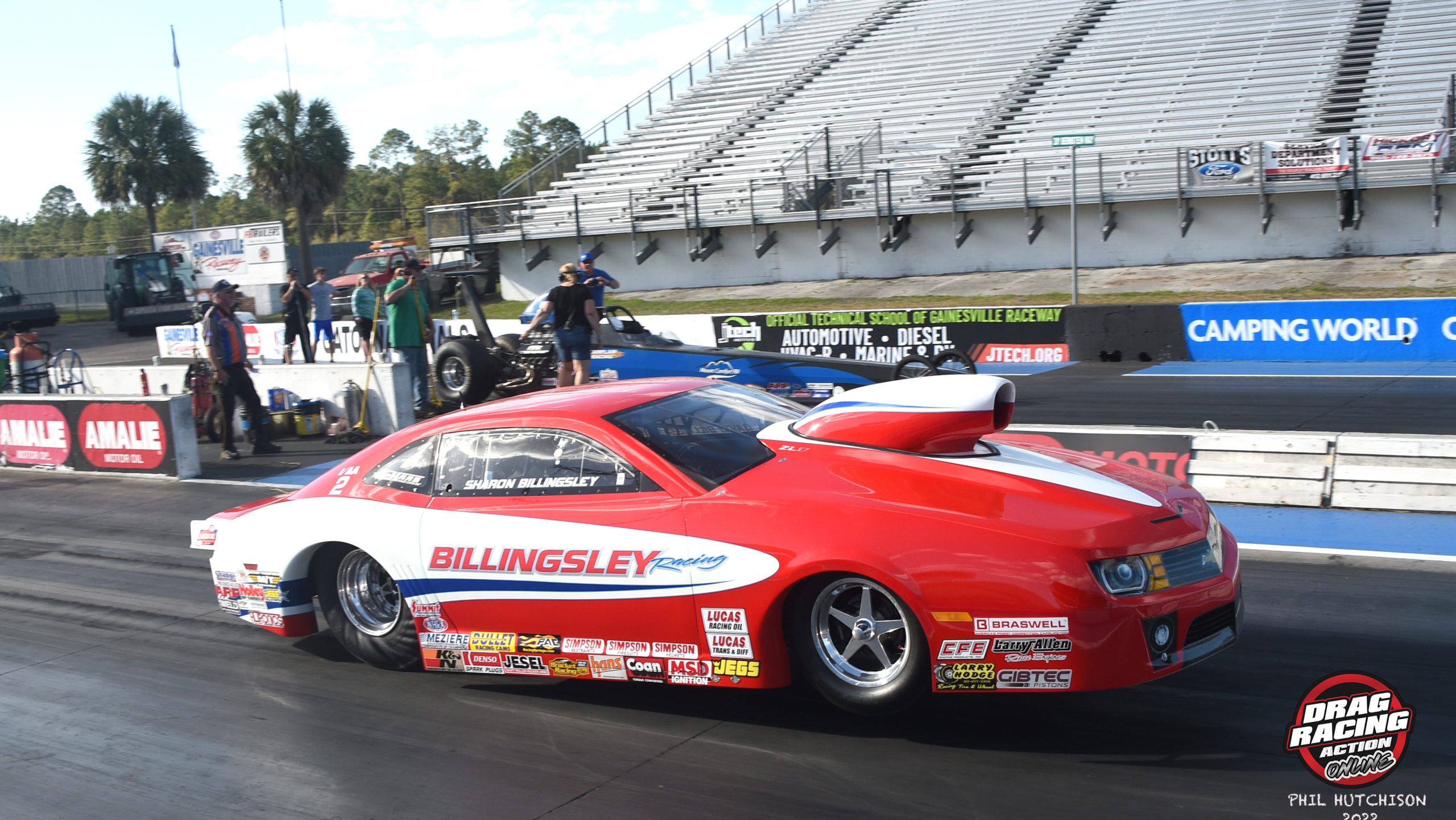 Billingsley qualified in the #2 spot with a 0.705 under 8.015 and for the first few rounds of eliminations, kept the CIC monster at bay but was hit with a 0.10 second penalty after defeating 2021 D2 champ David Eaton in round three with a 8.014. Billingsley got a bye run in the semifinal round and then the break of the weekend in the finals as his competition, the B/DA of Greg Kamplain, was shut off on the starting line. The victory was Billingsley's 21st career Lucas Oil win.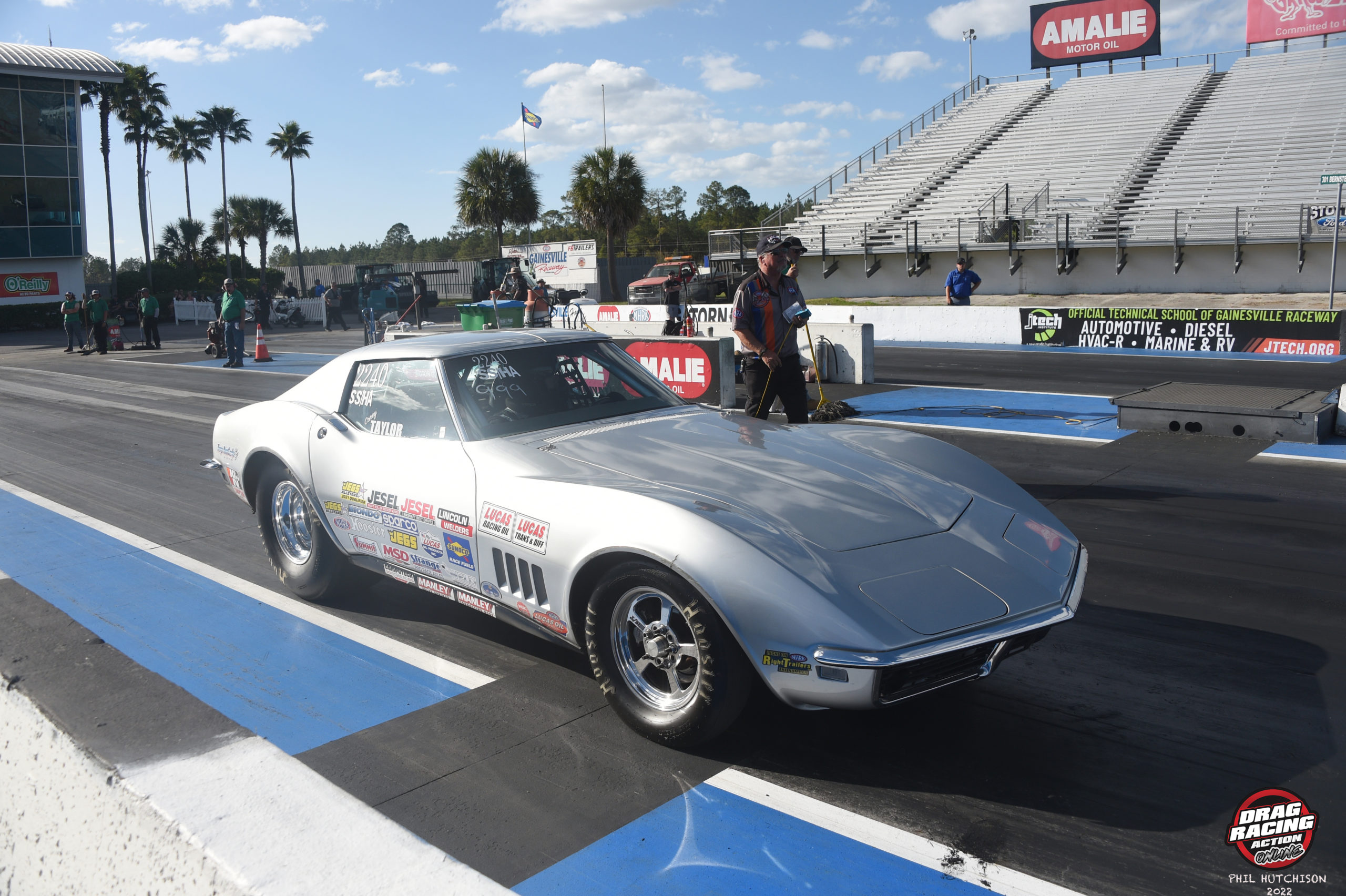 Taylor brought the winning car up to the line for a "Touch and Go" for the Wally
The Super Stock final also involved a bye run for the win. Corey Taylor from Lumberton N.C. driving a small block '68 Corvette, should have faced the SS/JA '98 Camaro of Kevin Riner from Autryville  N.C.. Riner, after beating the GT/HA Mopar of Doug Duell in the semifinals, damaged his small block Chevy and was unable to repair for the money round.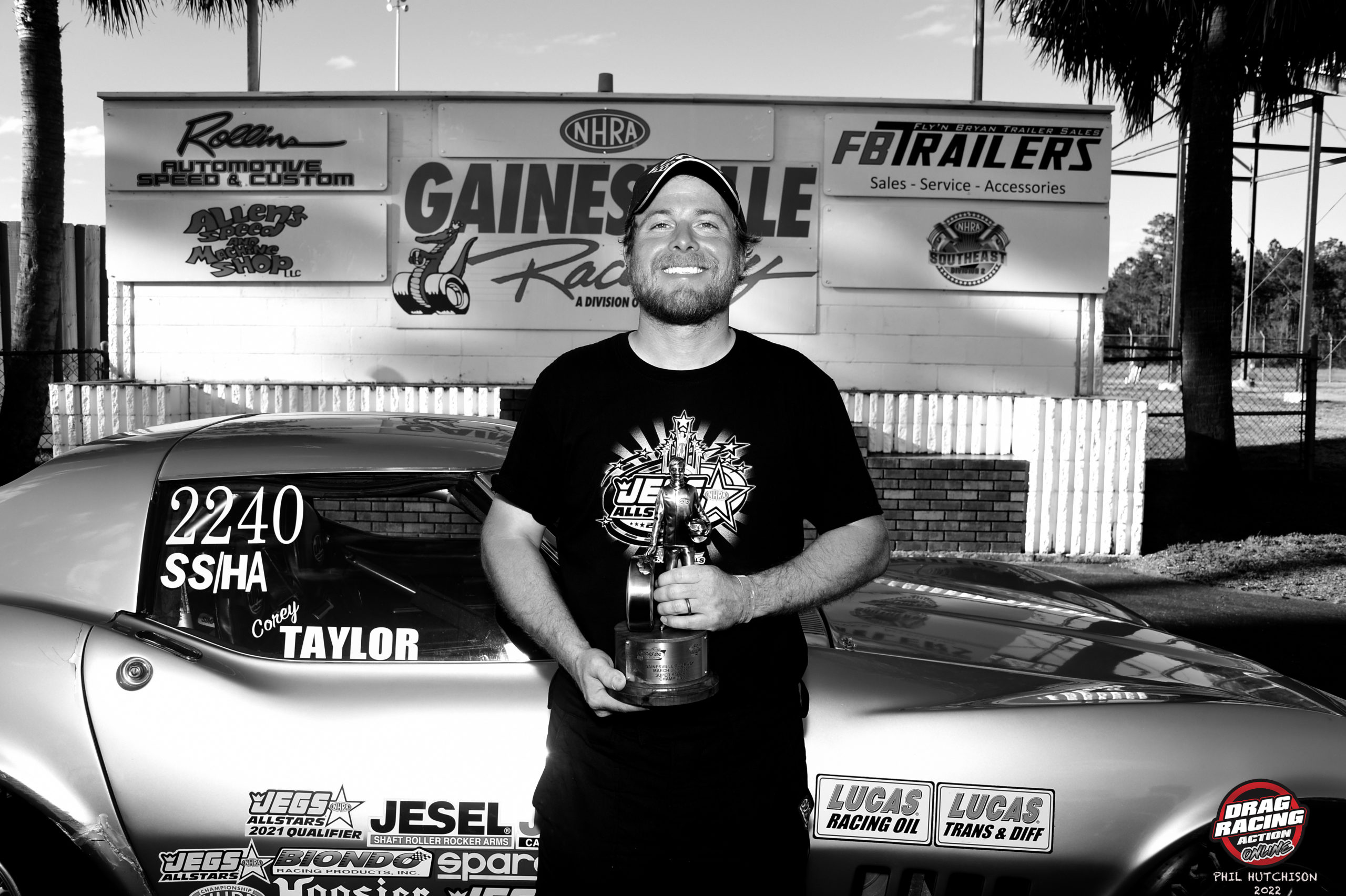 Taylor's SS/HA Vette earlier defeated the SS/BA Camaro of Brian Oakes and  low qualifier Steve Comella's Hemi Cuda along with Brad Zaskowski's quick GT/E Camaro to get to the finals. The win was Taylor's third Lucas Oil divisional victory.
.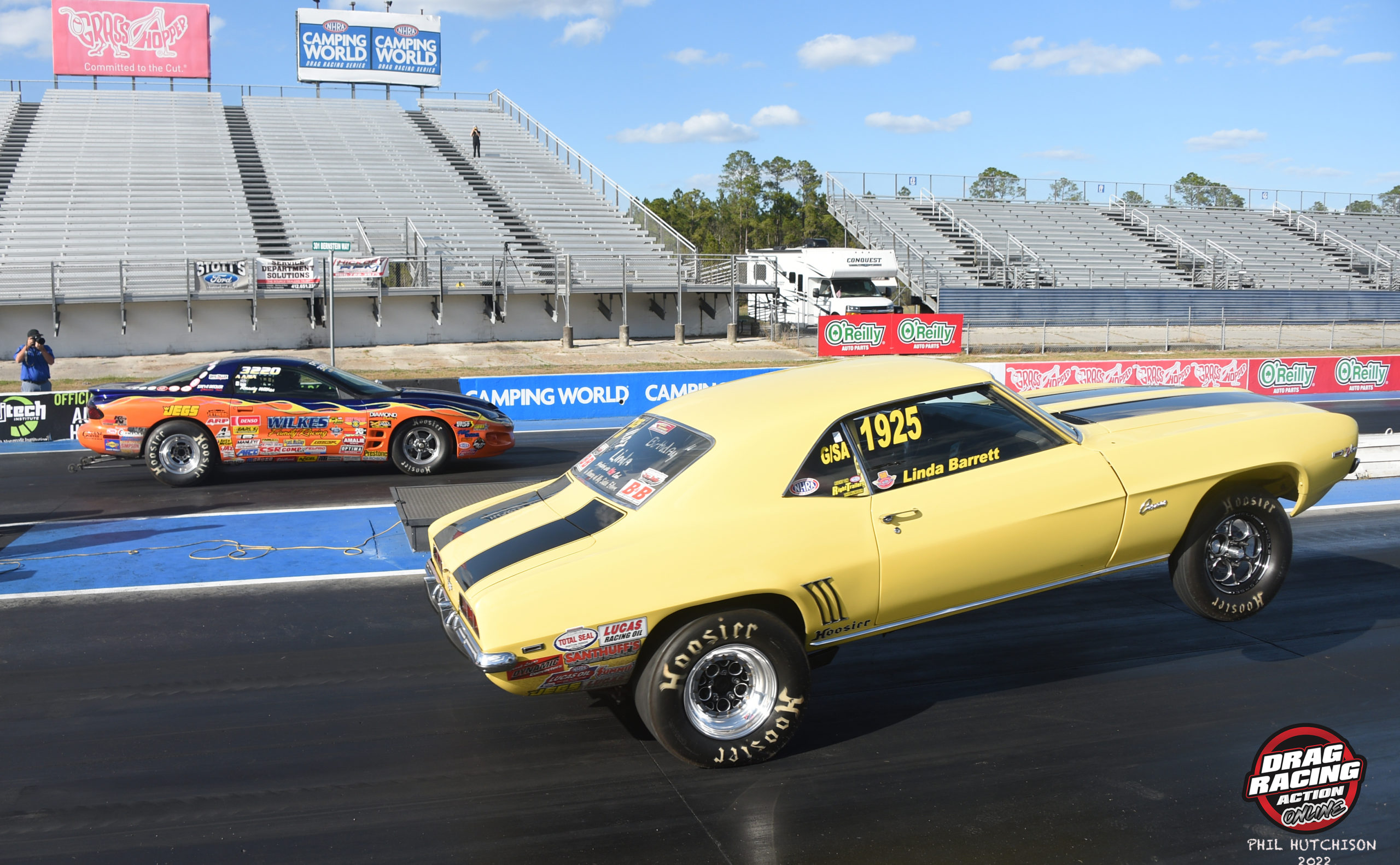 Barrett, near lane, took out the Pontiac of Wilkes in the finals of Stock Eliminator 
Tim Barrett from Fort Ann, N.Y. drove his G/SA '69 Camaro to a win over the AA/SA Pontiac of Randy Wilkes in a double breakout final. Wilkes, former National champ and 2020 Baby Gators winner, was second off the line with a 0.043 light to Barrett's 0.027 and went a 0.020 under 9.96 to Barrett's 0.010 under 11.06. The win was Barrett's second career Lucas Oil win.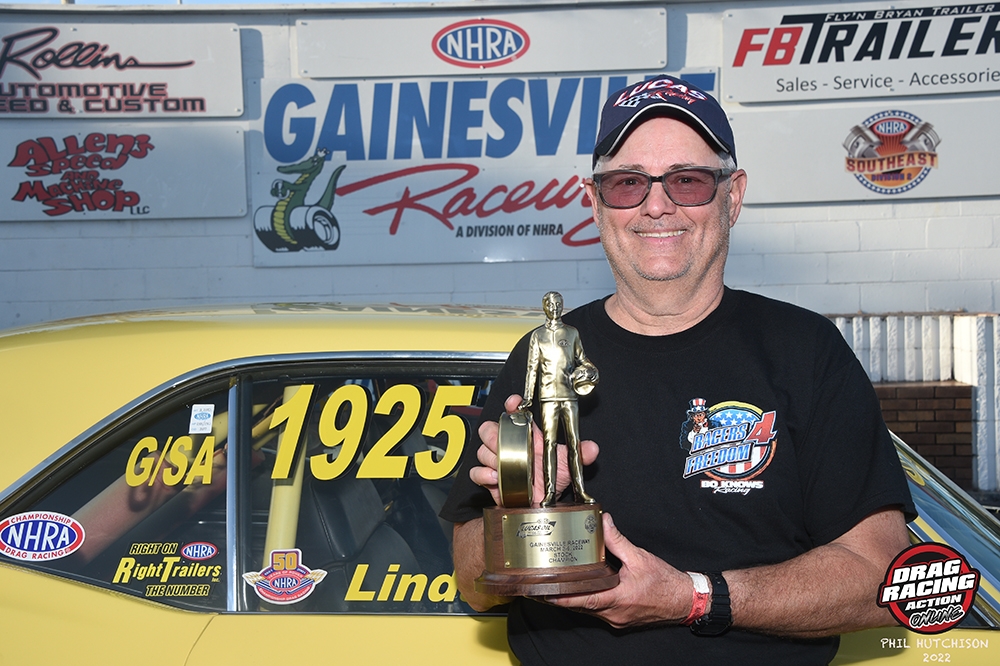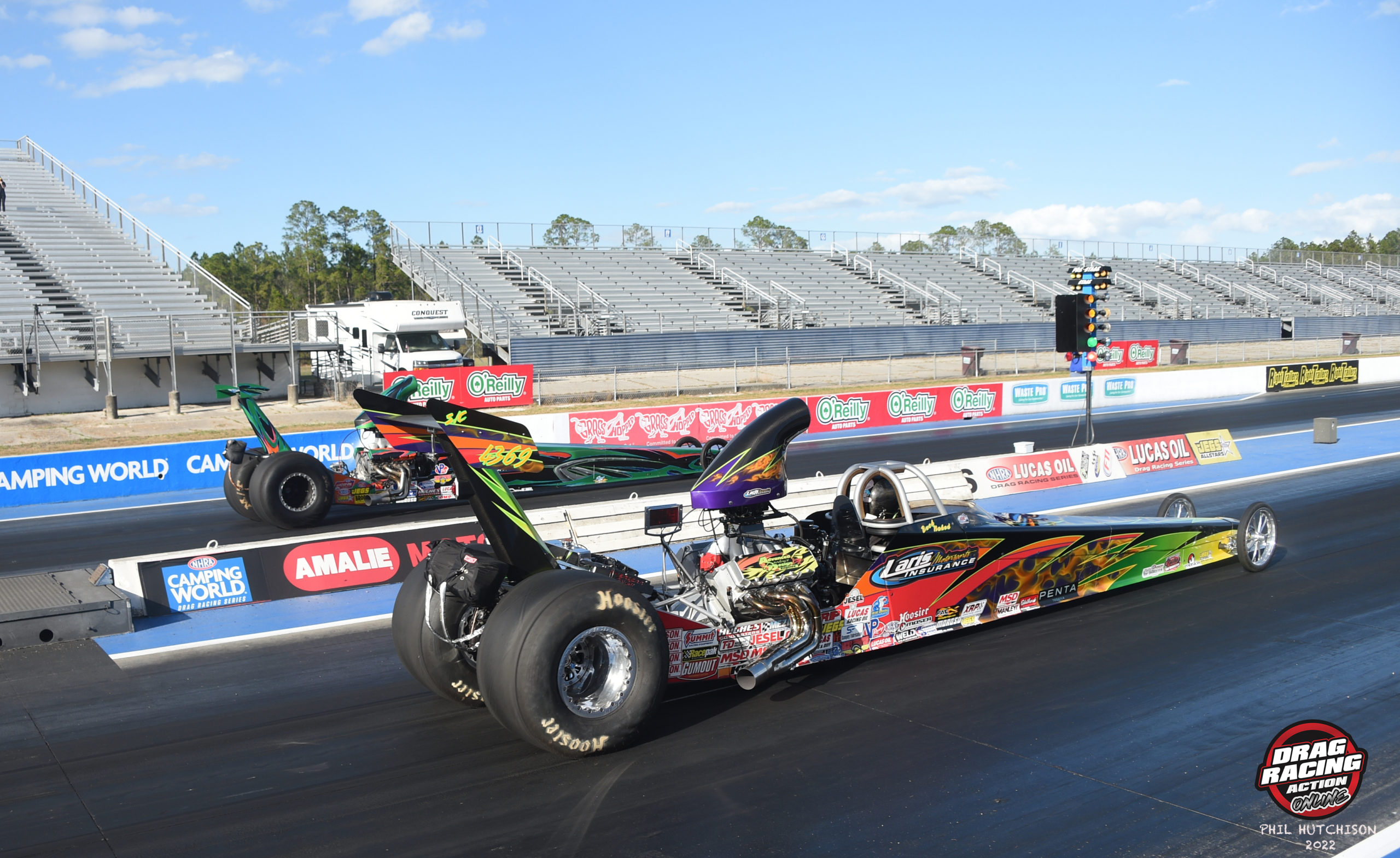 The Super Comp finals featured a pair of Laris Motorsports Insurance sponsored dragsters.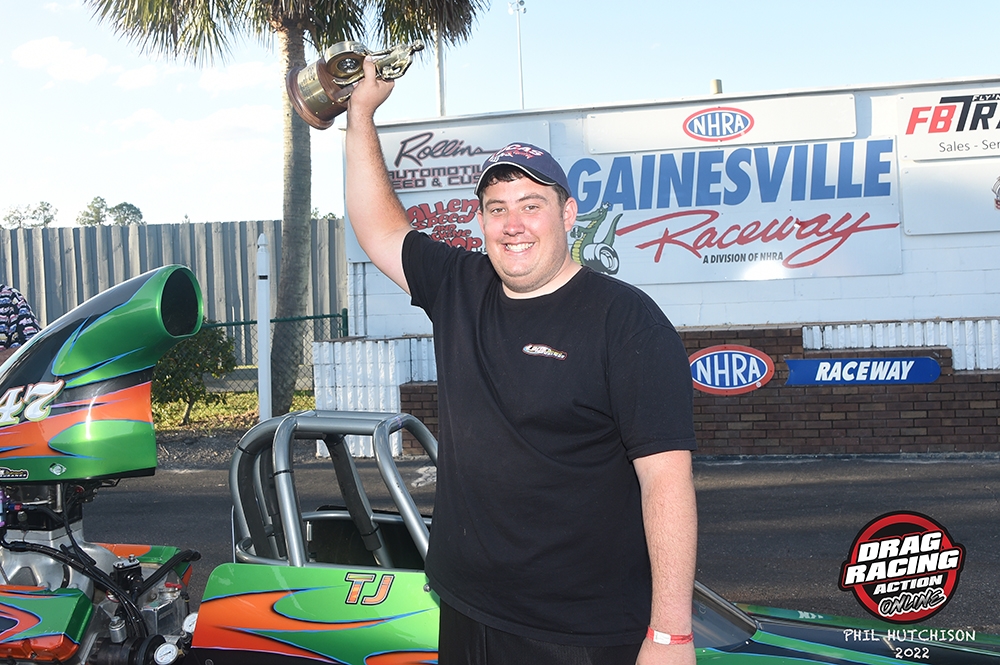 Trene Cressonie had it easy as his competition and teammate; Holden Laris from Raceland La. left 0.007 too early giving Cressonie his fourth Lucas Oil Drag Racing Series Wally.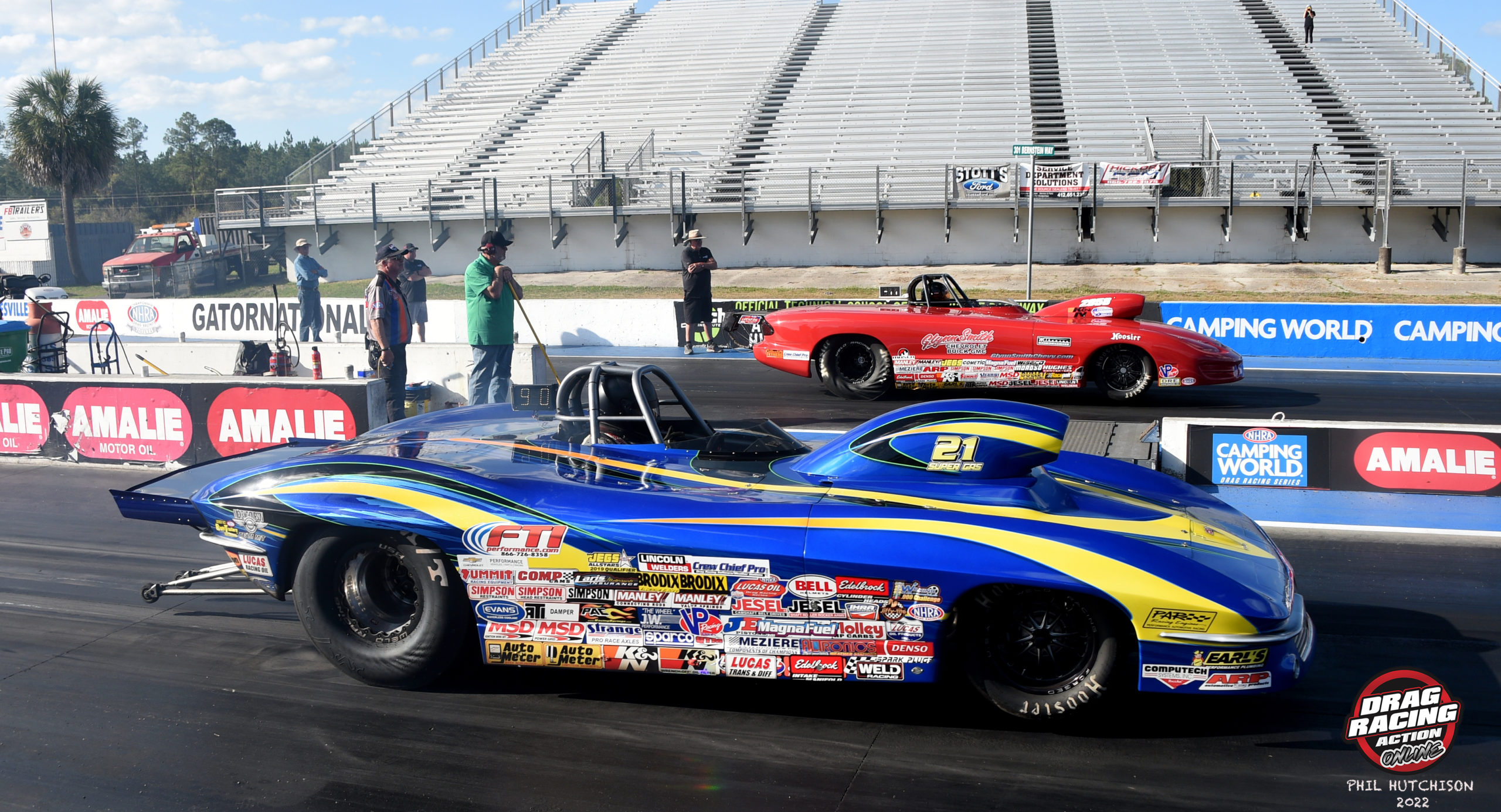 Two of the best Sportsman racers in the country faced off in the finals of Super Gas with 2021 D2 champ John Labbous in his Corvette roadster up against the Pontiac of  multi time Lucas Oil champ Sherman Adcock.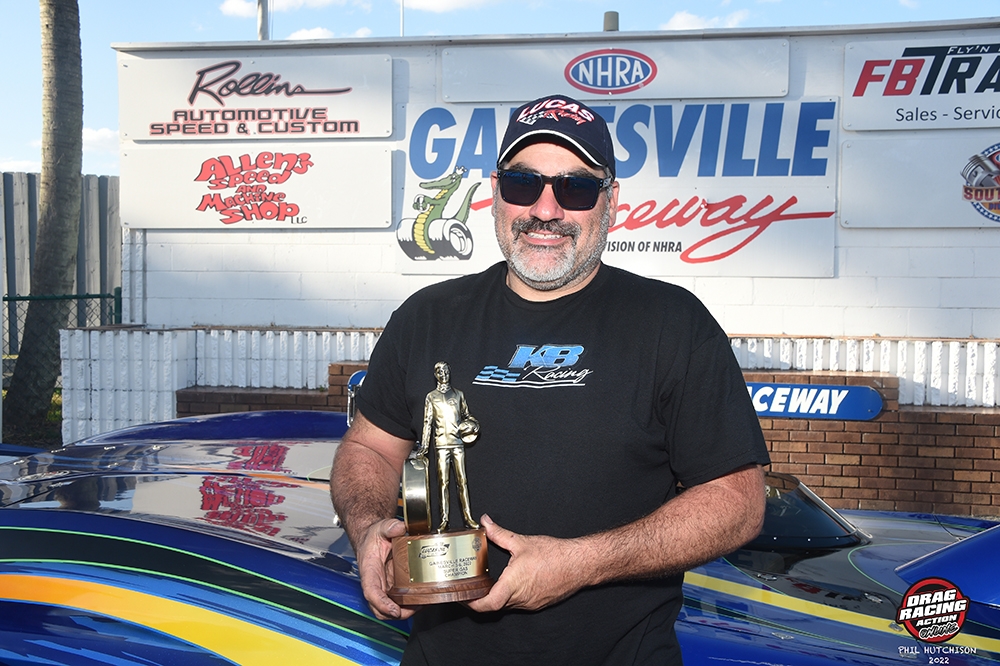 In one heavyweight round both drivers did their best to chop the tree with Labbous off the line first with a near dead-on 0.001 RT to the 0.009 light of Adcock. At the stripe it was Labbous edging out Adcock in a double breakout with a 9.898 to Adcock's 9.889. The win added to Labbous career total of 13 Lucas wins with eight of them coming in Super Gas.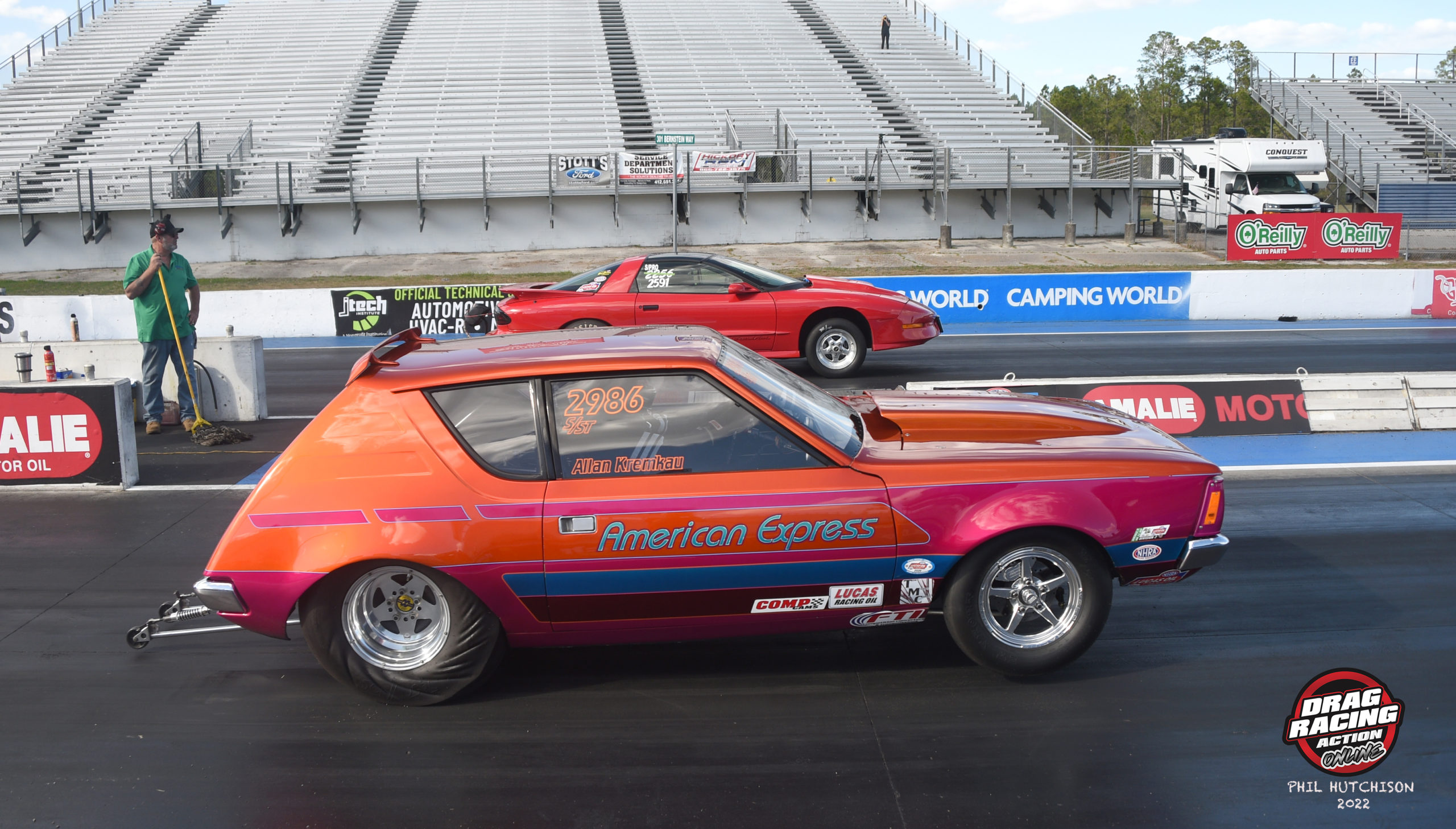 After years of running AMC power in his '72 Gremlin and tired  of locating parts for his one of a kind combination, Super Street winner Allan Kremkau from Orlando Fla., made the move to a small block Chevy bringing  consistency to his unique racer.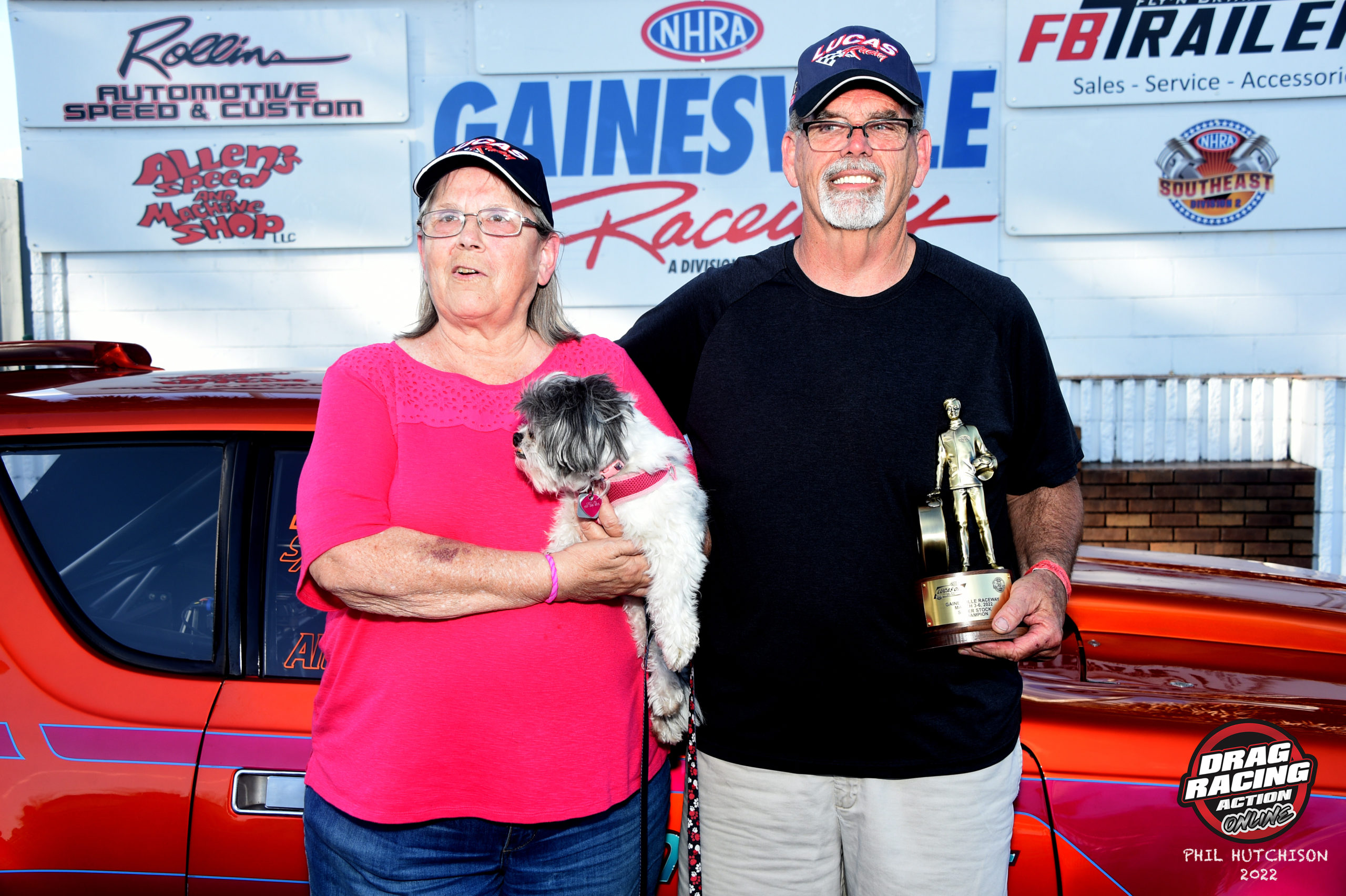 The move paid off with Kremkau's second Lucas win in less than a year. At the Baby Gators, Kremkau defeated the '96 Firebird of Cocoa Fla. racer Rebecca Eyer in the finals. Eyer had a great 0.004  light to Kremkau's 0.062 but wasn't close to the 10.90 index losing with an 11.075 to Kremkau's 10.951.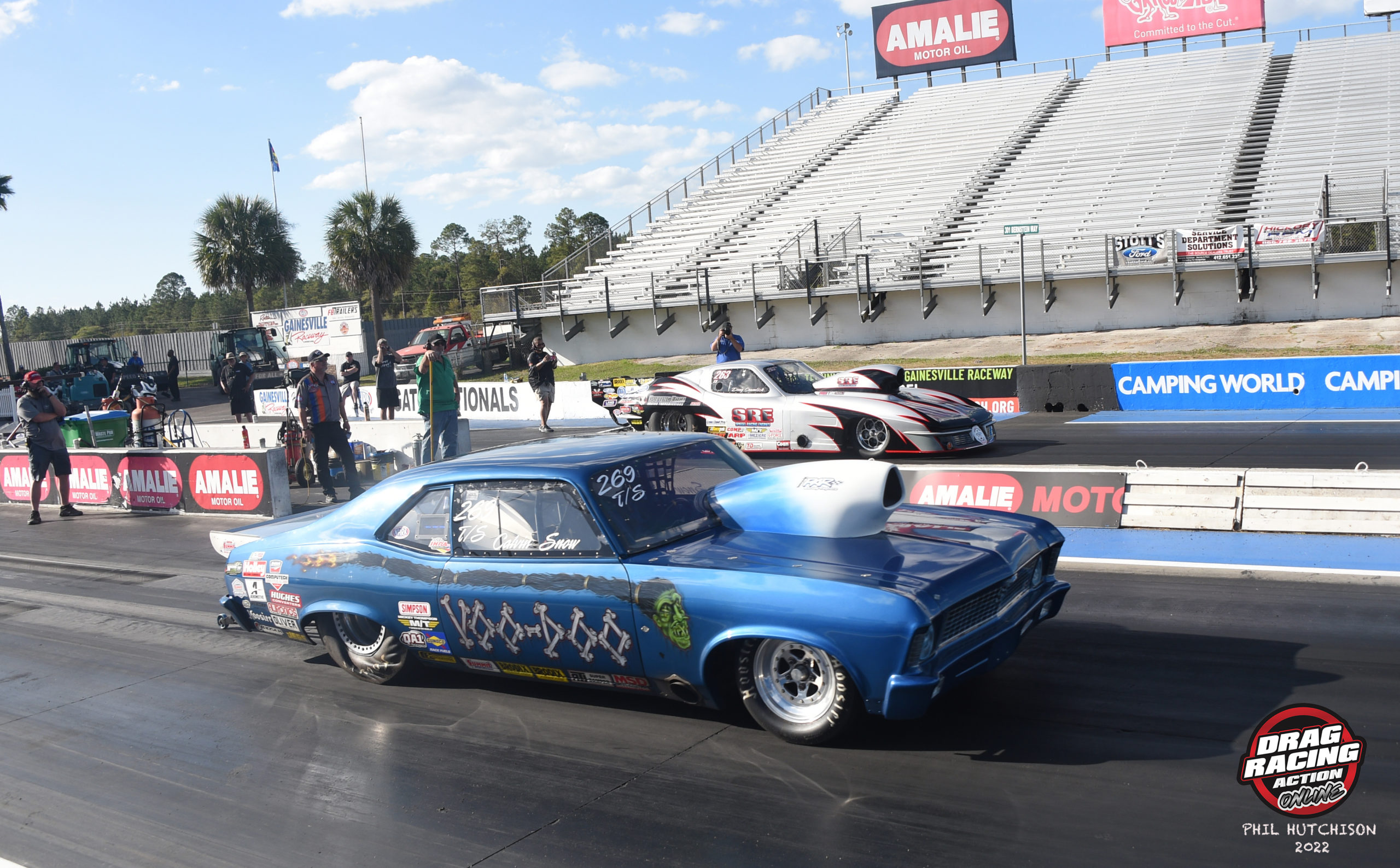 Calvin Snow from Cyman S.C., Top Sportsman winner, didn't have the quickest car at the Babys, but he had the most consistent running a string of 7.70's in his "Voodoo" '70 Nova to a win over the '63 Corvette of Doug Crumlich from Douglasville Ga.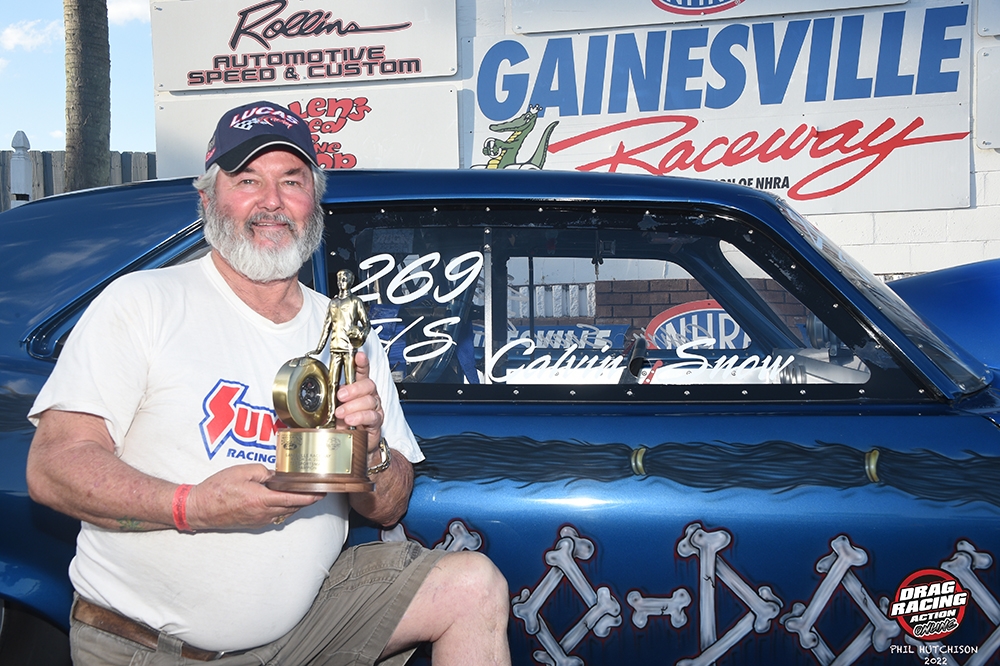 In the finals, Snow dialed a 7.79 and ran a 7.81 in the win.  Crumlich was just a bit off the number running a 6.743 on a 6.71 dial in the loss.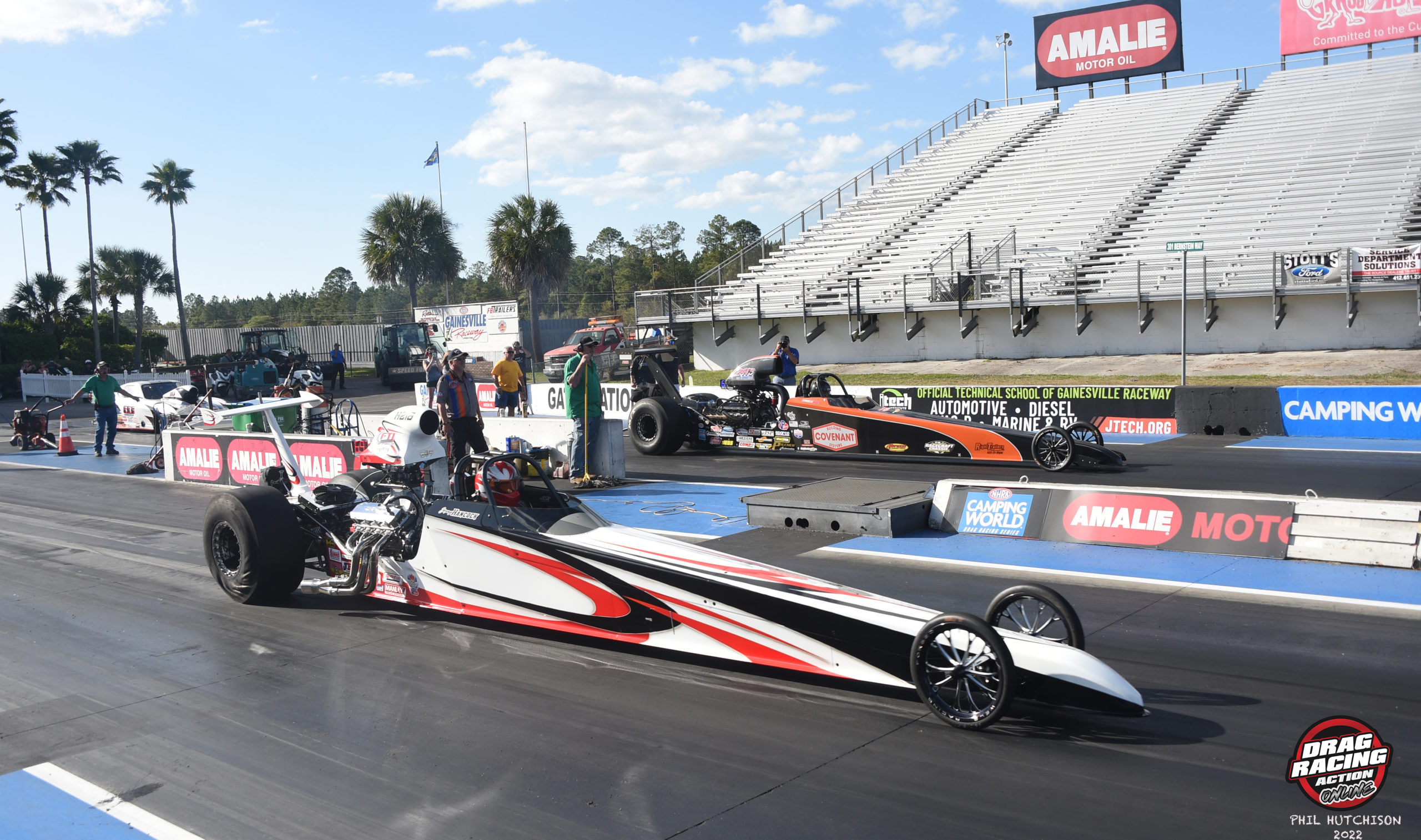 Top Dragster went to the '13 Undercover dragster of Jeremy Hancock from Commerce Ga. beating the  '17 Nelson Racecraft car of Robert May from Kinsey Ala. Hancock had a great 0.015 RT and held off the quicker car of May running a 7.002 on a 6.97 dial to May's 6.16 on his 6.11 dial.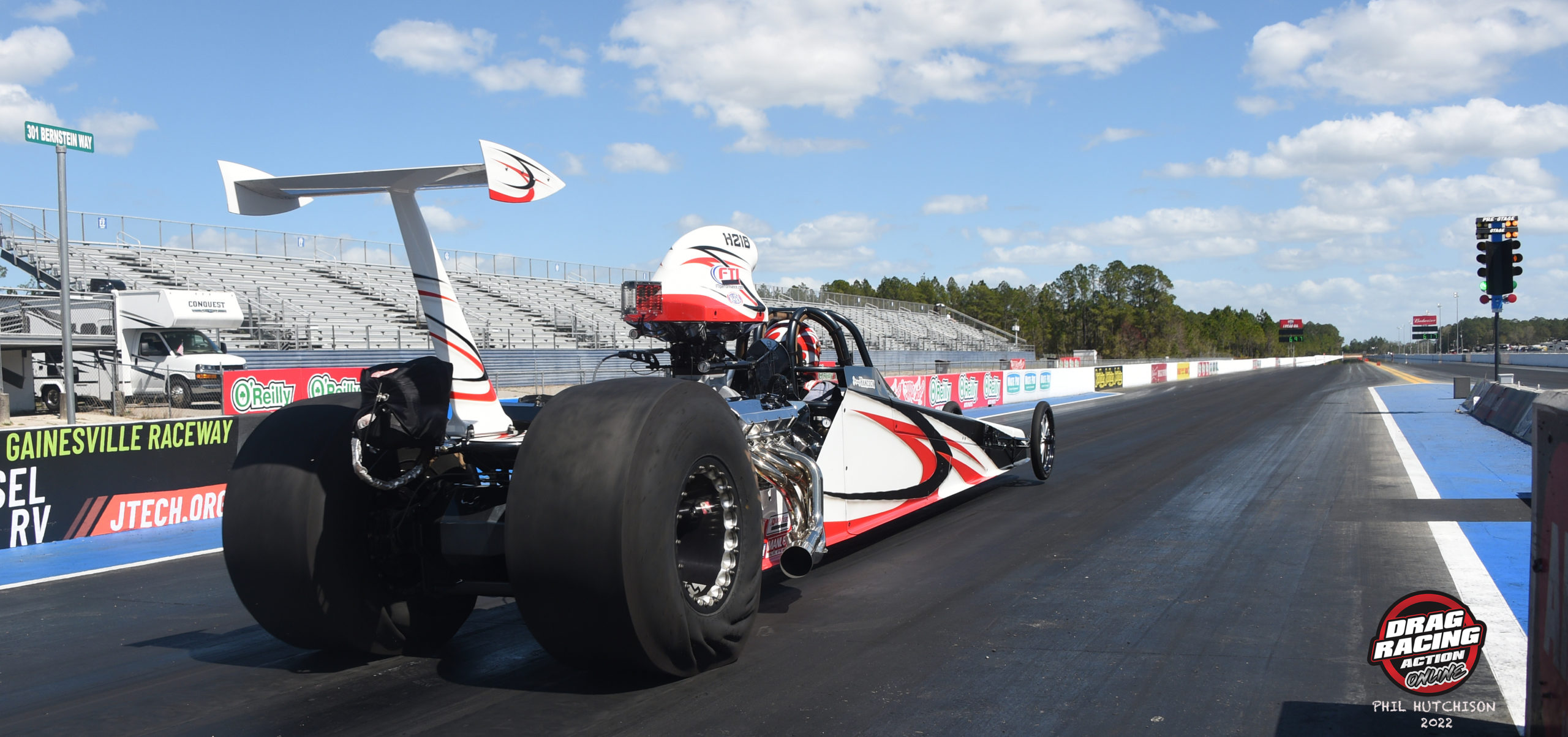 Other winners at the Baby Gators were: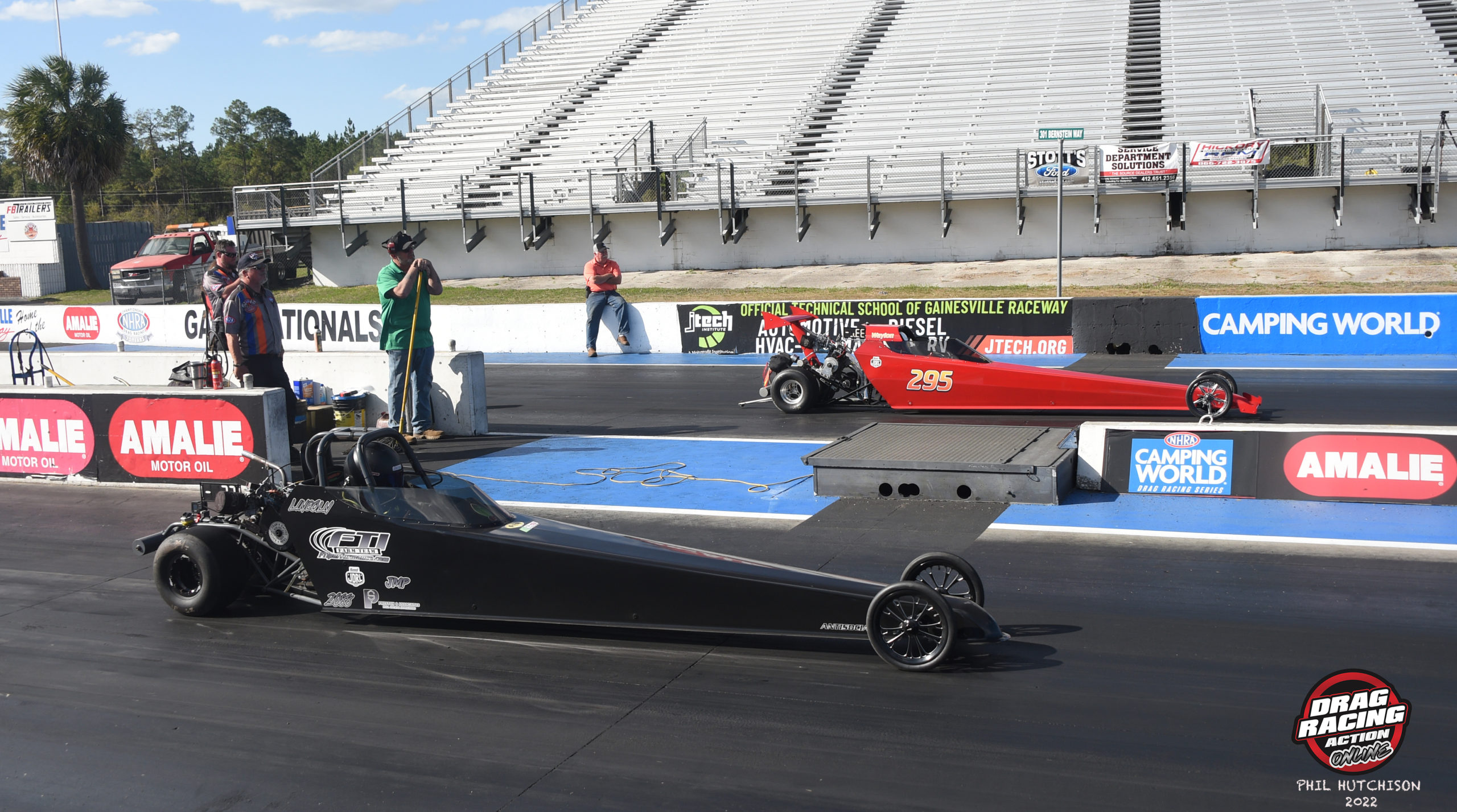 Novice Junior Dragster was won by Lincoln McMaster from Deleon Springs Fla. McMaster defeated Waylon Bennett from Ladson, S.C. who went red.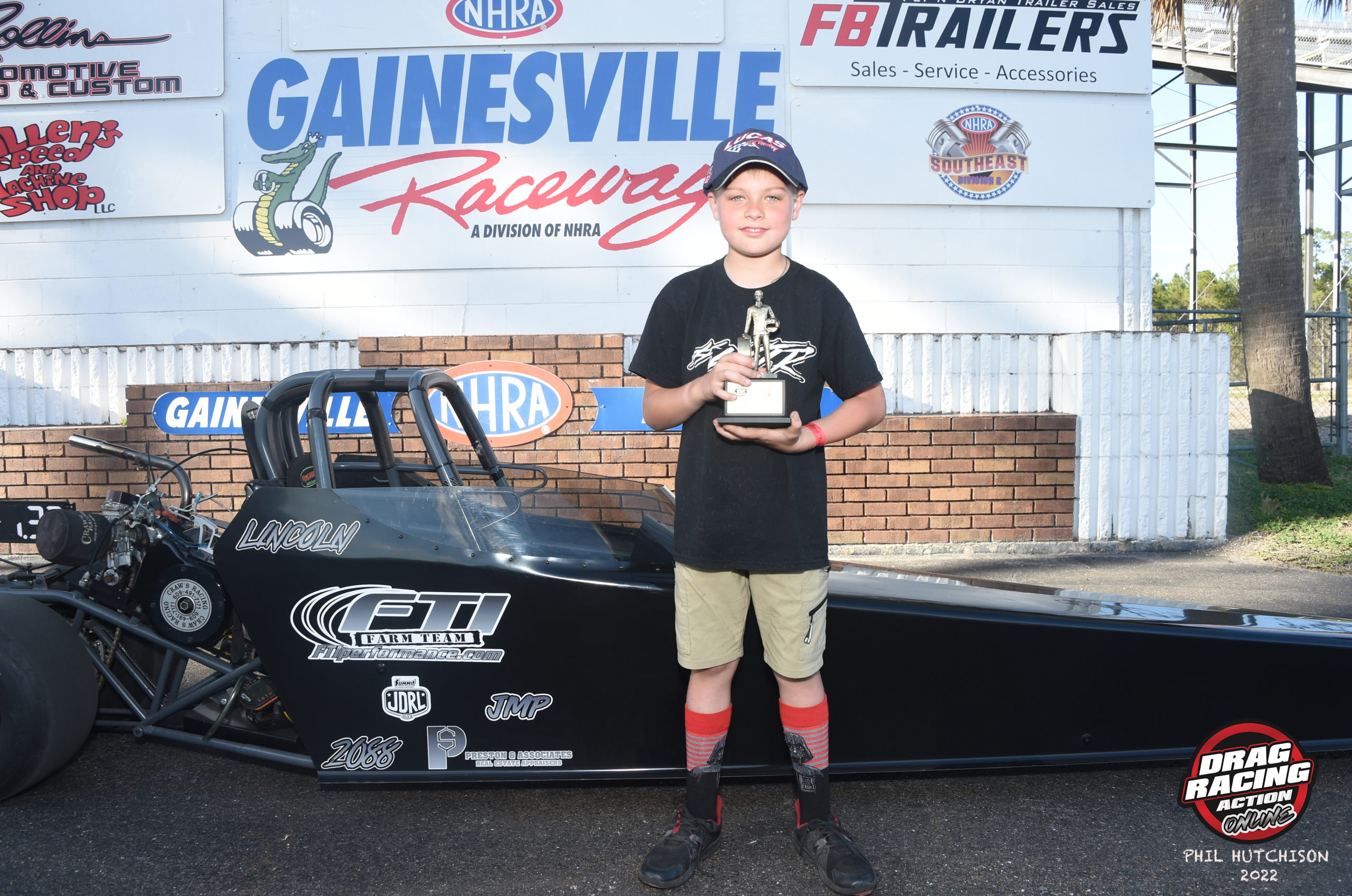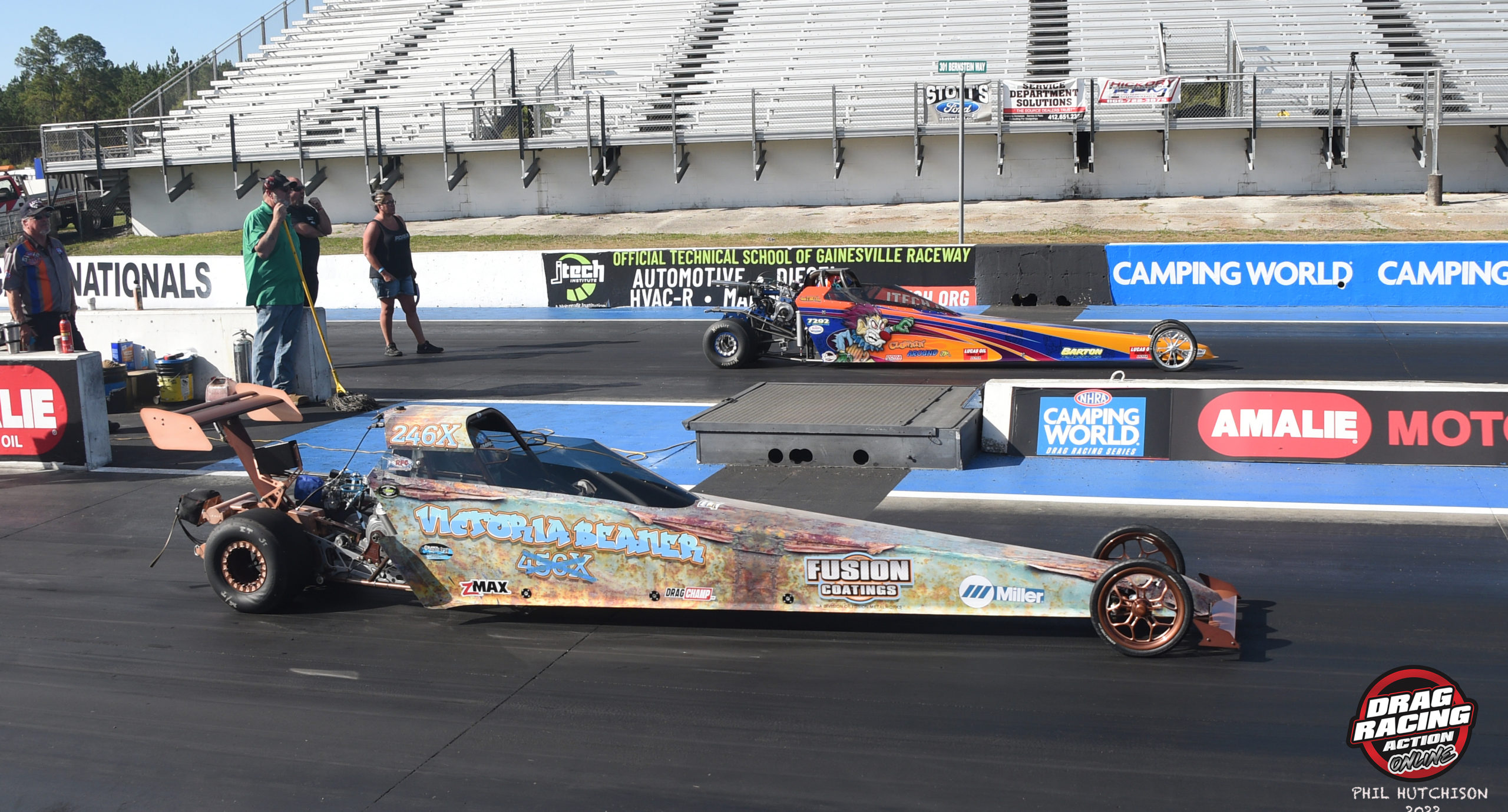 Intermediate Junior Dragster went to transplanted California racer Troy Barton (Far lane)  as the new to Tennessee racer ran a 9.002 on a 8.94 dial in beating Victoria Beaner from Lynchburg Va.who posted a losing 9.010 on a 8.90 dial.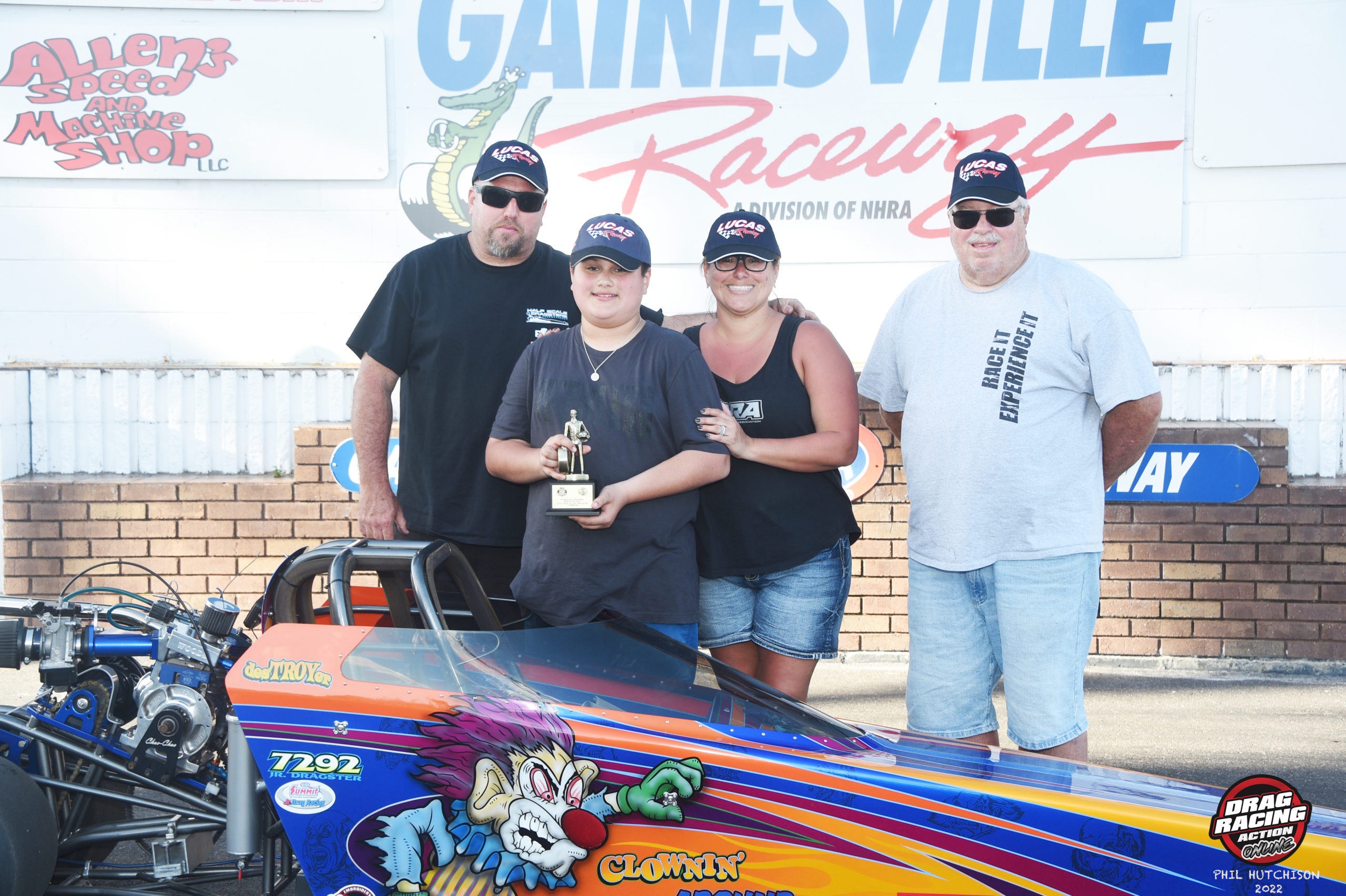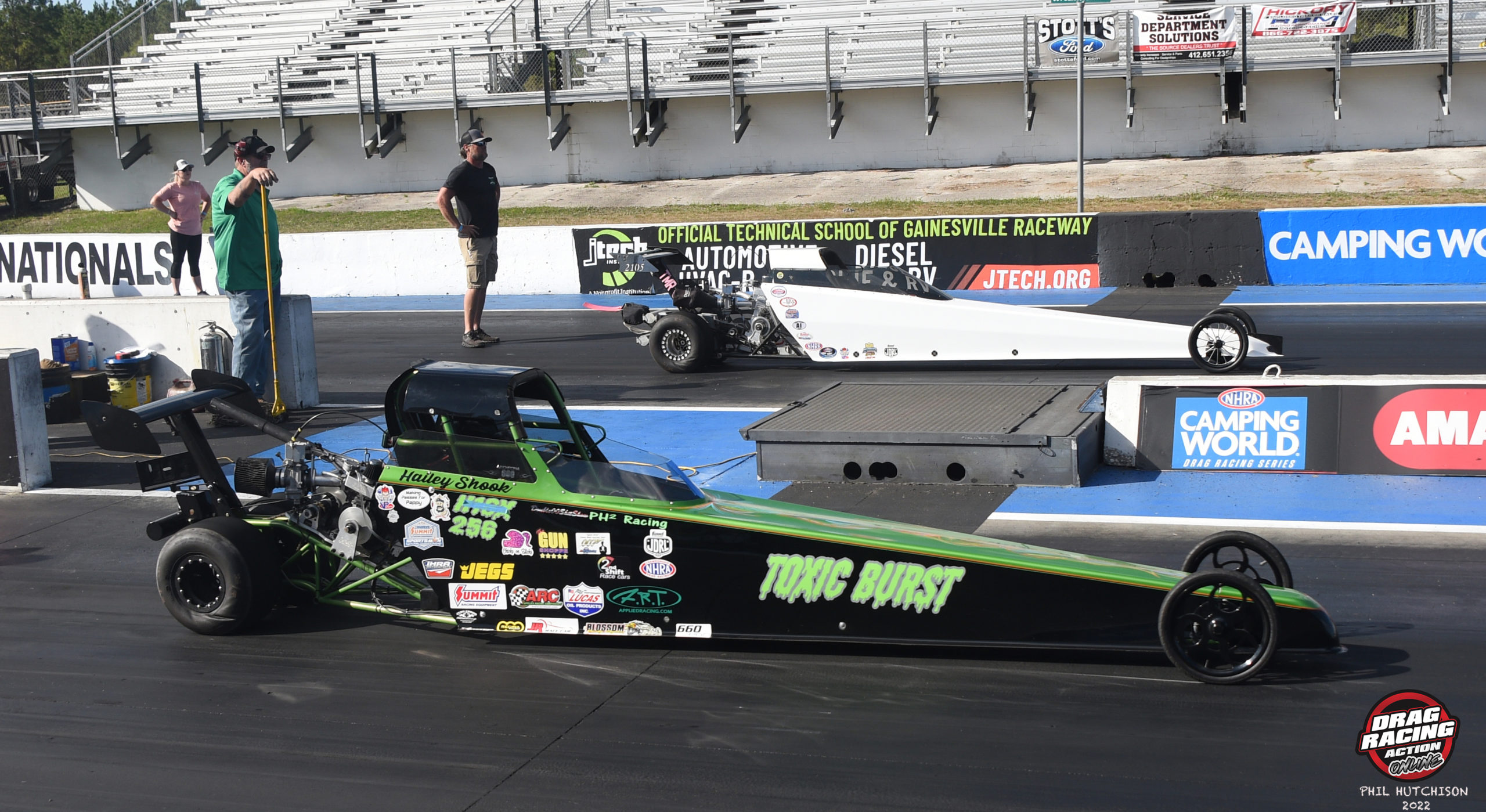 Advanced Junior Dragster class went to Hailey Shook from North Port Fla. Shook took an easy win as her competition, Jada Sexton from Camilla Ga. left too soon giving Shook her second Baby Gators title in a row.