FIRST WIN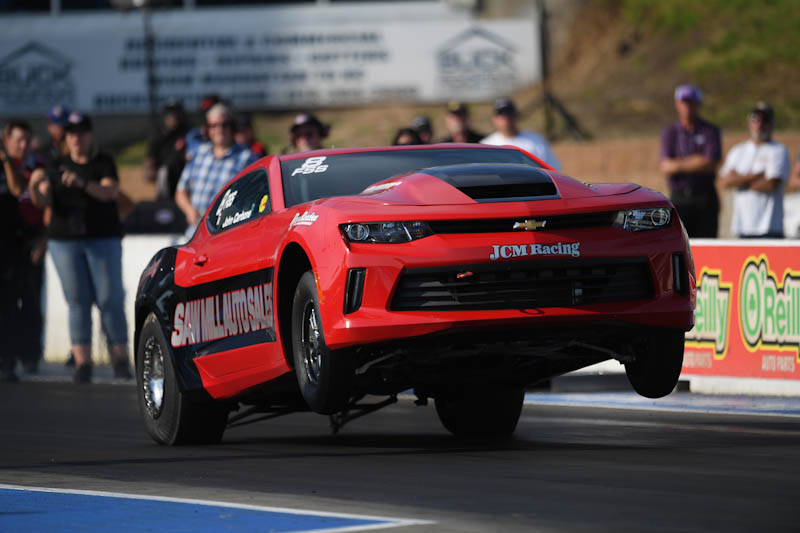 Photos NHRA
The Menard's NHRA Nationals in Topeka Factory Stock Winner may be somewhat of a rookie when it comes to that class, but John Cerbone is no rookie when it comes to drag racing and fast cars.
The 58-year-old chassis builder from New York began like a lot of others, following along on the New York street racing scene, although that was only for a short time. "Growing up in the Bronx," says Cerbone, "I missed a lot of the New York drag strip scene. National Speedway on Long Island had already closed and West Hampton; renamed Long Island Dragway; was pretty far out on the Island."
Cerbone's first foray to a drag strip happened prior to him receiving his state's driver's license. "I convinced some buddies of mine to drag me along when they went to Englishtown in New Jersey," he said. "The next time I went to Englishtown was when I was 18 and I could drive myself. I had purchased a Barracuda that I fixed up, more or less a street car, but I had heard about the street racing scene. I didn't spend a lot of time racing on the street instead getting hooked up with first Bob Benza who was running Comp Eliminator at the time.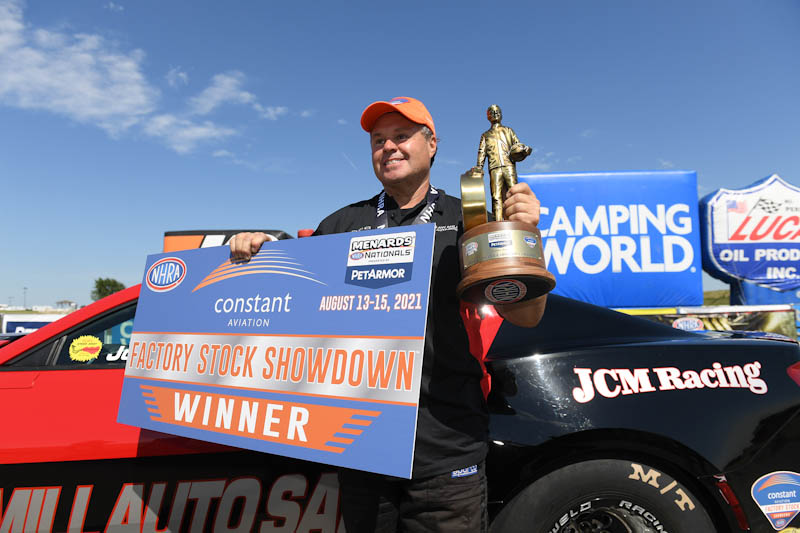 "I had met Bob through a friend of my family, Pete Pearson and I began building some metal products for Bob's business, but also began working with him on his race car," Cerbone added. "That gave me a little more of an education when it came to running a professional type program."
Pearson also had purchased a Pro Stock car from Flip's Speed Shop and both he and Cerbone put together a somewhat fast engine with the dreams of going Pro Stock racing, dreams just about anyone back then could have. A little different today.
A mecca for the New York racing scene at the time was Flip's Speed Shop in Yonkers, Frequenting the establishment often, Cerbone was introduced to present Pro Stock racer Kenny Delco by Flip's owner Flip Bonito. During this period, Cerbone had begun JCM Racing, building engines and cars. The introduction also included a friendship with Delco's sponsor Ron Capossela beginning a friendship that continues today with Cerbone as part of the crew for Delco's current Pro Stock operation.
"I began keeping pretty busy building all types of drag cars," he says. "In some cases, I'd build the cars, engines, everything, and then drive the car myself to set up the nitrous systems or whatever before handing them over to the car's owners. I also continued to work with Kenny through all of the different cars he ran."
With a foray into the northeast Pro Mod series, despite not running all of the Northeast Pro Shootout events, Cerbone ended up second in their points championship for two years in a row.
All that changed in the early 2000s. "I was getting burned out on drag racing and along with a partner, we first purchased a circle track Modified car," Cerbone said. "That led to us purchasing a Busch North Series circle track car. I built the engines and drove. We did pretty well considering we were competing against some pretty financially sound teams, all the while still drag racing."
Things began to get busy for Cerbone between drag racing, building car, still working with Delco and running the Busch series. Rules eventually changed in the Busch series which somewhat ended Cerbone's excursion in the circle track world. But like he has done so many times before for other racers, Flip Bonito once again came into the picture.
"Flip had introduced me to Robert Falcone who owns Saw Mill Auto Sales here in New York," said Cerbone.
In the first year of the Factory Stock class, Robert Falcone was as hooked as anyone. A certified car guy himself, Falcone had purchased a used race car that Cerbone updated along with instructing Falcone and his daughter of the nuances of drag racing. Hooked, Falcone purchased one of the then new COPO race cars. In order to run in the Factory Stock class, the COPOs as they come from Chevrolet required chassis upgrades, upgrades Falcone's friend Cerbone was capable of handling.
"The car ran well, but Falcone always wanted to go faster," said Cerbone. "Together with him, we got him hooked up with David Barton, which has made a huge difference in how fast the car runs. Barton helped Falcone with the entire set-up of the car. With Falcone behind the wheel, he won a couple of rounds but crashed two years ago in Indy. It was really no fault of his own but these cars are a handful to drive with their horsepower on a nine-inch tire.
"The trick to them is sort of like a Pro Stock car," Cerbone added. "If you can get them through the first part of the track, the rest falls into place."
Falcone made the decision to have Cerbone fix the car and sell it, but as Cerbone pointed out, "For guys that really love racing, that 'sell it idea' goes away pretty quick. Robert then suggested I drive the car after we fixed it. We tested with the car early last year with a lot of promise. Before I knew it, Robert said he had entered the car in all the remaining races last year with me driving. He sort of snuck the whole thing in on me but I'd have to say, I'm happy he did."
At the Topeka national event, Cerbone still performed double-duty working with Delco on the Pro Stock car and driving the Factory Stock as well.
"We've been fast all year," Cerbone said, "and at Topeka, I was getting progressively faster all day. David [Barton] was tuning up the car each round. He did everything he could to make this car the fastest thing out there. All of the Barton guys were awesome all day. Robert and Danielle Falcone have spared no expense to put this car together. In addition, my wife Pattie has been by my side, supporting me in everything I do."
With the win light on in the final round at Topeka against Leah Pruett's Dodge, maybe a little bit of shock came into play. "When you're in the car with the engine running," says Cerbone, "you're pretty much on cruise control and not much bothers you. I wish it was one of those 'Yeah! Wow, I just won,' but it wasn't. But when I got out of the car at the top end and they handed me the trophy, I really didn't know what to do. I was pretty nervous looking at the cameras.
"Robert tries to attend all the races and I'm glad he was there for me to hand him the trophy," Cerbone said. "I don't think he's come down yet. I think he was more excited over the win than I was."
While we may have alluded to Cerbone being a second-year rookie in the class, Cerbone is no rookie at all with experiences from fast drag cars to circle track racing, you can bet that there will be more winning to come from this affable New Yorker.