Story/Photos Phil Hutchison
Qualifying in the No. 1 spot in Stock Eliminator is cool, but it won't get you much if you don't have the car dialed in, get good lights, and know where you are at the finish line.
At the recent Eighth Annual Baby Gators at Gainesville Raceway, Tim Barrett did all of the above. Barrett, from Fort Ann, NY, drove his G/SA '69 Camaro to the Stock Eliminator title defeating the AA/SA Pontiac of Randy Wilkes in a double breakout final.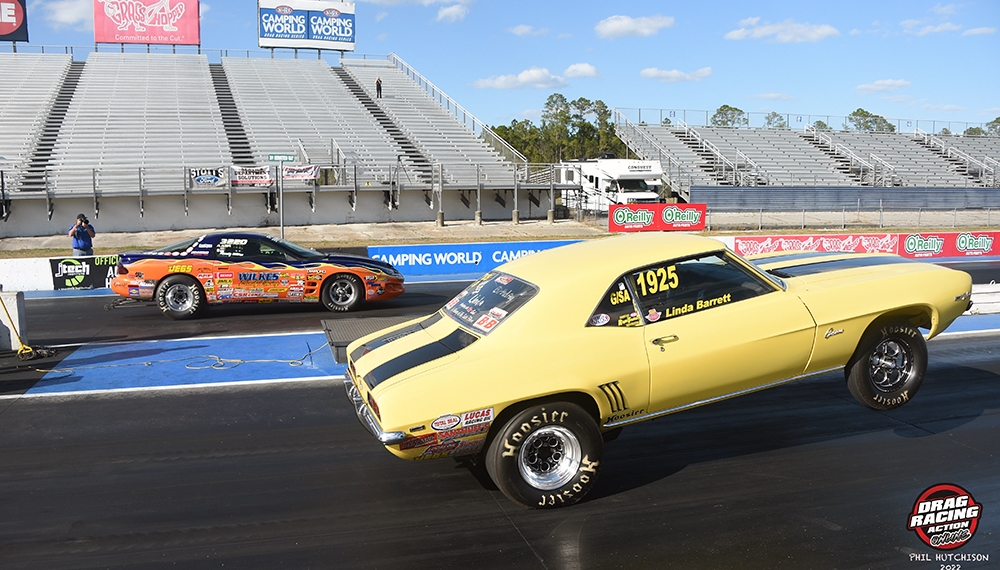 Wilkes, a former national champ and 2020 Baby Gators Stock winner, was second off the line with a 0.043 light to Barrett's better 0.027 and went a 0.020 under 9.96 to Barrett's 0.010 under 11.06.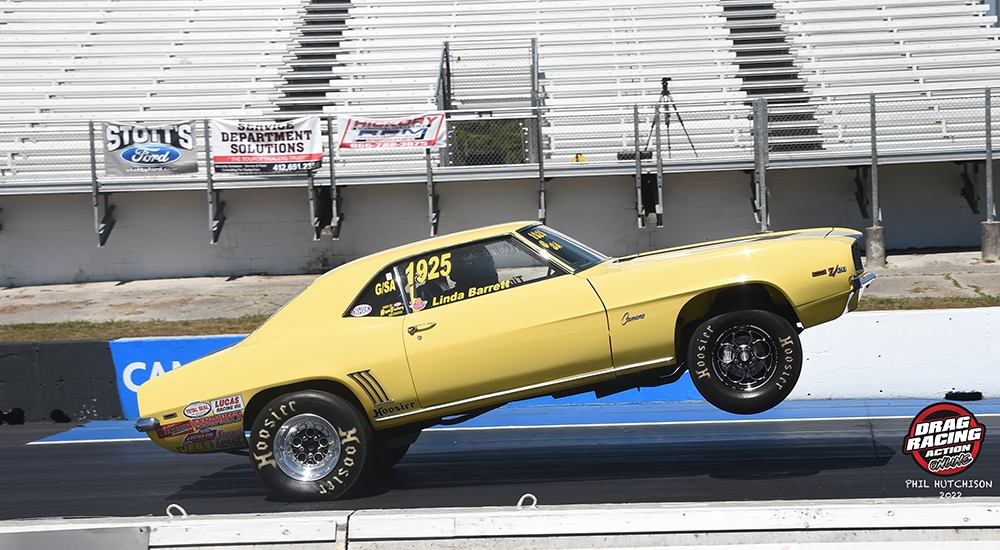 "I knew Wilkes was faster and he had won the Baby Gators before," said Barrett after the win, "I had to cut it close, I started to let off on the top end and decided to just run it out and kept it to the floor and it worked out.
"We had a good weekend and having two byes in eliminations is rare," he added. "I had better reaction times pretty much all weekend except in round three. Blake Hickman had the better light but took too much stripe and broke out more than me.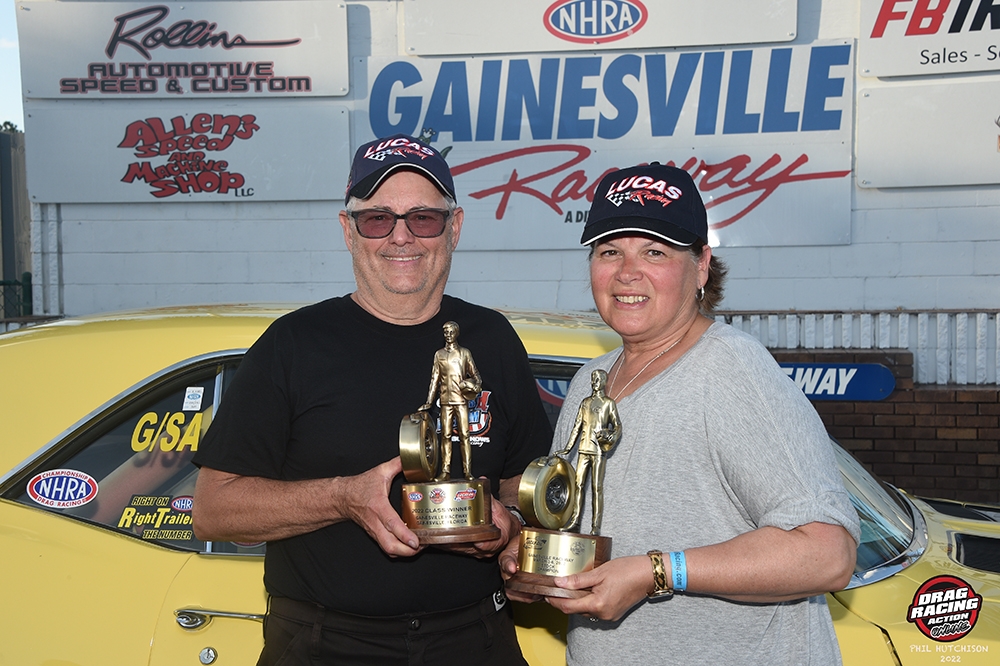 "My worse light was against Timmy Stickles in round five. I had a 0.074 but Tim, who is a friend of ours, had a reaction time that started with a one, and you can't win a race with any reaction time that starts with a one!
"There is so much talent out there I was surprised that at my age, I won. People like me are here to have fun and be with friends."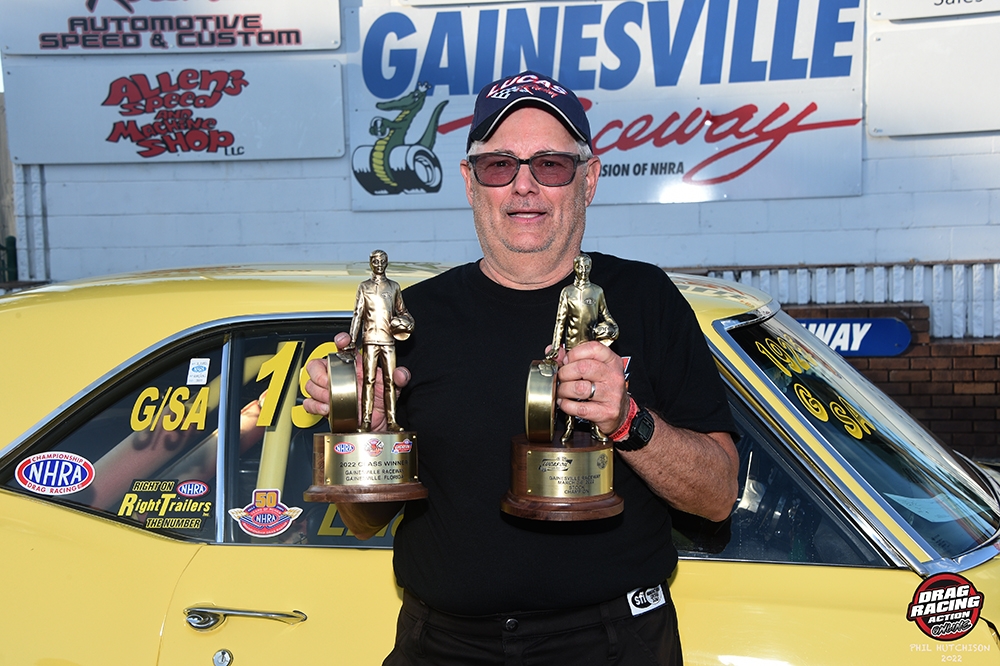 Barrett, who took a few years off from the sport, returned after the layoff and made the most of it. As he tells it, "I got tired of racing and decided to take up golf and other things to keep busy but I would still go on the computer to see how my friends were doing at the races. My wife Linda, who is my partner in life, talked me into coming back. She told me numerous times to get back racing and I told her if she said it one more time! Well she said 'Lets go racing'. And we did. The first few years back were brutal. We broke motors, and beat our heads struggling to get the car to run. Finally, I built my own motor and after a while needed more compression and some other machining for the motor and reached out to Glenn Briglio at B&B Automotive Machine Shop in Oceanside, NY, for help and he has been with us since.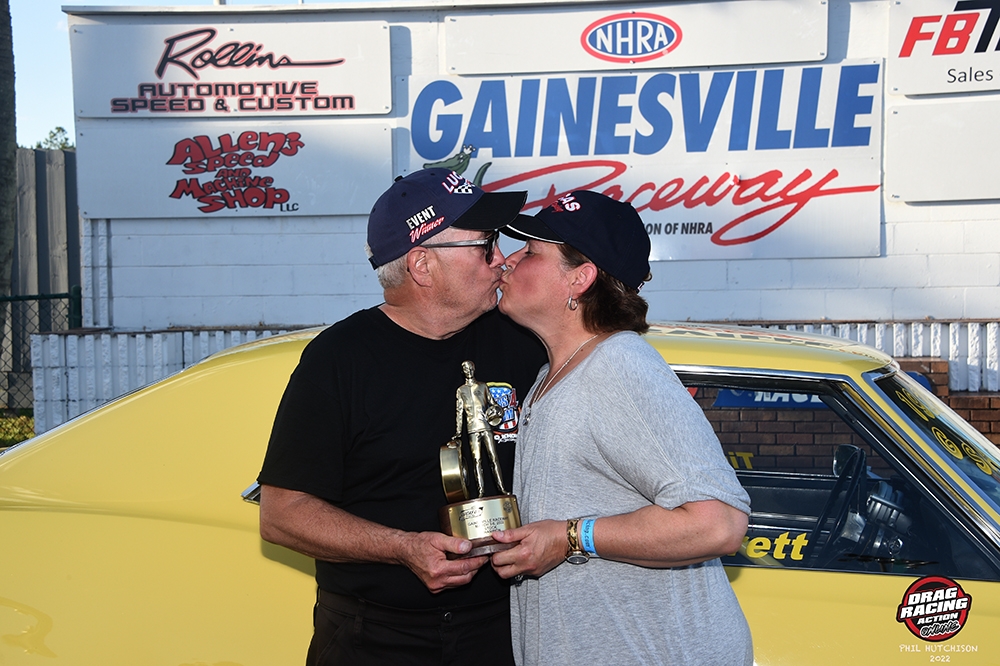 "Jack Sepanek preps the transmission and Leon Miranian does the Quadrajet carburetor.We tried different people tuning the carb but Leon really knows these Quadrajets. He's the guy to go to for them. Frank Lupo at Dynamic Convertors supplies us with convertors."
"I also got to give a shout out to my two dogs Jake and Oscar," Barrett adds. Our buddy Tom O'Loughlin gave us the name Team Jolt for the dog names, Linda and me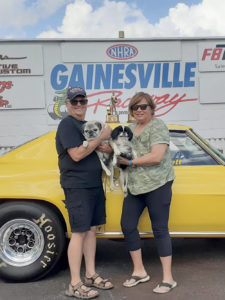 The win was Barrett's second career Lucas Oil win having won Stock last year at the Heartland Kansas divisional. But this weekend at the Baby's might be a record setter.
"Bobby Fazio told me after the win that between qualifying No.1, winning class, and then taking Stock Eliminator was a modern-day record," said Barrett. A record he'd like to duplicate again.