NHRA Division One closes the book on the 2021 Season at Cecil County. Stalba wins first for the year!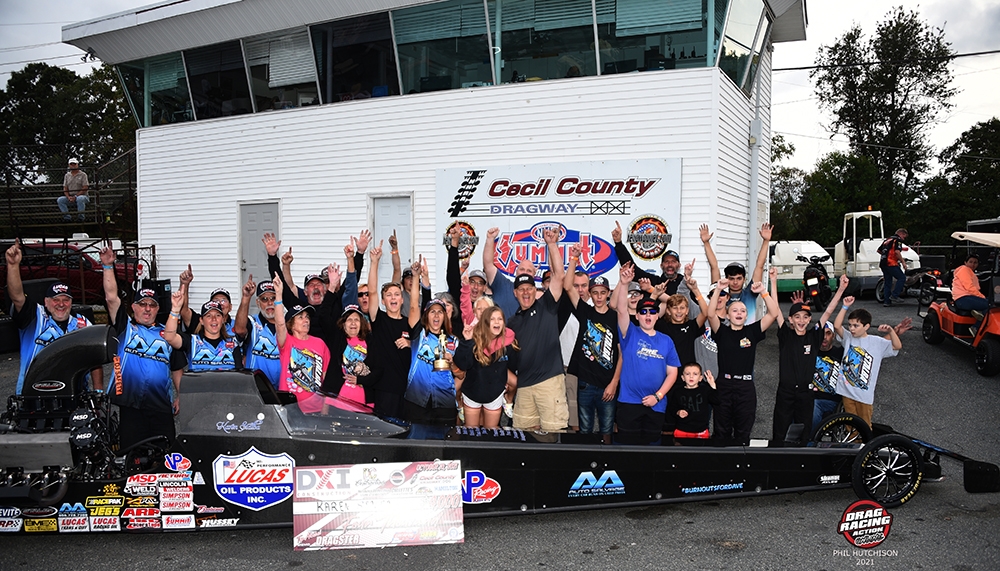 Story: Phil Hutchison and Karen Stalba
Images: Phil Hutchison, Diane Kubicke, and David Smith
Top Alcohol Dragster driver Karen Stalba finally got the proverbial monkey off her back winning in a convincing fashion after a year of "Almosts" and close but no cigar finishes. The Hammonton NJ driver qualified her AA Auto Salvage/LucasOil A/FD  #1 with a 5.213 @ 280.49 MPH and ran Low ET in each round including Low ET of the event with a 5.168 in R1.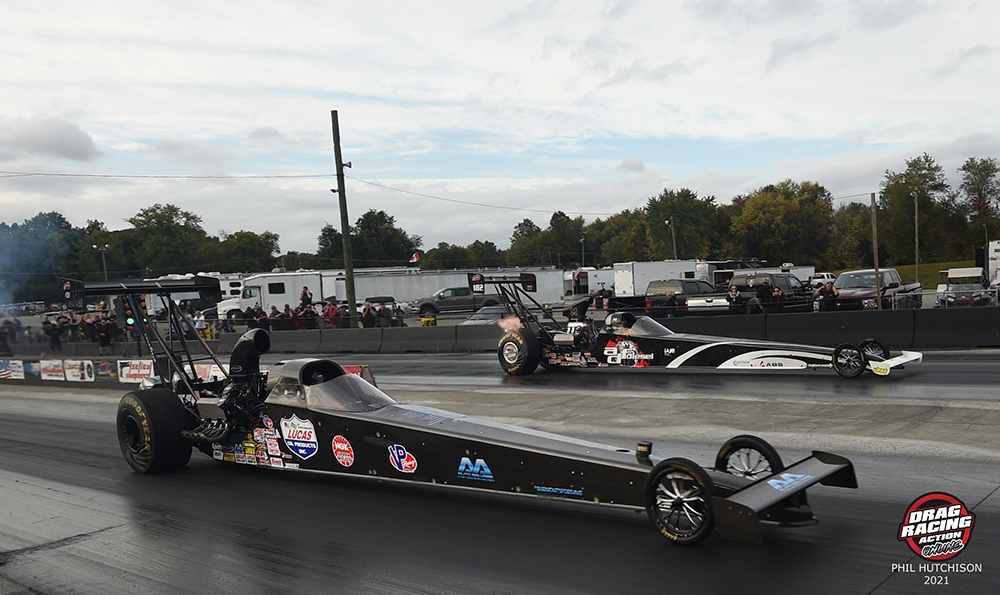 Stalba's final round opponent, former D1 champ Dan Mercier, had traction issues in his Canadian based A/FD and slowed to a seven second run as Stalba sped to a 5.231 for her fourth career Lucas Oil win.
After the win Karen said,  "It was great to be back at Cecil County Dragway  with the Top Alcohol cars! The track is smooth as glass and the staff was amazing as always!  We were #1 qualifier, set a track record 5.16 in first round of eliminations and then securing our first win of the season and first as a new team!"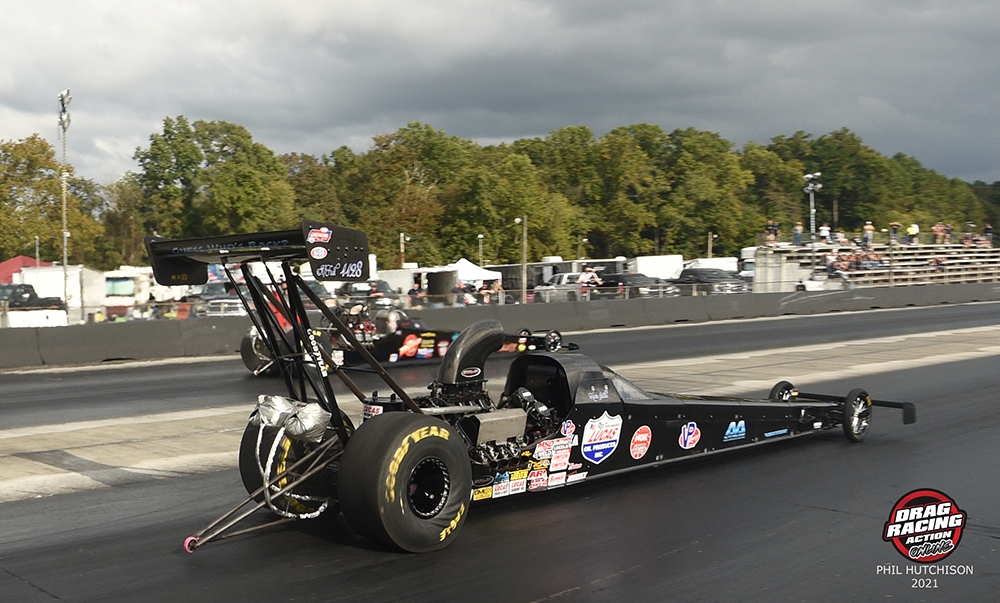 Stalba's late leave in R2 against Hepp (far lane)  almost cost her the race
After going without a win in the brutally tough D1 Top Alcohol Dragster class in 2021, Stalba had a dream weekend. The only blemish was in the second round against the blown car of Mike Hepp. Stalba had an uncharacteristic 0.119 reaction time and trailed the "Recovered Alky" car of Hepp for what must have seemed like an eternity. Stalba caught and passed the blown car with a 5.229 ET (her slowest of the weekend up to that point) to Hepp's losing 5.473. Stalba said, "I left and then I saw him and I thought, oh no, not again. At the Norwalk regional in July we qualified #1 and got crushed on the tree racing Brandon Greco in R1 and lost with a quicker run by over a tenth. At Cecil I saw his car until about a few hundred feet from the finish line and I knew I caught him. I have to give the crew all the credit for that win."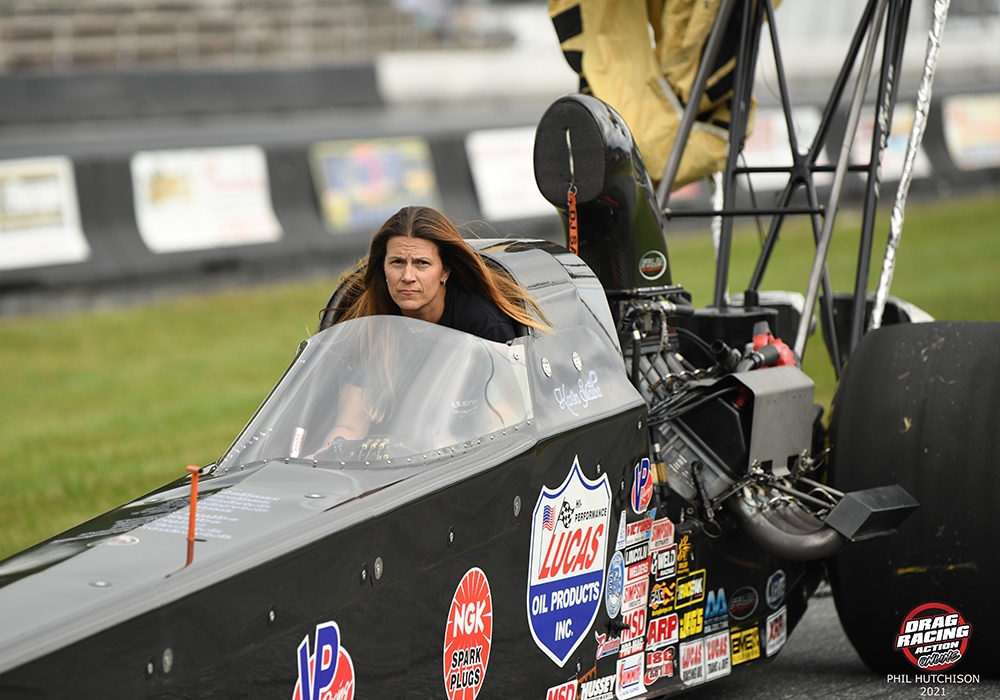 Stalba was not happy with her reaction time in round #2
"After 4 final rounds in 2021 where we were oh-so-close" Stalba said, "We finally pulled this one off! Gene Gallant had this car running super consistent, and Bob Smullen, my dad Thomas Benkovich, Erick Cindrich and James Dunn worked their tails off getting the car turned around quickly for the each round. This year, when I was on, the car fell a bit short, and then when the car was hot, I was not! Well, my driving this weekend was not my best, but it was enough! Pep talk before each run from the best back-up girl out there, Kara Stine!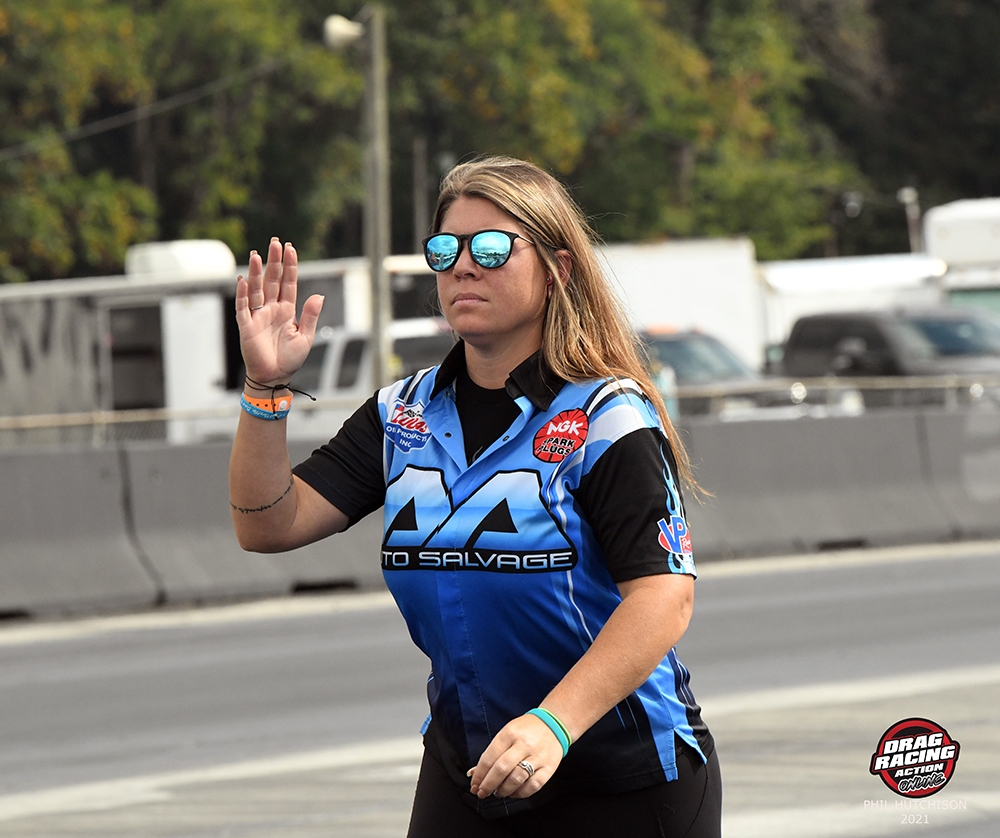 Kara Stine 
"This has been an emotional year, sometimes a bit stressful getting things lined up and getting comfortable as a team, but it has been amazing otherwise! Sitting 5th in the country right now for our first season together is pretty great."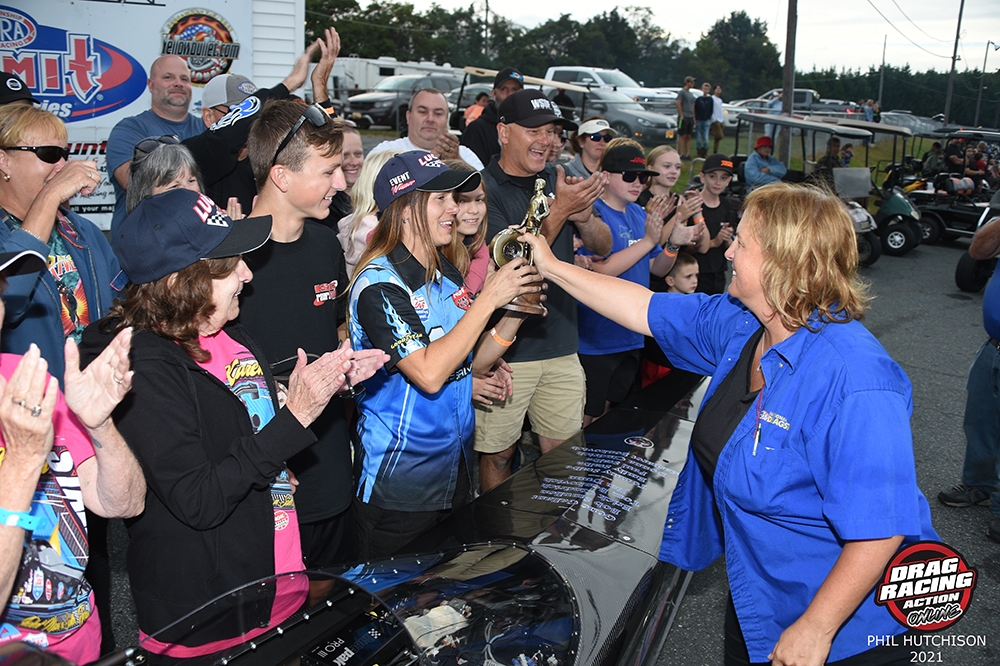 D1 photographer Diane Kubicke presents Karen's first 2021 Wally to her, her crew, along with family and friends
In addition to thanking her crew, Stalba would also like to recognize Jim Halsey and the entire group at Cecil County for providing a great place to race. Stalba added," Thanks to DC Contracting DXI Construction and all those who stepped up to increase the purse for this race and support the class!  Thanks to Lucas Oil for sticking with us and proving the best products to keep us running and looking great. Thanks to AA Auto Salvage for the support and the guys and gals in the shop that keep things smooth while we are away.  And finally, thanks to my husband Thomas Stal, for having faith in me to get me back in the class, and thank you Paul and Emily for cheering me on."