Achenbach, Rivenbark and Carr Victorious at Maple Grove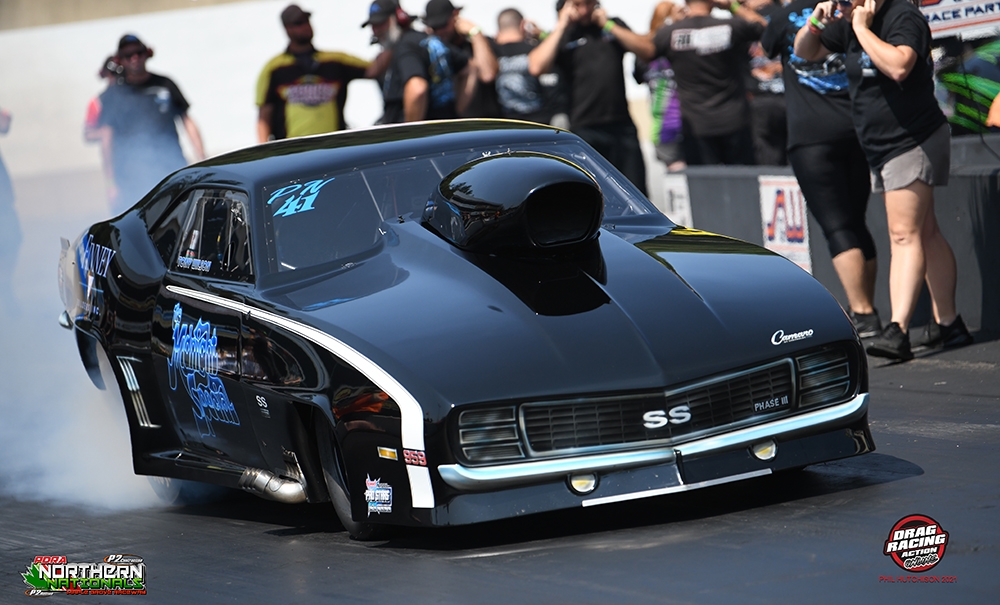 Story and Images Phil Hutchison
After a day of extreme heat and a rain shower that cut qualifying to just two sessions, Saturday at the PDRA P2 Contracting Northern Nationals presented by P2 Racing at Maple Grove Raceway was a welcome change with temperatures in the mid 80's throughout eliminations.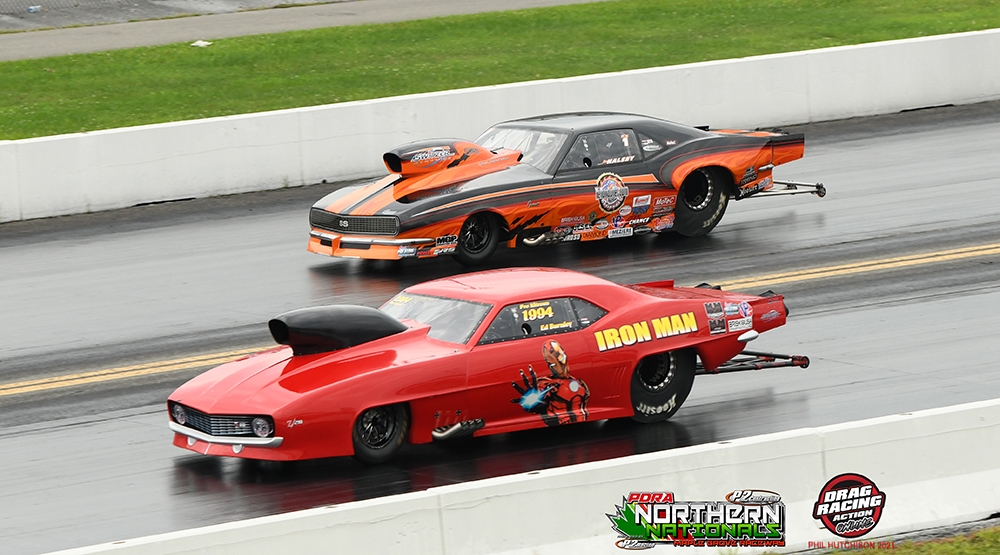 #1 in Pro Nitrous Jim Halsey was out after his first round loss to eventual R/U Burnley
Upsets were the norm in round one as the top qualifiers in Switzer Dynamics Pro Nitrous were out of contention as #1 qualifier Tommy Franklin lost to eventual winner "Mountain Man" Mike Achenbach and #2 qualifier and point leader Jim Halsey sitting on the sidelines after losing to Ed Burnley.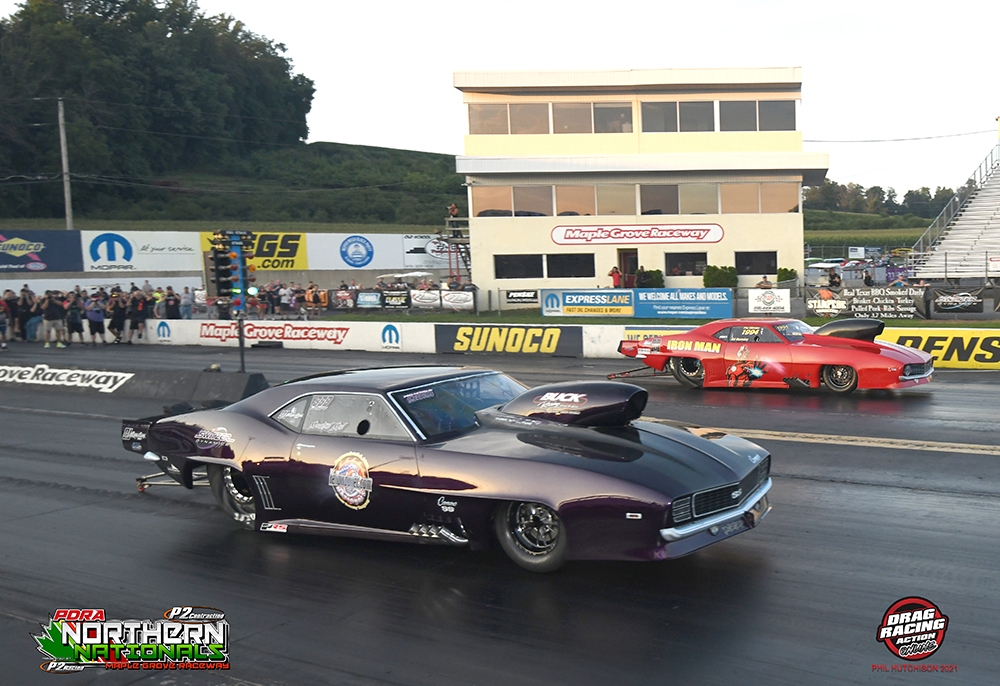 Achenbach's weekend didn't start off on a good note as the Nazareth PA driver smacked the wall in his Brandon Switzer-tuned, Buck-powered "Deep Purple" '69 Camaro during Thursday's test and tune session after getting in his own liquid. The damage was severe enough to require welding on a new front-end clip on the '69 Camaro. Then once qualifying and racing started, the team had to deal with swapping out an engine and then a transmission went south necessitating another swap.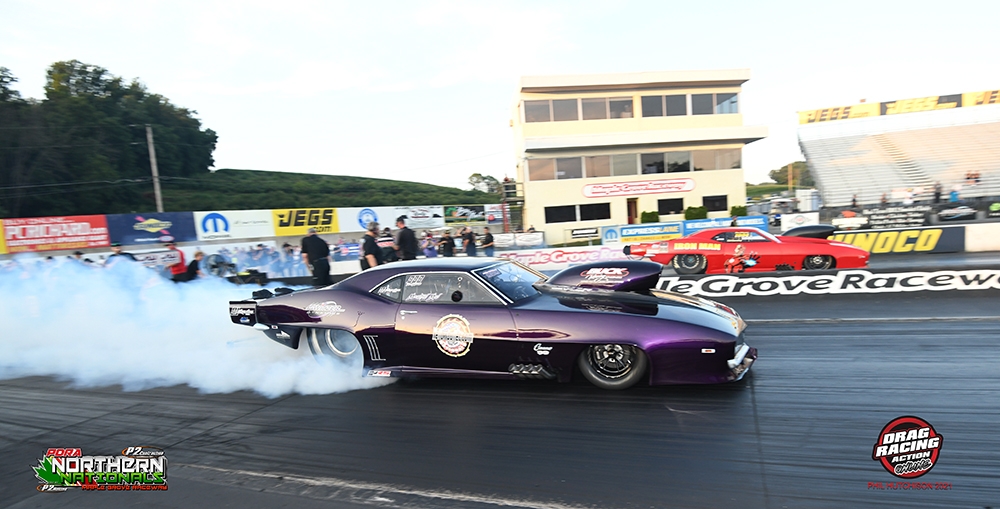 In the finals Achenbach faced another first time finalist, the "Iron Man" Camaro of Ed Burnley who after defeating Halsey, got by Tony Wilson's "Midnight Special" Camaro in round two and got a bye into the finals.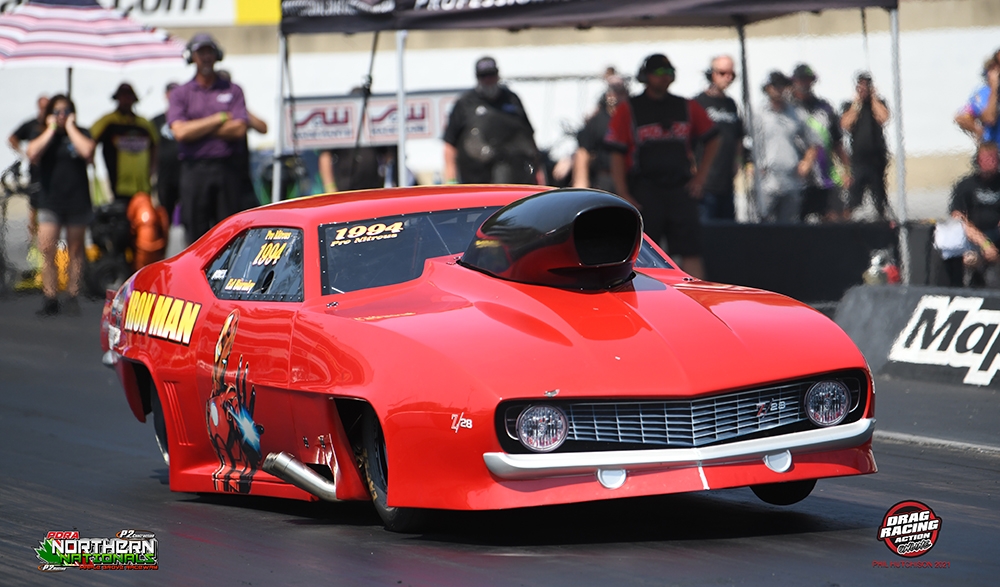 Burnley's luck ran out in the finals against Achenbach as the Pasadena MD racer was late off the line with a 0.097 light to Achenbach's better 0.032 RT and that was all it took as Achenbach's 3.788 held of Burnley's better but later 3.765.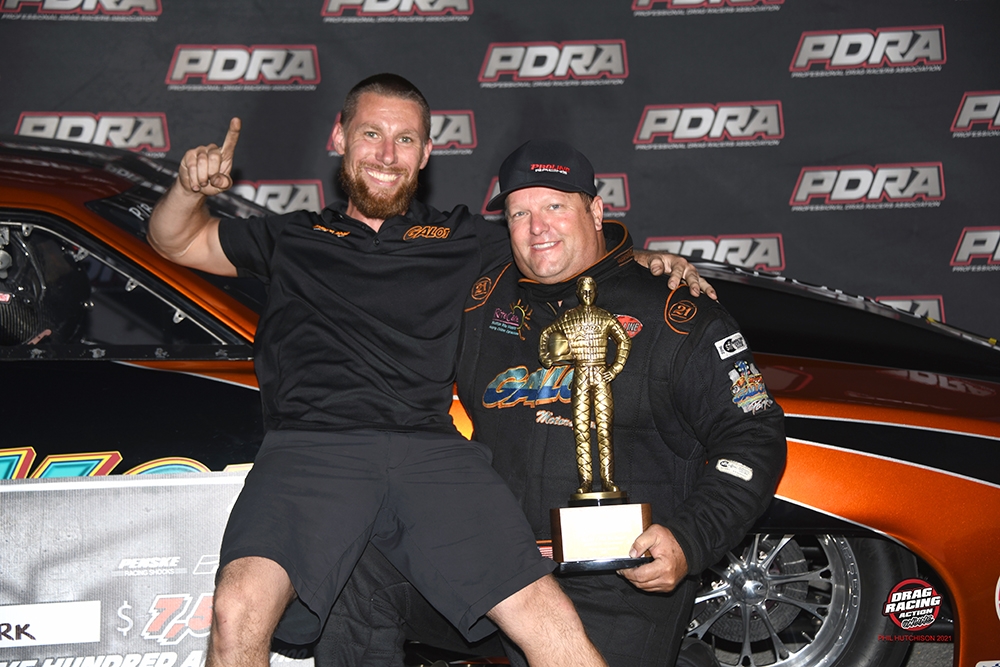 Penske/PRS Pro Boost presented by WS Construction points leader Kevin Rivenbark added to his total at Maple Grove defeating Todd Tutterow in a rematch of the Summer Shootout final at VMP. Rivenbark's GALOT Motorsports '69 Camaro was second off the line with a 0.032 RT to Tutterow's slightly better 0.021 but had the better time with a 3.691 to "King Tutt's" 3.707.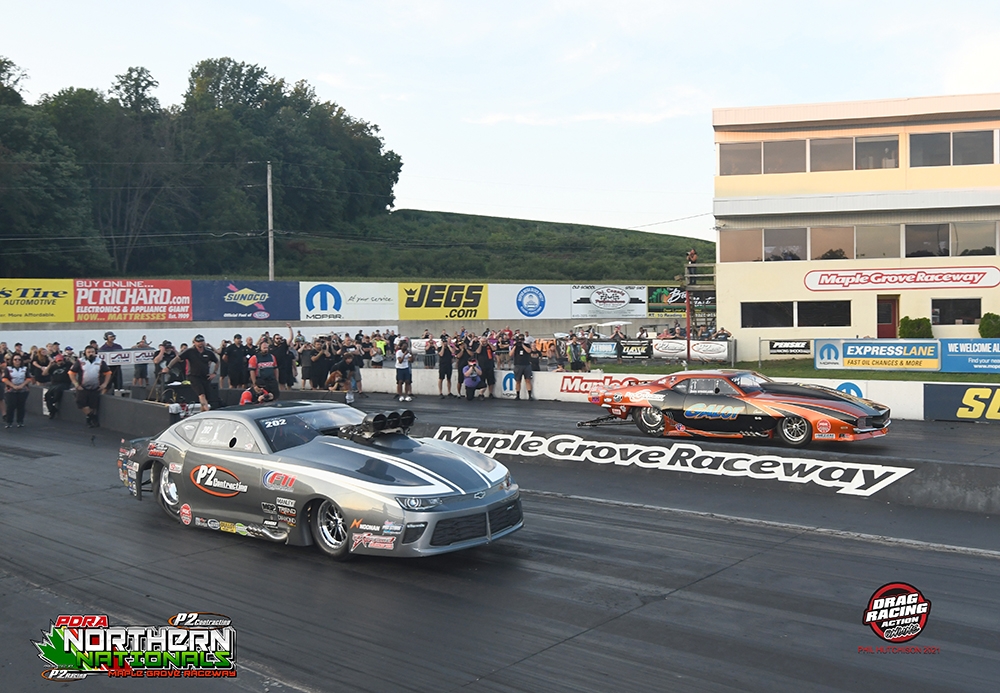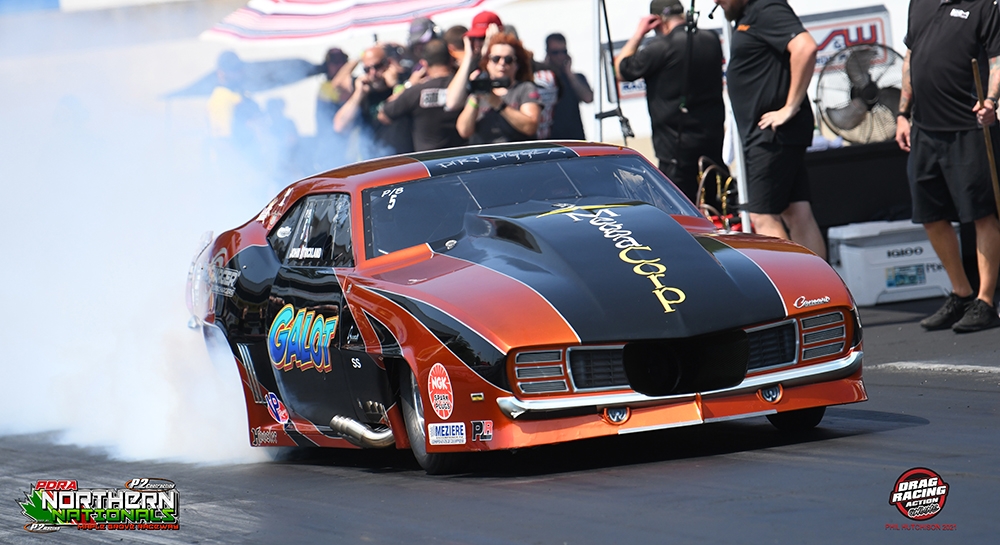 As in Pro Nitrous, the low qualifier went out in the first round as No. 1 qualifier Melanie Salemi lost in the first round to eventual runner up, Tutterow. Melanie slowed to a six second run to Tutterow's 3.72 after qualifying on the top spot with a 3.731 @ 200.23 MPH.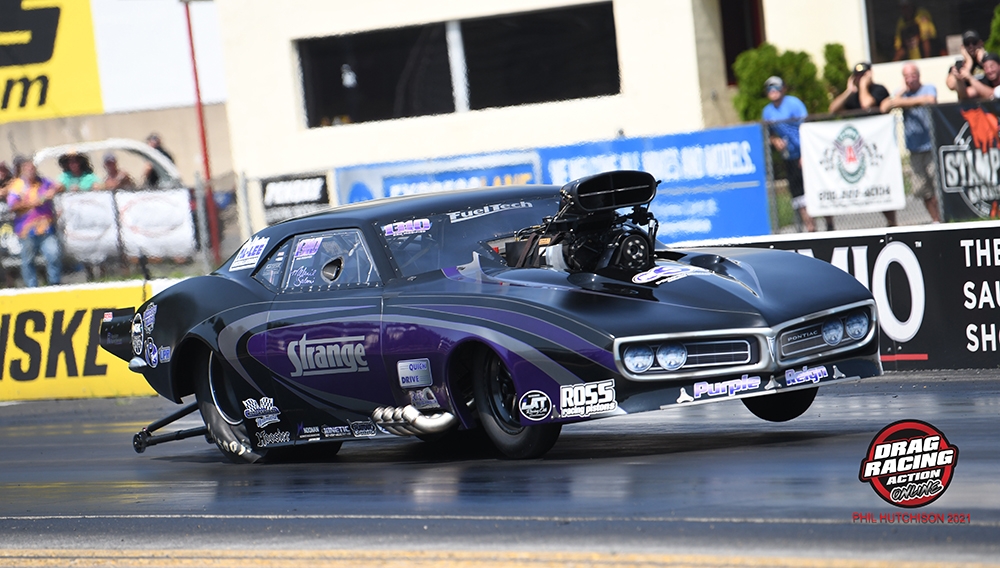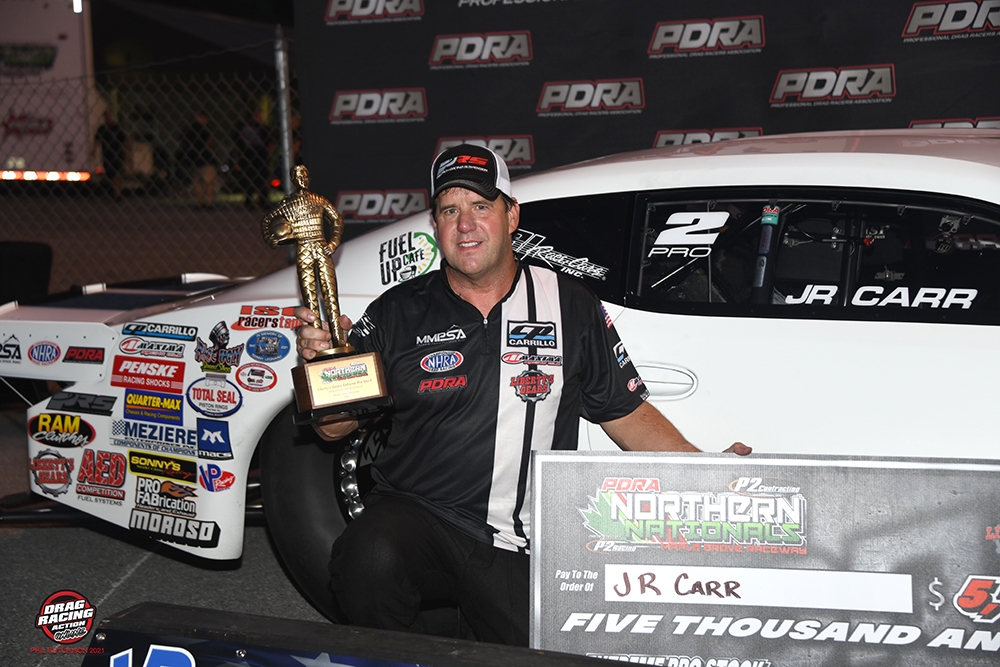 Liberty's Gears Extreme Pro Stock presented by AED Competition went to JR Carr racing out of Pasco WA in his all white '20 Camaro. Carr, who won his second PDRA event in a row, qualified #1 with a 4.112 defeated Nazareth PA racer Dave Hughes, Elijah Morton's Ford in the semis, and finally a red lighting Chris Powers in the final.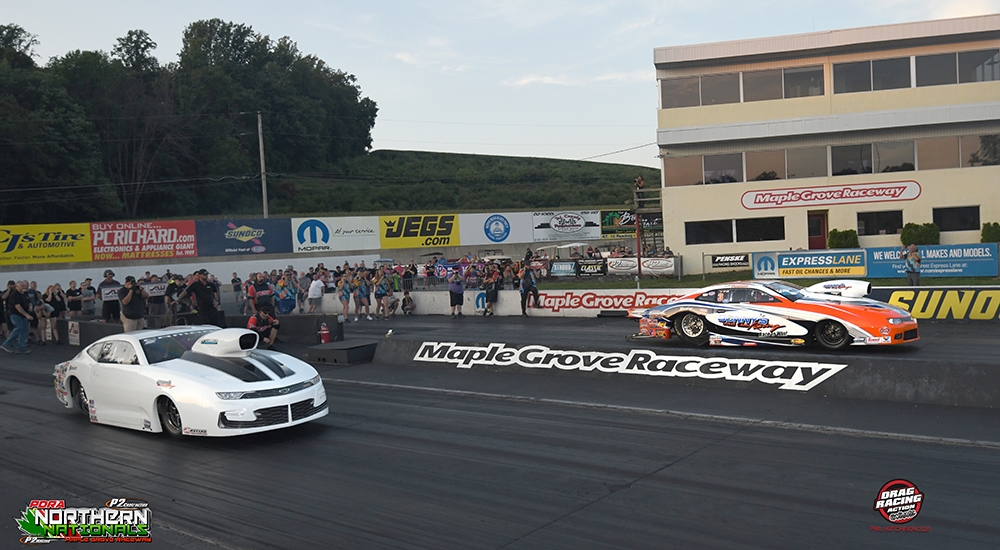 Chris Powers, even with his red light in the finals, continues to lead the title chase with two races to go. 2020 champ Johnny Pluchino is #2 and Carr is in third place.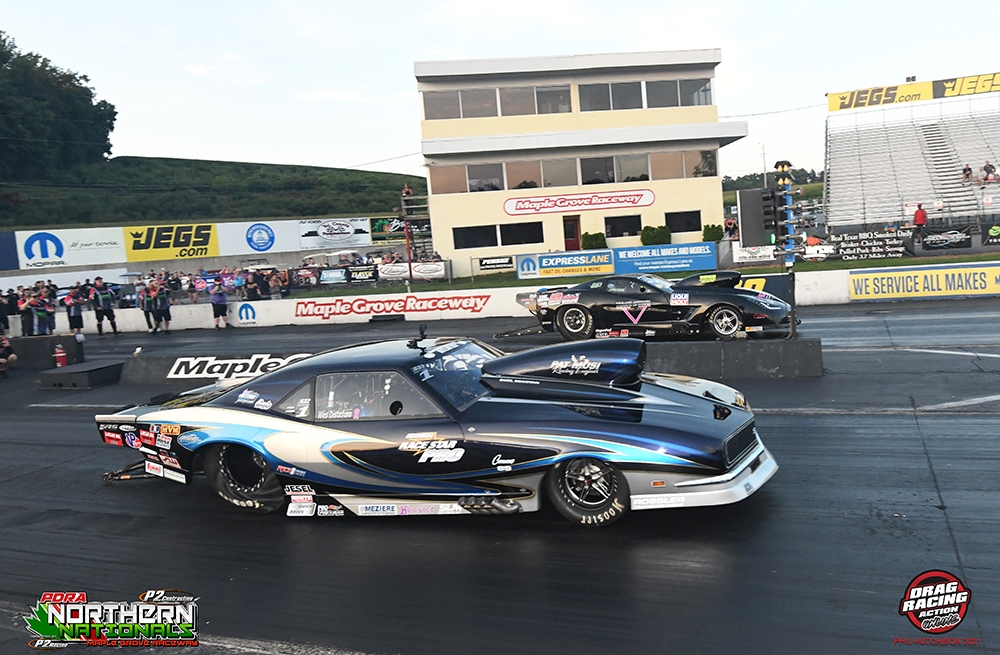 Reigning 2020 champ Wes Distefano won the $hameless Racing Pro Outlaw 632 over two time champ Dillon Voss. Distefano in his Musi powered '68 Camaro ran a 4.222 at 169.76 to Voss' slowing 7.096 at 64.94.  The victory at Maple Grove was Distefano's third PDRA win for 2021 putting the Waterford MI driver in a solid first place in the division.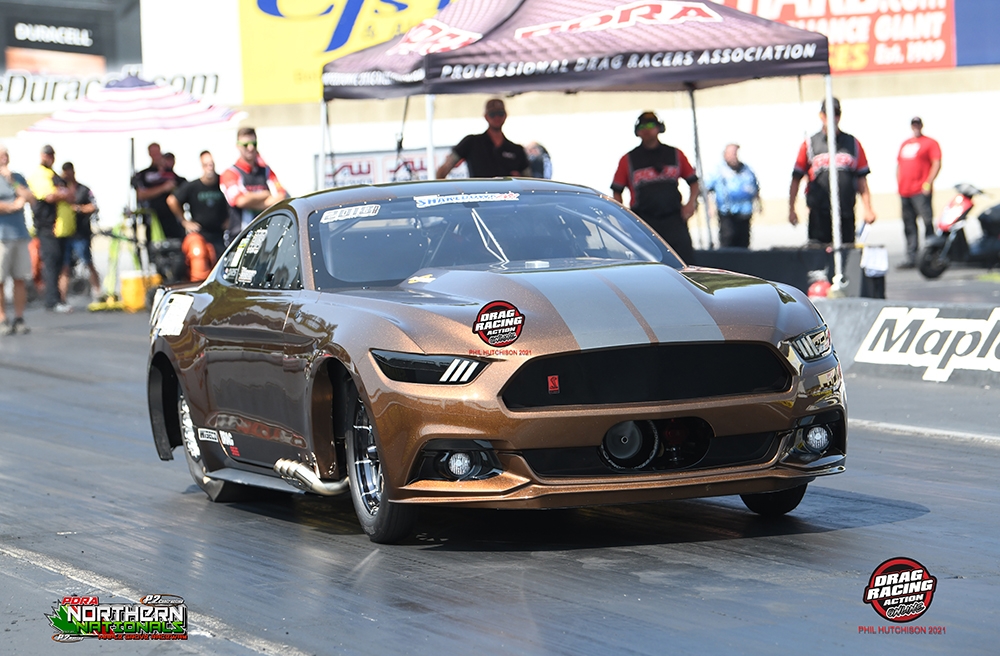 Port Tobacco MD racer Tim Essick came into the Northern Nationals with a firm grip in Drag 965 Pro Street points race. Essick, driving his"Brown Sugar" '18 Mustang added to his total with a resounding victory over #1 qualifier Nick Schroeder in the finals. Schroeder was first off the line but Essick caught the blown GTO racing out of Frankford DE running a 4.001 at 185.92 beating Schroeder's 4.074 at 190.32.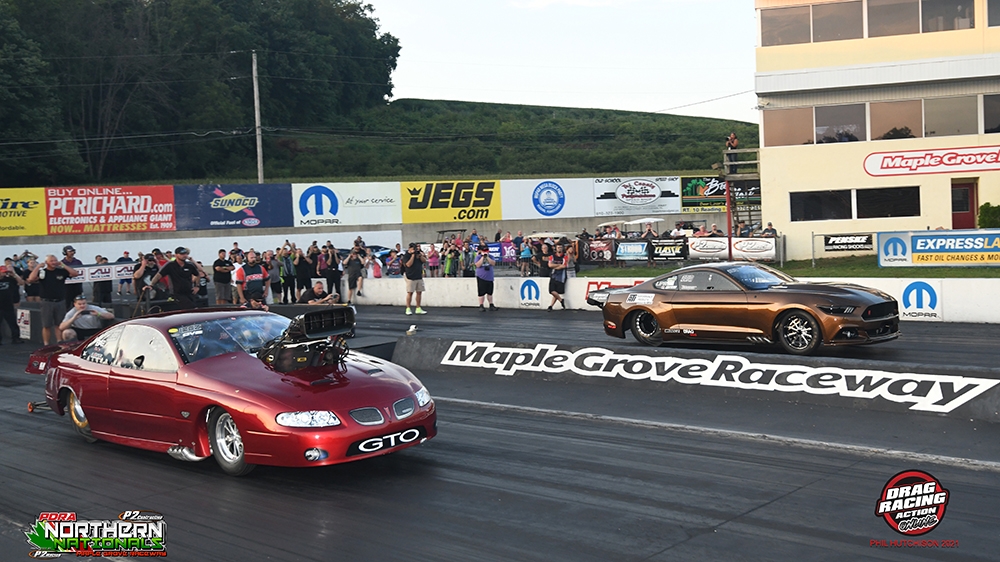 Other winners at the PDRA Northern Nationals were: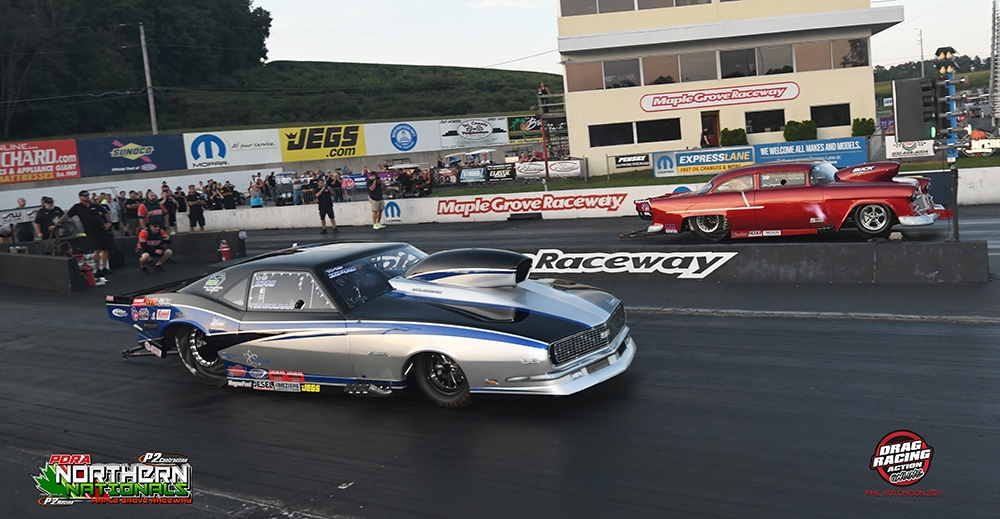 Steve Drongowski in his '55 Chevy won MagnaFuel Elite Top Sportsman presented by Tejas Borja over Tim Molnar as Molnar broke out with a 3.872 on a 3.88 dial.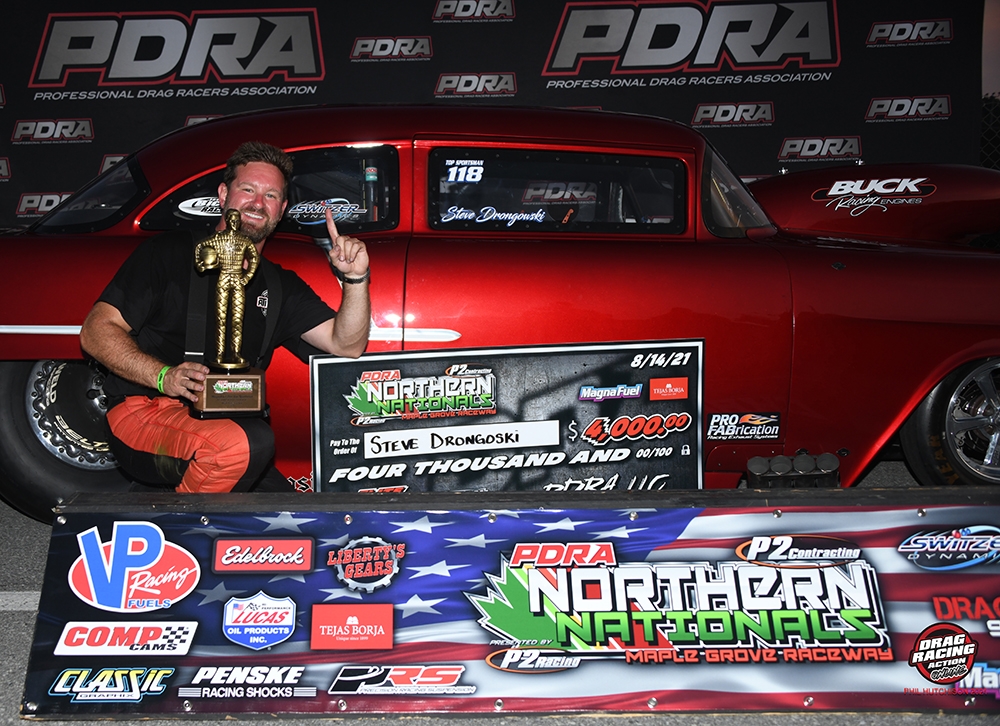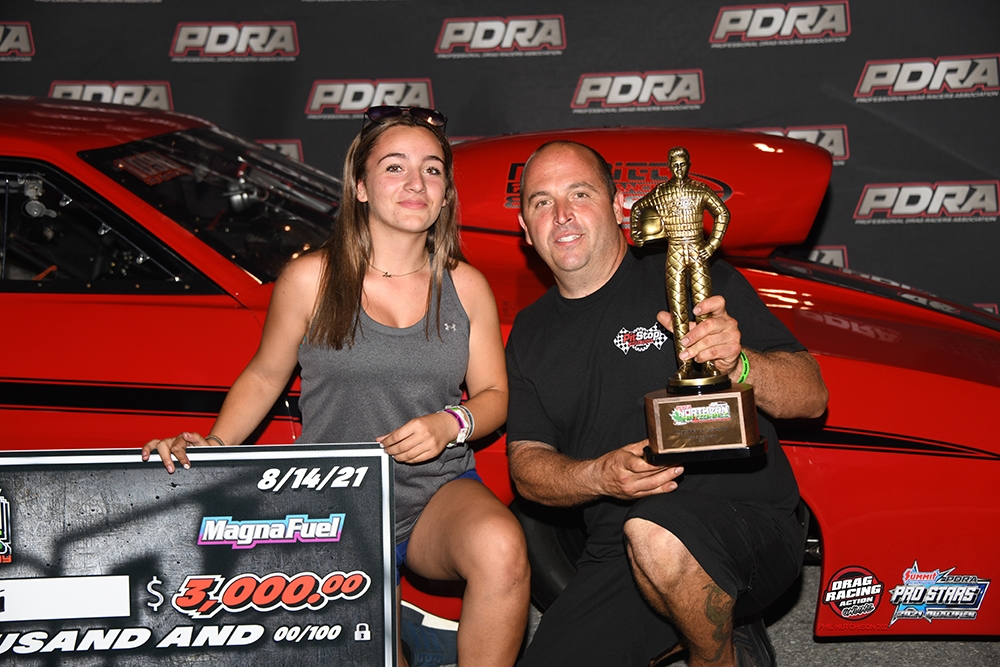 Nick Meloni's TT Motorsports '69 Camaro won his second MagnaFuel race in 2021 adding to his total with a victory over a redlighting Gino Fagnilli in his '67 Mustang.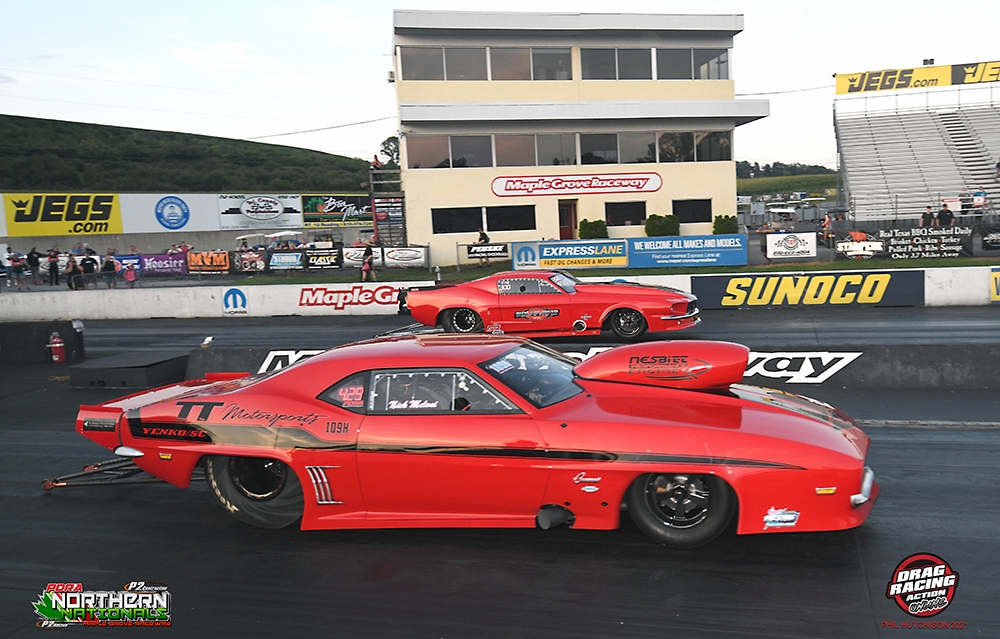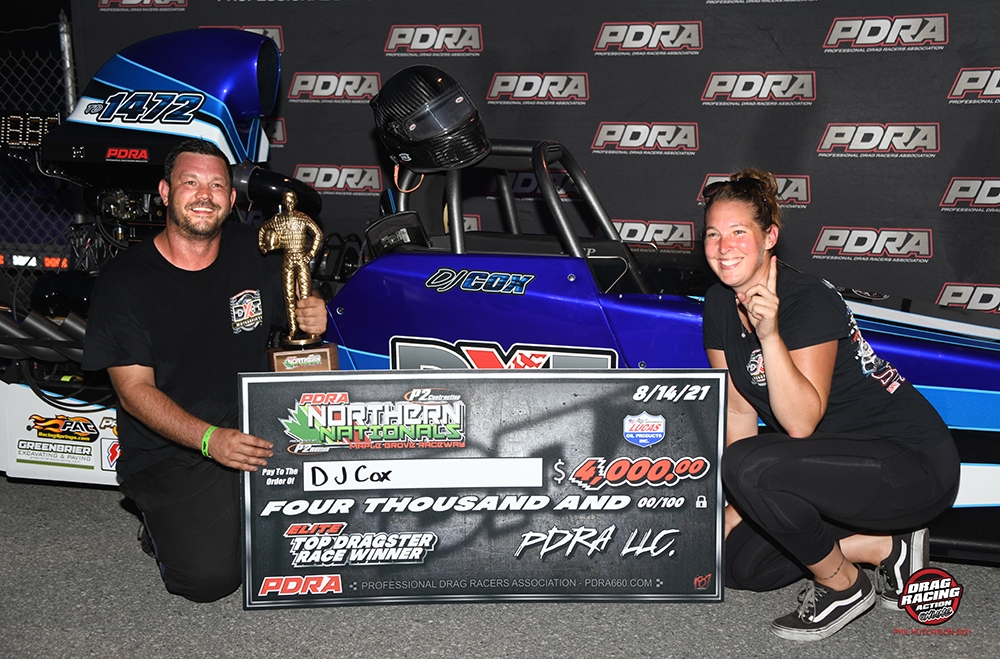 Maryland racer DJ Cox usually seen piloting his winning NHRA Alcohol Funny car, brought his ProCharger-fed DXI Construction '20 American dragster to Maple Grove and left with a win in Elite Top Dragster. Cox had an easy time of it in the finals as his competition, CJ Morley cut the tree a tad too much fouling by a mere 0.001.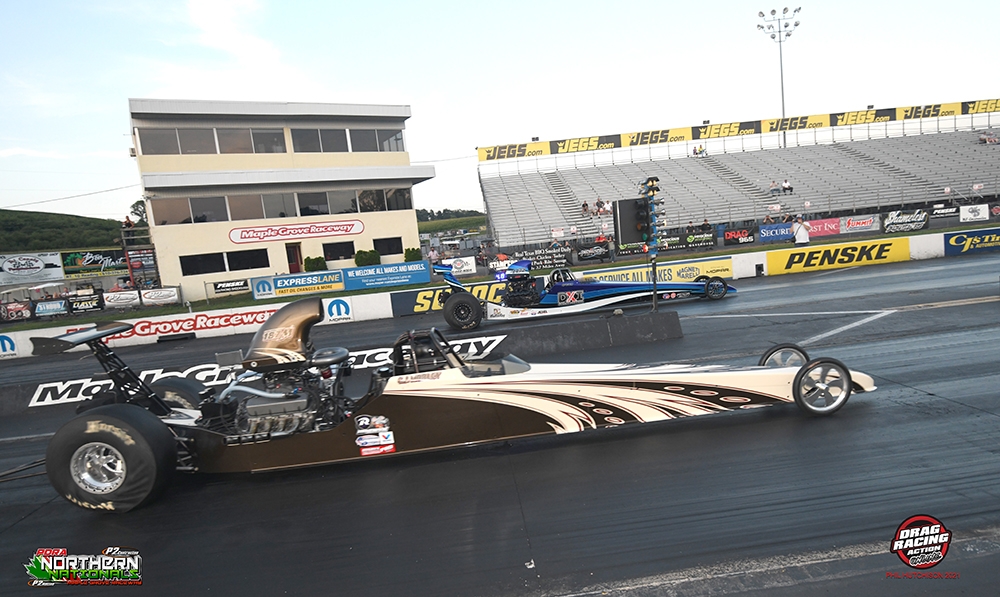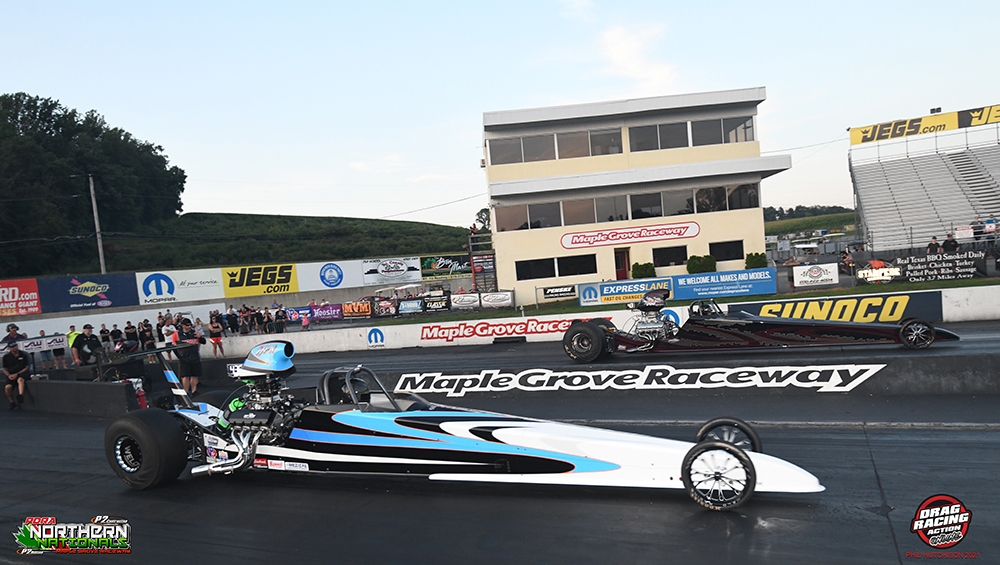 Defending PDRA Top Sportsman world champion Stacy Hall won his first race of 2021 in Lucas Oil Top Dragster beating the Tommy Franklin owned dragster driven by Blake Denton with a 4.397 on a 4.39 dial-in to Denton's 4.312 on a 4.30 dial.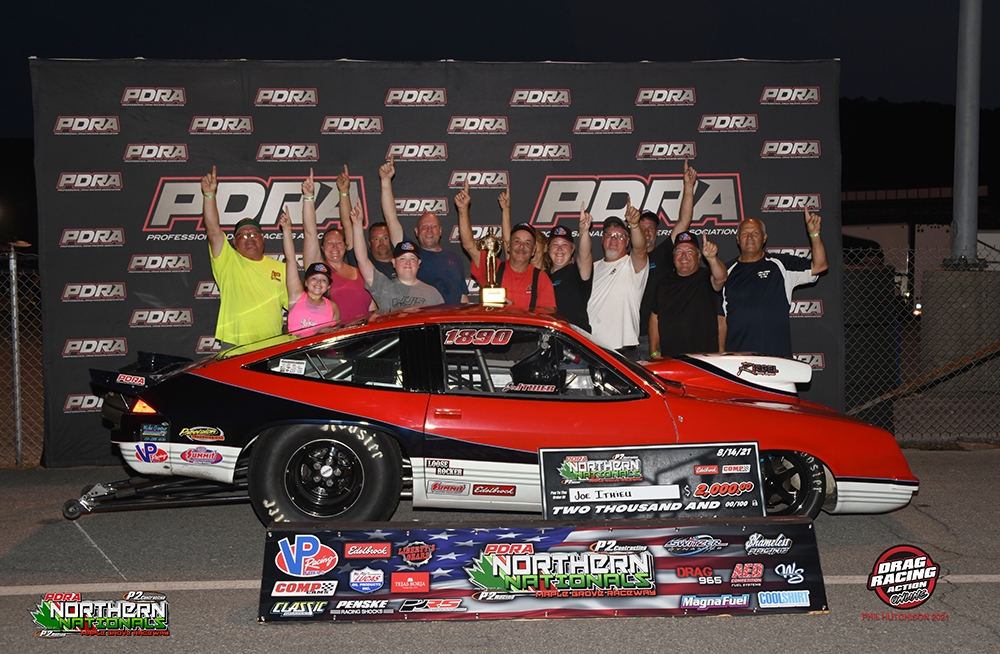 Bracket Bash presented by COMP Cams was captured by Joe Ithieu defeating Martin Flegal in the final round.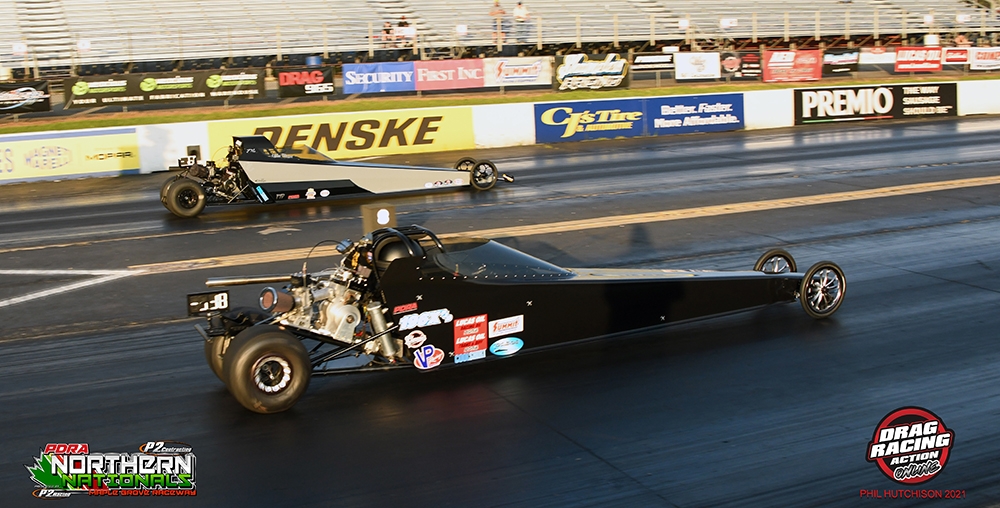 Zach Shirkey won the Coolshirt Systems Pro Jr. Dragster over Keaton Peterson and Donald O'Meara III earned his first win in Classic Graphix Top Jr. Dragster in his "Lucky Duck" dragster as while Zack Gale red.