HIGHT, SALINAS, BUTNER HERRERA EARN PROVISIONAL AT GERBER COLLISION & GLASS NHRA ROUTE 66 NATIONALS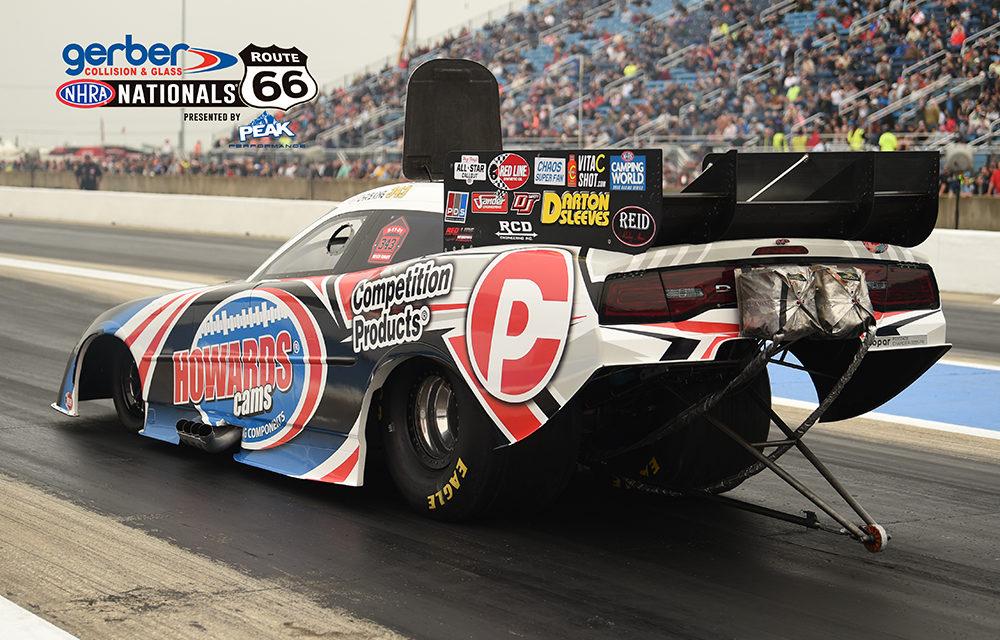 Courtesy NHRA  Images NHRA and Phil Hutchison
JOLIET, Ill. (May 19, 2023) – On a day filled with tracks records, Robert Hight set two in Funny Car, powering to the provisional No. 1 position on Friday as the NHRA Camping World Drag Racing Series returned to Route 66 Raceway for the Gerber Collision & Glass NHRA Route 66 Nationals presented by PEAK Performance.
Mike Salinas (Top Fuel), Bo Butner (Pro Stock) and Gaige Herrera (Pro Stock Motorcycle) are also the provisional No. 1 qualifiers at the sixth of 21 races during the 2023 NHRA Camping World Drag Racing Series season.
The opening round is also set for the first NHRA Pro Stock All-Star Callout after the drivers made their selections on Friday. Points leader Dallas Glenn, who is seeded first, got the opening pick and selected five-time world champion Erica Enders. Matt Hartford followed by picking Troy Coughlin Jr. and Kyle Koretsky tabbed Aaron Stanfield as his first-round opponent. That set Cristian Cuadra and Camrie Caruso as the final first-round pairing, as four KB Titan Racing cars will take on four Elite Motorsports cars to kick off the callout.
Debuting a new look on his car, Hight made the quickest Funny Car run in 2023, going 3.831-seconds at 335.07 mph in his 11,000-horsepower Cornwell Tools/Auto Club Chevrolet Camaro SS and shattering the previous track record he set in 2017. If it holds, it would be his first No. 1 qualifier this season and 78th in his career at the NHRA's first race in Chicago since 2019. Coming off a victory at the most recent event in Charlotte, Hight turned in an incredible performance on Friday.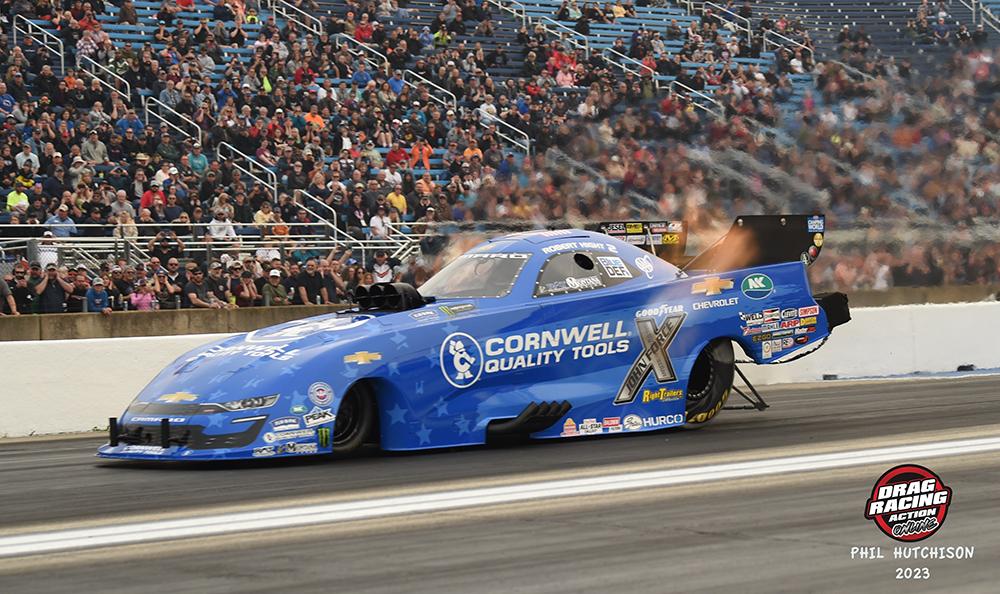 "That actually surprised me," Hight said. "(Crew chief Jimmy Prock) kept saying in Charlotte there was so much more left in this car and sure enough there was. It was such a smooth run and when it's that smooth it doesn't feel that fast. What's amazing is to come back to a track we haven't raced at in that many years and to pick up right like that is pretty impressive."
Cruz Pedregon's 3.889 at 327.59 put him in the second spot and J.R. Todd's 3.906 at 333.00 was third best of the session.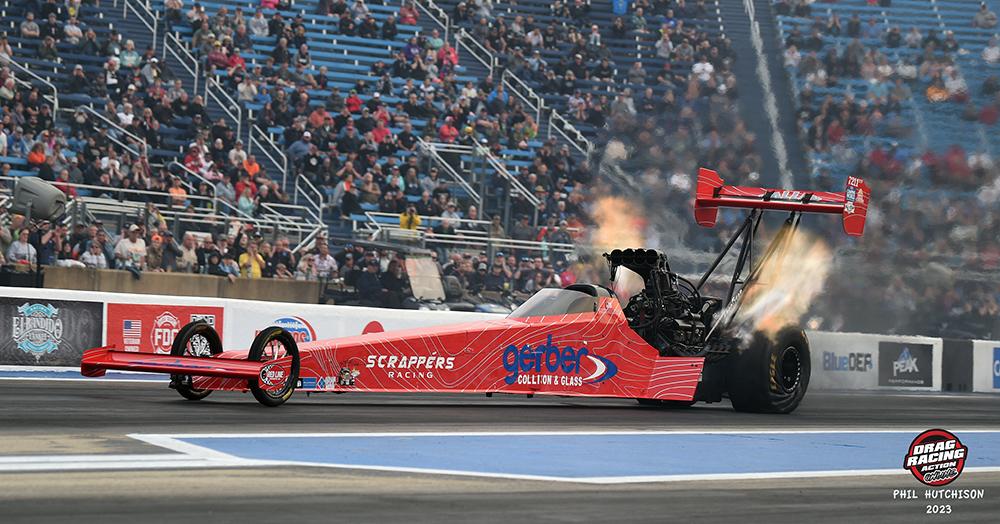 Salinas dipped into the 3.60s to lead the way in Top Fuel, rolling to the No. 1 spot with a pass of 3.686 at 333.41 in his 11,000-horsepower Gerber Collision & Glass/Scrappers Racing dragster. If it holds, it would give Salinas his first No. 1 spot of the season. The veteran has enjoyed success at Chicago over the years, qualifying No. 1 at NHRA's last appearance at the track in 2019 and also finishing as the runner-up.
"It was really good. We've worked really hard on the car the last few weeks," Salinas said. "The last time we raced here, we were the No. 1 qualifier and the run we made tonight, we did that three times in testing. We know we have a great car, and we just have to carry this over to tomorrow and then Sunday. I think there's going to be some really good runs tomorrow because the track is really, really good."
Austin Prock went to second with a 3.694 at 331.20 and Justin Ashley's 3.717 at 332.10 has him in the third position.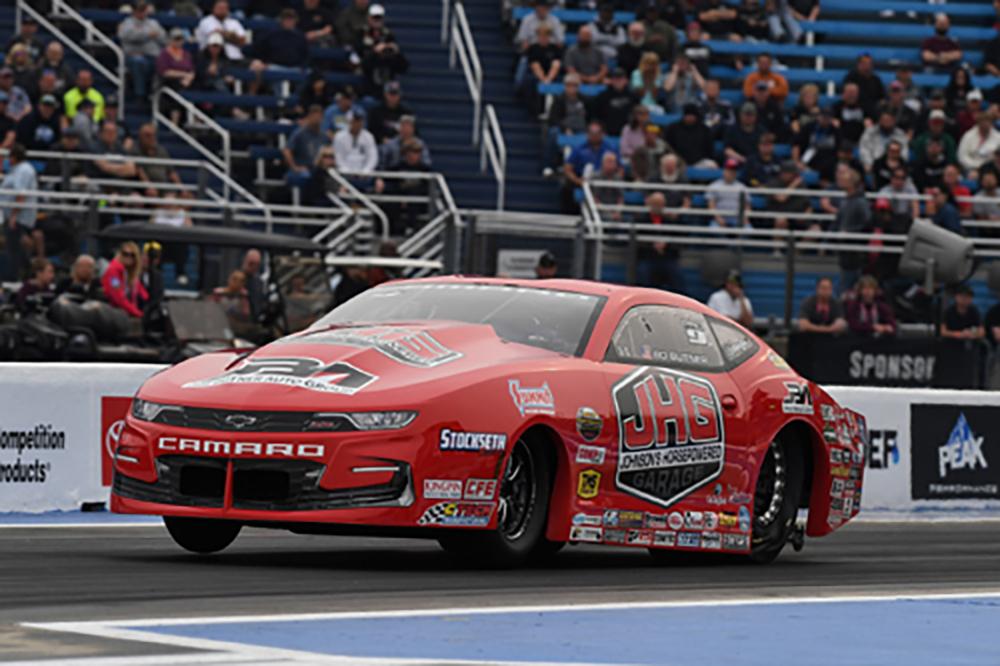 Butner came into the weekend looking to turn around his 2023 Pro Stock season and the former world champion took a big step on Friday, going 6.522 at 207.94 in his Johnson's Horsepowered Garage Chevrolet Camaro. It set the track E.T. record and also puts Butner in line for his first No. 1 spot this season and 13th in his career. Currently ninth in points, Butner could make a big move if his weekend follows Friday's performance.
"This is one of my favorite tracks and it's good to be back here," Butner said. "I missed this place, and it didn't miss a beat. We haven't been on it in four years and to go out and get a track record, that was great. The Elite team worked really hard in testing this week and that really paid off. It was a great run, and we were excited about it. I think the team found something in the cars."
Cristian Cuadra is second after he went 6.529 at 210.31 and Stanfield's 6.534 at 210.14 puts him third.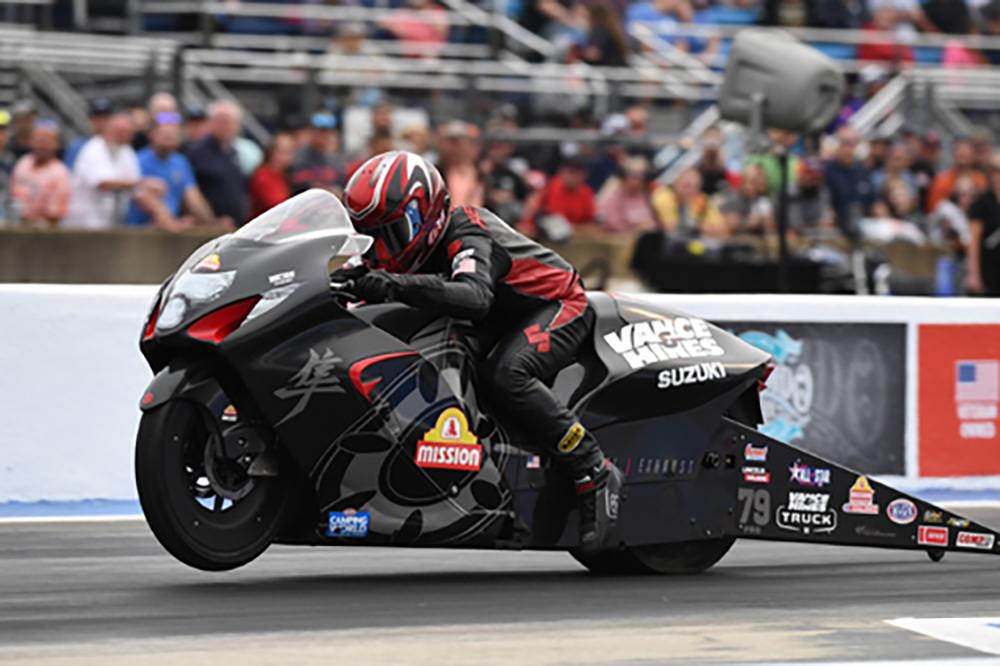 Herrera laid waste to both ends of the track record in Chicago while also continuing his dominant season in Pro Stock Motorcycle, delivering a stunning run of 6.677 at 202.45 on his Vance & Hines/Mission Foods Suzuki. After winning the first two races of the season, Herrera kept up his torrid pace on Friday, just missing out on the quickest run in class history. But he stayed on track for his third straight No. 1 qualifier with an unbelievable run to kick off qualifying.
"I live about an hour away from here, so this is my home track and it's really cool to be back here in Joliet," Herrera said. "I've got a lot of friends and family here, so to go out here and be No. 1, it means a lot to me. I've been here many times to watch, but that was my first pass down the track, so do that on my first run was pretty cool. The people at the shop put in a lot of work and I'm just glad to be part of it."
Chip Ellis is currently second with a 6.756 at 200.68 and Hector Arana Jr. took third after a run of 6.759 at 201.85. In the Mission #2Fast2Tasty NHRA Challenge on Saturday, Herrera will take on Jianna Evaristo, while Angie Smith will race Chase Van Sant in the semifinal rematches from Gainesville.
Qualifying continues at 1 p.m. CT on Saturday at the Gerber Collision & Glass Route 66 NHRA Nationals presented by PEAK Performance at Route 66 Raceway.