It's A Family Affair at Atco Lucas Oil Divisional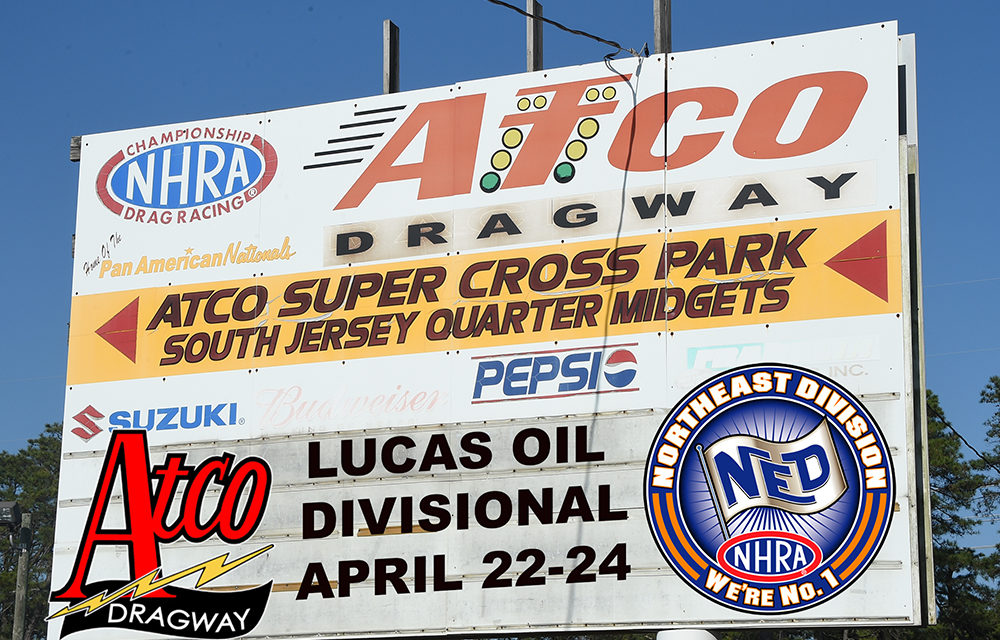 Story Phil Hutchison  Photos Phil Hutchison and Dave Milcarek
After Jackie Fricke put the John Finke-owned A/FD in the winner's circle Saturday at the NHRA Lucas Oil Drag Racing Series Northeast Division at Atco Dragway in New Jersey, husband Shawn Fricke did the same in Super Street on Sunday.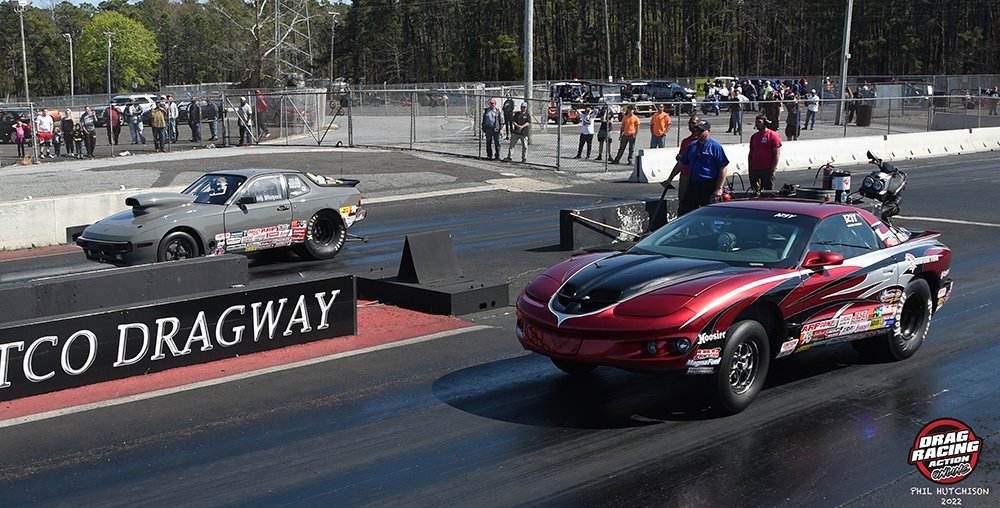 Fricke (Near Lane) won his second race at Atco in a week defeating the Porsche of Mayers in the finals at Atco
Driving the Accelerated Travel  '02 Firebird, Fricke from Flemington N.J. defeated Keith Mayers in the finals. In a battle of two of the best in the class, Mayers, from Ellendale DE, got his '85 Porsche off the line first with a great 0.008 light but gave it up at the stripe losing to Shawn's 10.92 to Mayers' losing 10.945. The Atco win was Shawn's 11th career Lucas Oil divisional win.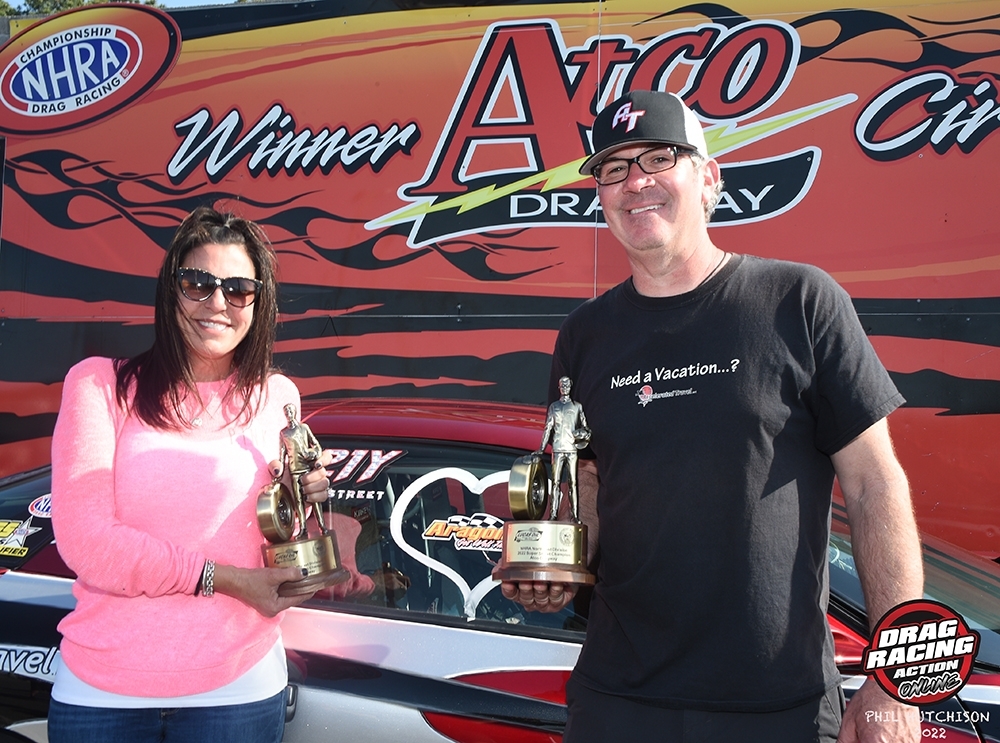 Joining the Frickes in the winner's circle was three first time Lucas winners along with veteran winners.
COMPETITION ELIMINATOR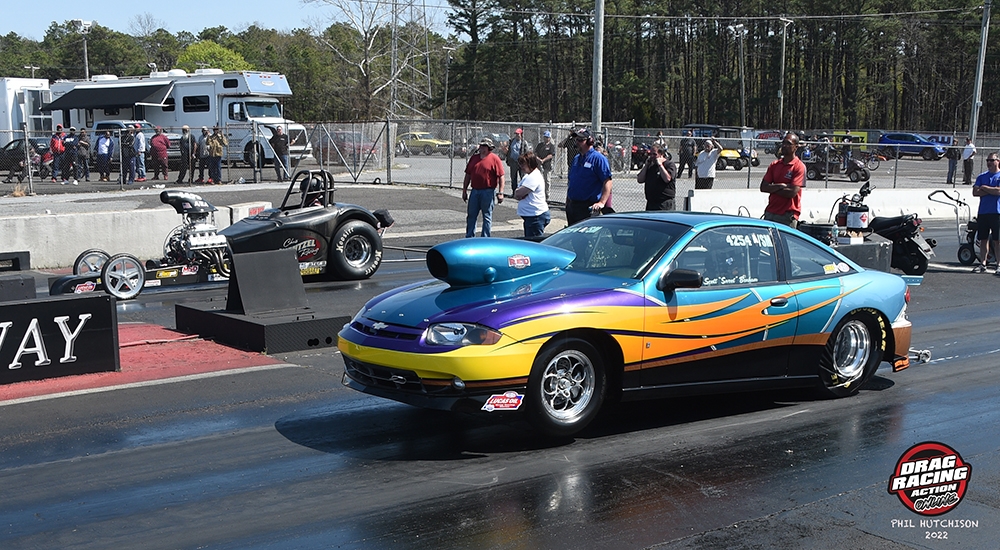 Long time racer Santo Volpe from Northampton Pa. behind the wheel of the Chris Wentzel Racing A/EA '32 Bantam won the Competition Eliminator title at Atco defeating the A/SM '06 Cavalier of Scott Benham from nearby Jackson N.J.
Benham having the slower car got the advantage off the line but was off on his reaction time with a 0.119 light to Volpe's great 0.003 RT and it cost him as Volpe caught and passed the Chevy winning with a 0.401 under-the-index 7.449 @ 166.50 MPH as Benham slowed to a low nine-second time. The win was Volpe's 9thcareer NHRA win.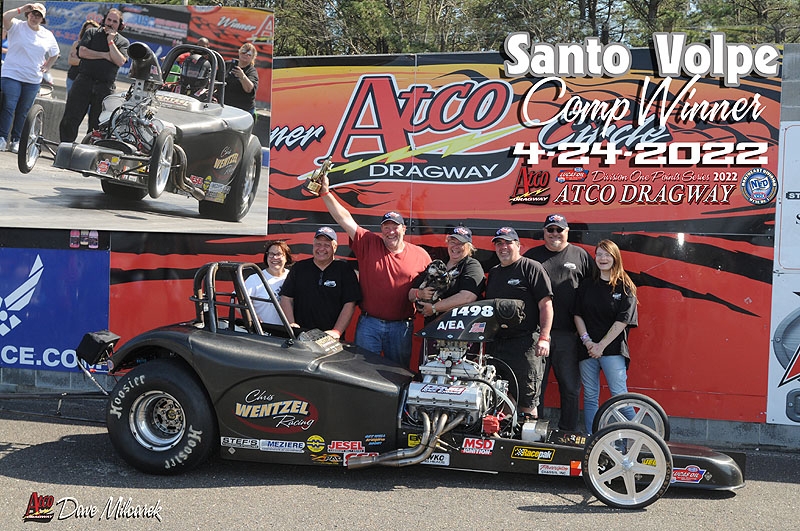 SUPER STOCK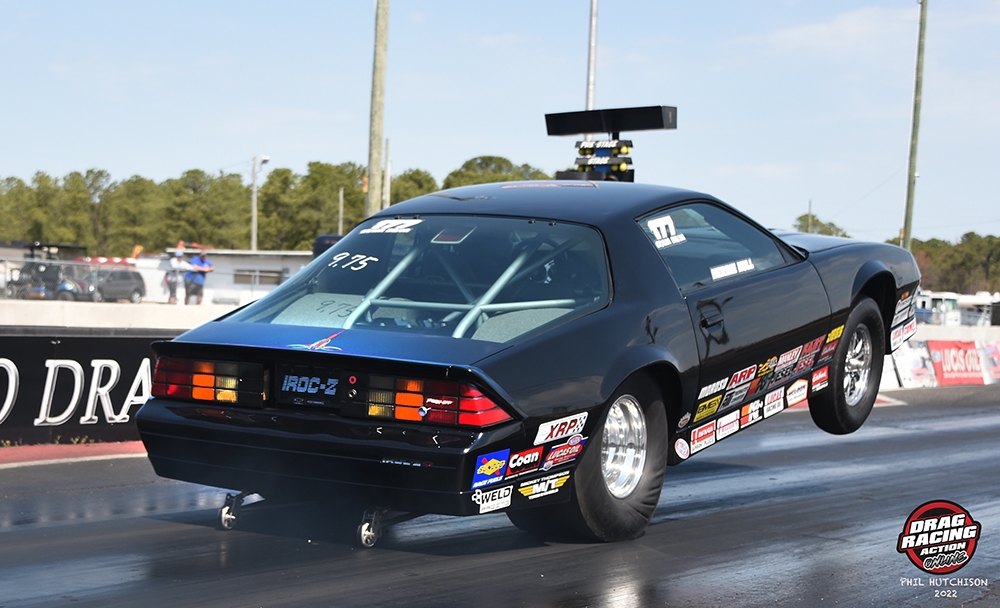 Multi time winner Herbie Null from Greencastle, Pa., took Mark Alvey's '90 IROC GT/JA, to a Super Stock win defeating veteran Bob Cupp in the finals. Cupp driving his SS/KA '65 Chevelle had earlier defeated both the former champion Worner brothers but met his match in the finals. Null was off the line first with a 0.022 light to Cupp's 0.084 and both drivers broke out with Cupp's 10.283 (10.33 dial) losing to Null's less of an infraction 9.745 (9.77 dial). The win was Null's 6th divisional win.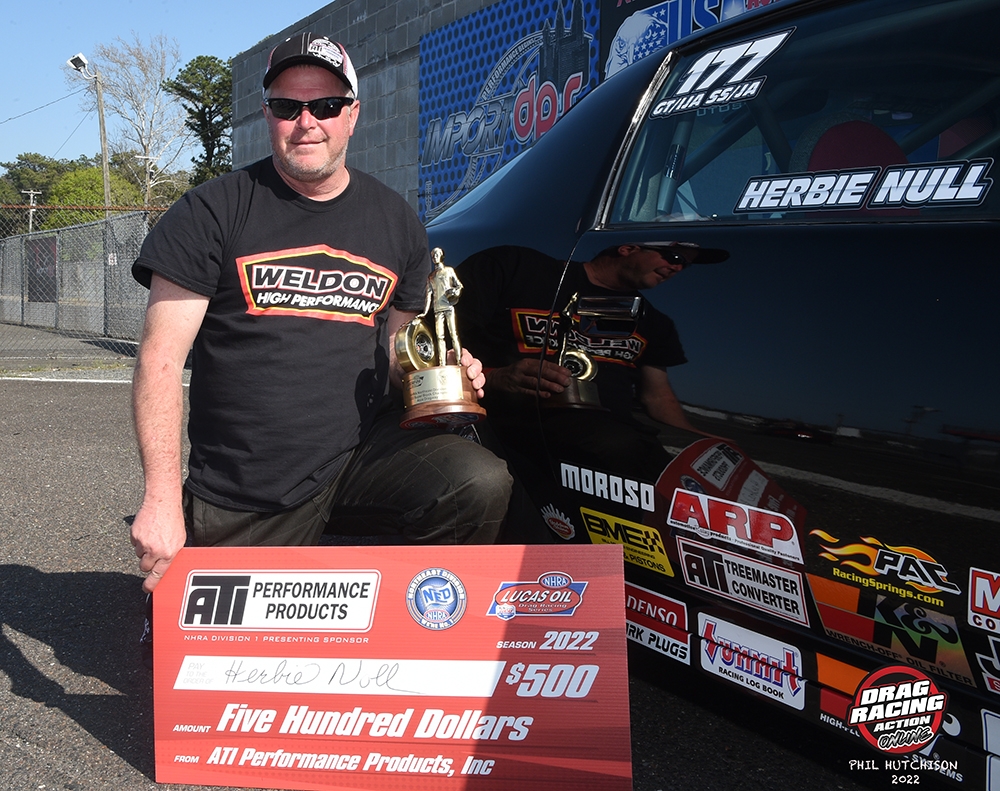 STOCK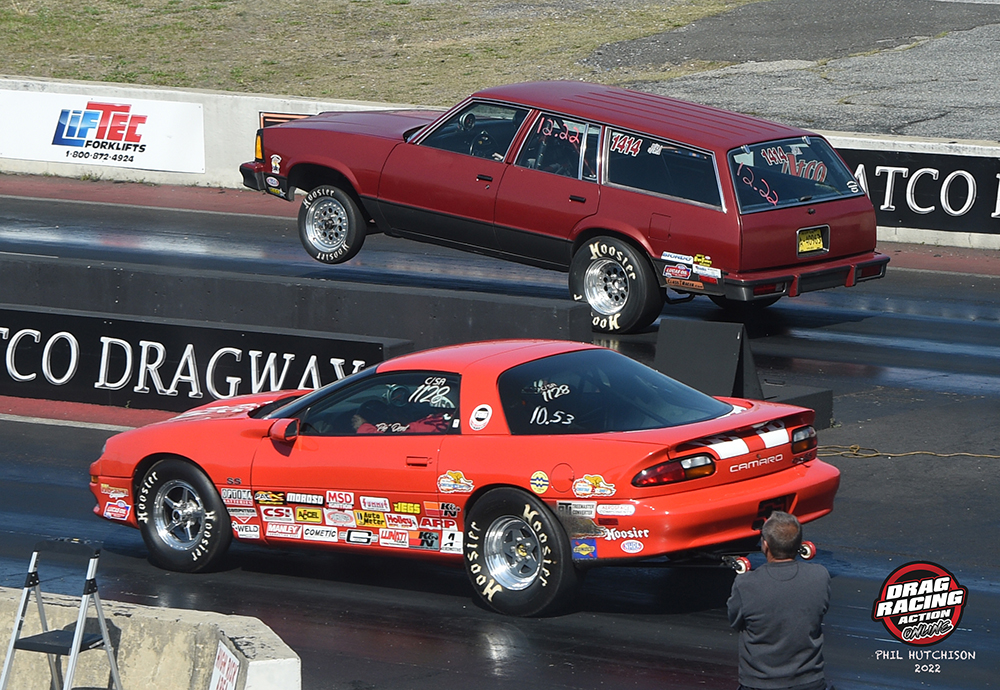 Charlotte Hall Md. racer Wallace "Pie" Dent drove his C/SA '98 Camaro to a win in Stock Eliminator taking out the "Grocery Getter" J/SA '78 Malibu Wagon of Billy Pires from Somerset Mass.
Dent was second off the line with a 0.058 light to Pires' better 0.031 but Pires pushed the wagon a little to much on the top end breaking out with a 12.202 on his 12.22 dial as Dent posted a dead on 10.53 on his 10.53 dial. The win at Atco was Dent's fourth NHRA divisional win.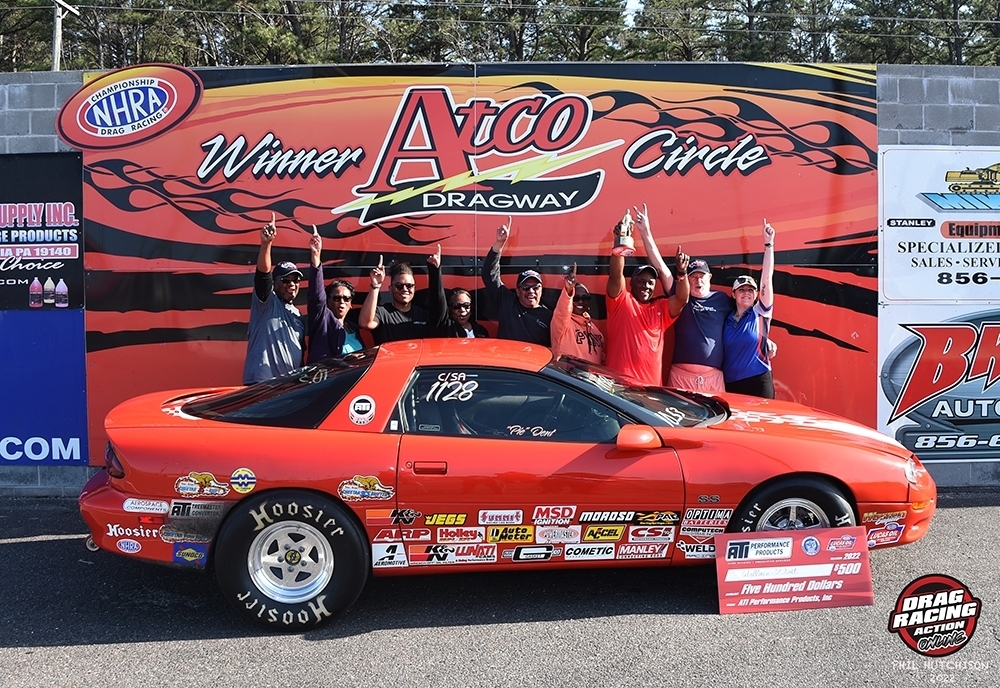 SUPER COMP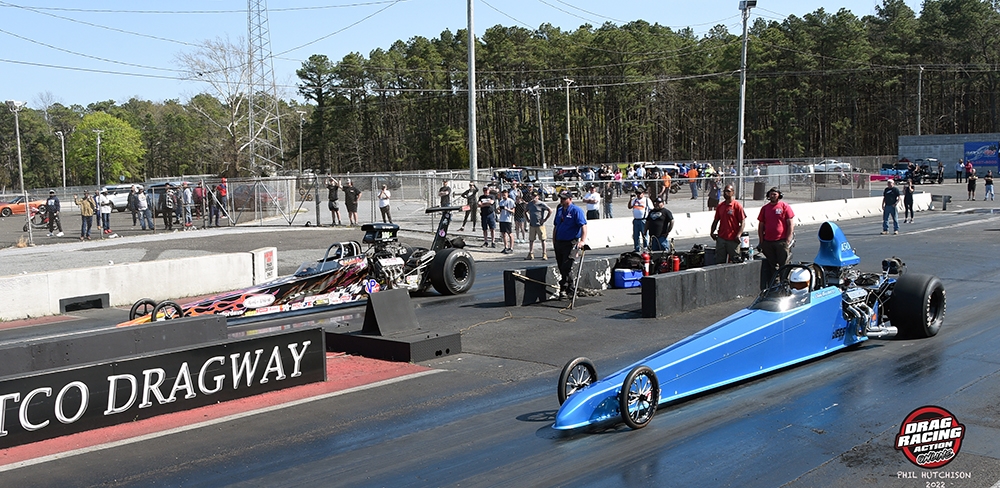 Bryan Balducci from nearby Voorhees, N.J. drove his '18 Undercover dragster to a Super Comp win defeating Jeff Stricker from Mohnton Pa. in the finals. Balducci was first off the line with a 0.015 light to Stricker's later 0.098 and it made all the difference as Balducci won with an 8.944 to Stricker's better but later 8.907. The Atco win was Balducci's first ever NHRA win.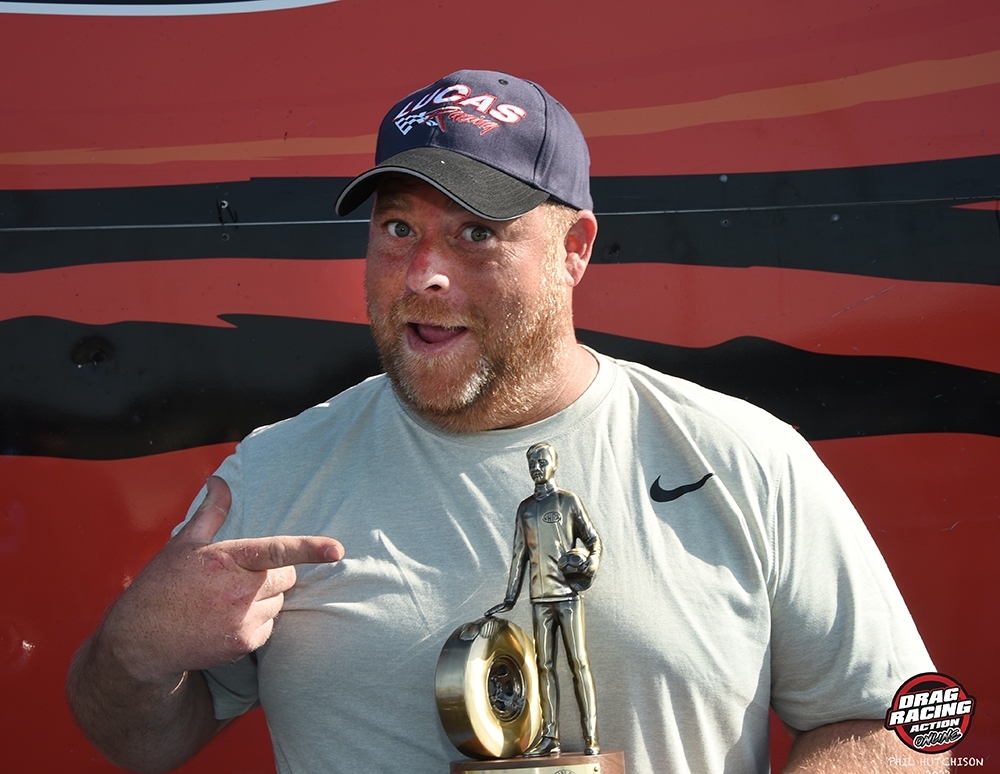 SUPER GAS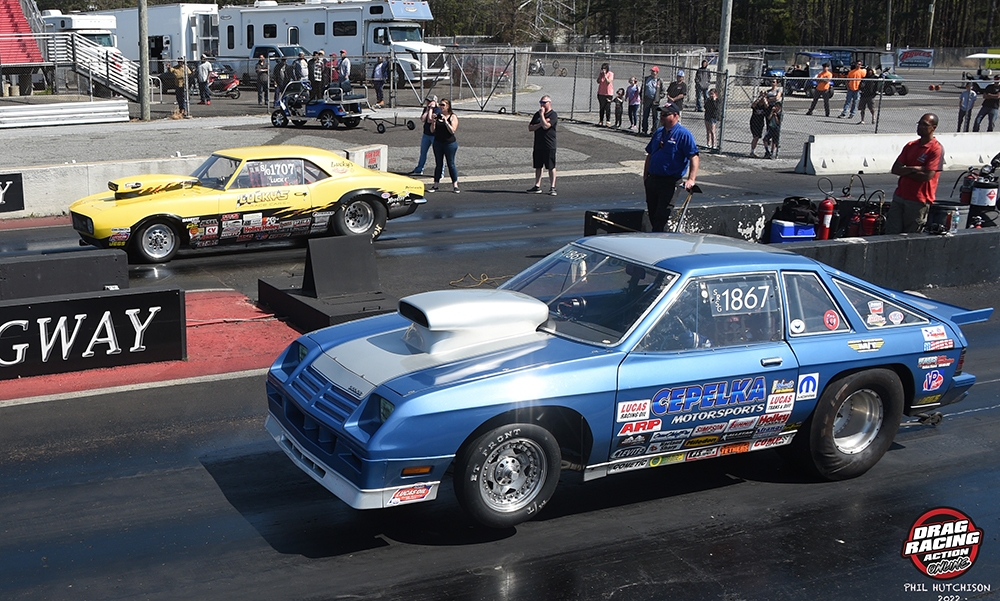 Jay Cepelka (Near lane) won the battle of the "Geezers" beating Lucky Luciano in the finals
Super Gas winner Jay Cepelka from has been racing the NHRA for decades and days after his 76th birthday the Rippon W.Va. driver won his first ever Lucas Oil race. In what was a matchup of "Old Farts" as runner up Pete "Lucky" Luciano said after the race, Cepelka nailed the tree with a 0.004 reaction time to Luciano's second best 0.032 and held on for the win running a 9.927 to Luciano's breaking out 9.881.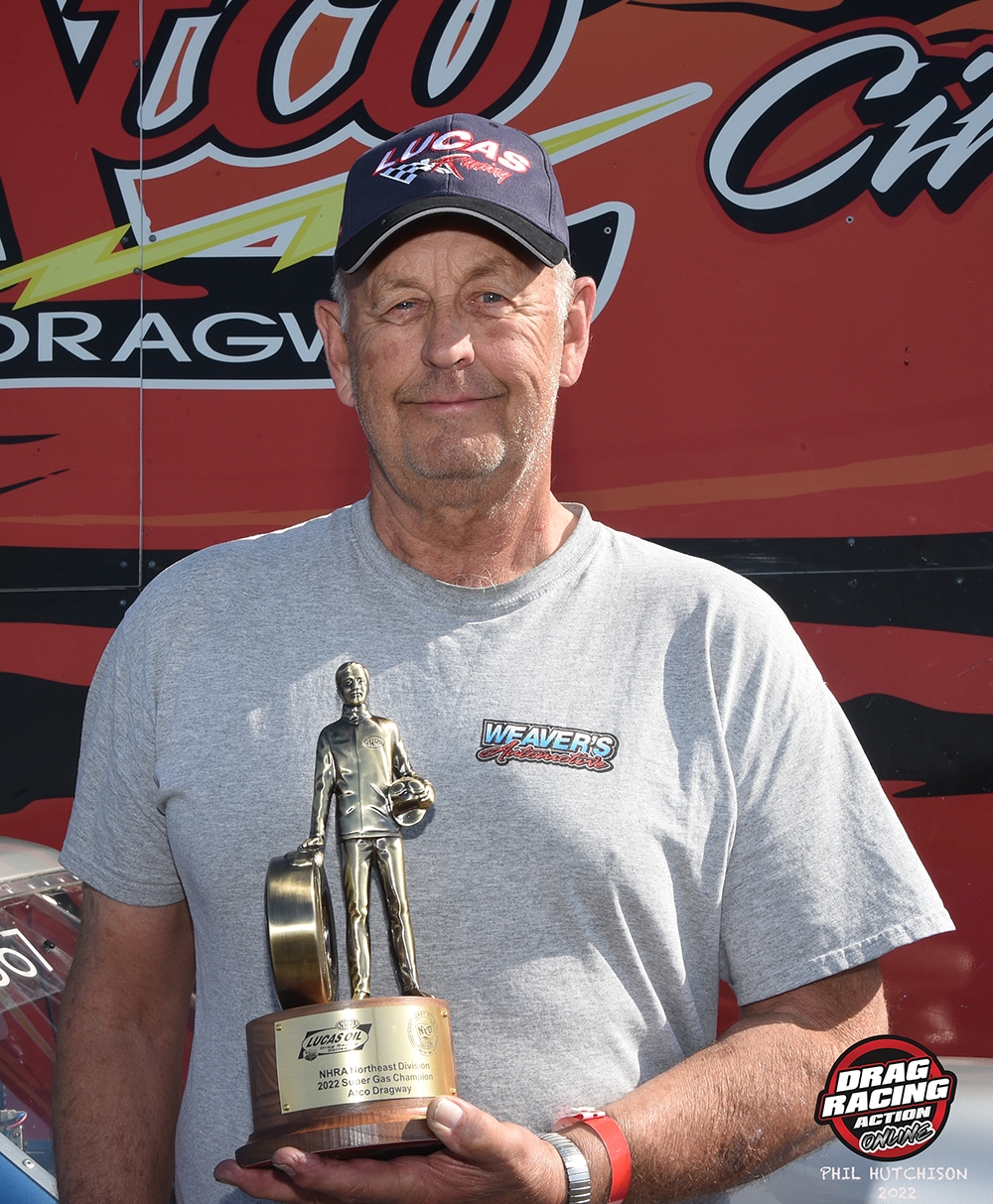 TOP DRAGSTER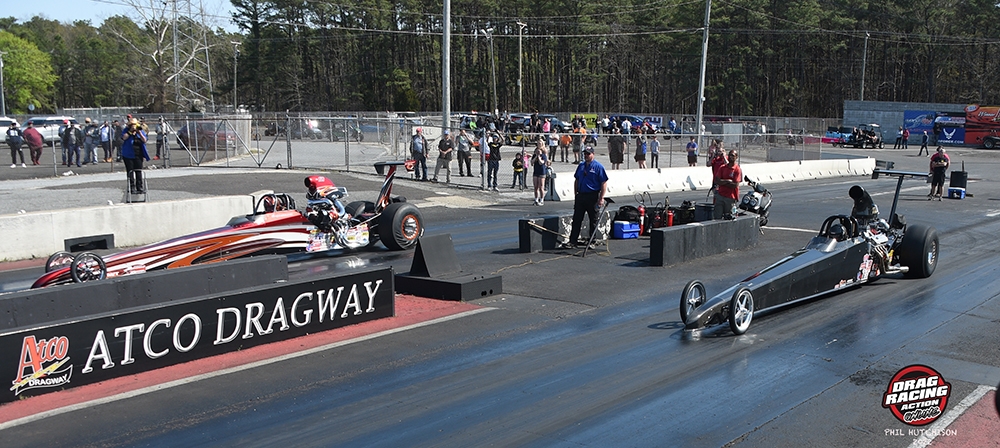 Musolino (Far lane) leaves too soon triggering the red light
The finals of Tommy Tape Top Dragster were interesting to say the least. Al Staffieri in his Dan Page-built dragster had the slower car and dialed in a 6.78 as his competition, the Racetech dragster of Vince Musolino from Bridgeport N.Y. was dialed in with a 6.53.
The lights came down and Staffieri's dragster didn't move on the green while Musolino took off too soon drawing a red light. Stafffieri's car sat on the line not moving but since the car was staged, the NHRA officials gave him the win. Staffieri was another first time winner at Atco.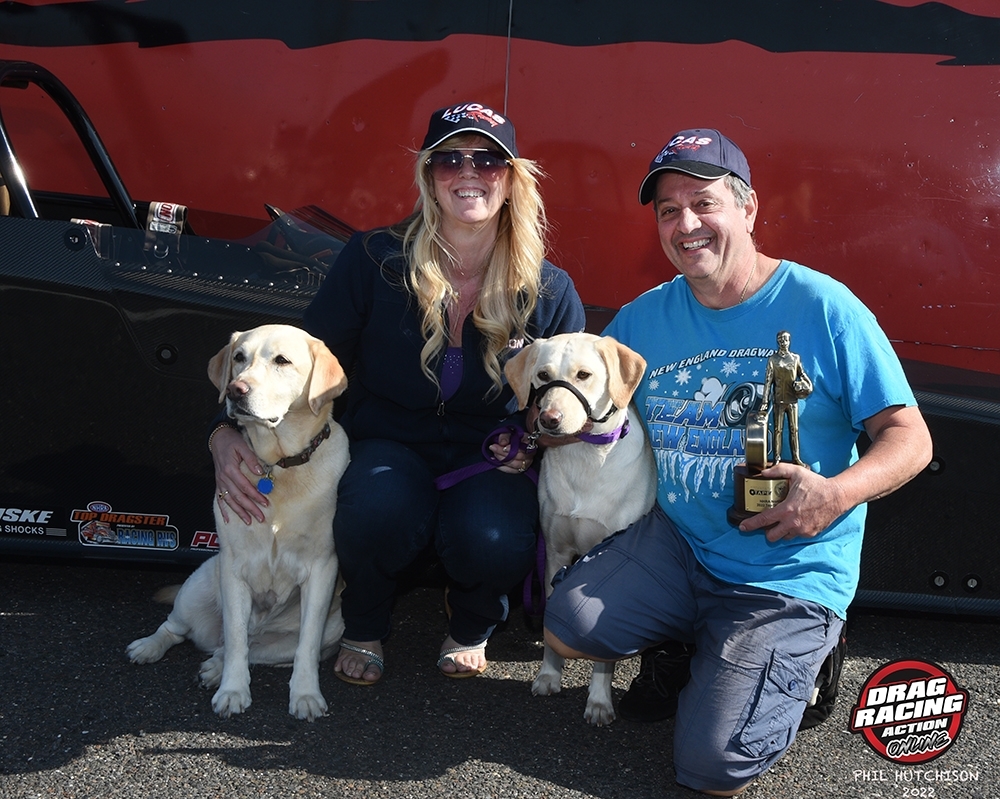 TOP SPORTSMAN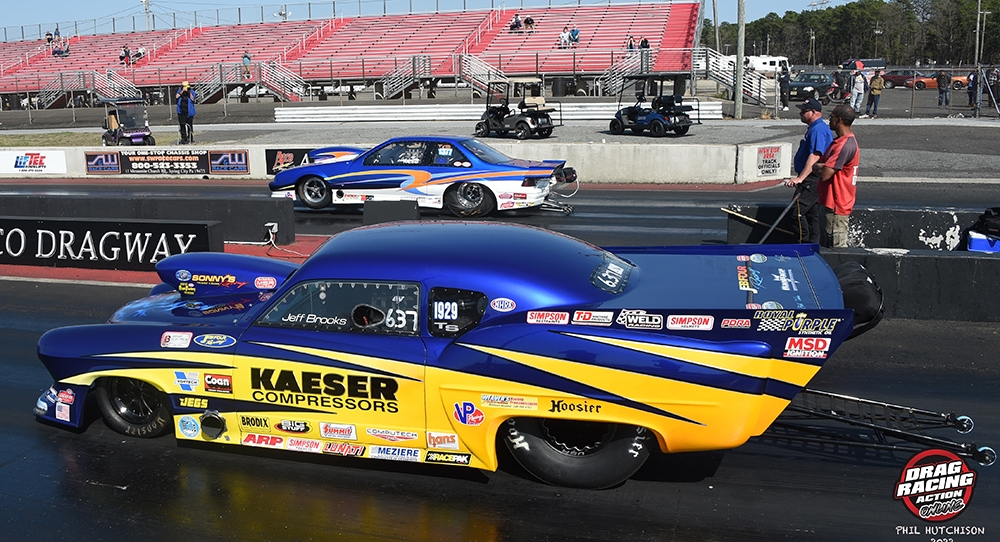 Tommy Tape Top Sportsman winner Jeff Brooks from Fredericksburg VA took his '51 Henry J from the No.1 qualifier to a win at Atco defeating the '94 Beretta of Rich Lachapelle from Marlboro MA. Brooks was second off the line but Lachapelle couldn't match his dial in of 7.57 with a 7.617 to Brooks' winning 6.386 on his 6.37 dial. The win was Brooks' 11thcareer Lucas win.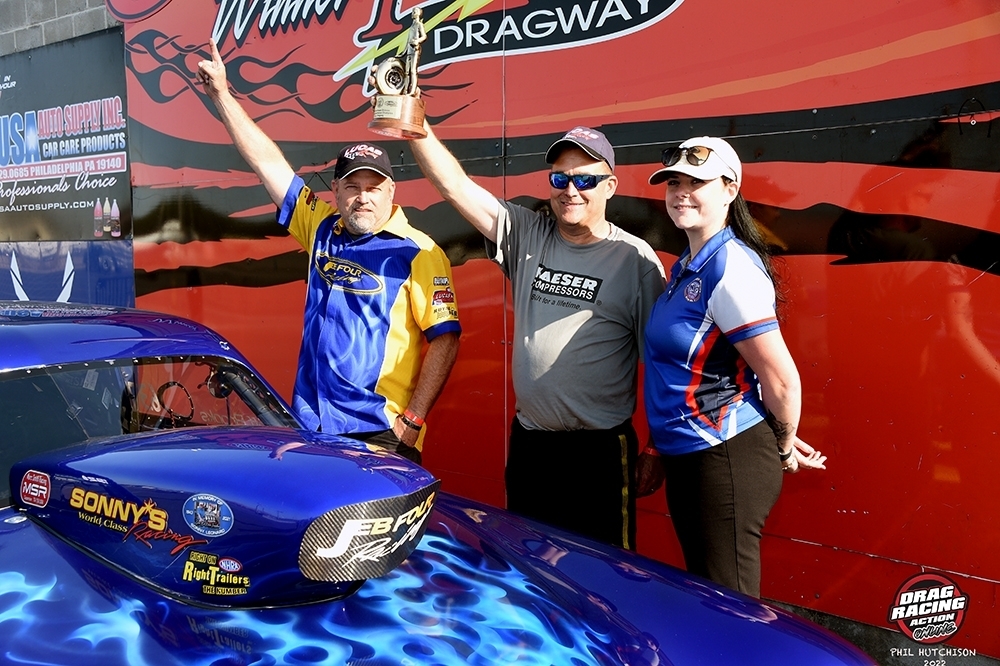 SPORTSMAN MOTORCYCLE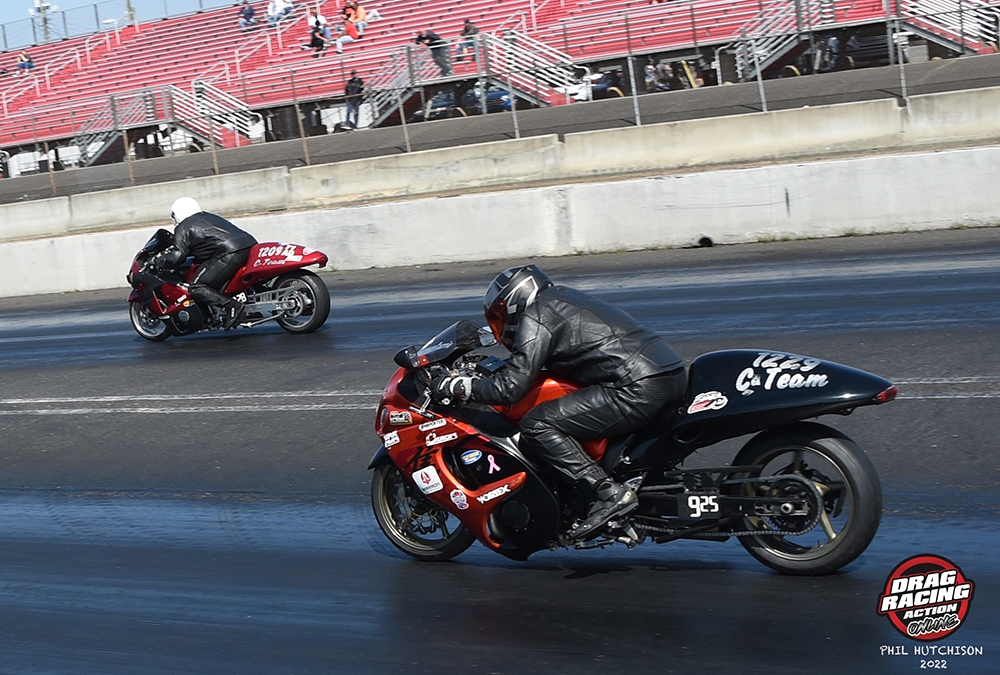 A special Sportsman Motorcycle class was featured at the Lucas divisional with brothers Lawrence and Levon Currie from Philadelphia Pa. in a pair of Suzuki Hayabusa bikes meeting in the finals. The race was over on the starting line as Levon left the line too quick putting his brother in the winner's circle.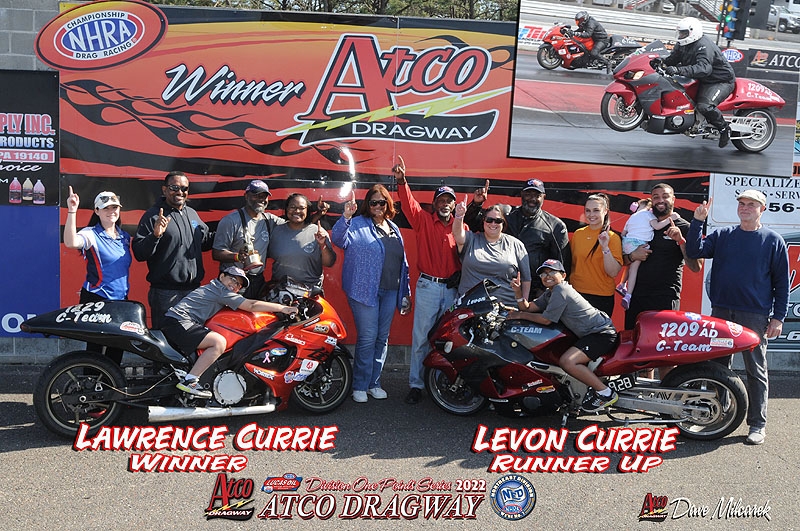 JR. DRAGSTERS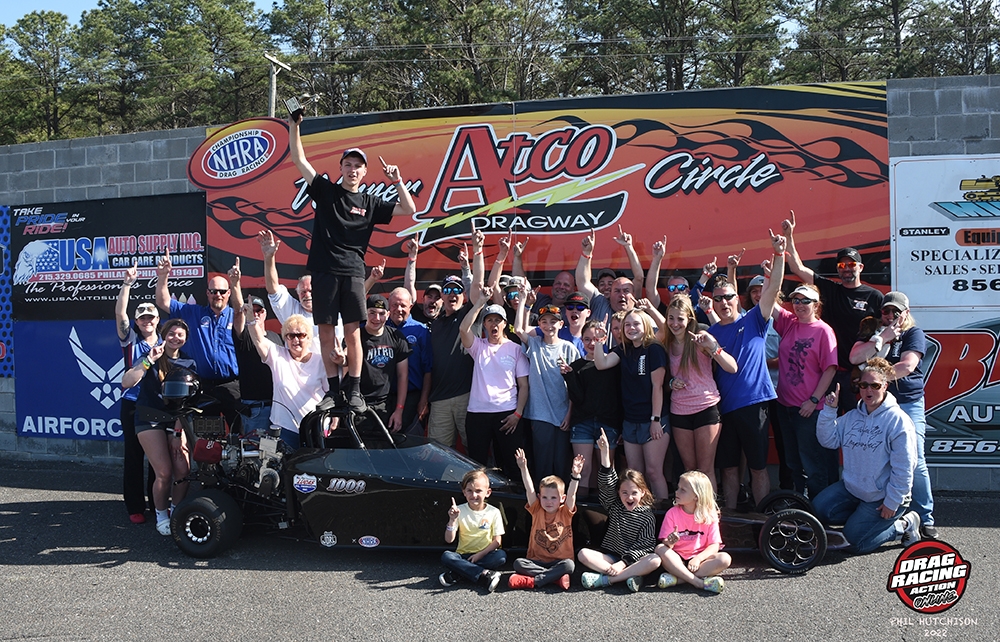 Winning Jr. Dragster 13-17 was second generation racer Paul Stalba from Hammonton N.J. Stalba was up against 3rdgeneration racer Tyler DePascale from Sayreville N.J. in a double breakout final Stalba, son of NHRA racers Karen and Tom Stalba, ran a 7.862 on his 7.90 dial as DePascale, who crushed the tree with a 0.005 light, ran too quick with a 7.909 on his 7.98 dial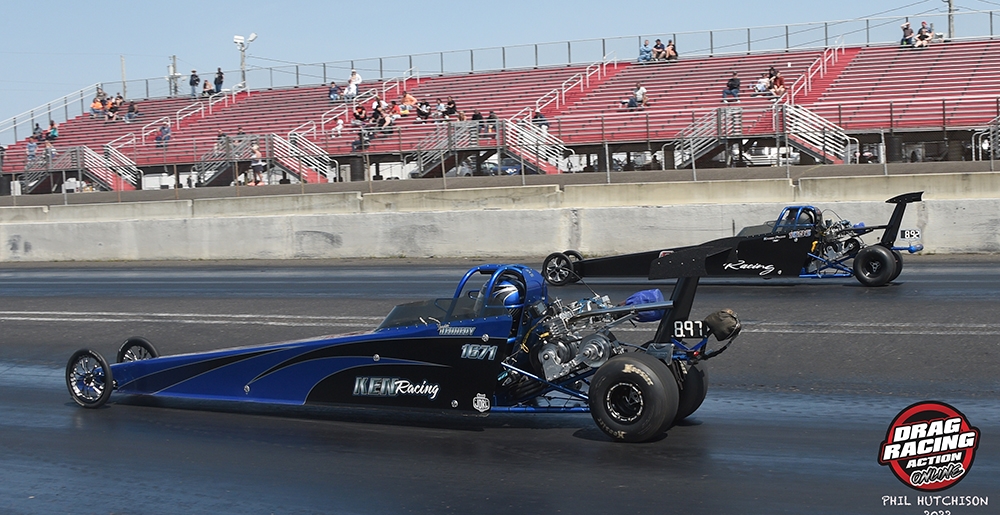 Junior Dragster 10-12 went to Wilkes Barre PA racer Landen Kennedy beating Kaden Paone from Galloway N.J. in the finals Kennedy got the jump off the line with a 0.091 light and won with a 9.088 on an 8.97 dial to Paone's breaking out 8.912 on his 8.92 dial.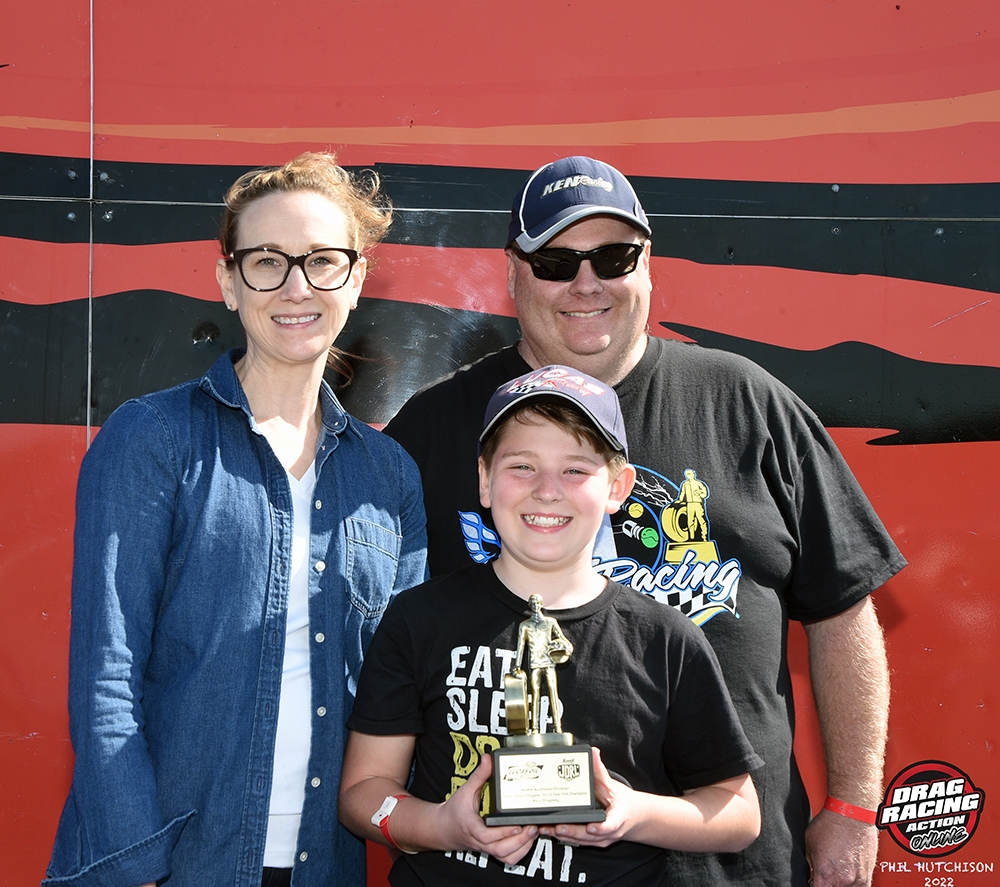 Just as his brother Kaden did in the finals of 10-12, Kylar Paone in the finals of Junior Dragster 6-9, pushed his car a little to much breaking out with a 14.132 on a 14.70 dial giving Oliva Gale from Yardley Pa. the win. Gale had the advantage off the line with a 0.146 light to Paone's later 0.230 RT.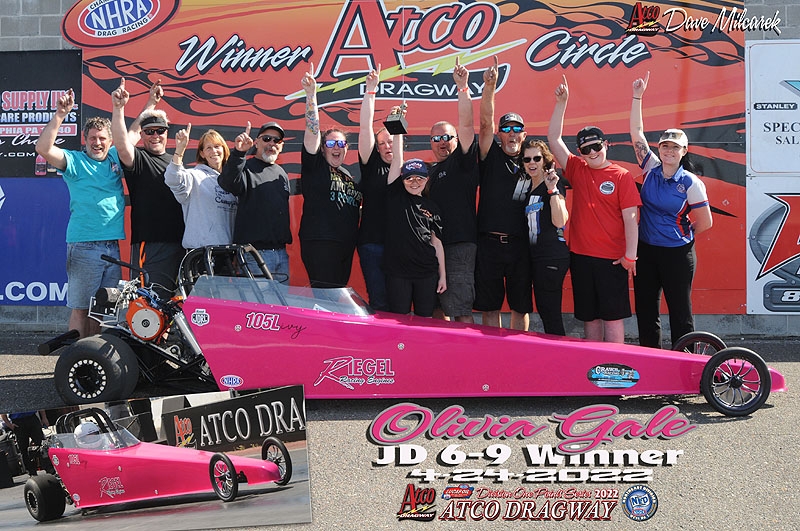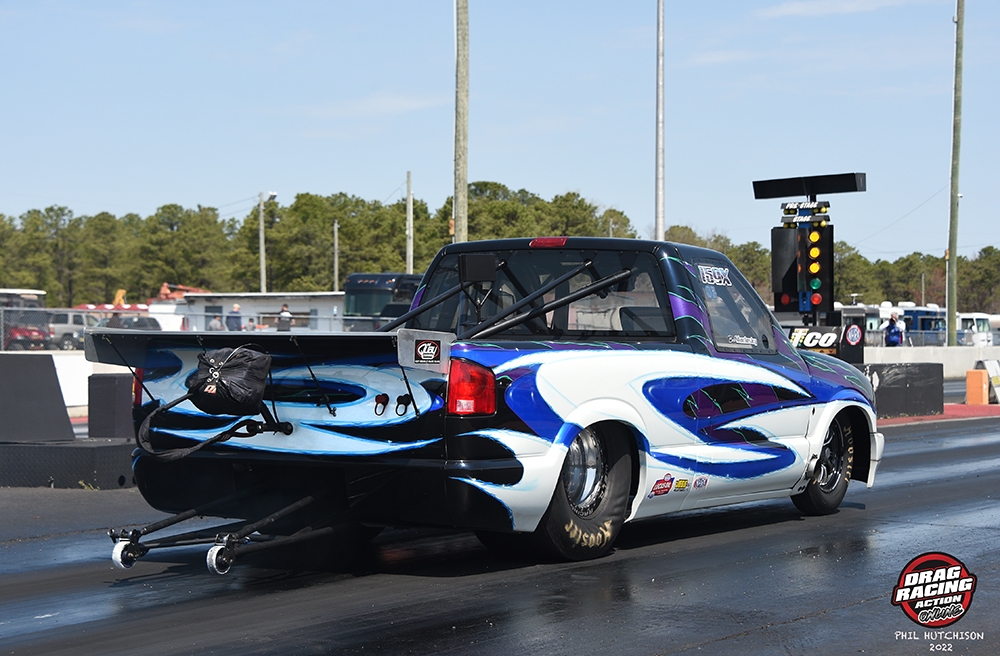 Super Gas racer Bob Maclosky's Chevy truck won Best Appearing at Atco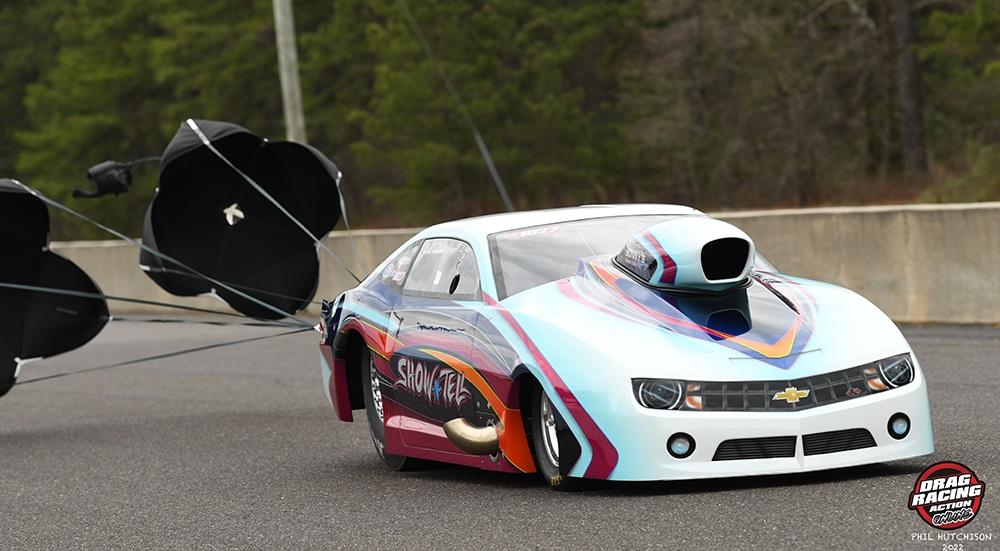 Vonnie Mills' new Top Sportsman Camaro won Best Engineered
The NHRA Division One show moves to Lebanon Valley Dragway for a PC Richard and Sons National Open April 30 –May 1. After the N.Y. event the next Lucas Oil Divisional/Regional will be at Cecil County Dragway May 20-21.